Looking for an easy sandwich recipe for lunch or to take along a fun summer picnic? This chicken and prosciutto sandwich is piled high with delicious toppings that will make your belly do a happy dance! There's a little sweet from peaches, some savoury flavour from crispy prosciutto and chicken…and a whole lotta tasty.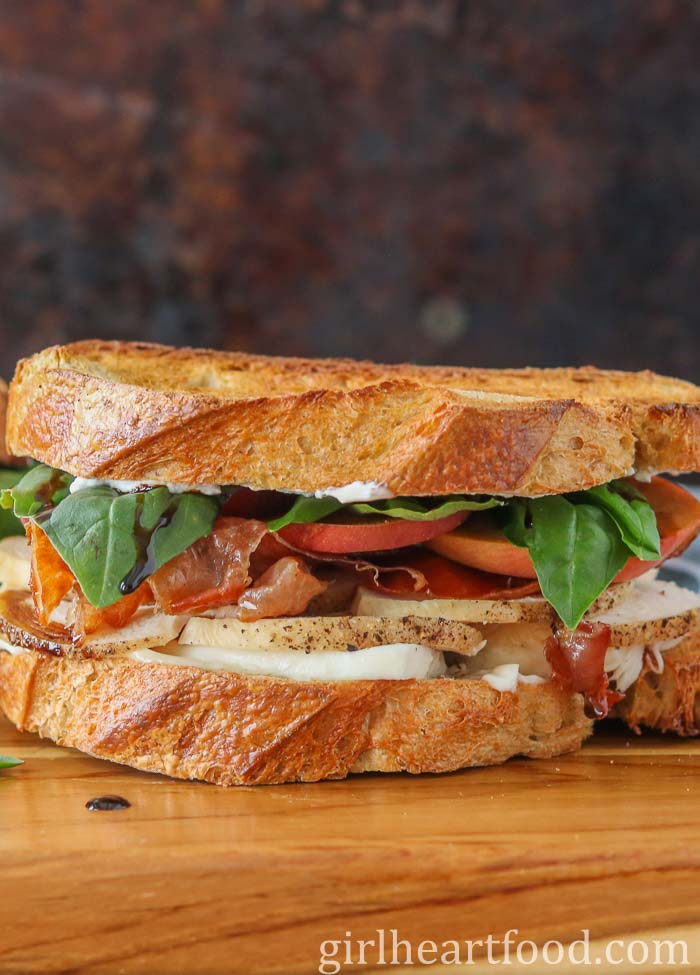 Hello there friends!
As we're officially into summer, peach season and most definitely picnic season, today I'm sharing a scrumptious crispy prosciutto sandwich with chicken, peach and basil (oh, and a little balsamic reduction for good measure).  A toasted sandwich never tasted so good!
This sandwich pairs wonderfully with frozen strawberry lemonade, may I add 😉
What Makes this Prosciutto Sandwich So Delicious!
There's juicy chicken breast
Crispy, salty prosciutto
Creamy mozzarella
Sweet peach
Savoury, aromatic basil
Balsamic reduction
Sounds yummy, right?
What is Prosciutto?
Prosciutto is a type of Italian dry cured ham typically made from the leg of pork. It takes anywhere from months to years to make (cure) and it really is an art.

Prosciutto is buttery, a little salty and completely delicious! You could find it in the deli section of your supermarket and it's often sold pre-packaged, thinly sliced.

I definitely didn't grow up eating prosciutto, but hubby and I regularly enjoy these days because it's just so versatile (and, of course, tasty)
Other Ways to Enjoy Prosciutto
With charcuterie boards
Melon salads with mozza or bocconcini
Wrapped around asparagus and dunked in jammy eggs
Wrapped around stuffed chicken breasts
On pizza
And so much more!
Do I Have to Cook Prosciutto?
No, prosciutto is ready to be enjoyed as is (which I often (ok, like, always) do upon opening a package).

Having said that, for this prosciutto sandwich recipe I opted to cook (or more like crisp) the prosciutto. Why? For sandwiches I tend to enjoy the texture the crispiness adds.

Plus, when you bite into the sandwich, you're not pulling all of the prosciutto out in one bite. Plus, crispy prosciutto? It's kinda awesome.

If you'd rather not crisp the prosciutto and just enjoy as is, that's a-ok too!
How to Cook Chicken Breasts In The Oven
For this recipe, I used one small boneless, skinless chicken breast. To cook –
Preheat oven to 400 degrees Fahrenheit.
Season chicken with a pinch of salt and pepper.
Drizzle with a little olive oil.
Place on a baking sheet or in a cast iron pan.
Bake for about 23 to 25 minutes or until temperature at the thickest part reaches 165 degrees Fahrenheit and the juices run clear. Use a food thermometre to be sure.
Let chicken cool a little before slicing so the juices reabsorb.
Note: Because chicken breasts can vary in size and thickness, your cook time may vary. Just ensure you cook the chicken until it is completely cooked through!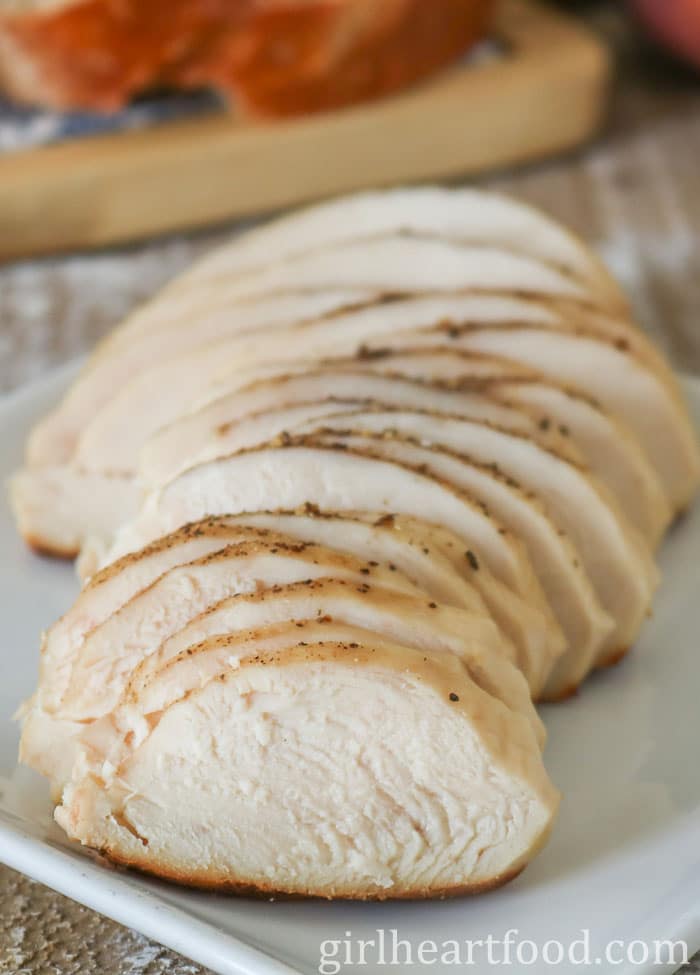 How to Assemble This Sandwich
Full details are in the recipe card below, but here are the basics –
Spread mayo on all 4 slices of toasted bread.
Top 2 of those slices with mozzarella and freshly cracked black pepper.
Top mozzarella with cooked chicken.
Next layer on that crispy prosciutto.
Layer peach slices and basil.
Finish with a drizzle of balsamic reduction.
Cover with remaining 2 slices of bread.
Cut (if you want) and enjoy!
Hungry for more? Subscribe to the Girl Heart Food Newsletter!
More Recipe Tips & Variations
Opt for store-bought rotisserie chicken to save time!
Don't have balsamic reduction on hand? Try a drizzle of honey!
Swap out apple or pear for the peach.
Arugula works lovely instead of basil
Like a little heat? Try some chili flakes.
I kept the chicken breast really simple with just a little salt and pepper. Feel free to season with some Italian seasoning if you like.
Want to lighten things? Cut your bread slices on the thinner side and reduce the prosciutto by half. It'll still taste delish!
Want to indulge a little? Opt for brie cheese instead of mozzarella. Super yum too!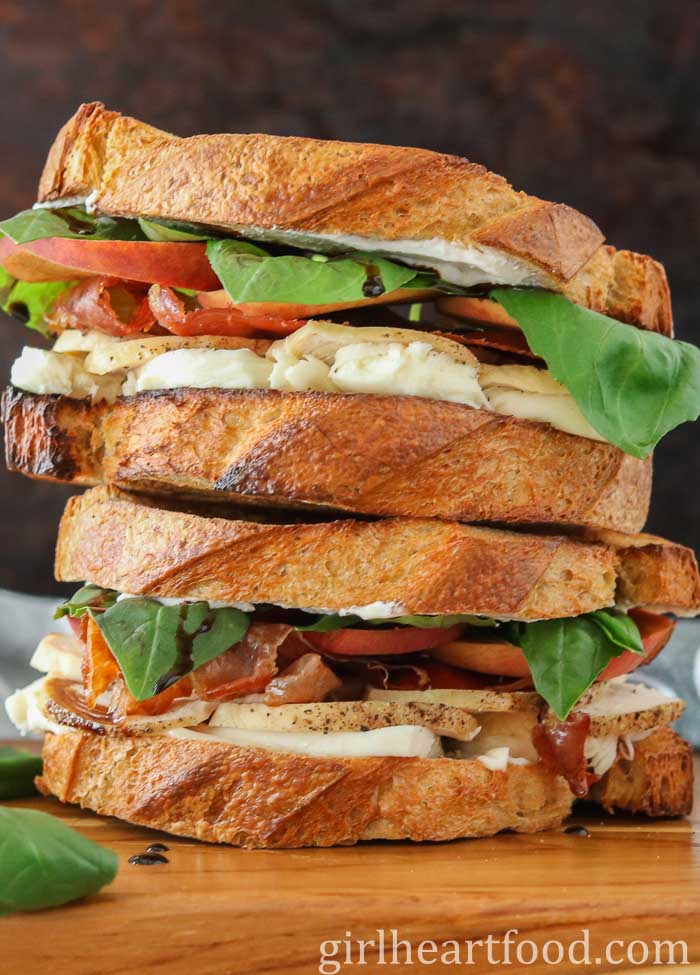 What to Serve With This Sandwich
More Sandwich Recipes You May Enjoy
Hope you love this chicken and prosciutto sandwich recipe as much as we do!
Until next time, take care and chit chat again soon,
Dawn
Make this easy Italian sandwich recipe? That's awesome! Love it if you left a comment below. Many thanks!
Print
Chicken Prosciutto Sandwich (with peach)
Looking for an easy sandwich recipe for lunch or to take along a fun summer picnic?  Try this chicken prosciutto sandwich! It's piled high with delicious toppings that will make your belly do a happy dance!  There's a little sweet from peaches, a little savoury from crispy prosciutto and chicken…and a whole lotta tasty.
Ingredients
8

ounces

boneless/skinless chicken breast

(or use store-bought cooked rotisserie chicken)

pinch

salt

pinch

black pepper

(for mozzarella and chicken breast)

1

teaspoon

olive oil

(optional)

4

slices

bread

(your favourite bread)

2 to 3

tablespoons

light mayo

(or to taste)

4

ounces

fresh mozzarella

, cut into slices

50

grams

prosciutto

(about 4 slices)

1

peach

, sliced

few

leaves

fresh basil

2

teaspoons

balsamic reduction

(or honey)
Instructions
To cook chicken breast, season with a little salt and pepper and drizzle with a little olive oil (optional). Place on baking sheet (or in a cast iron pan) in preheated 400 degrees Fahrenheit oven for about 23 to 25 minutes or until internal temperature is 165 degrees Fahrenheit at the thickest part and chicken is cooked through and juices run clear. Lay to one side to rest before slicing.

Meanwhile, crisp prosciutto by placing in a pan on the stovetop on medium heat, cooking until crispy (just a few minutes), turning once. Watch because it can burn quickly. Alternatively, you can place in the oven with the chicken during the last 5 to 8 minutes of cook time or until the prosciutto reaches your desired doneness. Again, watch carefully, because prosciutto can burn quickly!

Toast bread and smear mayo on one side of all 4 slices of bread.

Top 2 slices of bread with mozzarella and a pinch of black pepper.

On top of mozzarella, add cooked chicken, then crispy prosciutto, peach slices, basil and balsamic drizzle. Top each sandwich with other bread slice.  Enjoy!
Notes
For recipe tips and variations, see body of post above.