These homemade baked fries are super easy to prepare and roast up nice and crispy! With a simple seasoning, they're delicious and sure to hit the spot when you're craving French fries.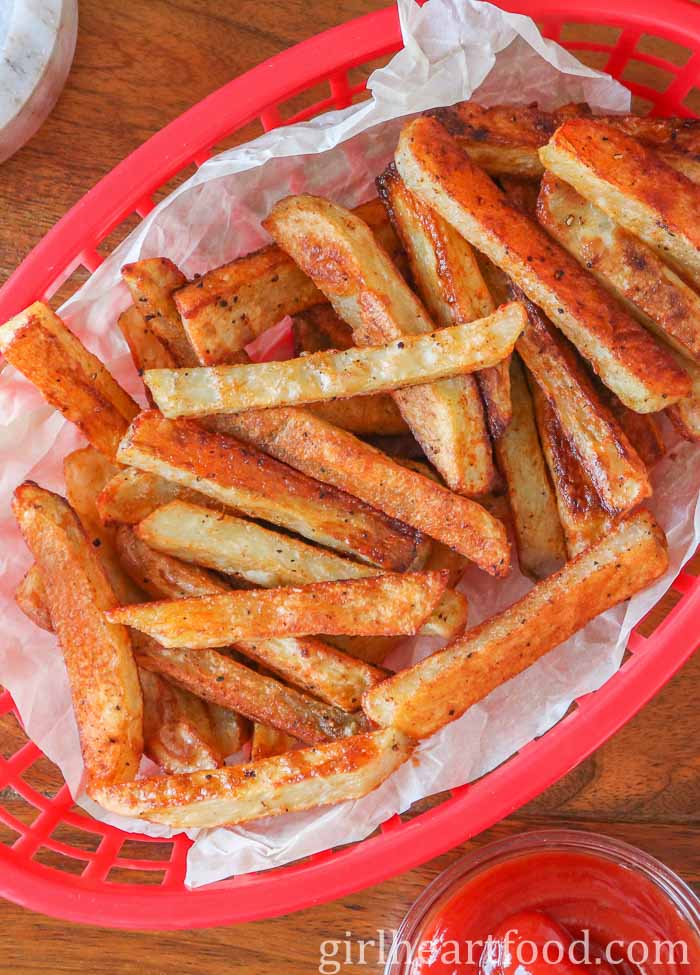 If you're a carb lover (like) me, you'll love today's recipe!
Hubby and I love all sorts of potato recipes, from roasted fingerling potatoes, skillet potatoes, parmesan wedges and now these homemade baked fries.
There's definitely nothing fancy here, but when you're talking scratch-made fries, it doesn't have to be.
Serve these bad boys with your favourite dipping sauce or enjoy as they are. There's no going wrong!
To really take things to another (delicious) level, load up these French fries (like I did in this loaded wedge recipe)! Talk about a treat!
Why We Love These Homemade Baked Fries!
They're prepped in about 10 minutes
You can adjust the fry seasoning to flavours you enjoy best
The recipe can easily be doubled to serve more of a crowd
So much better than store-bought
Of course, they taste delicious!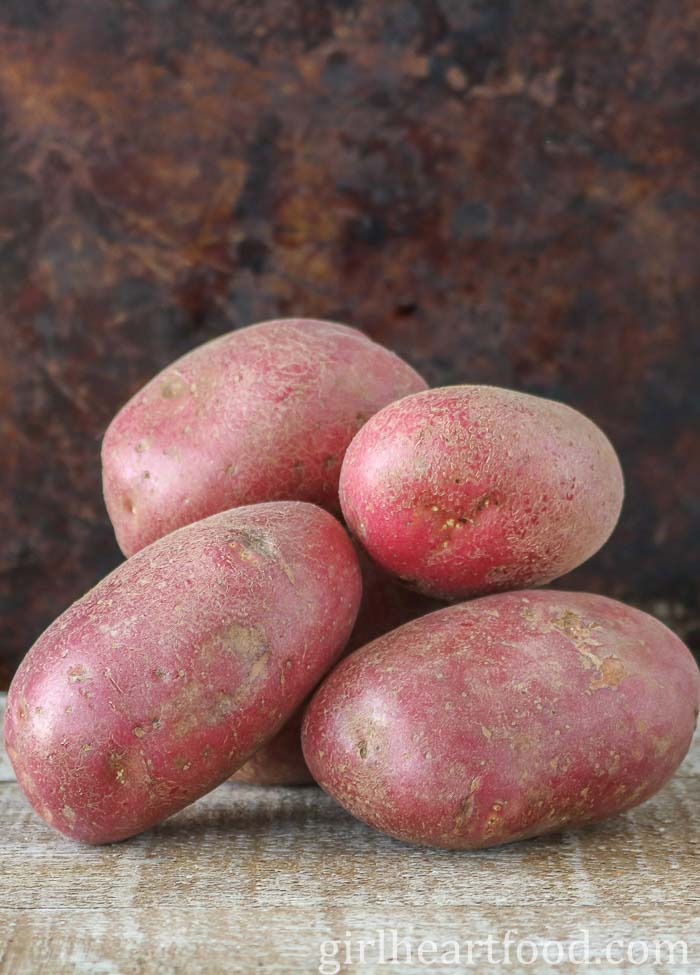 How to Make Fries in the Oven
Full details on how to make oven baked fries are in the recipe card below, but here are the basics:
Clean your potatoes and give 'em a peel.
Slice a little off one end.
Now, turn the potato over so it lays on the flat end (makes things easier to cut). Slice potato (I like anywhere from a ¼ inch to a ½ inch thick).
Now, cut those slices into fries.
As you are cutting your potatoes into fries, place into a bowl of fresh water so they don't oxidize (i.e. turn brown).
Drain and rinse the potatoes.
Place potatoes in a clean tea towel and pat dry of excess moisture. Use a couple of tea towels if you need to.
Place dried-off potatoes in a bowl and toss with oil and seasonings.
Grease a large sheet pan with some oil and spread those fries out and bake, turning once, until they're nice and crispy. Enjoy!
Hungry for more? Subscribe to the Girl Heart Food Newsletter!
What Type of Potato Should I Use?
Red potatoes were used in this recipe, but Yukon Gold is another great option.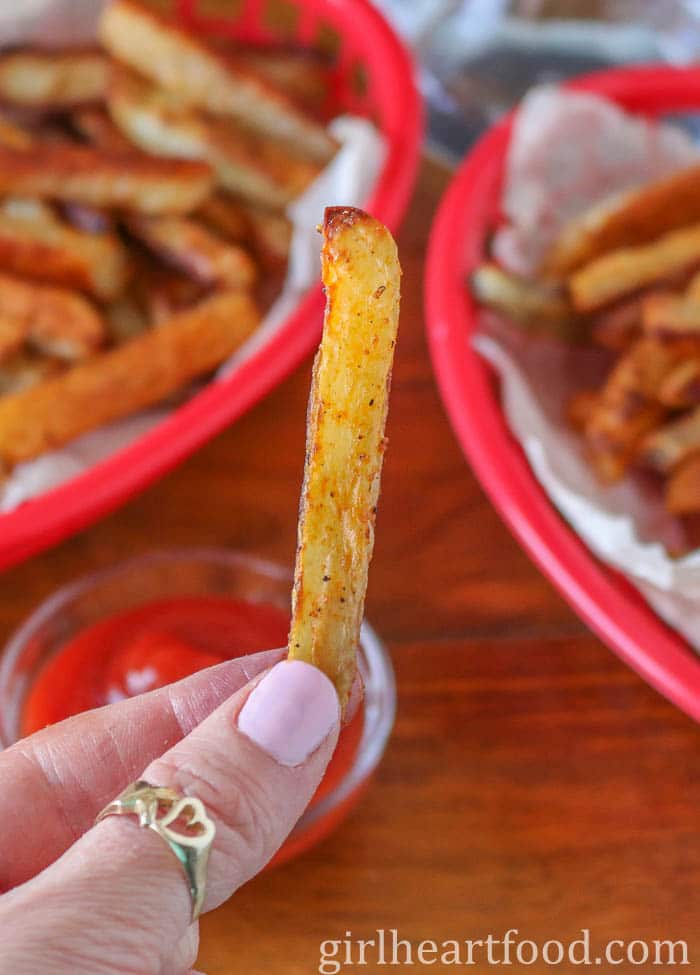 Do I Have to Peel The Potatoes?
Nope! Not at all!
If you prefer skin-on fries, you can simply scrub them clean. Then, remove any odd bits and proceed with the recipe.
Can I Make Them Smaller or Larger?
Absolutely! If you prefer thinner, shoestring fries or steak fries, you can always cut to how you like.
Just keep in mind, though, that your bake time can vary. Bake until they're golden and have a crispy outside, tender inside.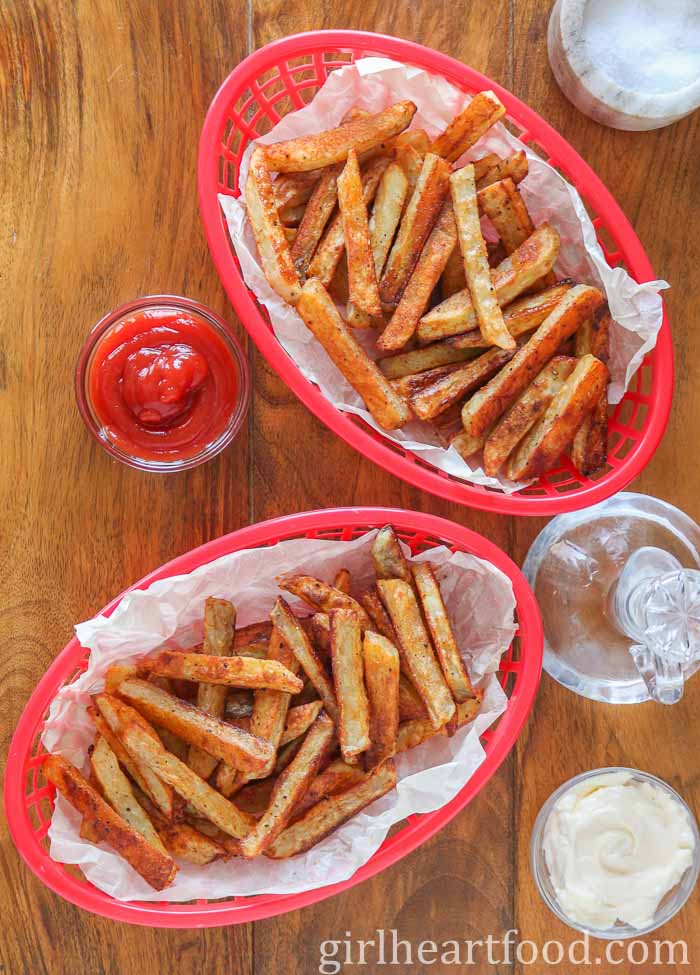 Fry Dips
Are you a fry dipper or do you like to enjoy them as is? I'm definitely a dipper! Some delicious fry dips are:
Ketchup (classic)
Mayo
BBQ Sauce (like my chipotle rhubarb BBQ sauce)
Gravy
Ketchup mixed with curry powder (delish)
Mayo mixed with curry powder, ketchup, BBQ sauce or hot sauce)
And, of course, vinegar (malt or regular) is always lovely to drizzle over top!
More Tips and Variations
As mentioned above, pat fries dry of excess moisture before baking. They turn out nice and crispy that way!
Mix up your fry seasoning! Other delicious seasonings are chipotle powder, smoked paprika, onion powder or homemade taco seasoning.
If you more (or less) of an ingredient, simply adjust to taste.
Add another element of flavour with some grated Parmesan over top.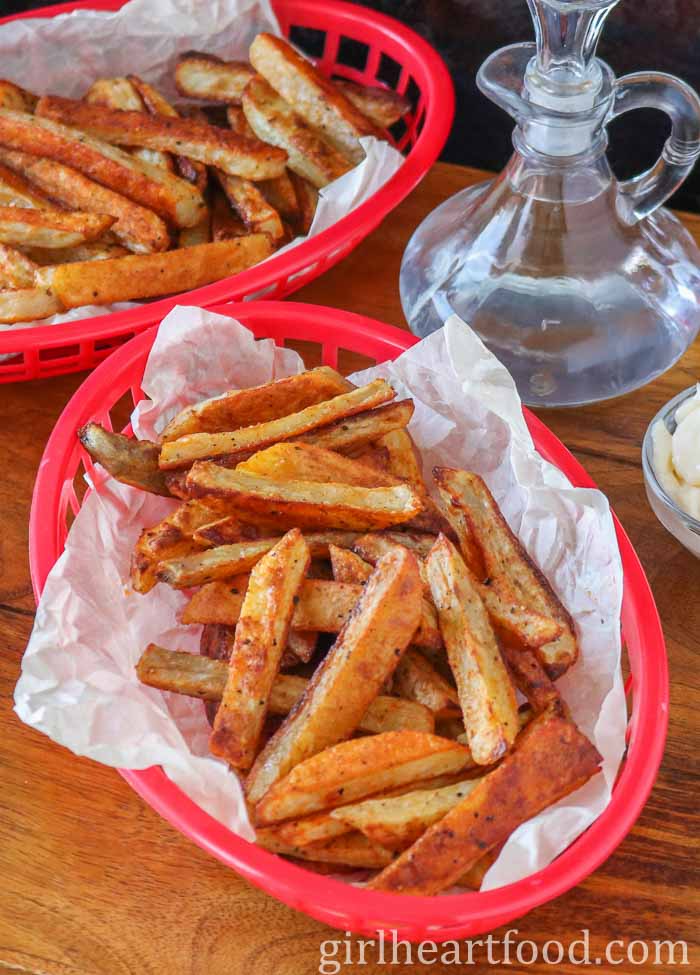 Make It A Meal!
To make things more substantial, enjoy these with:
Hope you love this homemade baked fries recipe as much as we do!
If you try these oven-baked French fries, be sure to leave a comment below. Love to know how you enjoyed!
Let's Be Social!
Follow Girl Heart Food on Facebook, Instagram, Pinterest and Twitter for all the latest delicious eats! Oh, and don't forget to subscribe to our newsletter!
Homemade Baked Fries
These homemade bake fries are super easy to prepare and roast up nice and crispy! With a simple seasoning, they're delicious and sure to hit the spot when you're craving French fries.
Ingredients
2

pounds

red potatoes or Yukon Gold potatoes

, cleaned, peeled and sliced into fries (about ¼ to ½ inch thick, depending on your preference)

2.5

tablespoons

avocado oil

, divided

½

teaspoon

salt

(or to taste)

½

teaspoon

black pepper

½

teaspoon

garlic powder

½

teaspoon

paprika
Instructions
Preheat oven to 425 degrees Fahrenheit. Lightly rub a little oil over a baking sheet (about ½ tablespoon) to grease and lay to one side.

Clean, peel (if desired) and cut potatoes into fries (see body of post for step by step pictures). Place fries into a bowl of fresh water as you are cutting them so they don't brown.

Note: Fries were a little less than a ½-inch in width. You can cut smaller or larger, should you wish. Your cook time may vary slightly.

Dump fries into a clean tea towel and pat dry of excess moisture. This is important because it will help the fries crisp up nicely.

In a dry bowl, toss fries with remaining 2 tablespoons of oil, salt, pepper, garlic powder and paprika.

Spread out onto prepared baking sheet and bake for about 30 to 35 minutes or until golden brown and crispy, turning halfway, with a straight edge spatula.

Once done, sprinkle with a little more salt, if desired. Enjoy as is or with your favourite dipping sauce.
Nutrition (ESTIMATE ONLY)
Calories:
239
kcal
Carbohydrates:
37
g
Protein:
4
g
Fat:
9
g
Saturated Fat:
1
g
Sodium:
332
mg
Potassium:
1032
mg
Fiber:
4
g
Sugar:
3
g
Vitamin A:
139
IU
Vitamin C:
20
mg
Calcium:
23
mg
Iron:
2
mg
Nutrition estimate (if provided) is based on 1 serving.
Nutrition information (if provided) is provided as a courtesy and should be considered an estimate only. Ingredients can vary and Girl Heart Food makes no guarantees to the accuracy of this information. It should not be considered a substitute for a professional nutritionist's advice.
A note on times provided: appliances vary, any prep and/or cook times provided are guidelines only.