Have leftover turkey?  This Turkey Cranberry Sandwich is your answer!  This grilled cheese sandwich combines lots of turkey, tart cranberry sauce, creamy goat cheese and melty mozzarella for one comforting bite!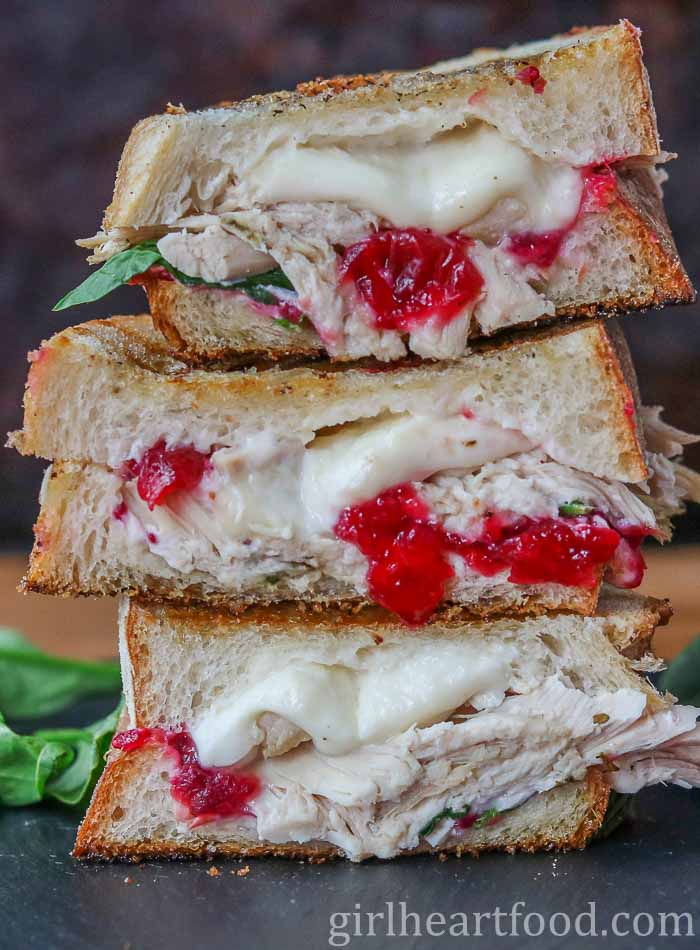 Hey lovely people!  Today I'm bringing you a fabulous turkey sandwich recipe using leftover turkey.  Full disclosure here—> I can't take full credit for this turkey cranberry sandwich.  Nope.  The idea came from my lovely sister in law.  I told her about my ham & brie sandwich before I shared it here on Girl Heart Food; she then told me about an awesome turkey cranberry sandwich she had in a coffee shop.  I knew I had to try it out. And,  yes, most of the conversations I have with people revolve around food.  Just ask hubby 😉 #StoryofMyLife
Who doesn't love a good grilled cheese sandwich recipe? Annnnnd, a good leftover turkey sandwich? What a marriage of the two – BOOM…sucker punch to the ol' tastebuds!  This one really stands out.  Even though the mozzarella is tremendously good, the star for me cheese-wise is the goat cheese.  It adds such a delicious flavour to this grilled cheese sandwich.
Turkey Cranberry Sandwich Using Leftover Turkey
Turkey has got to be at the tippity top of my fave proteins and I love having leftovers whenever we roast one. Sometimes the recipes using leftover turkey are better than the original. I mean, turkey soup, cold turkey with Dijon mustard (SO good) and turkey sandwiches, like this epic turkey cranberry sandwich.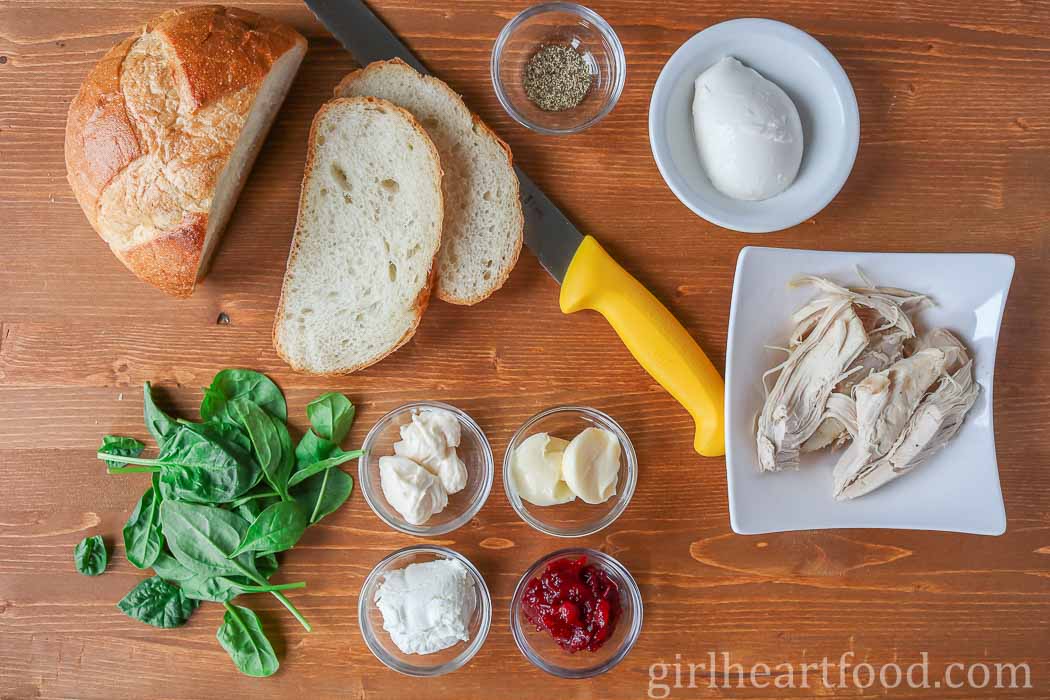 How to Make Cranberry Sauce
You can certainly use canned cranberry sauce in this turkey cranberry sandwich.  You know that wobbly, jelly can-o-goodness? It slurps out in one big blob. Yeah, that.  Some people love that stuff, others not so much.  I happen to enjoy it (yes, certain old school classics will always hold a place in my heart…nostalgia and all), but this time I made an easy cranberry sauce that literally took minutes to make. How did I make it?
Place 2 cups of fresh or frozen cranberries in a heavy bottomed pot on medium heat
Add 1 cup of water or orange juice (or a combo of both)
Then, add 1/4 cup or more (depending on how sweet you like it). Note—>I don't like things too sweet so you may want to add more. You do you!
Stir, bring to a low simmer, and cook for about 10-15 minutes until mixture has thickened (stir every couple of minutes so it doesn't burn/stick).  You can have this as 'clumpy' or as smooth as you like.  I like to leave a little texture in mine.
The cranberry sauce will thicken further as it cools in the fridge
Easy, right?
Tips for Making this Grilled Turkey Cranberry Sandwich
If you want your mozzarella a little more 'melty' you can place the sandwich in the oven after grilling for a few minutes on 300 F.
Want more or less of an ingredient? Go for it! This is a sandwich, not rocket science 😉
Use whatever bread is your fave. For this sandwich, I used sourdough.
Speaking of bread, the size of the slices you choose will affect how much mayo and butter you use. I had some decent-sized slices of bread and what I used for this recipe was just right.
Other Easy Sandwich Recipes you May Enjoy
Hope you love this turkey cranberry sandwich! How do you like to enjoy leftover turkey? Do tell!
Until next time, take care and chit chat again soon 🙂
~Dawn
P.S. If you think this turkey cranberry sandwich will make your belly happy too, please be sure to hit that little Pin button.  Many thanks, you guys! XO
Print
Turkey Cranberry Sandwich with Mozzarella & Goat Cheese
Have leftover turkey? This Turkey Cranberry Sandwich is your answer! This grilled cheese sandwich combines lots of turkey, tart cranberry sauce, creamy goat cheese and melty mozzarella for one comforting bite!
Ingredients
4

slices

bread

-your fave (I used sourdough)

2

tbsp

mayo

2

oz

goat cheese

3

tbsp

cranberry sauce

pinch

black pepper

handful

baby spinach

-optional

5

oz

cooked turkey

3

oz

mozzarella

-I used 'fresh', sliced thin

2

tbsp

butter
Instructions
Spread mayo evenly on 4 slices of bread.

On top of 2 of the slices top mayo with goat cheese. Spread cranberry sauce on top of those 2 slices and sprinkle with black pepper.

Top cranberry sauce with a few leaves of baby spinach.

Top spinach with turkey and then mozzarella. Then, top with mayo bread slice.

Butter exterior of bread slices and grill in griddle pan (or non stick pan) on medium heat for 3-4 minutes per side until golden brown and cheese melted. Enjoy!