With some simple ingredients, you're on your way to comfort town! This easy white chicken chili recipe combines lots of white beans, chicken and peppers for one satisfying meal. Garnish to taste with your favourite toppings, or simply enjoy as is!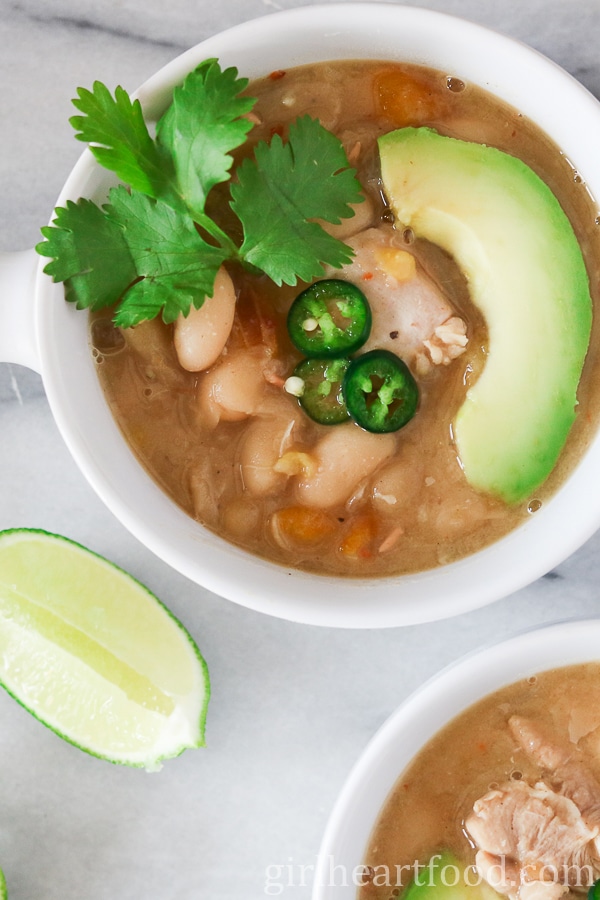 "How you doin'?" Remember that line from Joey from Friends? Never gets old. How is January treating you? We are now into the second half of the month.
Then, it's February and winter is practically over. Before you know it, it'll be spring! Gotta have positive thinking, am I right??
This time of year we tend to curl up inside (watching our favourite shows) and enjoy all sorts of comfort food, like turkey chili, hunter's chicken, baked gnocchi and chicken chili (especially served with a big hunk of cornbread). You too?
Ingredients for White Chicken Chili
With just some simple ingredients you have on hand, you could be on your way to some belly warming chicken chili! What goes in this white chili?
Peppers
Olive oil
Aromatics like onion and garlic
Chicken (of course)
Spices, like cumin, coriander and some salt and pepper
Chicken broth
Fresh chili if you like a little heat
Beans for heft and to add creaminess
Fresh lime juice for a pop of fresh flavour
Have these ingredients on hand? Chances are you do!
Friends gave us some homegrown peppers (along with some tomatoes, which aren't pictured here cause they are in our bellies). I roasted them off to add to this white chicken chili recipe.
I actually made this recipe a few times, with various peppers (including bell) and it worked lovely each time, so use what ya have on hand. Just keep in mind that it may take a bit longer to broil your peppers if they are larger.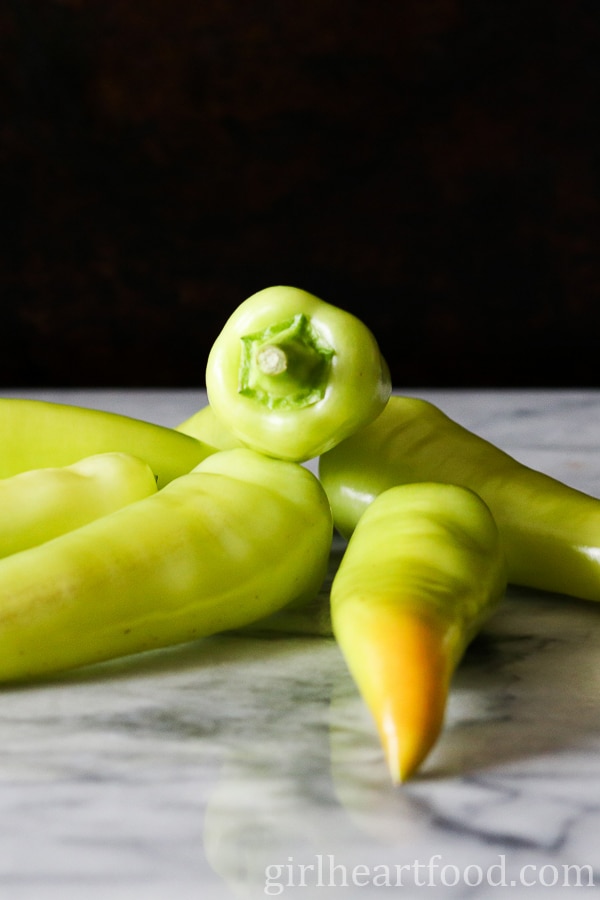 How To Make Chicken Chili
Full details are in the recipe card below, but here are the basics:
First, get your peppers going. Broil those, and after they've broiled cover them for a bit to loosen their skins, then remove most of it (along with the seeds). Chop and lay to one side for later.
Heat some cooking oil in a pot. Cook onion until softened, then add garlic and hot pepper.
To pot, add chicken, salt, pepper and spices.
Mash one can of kidney beans and leave one whole. Stir into pot. Add broth and cook.
Finally, add reserved peppers and the juice of one lime.
Serve, garnish with your favourite chili toppings, and dig in!
Tips and Variations
This chili is thinner than a traditional red sauce chili. I used 3 cups of broth in this recipe. If you want a thicker chili, use less broth.
I used habanero pepper in this recipe, which is quite spicy. You can use cayenne pepper instead, or less hot chili or not at all. Use what best works for you.
Chicken thighs were used here because lately they have been my go-to. I still enjoy chicken breasts, but I love that chicken thighs can withstand a longer cooking time and they have a little more flavour, if you ask me. If you prefer, you can totally use chicken breast here or even a combo of both.
Instead of anaheim peppers, you can use bell pepper (colour of choice) or one can of diced green chilies (drained).
If you use a bell pepper, it will take a little longer to char (no biggie). Just watch it and broil until the skin has charred all over and it has softened.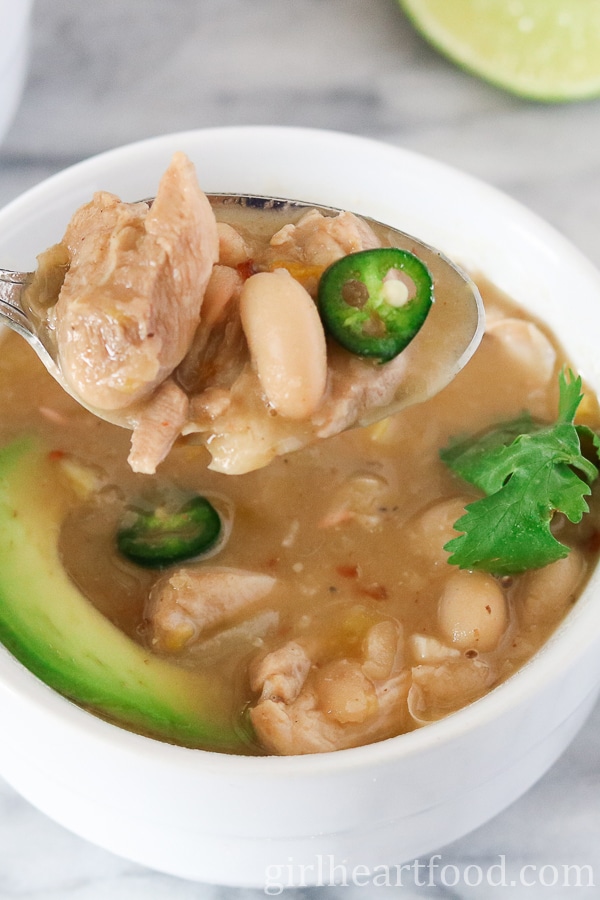 Garnish Ideas
Garnish to your heart's content! You know I love to garnish! Some delicious options are:
Avocado
Sour cream
Chili pepper
Diced red onion
Green onion
Freshly squeezed lime
Cilantro
So, cilantro. Love it or not? There certainly is an argument for cilantro on both sides. I've heard that those who don't like cilantro are genetically hard wired that way and for them, it tastes like soap. Funny, huh?
Years ago, I absolutely did not like it and, yes, it tasted soapy to me. I was not about to give up (especially when it comes to food), so I kept trying it and trying it. Now? Love it! Use it all the time and it's stocked in my fridge just as common as wine is, LOL. I kid, I kid.
The point is, you don't have to use cilantro. Garnish with what you like. Do what makes your belly do a little happy dance.
More Comfort Food Recipes
If you make this easy white chicken chili recipe, be sure to leave a comment below!
Easy White Chicken Chili Recipe
With some simple ingredients, you're on your way to comfort town! This easy white chicken chili recipe combines lots of white beans, chicken and peppers for one satisfying meal. Garnish to taste with your favourite toppings, or simply enjoy as is!
Ingredients
White Chicken Chili
½

pound

anaheim peppers

1

tablespoon

olive oil

1

yellow onion

,

peeled and thinly sliced

3

cloves

garlic

,

minced

½

habanero pepper

,

seeds and ribs removed for less heat (if desired) and minced

1

pound

boneless and skinless chicken thighs

,

cut into bite-sized chunks (or use boneless and skinless chicken breasts)

1

teaspoon

salt

½

teaspoon

freshly ground black pepper

2

teaspoon

ground cumin

1

teaspoon

ground coriander

2

(19-ounce) cans

no salt added white kidney beans

,

divided (rinse and drain before using)

2.5 to 3

cups

low sodium chicken broth

,

depending on how loose or thin you want the chili

2

tablespoons

lime juice

,

from about 1 lime
Garnish Ideas (optional)
Cilantro

,

chopped

Avocado

,

halved, pitted, peeled and sliced

Chili pepper

,

sliced

Green onion

,

sliced

Sour cream
Instructions
To broil peppers, line a baking sheet with aluminum foil and place peppers on it. Place baking sheet on upper rack of your oven and broil for about 3 to 4 minutes. Carefully remove from oven, turn and broil for another 3 to 4 minutes. The outside of the pepper should be charred.

Place peppers into a heat-safe bowl, cover with plastic food wrap and let sit for about 15 to 20 minutes.

Once peppers are cool enough to handle, remove charred skin (or most of it), cut each pepper in half and scrape out seeds. Roughly chop and reserve for use later.

Meanwhile, heat olive oil in a large pot or Dutch oven on the stovetop over medium heat.

Add onion and cook, stirring often, until softened, about 5 minutes. Add garlic and habanero pepper and cook for an additional 1 minute, stirring, until fragrant.

Add chicken, salt, black pepper, cumin and coriander to pot and cook, stirring occasionally, about 5 minutes.

Drain and rinse white kidney beans. Mash one can of white kidney beans with a potato masher and leave the other can whole.

Add mashed kidney beans, whole white kidney beans and chicken broth to pot, stirring in. Bring to a boil, then reduce heat (to about medium-low) to a simmer, cover, and cook for 15 to 20 minutes.

After 15 to 20 minutes (and when chicken is cooked through), stir in reserved chopped peppers and lime juice. Serve and garnish to taste (if desired) with any of the garnish ideas. Enjoy!
A note on times provided: appliances vary, any prep and/or cook times provided are estimates only.
© Girl Heart Food Inc. Photographs and content are copyright protected.
Tried this recipe?
If you do make this recipe, thank you!! It would mean so much if you could leave a comment below. Love to know how you enjoyed it, and it helps other readers too!