This Three Bean Chili is rich in flavour from lots of chili powder, cumin and coriander and has a hit of smoky spice from chipotle peppers.  It'll warm ya right up on a cold day!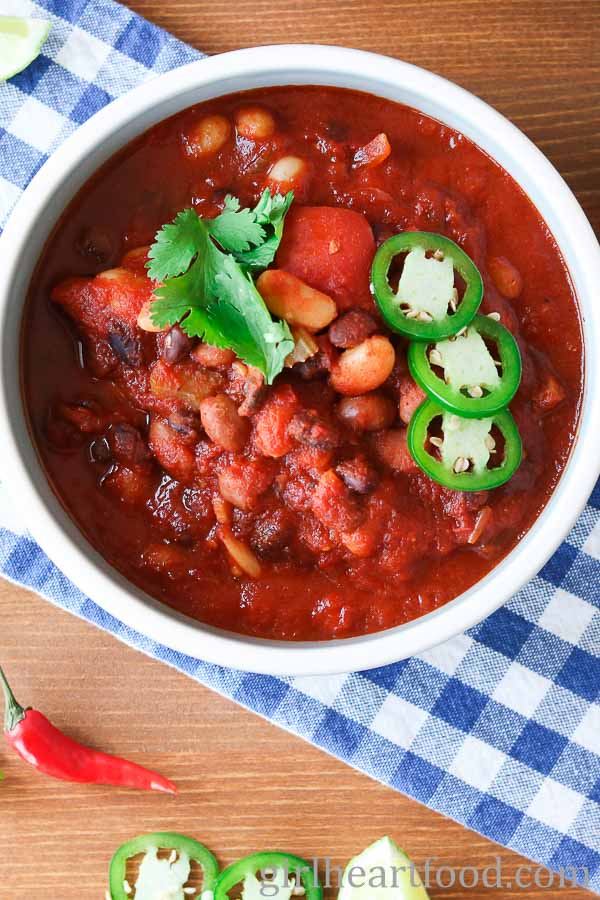 Hey everyone! How was your weekend?  Are you wondering how I'm doing with my meatless March adventure?  So, for those of you who aren't familiar, basically I'd enjoy a whole month of vegetarian-only meals.
Well, it ain't goin' too good.
I caved.
No lie.
Yep.
Hanging my head in shame right now.
I love vegetarian meals, like a lot, but girl also loves her some chicken wings.  It's like a switch was flicked. When I couldn't have things I would normally enjoy, that's when I wanted them even more.  It was like (shouting)—> I want some WINNNNNNNNNGS!!!!!!
So, meatless March lasted for a couple weeks. It was a really good learning experience and I gained a true appreciation for those who enjoy a vegetarian and vegan lifestyle.  For me, it was too much too fast.  Maybe I have to take baby steps.  One stand out, though, was this easy meatless three bean chili – it's super hearty and no meat was missed in this one.  Plus, we had a touch of snow here this weekend (can you believe it?!). What gives mother nature?!  Anywho –  something comforting and warm like this meatless chili is definitely in order.
Three Bean Chili
This three bean chili yields a whole bunch and uses simple pantry staples.  If it's too much for your family, it freezes really well so it makes for a quick dinner on busy days.  Similarly to my baked beans, if you want to portion it up for later, just let it cool, place desired quantity in vacuum seal bags and freeze flat.
It's delicious on its own or even over nachos for a Friday night feast.  The possibilities are endless!
Why are Beans So Good for You?
Beans are a staple in our home – both dried and canned.  Whenever possible, I buy the unsalted variety of canned beans and, of course, I always rinse them before using.
Beans are not only inexpensive, but they are tasty.  Plus, they are absolutely loaded with good-for-you stuff, like fibre, protein, vitamins and minerals.    I use 'em in salads, burgers, soups, dips, and chili on the regular.  I can honestly say that I've never eaten as many beans as I do now.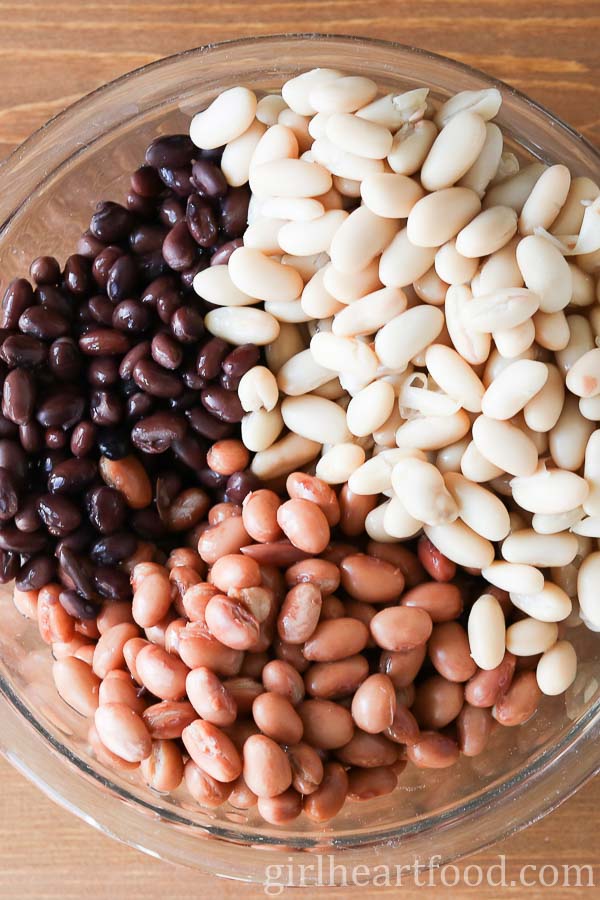 This meatless chili is so hearty, even meat lovers would inhale a huge bowl of it.  And, while it's no longer meatless March for me, it is meatless Monday so the perfect excuse to chow down on a huge bowl!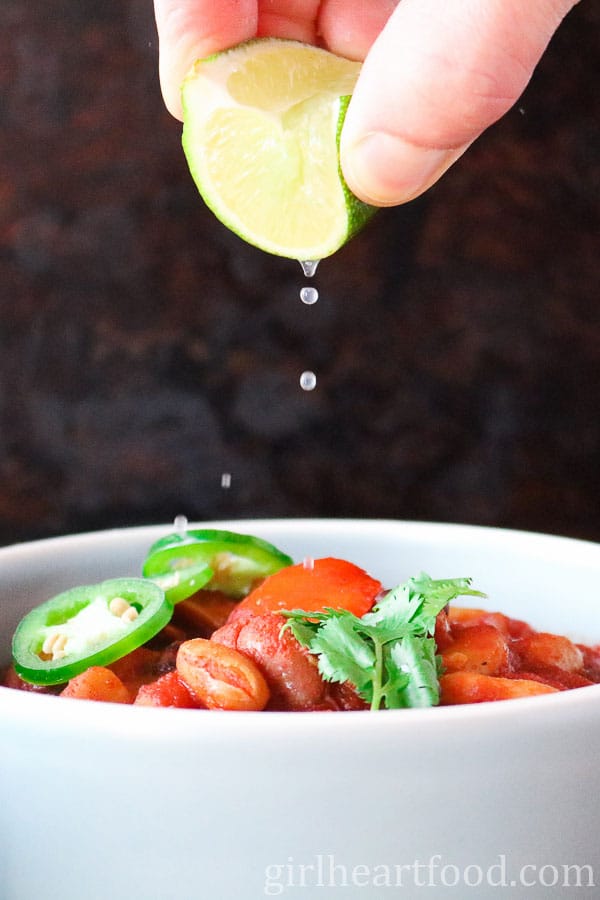 How to Garnish Chili
As you know, I'm all about those garnishes, those extra flavours and pops of colour.  Cilantro works wonderfully, but my hands down favourite is Greek yogurt!  Its adds creaminess to the chili and cools it down a touch.  I always use it in lieu of sour cream.  Plus, it's protein packed!
Shout to hubby for doing the whole hand modelling thing, lol—>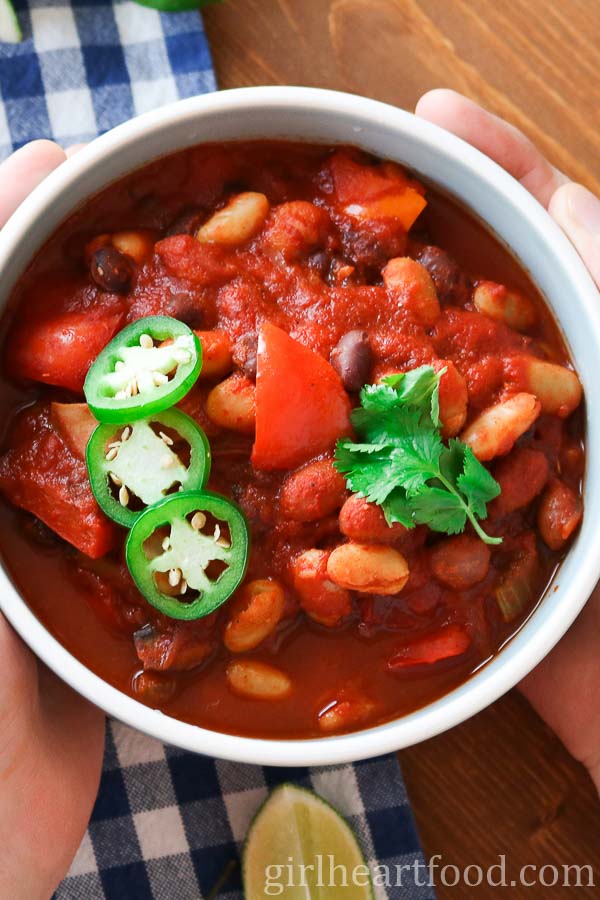 Hope you love this three bean chili!  Stay tuned later this week for an updated sidekick to go along with this.
Until next time, take care and chit chat again soon 🙂
P.S. Don't forget to subscribe below to stay in the loop on all the latest recipes.
P.P.S. If you think this three bean chili will make your belly happy too, please be sure to hit that little Pin button down below.  Many thanks, you guys! XO
This Three Bean Chili is rich in flavour from lots of chili powder, cumin and coriander and has a hit of smoky spice from chipotle peppers. It'll warm ya right up on a cold day!
Ingredients
1

tbsp

olive oil

1

onion

-chopped

4

cloves

garlic

-minced

3

cups

mushrooms

-sliced

2

stalks

celery

-sliced, about 1/4 inch thick

3

tbsp

tomato paste

2

bell peppers

-cut into bite-sized pieces

3

tbsp

chili powder

2

tsp

cumin

1/2

tsp

coriander

1/2

tsp

cayenne

1

tsp

salt

-or to taste

1/2

tsp

black pepper

2

796ml

cans whole tomatoes

-crushed

2-3

chipotles in adobo sauce

-chopped

1

19 oz can

black beans

-rinsed and drained

1

19 oz can

romano beans

-rinsed and drained

1

19 oz can

white kidney beans

-rinsed and drained

1

tbsp

apple cider vinegar
Suggested Garnishes
jalapeno

cilantro

green onion

avocado

crushed tortilla chips

Greek yogurt or sour cream
Instructions
In a 5-6 quart Dutch oven, heat olive oil on medium heat. Cook onion 3-4 minutes until softened slightly.

Add garlic and cook 1 minute. To garlic add mushrooms and celery and cook 5 minutes.

Add tomato paste and stir to combine. Cook 1 minute.

Add bell peppers, chili powder, cumin, coriander, cayenne, salt and pepper. Stir to combine.

Add cans of tomatoes and chipotle. Stir to combine. Bring to simmer, cover and cook 15 minutes.

Add beans, stirring to combine, and cook an additional 10 minutes, covered.

Stir in apple cider vinegar. Adjust salt to taste. Garnish as desired. Enjoy!