A classic egg salad sandwich recipe never gets old! This egg salad with dill combines perfectly cooked eggs, mayo, thinly sliced green onion, and a touch of cayenne for one easy, tasty lunch when you are brown bagging it!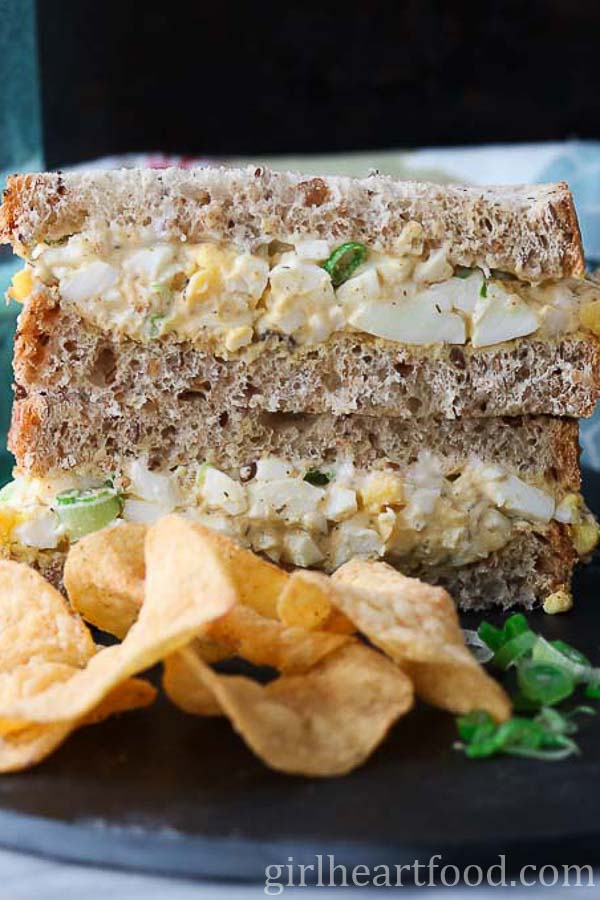 Hi friends!
Stopping in for a quick recipe before the weekend with this satisfying classic egg salad sandwich. With the addition of dill, it really takes the egg salad up a notch!
I've been really enjoying old school, simple recipes lately like curry chicken salad sandwiches, tuna wraps and grilled cheese. They never go out of style!
Something you may or may not know about me (depending on how long you've been following me here) … I will not eat egg salad anywhere, but home.
If I find one piece of shell in the mixture, I will drop everything I'm doing (including the sandwich) and run for the hills. Seriously. I can't go there. Suffice to say, my eggs are well inspected for said shell, LOL.
Egg Salad Ingredients
What I love about an egg salad recipe is that it's SO simple to prepare and chances are you have to ingredients on hand to make (unless you're like Steve Carell's character in 40 Year Old Virgin).
'I really wanted an egg salad sandwich.' Remember that scene? It gets me every time.
Whenever I think of an egg salad sandwich, I think of that movie. Funny how certain foods can trigger memories, isn't it?
So, a classic egg salad recipe typically includes:
Boiled eggs
Mayo
Seasoning, like salt and pepper
You can jazz your egg salad sandwich a little by adding a few extra ingredients like I did here to make it extra tasty!
How to Make It
Full details are in the recipe card below, but here are the basics:
Cook eggs (obviously).
Peel shell from eggs.
Place eggs into a bowl and add dill, cayenne, salt and pepper. Roughly mash. You can leave it chunky or not (do whatever you enjoy best).
Stir in chopped green onion.
Spread some mayo and Dijon mustard on slices of bread.
Portion egg salad mixture on top and form your sandwiches.
Enjoy!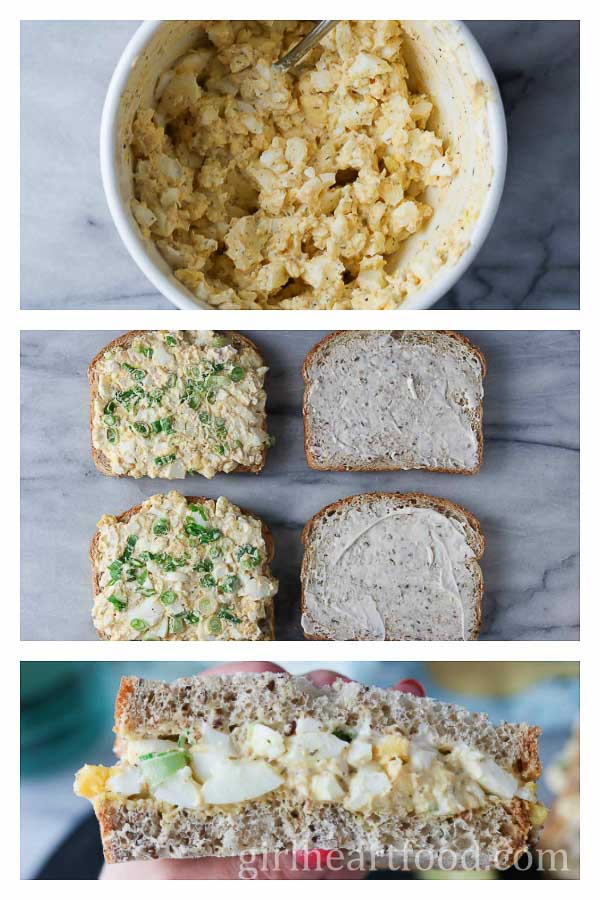 Hungry for more? Subscribe to the Girl Heart Food Newsletter!
How to Make Hard Boiled Eggs Peel Easy
Everyone has their own way to prepare eggs.
How I love to prepare eggs is to place the eggs in a pot of cold water, cover part way up, bring water to a boil, cover, and turn off heat. Cook for about 9 to 10 minutes and way to go!
As soon as the cook time is up, drain water, and rinse with cold water while jiggling eggs in pot to crack shells. Then, peel 'em off.
And, if you are like me, carefully inspect so they are shell free. Then, they are ready to use in your sandwich.
There is absolutely nothing fancy here, far from it. But is it tasty and hit the spot? Oh yeah!
Why Do Egg Yolks Turn Grey?
Have you ever boiled or steamed eggs only to discover when you have peeled and cut them open the beautiful yellow yolk is grey around the edges? Bummer.
That just means that the yolk has been overcooked. It's still edible, just not picture perfect. My preparation works out well every time and you're left with pretty-as-a-picture egg yolks.
Recipe Variations
Chopped pickle works lovely mixed in this egg salad. Perhaps try that instead of green onion.
If you want to mix things up a bit, try using curry powder instead of cayenne and dill.
More Yummy Lunch Recipes
The only thing you need to decide now is what to have with your egg salad sandwich. You can never go wrong with crunchy kettle chips if you ask me.
Hope you love this one! We think it's the best egg salad recipe and I hope you do too!
If you make this egg salad sandwich recipe, be sure to leave a comment below. Love to know how you enjoyed!
Let's Be Social!
Follow Girl Heart Food on Facebook, Instagram, Pinterest and Twitter for all the latest delicious eats! Oh, and don't forget to subscribe to our newsletter!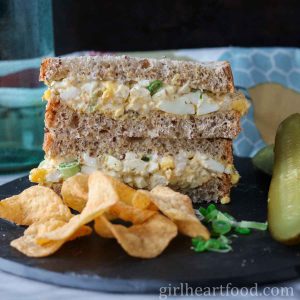 Classic Egg Salad Sandwich Recipe (with dill)
A classic egg salad sandwich recipe never gets old! This egg salad with dill combines perfectly cooked eggs, mayo, thinly sliced green onion, and a touch of cayenne for one easy, tasty lunch when you are brown bagging it!
Ingredients
5

large

eggs

¼

cup

light mayo

(plus more for bread)

¼

teaspoon

dried dill

⅛

teaspoon

cayenne pepper powder

pinch

salt

pinch

black pepper

1

stalk

green onion

, thinly sliced

1

tablespoon

Dijon mustard

4

slices

sandwich bread

(your favourite variety)
Instructions
To a small to medium pot, add eggs and fill with cold water until eggs are ¾ of the way covered. Cover and bring to a boil. Once water boils, turn off heat and let sit (still covered) for 9 to 10 minutes. Rinse until cold water and crack shells. Peel off shell and discard that.

To a bowl, add cooked, peeled eggs, dill, cayenne pepper powder, salt, and black pepper. Mash eggs to desired consistency (I like to leave a little chunky). Stir in green onion.

Spread the Dijon mustard over one side of two slices of bread and spread some mayo over one side of the other two slices of bread.

Distribute the egg salad mixture between two slices of bread (over top of Dijon mustard). Top with remaining two slices of bread to form the sandwiches. Enjoy!
Nutrition (ESTIMATE ONLY)
Calories:
404
kcal
Carbohydrates:
32
g
Protein:
22
g
Fat:
20
g
Saturated Fat:
5
g
Cholesterol:
469
mg
Sodium:
763
mg
Potassium:
274
mg
Fiber:
2
g
Sugar:
5
g
Vitamin A:
780
IU
Vitamin C:
1.2
mg
Calcium:
147
mg
Iron:
4.3
mg
Nutrition estimate (if provided) is based on 1 Serving.
Nutrition information (if provided) is provided as a courtesy and should be considered an estimate only. Ingredients can vary and Girl Heart Food makes no guarantees to the accuracy of this information. It should not be considered a substitute for a professional nutritionist's advice.
A note on times provided: appliances vary, any prep and/or cook times provided are guidelines only.