A classic egg salad sandwich never gets old! Perfectly cooked eggs are combined with mayo, thinly sliced green onion, a touch of cayenne and some dill to make for one easy, tasty lunch when you are brown bagging it!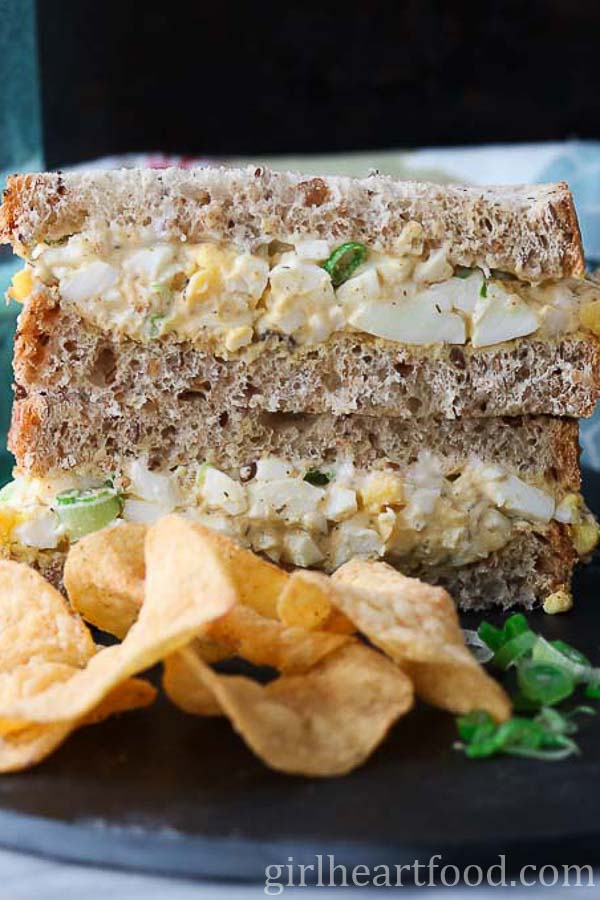 Stopping in for a quick recipe before the weekend with this satisfying classic egg salad sandwich.  I've been really diggin' old school, simple recipes lately like sandwiches, beans and chili.  They never go out of style!  Something you may or may not know about me (depending on how long you've been following me here) —>  I will not eat egg salad anywhere, but home.  If I find one piece of shell in the mixture, I will drop everything I'm doing (including the sandwich) and run for the hills.  Seriously.  I can't go there.  Anywho, suffice to say, my eggs are well inspected for said shell.
Egg Salad Sandwich Recipe
'I really wanted an egg salad sandwich.' Remember that scene in the movie 40 Year Old Virgin starring Steve Carell? Steve's character works in an electronics store and he is kinda, like, the odd ball out amongst the guys.  Seth Rogen's character asked him what he did that past weekend and Steve's character was like—>
"Oh man, Friday, I really wanted an egg salad sandwich and I was just obsessing about it and I was like, 'Man, I'm gonna make one of those.' So Saturday, I went out and got, like, a dozen eggs and then I boiled them all and I just, I spent, I dunno, probably three hours…like three and a half hours making, you know, the mayonnaise, and the onions and paprika and, you know, the necessary accoutrement. And then, by the time I was done, I didn't really feel like eating it."
That scene gets me every time.  Whenever I think of an egg salad sandwich, I think of that movie.  I can totally relate, though, sometimes taking so long to prepare a meal that you don't even want to eat it when it's ready.  Not to worry!  This sandwich takes less than 15 minutes 😉
How to Make Hard Boiled Eggs that Peel Easily
Everyone has their own way to prepare eggs.  You may boil them, you may crack them and microwave (though, they could explode…speaking from experience here) or you could steam them.
How I love to prepare them is to place the eggs in a pot of cold water, cover part way up, bring water to a boil, cover, and turn off heat.  Cook for about 9-10 minutes and way to go!  As soon as the cook time is up, drain water, and rinse with cold water while jiggling eggs in pot to crack shells.  Then, peel 'em off.  And, if you are like me, carefully inspect so they are shell free….cause that's the way to be, lol.  Then, they are ready to use in your sandwich.
There is absolutely nothing fancy here, far from it.  But is it tasty and hit the spot?  Oh yeeeeeeah!
I love adding dill and cayenne to the mix here cause it gives the sandwich a little somethin' somethin' and is more 'traditional.'  If you want to mix things up a bit, curry powder works lovely with eggs too.
Why Do Egg Yolks Turn Grey?
Have you ever boiled or steamed eggs only to discover when you have peeled them and cut them open the beautiful yellow yolk is grey around the edges?  Bummer.  That just means that the yolk has been overcooked.  It's still edible, just not picture perfect.  My preparation works out well every time and you're left with pretty-as-a-picture egg yolks.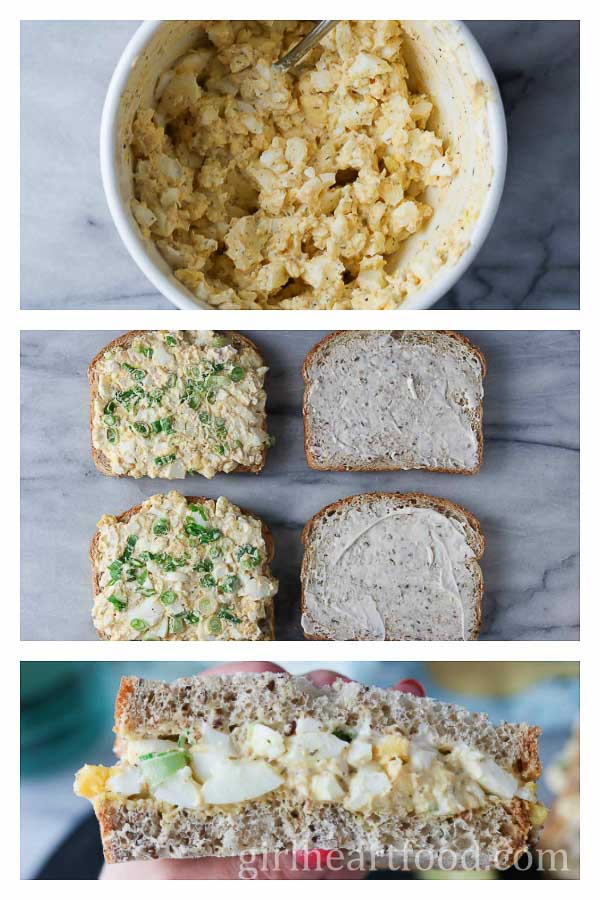 The only thing you need to decide now is what to have with your egg salad sandwich.  You can never go wrong with crunchy kettle chips if you ask me.
Looking for more tasty lunch recipes?  Check these out!
Hope you love this egg salad sandwich recipe as much as I do!
Until next time, take care and chit chat again soon!  Have a wonderful weekend 🙂
~D
If you think this egg salad sandwich recipe will make your belly happy too, please be sure to hit that little Pin button down below.  Many thanks, you guys! XO
Egg Salad Sandwich
A classic egg salad sandwich never gets old! Perfectly cooked eggs are combined with mayo, thinly sliced green onion, a touch of cayenne and some dill to make for one easy, tasty lunch when you are brown bagging it!
Ingredients
5

large

eggs

1/4

cup

light mayo

-plus more for bread

1/4

tsp

dried dill

1/8

tsp

cayenne

pinch

salt

pinch

black pepper

1

stalk

green onion

-thinly sliced

1

tbsp

Dijon mustard

4

slices

good quality bread
Instructions
In a small pot add eggs and fill with cold water until eggs are 3/4 of the way covered. Cover and bring to boil. Once water boils, turn off heat and let sit (still covered) for 9-10 minutes. Rinse until cold water and crack shells. Peel.

In a bowl add cooked, peeled eggs. dill, cayenne, salt, and pepper. Mash eggs to desired size (I like to leave a little chunky). Stir in green onion.

For each sandwich, spread half of the Dijon mustard on a slice of bread and spread some mayo on the other slice. Top Dijon mustard side with half of the egg salad mixture and top with remaining slice of bread. Enjoy!
Nutrition Facts
Egg Salad Sandwich
Amount Per Serving (1 sandwich)
Calories 404
Calories from Fat 180
% Daily Value*
Total Fat 20g 31%
Cholesterol 469mg 156%
Sodium 763mg 32%
Potassium 274mg 8%
Total Carbohydrates 32g 11%
Protein 22g 44%
* Percent Daily Values are based on a 2000 calorie diet.