Loaded with lots of feel good ingredients, this green ginger smoothie makes for a delicious way to start any day! It's a great green smoothie for beginners. Plus, it's plant based, dairy free and naturally sweetened. What's not to love?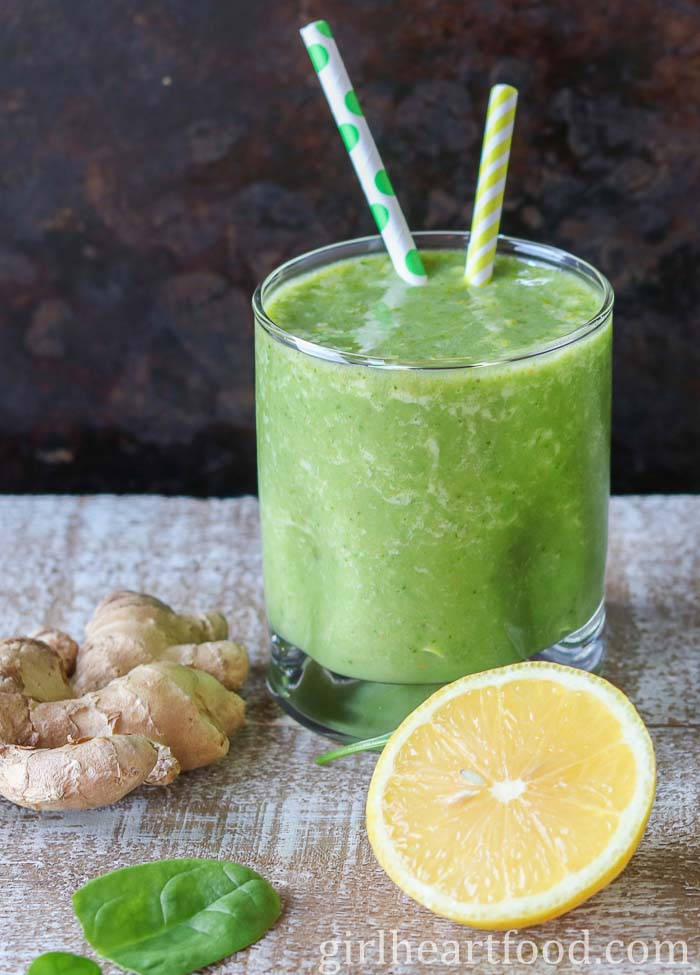 I have a confession to make.
I am a food blogger.
You're probably thinking that's no secret confession or anything.
Okay, here it goes …
As food obsessed as I am, sometimes I forget to eat!
Crazy, right?!
Well, it's mostly during weekends when I'm busy doing all the things.
Then, boom, it strikes me like a ton of bricks.
Dawn is hangry! Nobody like hangry Dawn, not even me. I get so cantankerous. Like, don't even look at me. You too?
That's where a hearty smoothie does the trick. It takes minutes to whip up, it's filled with all kinds of goodness and keeps hangry Dawn at bay.
If I were wearing fancy pants right now I'd call it a "feel good, happy times, sunshine smoothie" or something clever like that. But, I'm not, so ginger smoothie it is!
Thinking a veggie smoothie recipe isn't for you? Try this one out and you'll be a green smoothie believer, my friends. I wouldn't steer you wrong!
How To Make a Smoothie
I don't need to tell you that making a smoothie is easy!
You simply throw the prepared ingredients in the blender jug and blend. Pour into glasses and enjoy!
For most smoothies, you need to have your liquid base (i.e. some sort of milk), add-ins like spinach or berries and a sweetener (optional).
To make this green smoothie, I use:
Almond milk
Banana (preferably frozen), to thicken
Freshly grated ginger
Freshly grated turmeric
Lemon Juice
Baby Spinach
Pineapple (to naturally sweeten)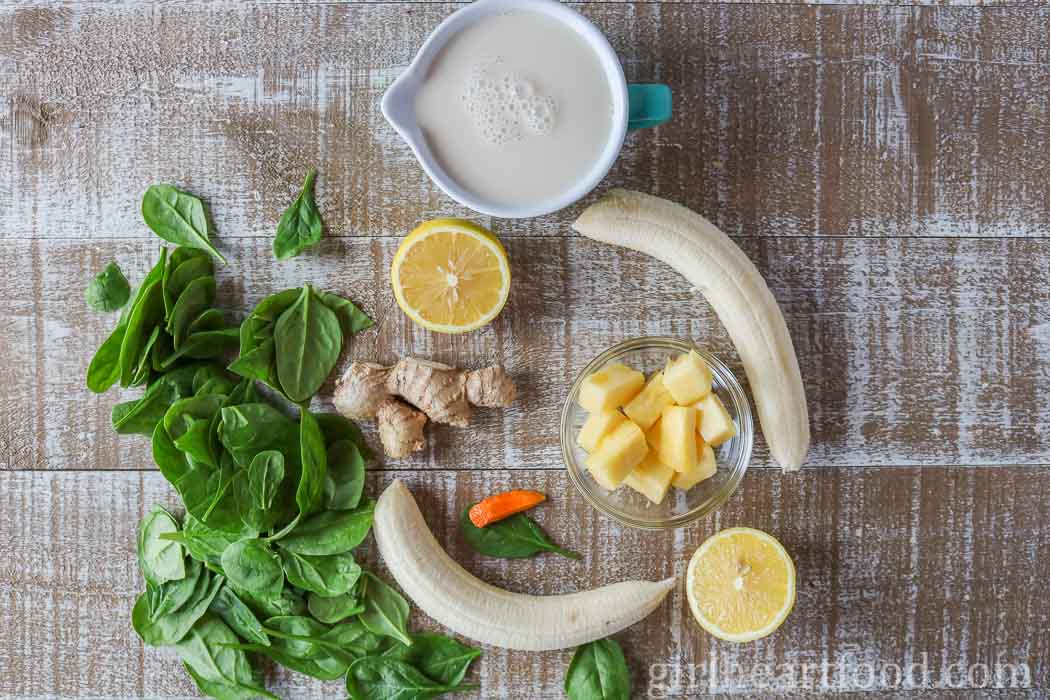 What Is Ginger? What Can You Use Ginger For?
Ginger is actually a flowering plant originating from China. It has a fragrant, almost spicy taste. It really packs a punch in the flavour department and way more so than the dried or powdered variety.
Besides this ginger smoothie, fresh ginger is great for:
Adding a thin slice to hot tea with lemon (so good)
Infusing water
Using in curries and stir fries
Adding to baked goods in lieu of dried ginger for a really pungent hit of flavour
How to Peel and Mince Ginger
Some people use a spoon to scrape the outer layers from fresh ginger (especially younger ginger). Me? I prefer to use a potato peeler.
After peeled, I typically cut into small strips and then mince with a knife until fine. Don't want to use a knife? Grate it with a microplane.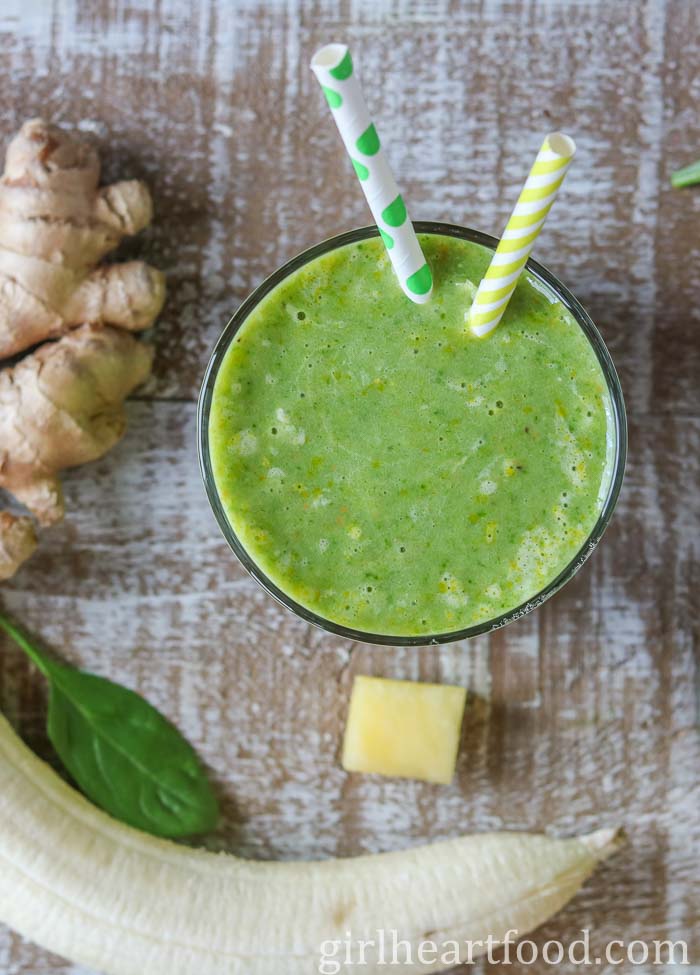 Tips for Making This Recipe
Ensure that the banana is frozen because this will give a creamy consistency to your smoothie.
Want this ginger smoothie even creamier? Use frozen pineapple chunks as well.
I recommend using fresh turmeric here. You could use powdered turmeric, but it will change the colour of your smoothie and it won't be green. Want to omit? That's okay too.
Speaking of turmeric, that stuff stains! You will be going around with orange hands all day once you handle. Not the end of the world, but if you want to avoid, just wear some gloves while mincing.
Need things a little sweeter? Add some maple syrup, about 1 tablespoon at a time, until you've reach your desired sweetness level.
Want to add a little more oomph to the mix? Add in your favourite protein powder (opt for a vegan variety, if you want this smoothie to be vegan).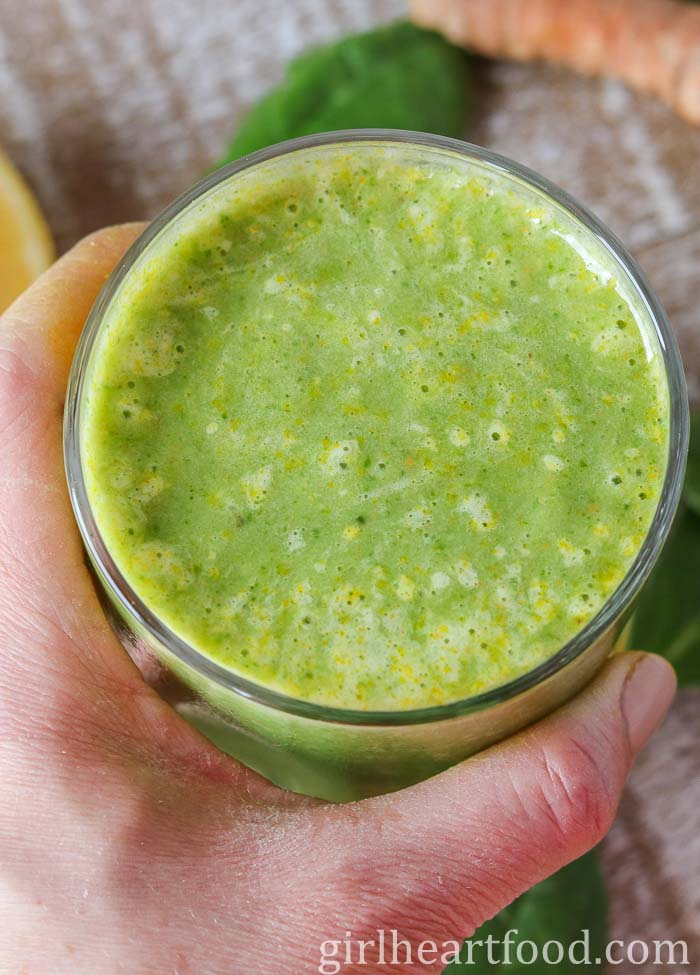 More Yummy Smoothie Recipes
If you make this ginger smoothie recipe, be sure to leave a comment below!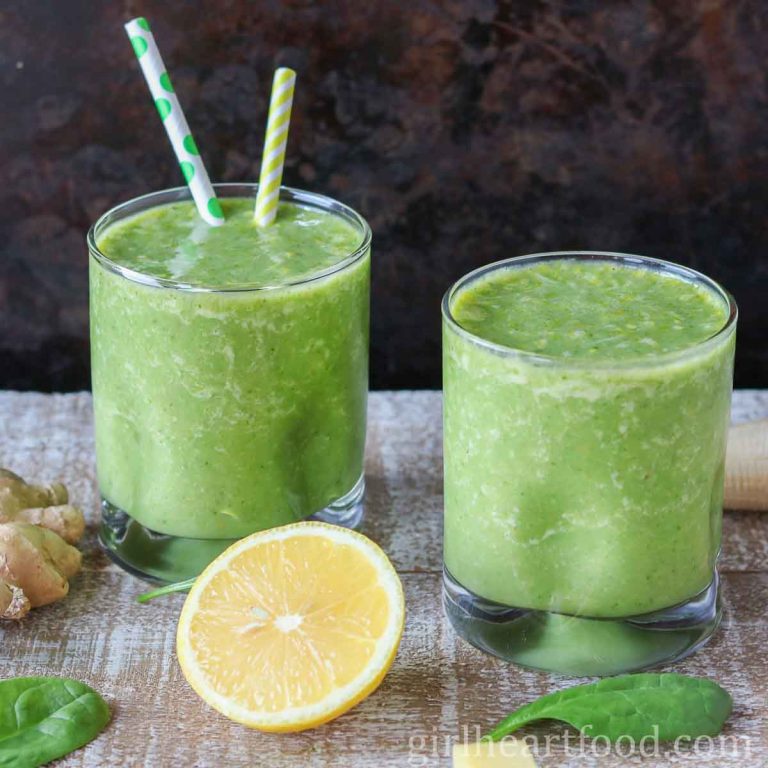 Ginger Smoothie With Spinach
Loaded with lots of feel good ingredients, this green ginger smoothie makes for a delicious way to start any day! It's a great green smoothie for beginners. Plus, it's plant based, dairy free and naturally sweetened. What's not to love?
Ingredients
1.5

cups

unsweetened almond milk

1

tablespoon

freshly grated ginger

½

stalk

freshly grated turmeric

,

about 3 to 4 grams (optional)

2

frozen bananas

,

cut into chunks

½

cup

chopped fresh pineapple (peeled)

2

generous handfuls baby spinach

,

about 2 loosely packed cups

2

tablespoons

lemon juice

,

from about ½ of a lemon

½

cup

crushed ice

,

optional
Instructions
Add all ingredients to a blender and blend until smooth. Divide the smoothie between two glasses. Serve and enjoy!
Nutrition (ESTIMATE ONLY)
Nutrition Facts
Ginger Smoothie With Spinach
Amount per Serving
% Daily Value*
* Percent Daily Values are based on a 2000 calorie diet.
Based on 1 serving.
Nutrition information provided is an estimate only.
Nutrition estimate (if provided) is based on 1 Serving.
Nutrition information (if provided) is provided as a courtesy and should be considered an estimate only. Ingredients can vary and Girl Heart Food makes no guarantees to the accuracy of this information. It should not be considered a substitute for a professional nutritionist's advice.
A note on times provided: appliances vary, any prep and/or cook times provided are guidelines only.
Tried this recipe?
If you do make this recipe, thank you!! It would mean so much if you could leave a comment below. Love to know how you enjoyed it, and it helps other readers too!