Take a delicious trip down memory lane with this ultra simple, totally delicious, fried bologna sandwich. With just six simple ingredients, this indulgent cold cut sandwich hits the spot when you're craving a little comfort food treat.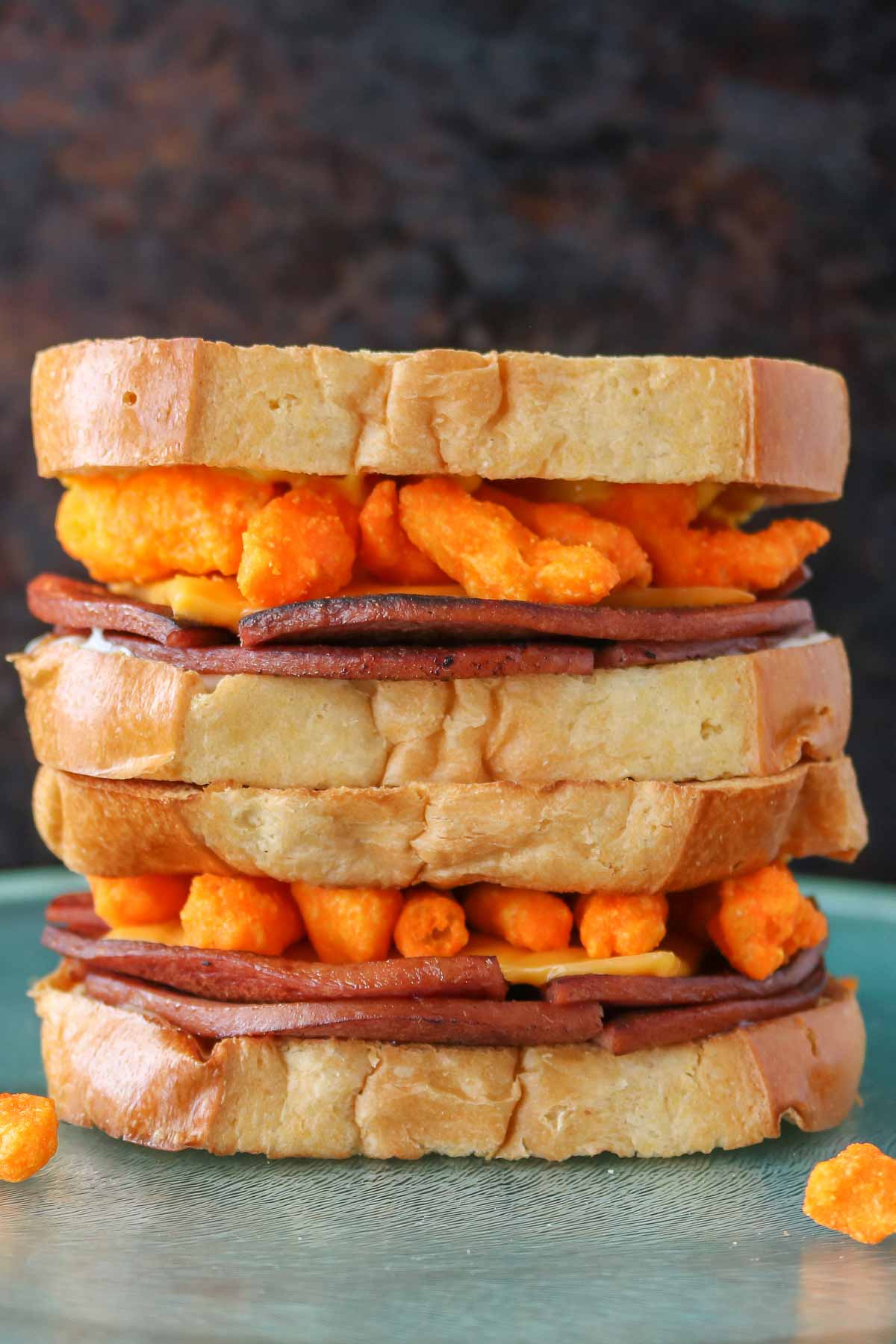 "Bologna" or "baloney"? Which way do you pronounce it? I often say it both ways these days. However, growing up, it was always "baloney."
Whether it was cold baloney sandwiches, fried baloney and eggs or simply a slice of baloney on a plate with a happy face on it (made out of ketchup and mustard … thanks dad), baloney was pretty much a staple in our home. Granted, we wouldn't be eating the stuff every single day, but we always had some in our refrigerator.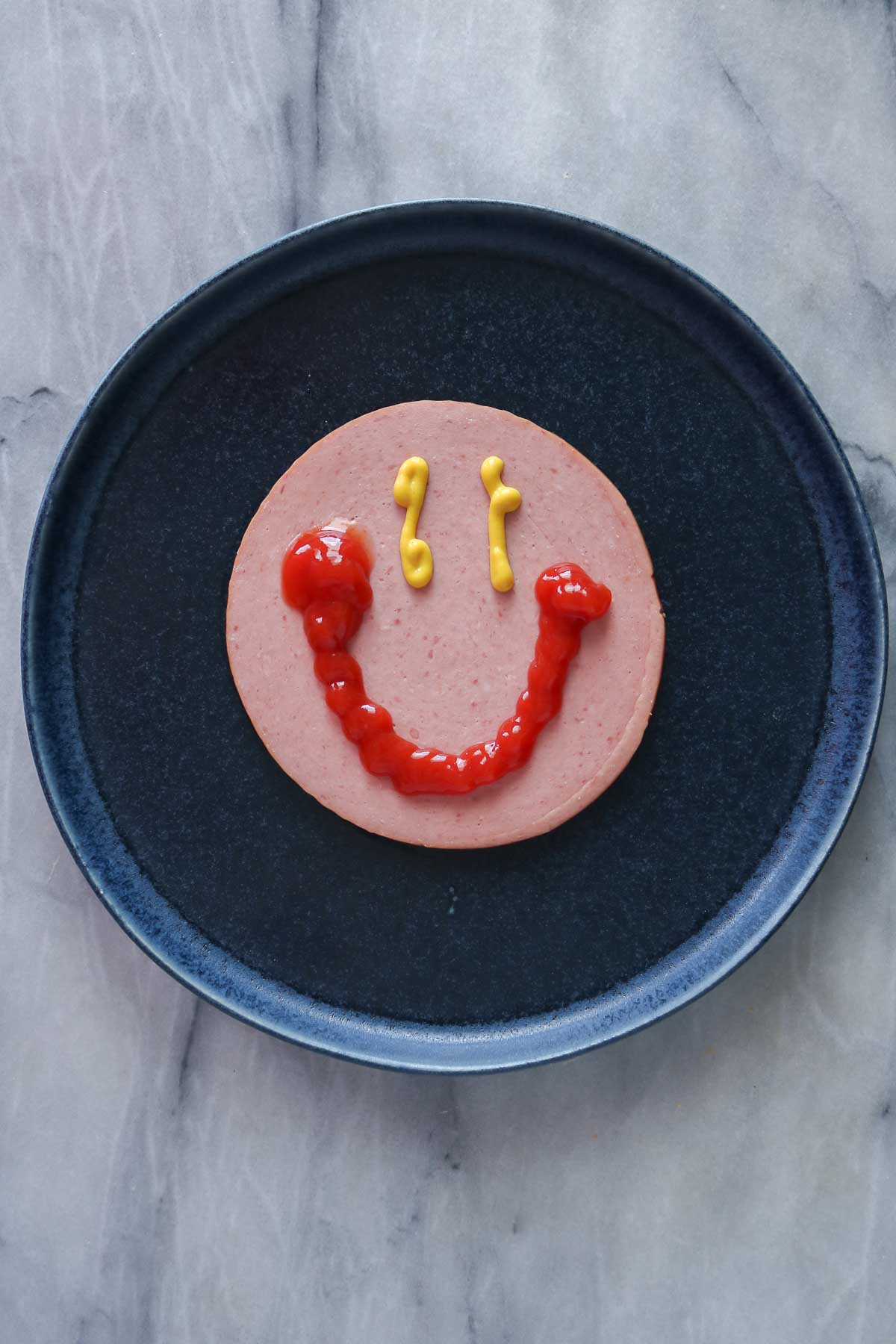 With cheese, crispy fried bologna (or baloney), a decent smear of yellow mustard and mayo, and crunchy cheese puffs, this bologna sandwich recipe is definitely what I would consider a treat (just like this grilled peanut butter and jam grilled cheese sandwich).
There is nothing fancy going on here. Actually, quite the opposite. When I make bologna sandwiches, I always prefer processed cheese slices (a thick variety for extra cheesy goodness) and a simple sandwich bread, like white or brioche. That's not saying you can't use another variety of cheese, like cheddar, or a whole wheat bread. I just like the simplicity of those ingredients for this particular type of sandwich. And, while I drink very little soda, I have got to have some with my fried bologna sandwich! You too?
By the way, if you are a fan of cold cut sandwiches, check out this mortadella sandwich and Italian cold cut sub sandwich recipes.
What's your favourite way to enjoy bologna?
Frying the Bologna
I like to make some slits (about 3 or 4) around the circumference of the bologna slices so they fry up nicely. This helps them to fry flat (rather than puff up or curl) so the slices get crispy.
Some people like their bologna super crispy, others not so much. You can fry the bologna to how you like it best.
Tip: This recipe uses four slices of bologna. Use a large cast-iron skillet so the bologna slices fit in there without overlapping (that way they'll crisp up nicely) or cook the bologna in batches (two slices at a time).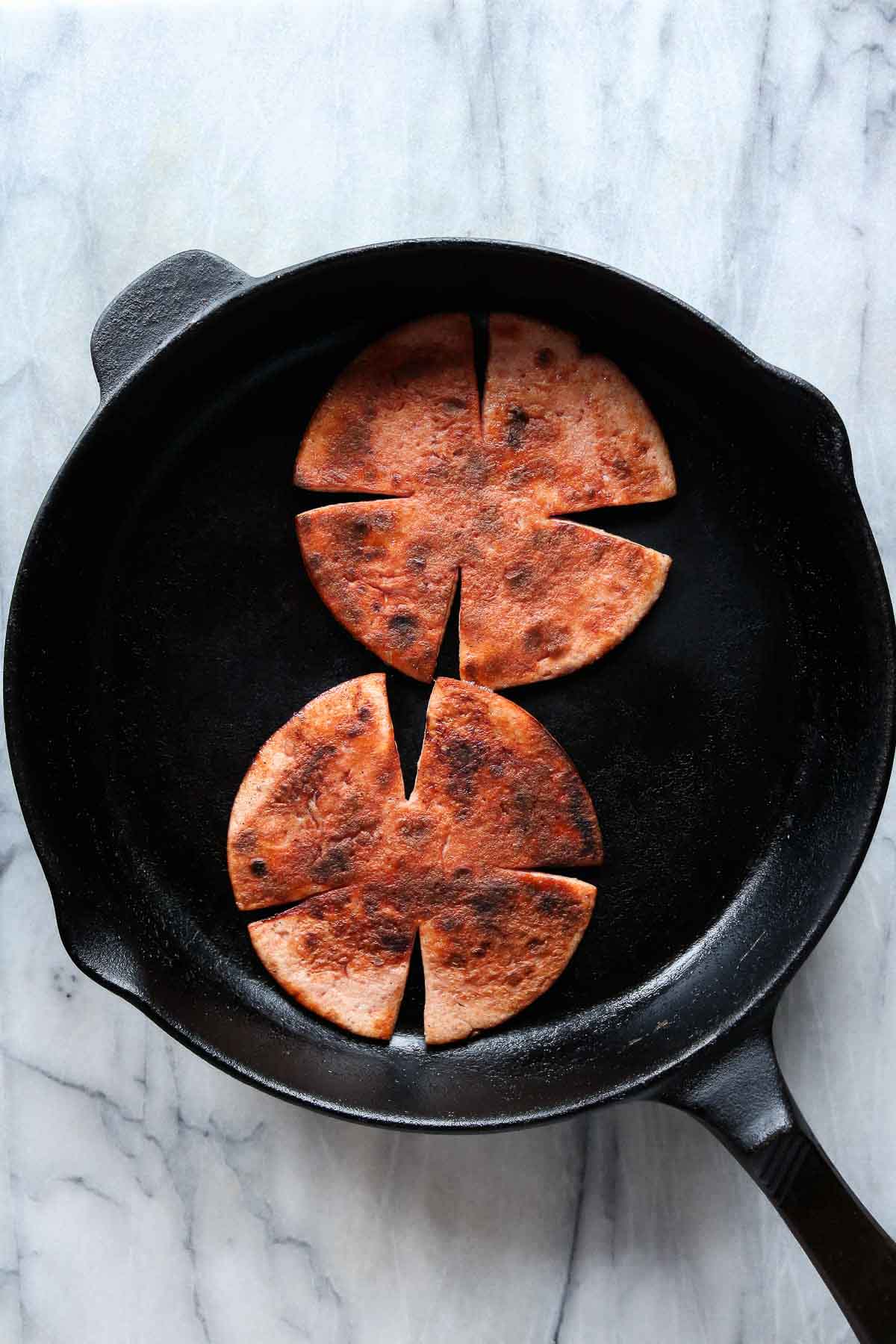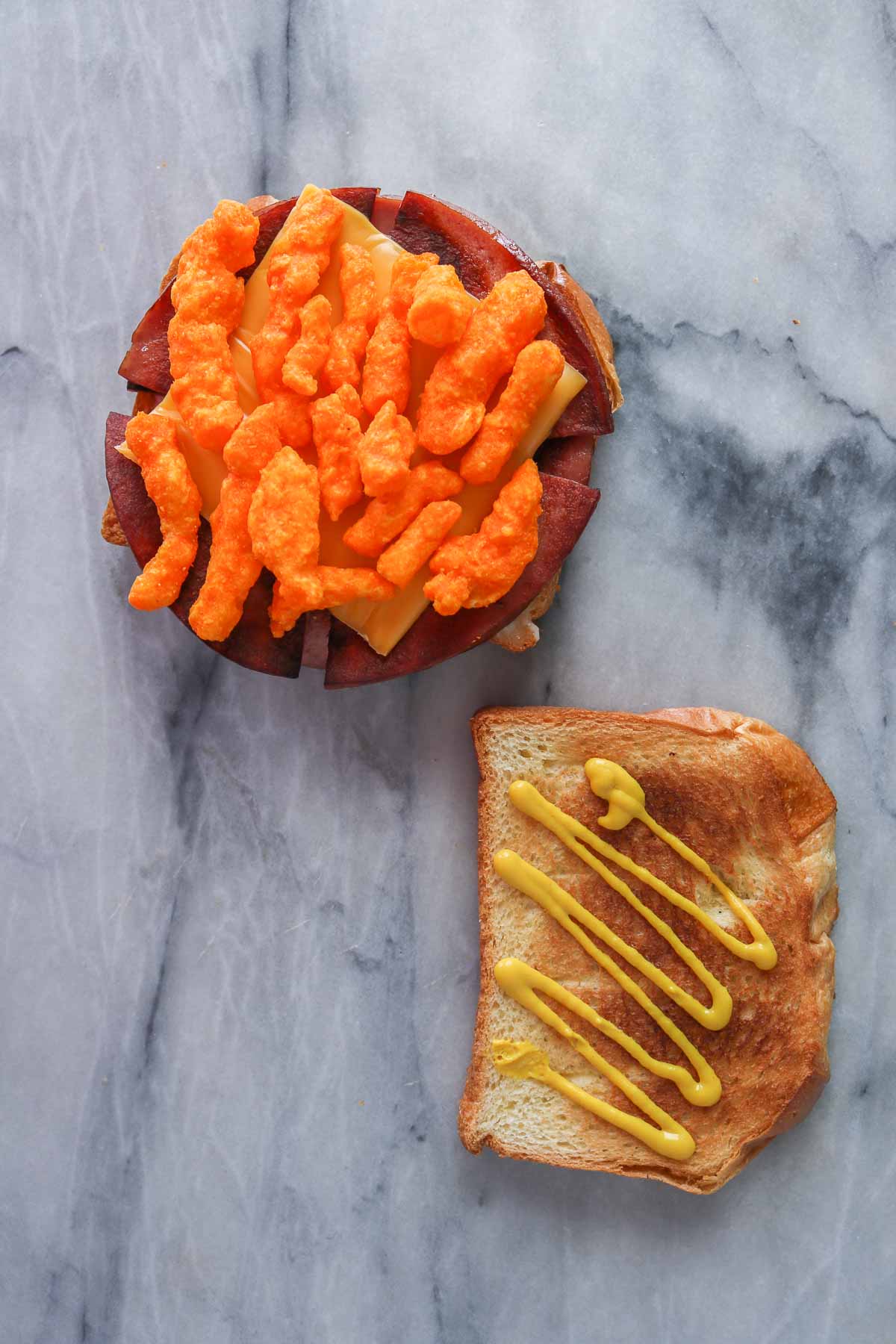 Do I Have To Fry the Bologna?
Not at all! Fried bologna adds a little different texture to the sandwich. However, if you prefer a cold bologna sandwich, that's perfectly delicious too. And if you'd rather not toast the bread, then don't.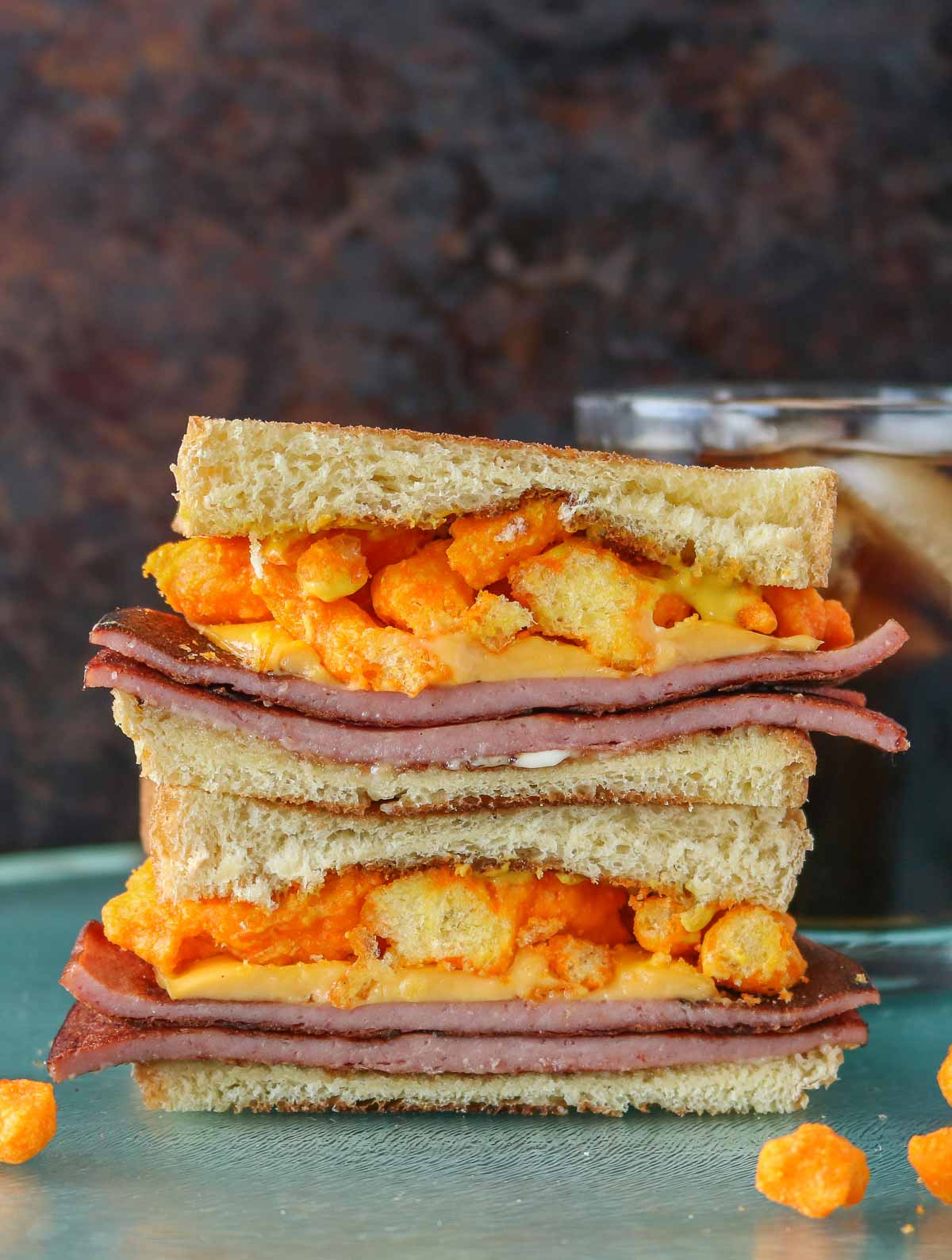 Add Some Crunch!
For an extra layer of crunch and flavour (not to mention fun), add some crunchy kettle chips or crunchy cheese puffs (like Cheetos or Cheezies). Just keep in mind that the longer the sandwich sits, the chips or cheese puffs will get a tad soggy. Or, if you'd rather skip adding them to the fried bologna sandwich, have them on the side!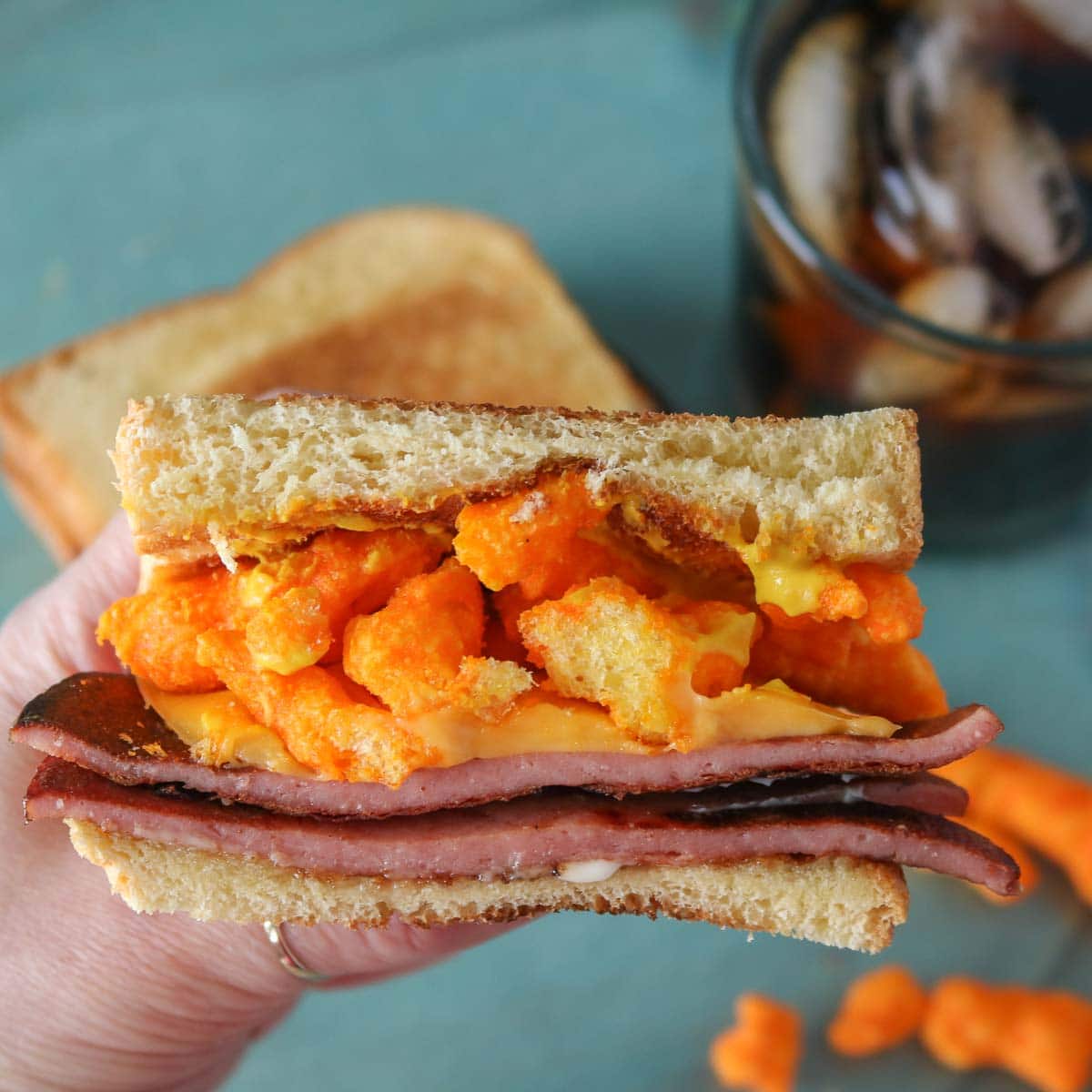 Tips For Making This Sandwich
I used "thick-cut" bologna slices. Honestly, though, I wouldn't consider the slices to be overly thick. They were 50 grams per slice and I used two slices per sandwich. If your package of bologna comes with super thick slices (or you can get it cut at your deli counter a to the thickness you desire), great. Basically, if your slices of bologna are quite thick, you could just use one slice per sandwich.
I really love Hawkin's Cheezies for this sandwich (not sponsored, just really enjoy them). They are an iconic Canadian snack that are loved by many (including myself). Use whatever variety you enjoy best.
Want your sandwich extra cheesy? Use a couple of slices of cheese instead of one.
More Lunchtime Favourites
If you make this fried bologna sandwich recipe, be sure to leave a comment below!
Fried Bologna Sandwich
Take a delicious trip down memory lane with this ultra simple, totally delicious, fried bologna sandwich. With just six simple ingredients, this bologna and cheese sandwich hits the spot when you're craving a little comfort food treat.
Ingredients
4

slices

white or brioche sandwich bread

,

or your favourite variety

1

tablespoon

yellow mustard

,

approximately

1

tablespoon

mayonnaise

,

approximately

4

slices

bologna

,

about 50 grams per slice

2

slices

thick-cut processed cheese slices

1

cup

crunchy cheese puffs

,

like Cheezies or Cheetos (or use kettle potato chips)
Instructions
Make four slits (about an inch each slit) around each slice of bologna (this helps to prevent it from puffing up as it cooks).

Heat a large cast-iron skillet over medium heat and add slices of bologna (in a single layer so they cook up nice and crispy). Cook bologna for about 4 to 5 minutes. Flip the slices of bologna and cook for another 2 minutes. Top two of the slices of bologna with a slice of cheese and continue to cook for another 2 to 3 minutes or until the bologna is done to how you like it.

Note: If your pan is not large enough to fit all four slices of bologna, you could cook in batches, two slices at a time.

To assemble the sandwiches: Toast the bread, then spread the mustard between two slices of bread and spread the mayonnaise between the other two slices of bread. For each sandwich, place two slices of bologna on top of the mayo (with the cheese-topped slice on top), then divide the crunchy cheese puffs between each. Top with the other bread slice (with the mustard side on the inside) to form the sandwiches. Serve and enjoy!
A note on times provided: appliances vary, any prep and/or cook times provided are estimates only.
Tried this recipe?
If you do make this recipe, thank you!! It would mean so much if you could leave a comment below. Love to know how you enjoyed it, and it helps other readers too!