This easy chanterelle mushroom crostini combines crusty bread, creamy ricotta and perfectly cooked chanterelle mushrooms. A little drizzle of honey is the finishing touch on this chanterelle ricotta crostini that makes it one delicious bite!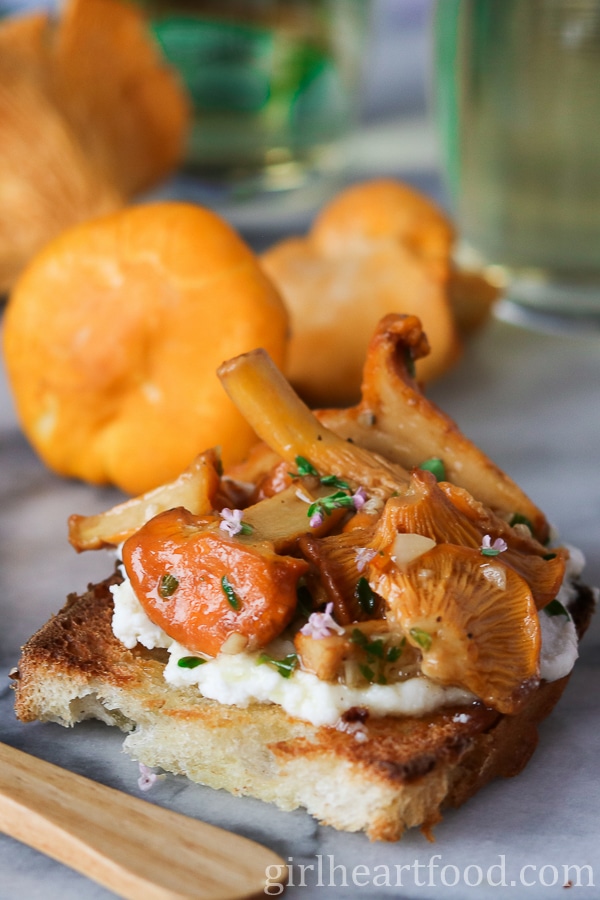 Hi everyone! How was your long weekend? It's absolutely amazing that we are a week into September. My mind is blown. Blown, I tells ya! When I look at my calendar and see the date, I think it must be a mistake or something.
Before we get into the ever-so-popular pumpkin spice everything season, I want to share this delicious chanterelle mushroom recipe that makes use of locally grown chanterelle mushrooms.
This chanterelle mushroom crostini is like a fancy (and super delicious) mushrooms on toast recipe that you're sure to love.
So, if you're a fan of mushrooms on toast and ricotta toast, then this recipe is for you!
As you know, I'm no stranger to enjoying bits and bites. It's honestly one of my favourite things and, most times, hubby and I would much rather enjoy apps than a big meal. How about you?
The season for chanterelle mushrooms is really short around here, so we have to enjoy them while they're here. Plus, why not share something delicious?!
Funny story: I told my mother that I was gifted some fresh local chanterelle mushrooms that a friend had foraged around his property.
Mom looked at me straight in the face and said "Mushrooms?! You better know if they're the edible kind!!"
My response: "Um, mom, they're actually all gone."
Mom looked relieved … I think.
Chanterelle Mushrooms
I absolutely adore mushrooms. I enjoy all varieties and love the heartiness they add to a dish. My mother-in-law, on the other hand, not so much. Though, way back I did made her an awesome mushroom risotto and she absolutely loved it!
Maybe it was the creamy goodness of the Arborio rice or the copious amount of cheese. Who knows?! If I convinced her then that mushrooms taste fantastic, maybe I can again with this chanterelle mushroom crostini. What do ya think?
Chanterelle mushrooms can be super expensive so they are a real treat when I can get my little hands on them! When cooked, they have a lovely texture and, like mushrooms, taste earthy and just delicious!
I, personally, probably wouldn't go foraging for mushrooms cause I'd be too afraid (aka paranoid) I'd pick the wrong thing, but I'd gladly take some from someone who knows what they're doing.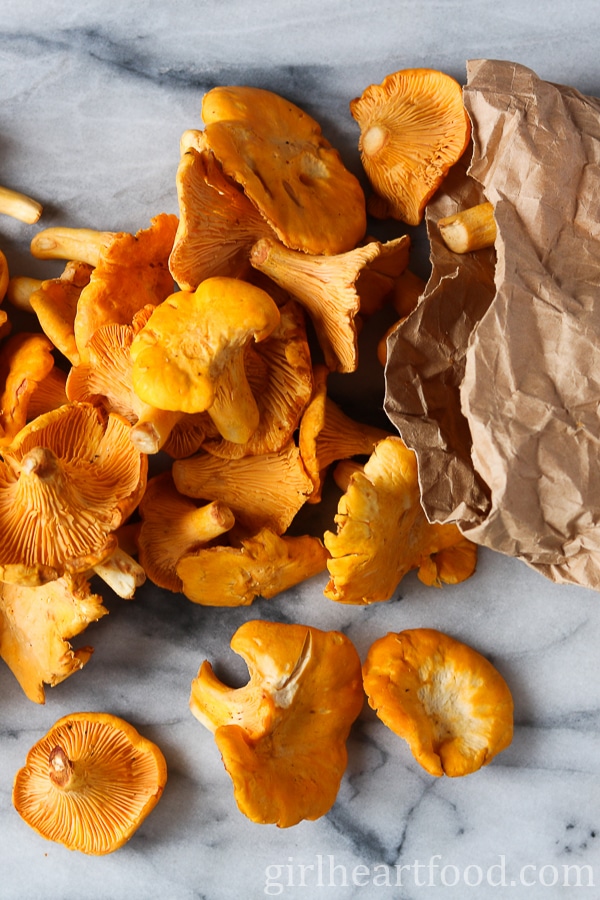 How To Prepare Chanterelle Mushrooms
Normally with, say, baby bella mushrooms I'd wipe any dirt off with a damp cloth or tea towel to prevent any excess moisture getting into them.
However, wild or foraged mushrooms, like these chanterelle mushrooms, can be quite dirty and a quick wipe just ain't gonna do.
Cut a little from the base of the chanterelle mushrooms (the dirty part where they were in the ground) and discard. Give them a rinse under fresh, cold water to remove any dirt and debris. Pat dry with a tea towel and use.
You can leave the smaller chanterelle mushrooms whole and cut the larger ones to suit your tastes.
How To Make This Recipe
This gorgeous chanterelle mushroom crostini can be prepped and made in roughly 20 minutes. Awesome, right?
Basically, the bread is toasted, the mushrooms are cooked for just a bit and then it's all assembled. It makes for a delicious and impressive little appetizer when you have friends or family over.
Full details are in the recipe card below, but here are the basics:
Brush some bread with olive oil and bake to get a little golden brown and crispy. Lay to one side.
In a pan, add olive oil and butter. When butter is melted, cook garlic for a little.
Then, add those beautiful fresh chanterelle mushrooms. Season with a little salt, pepper and thyme and cook just a bit.
Spread some creamy ricotta cheese on your prepared bread and top with the chanterelle mushrooms. Give everything a little drizzle of honey and enjoy! Easy, right?
Me, being a huge fan of savoury and sweet combos, really enjoy the touch of honey over top. It really adds a little something special to this recipe. You don't need a lot, just a kiss as I like to say!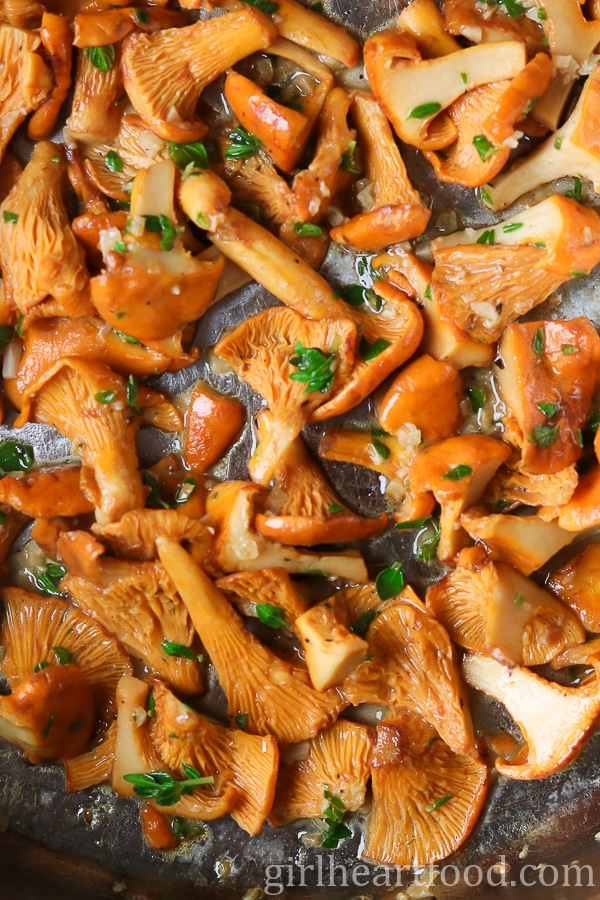 Tips and Variations
Remember, if you do get mushrooms from friends (or even pick them yourself), just make sure you know what they are! Educate yourself and if you're not sure, don't eat!
Like most little bites, this app is best enjoyed right away so the bread doesn't get soggy.
You can use another variety of cheese if you like. Goat cheese would work lovely.
I happened to have a few little flowers remaining on our thyme from our herb garden and decided to garnish with some. If you're feeling extra fancy (and have some on hand), do the same if ya like!
Some finely minced chives would work lovely on these too.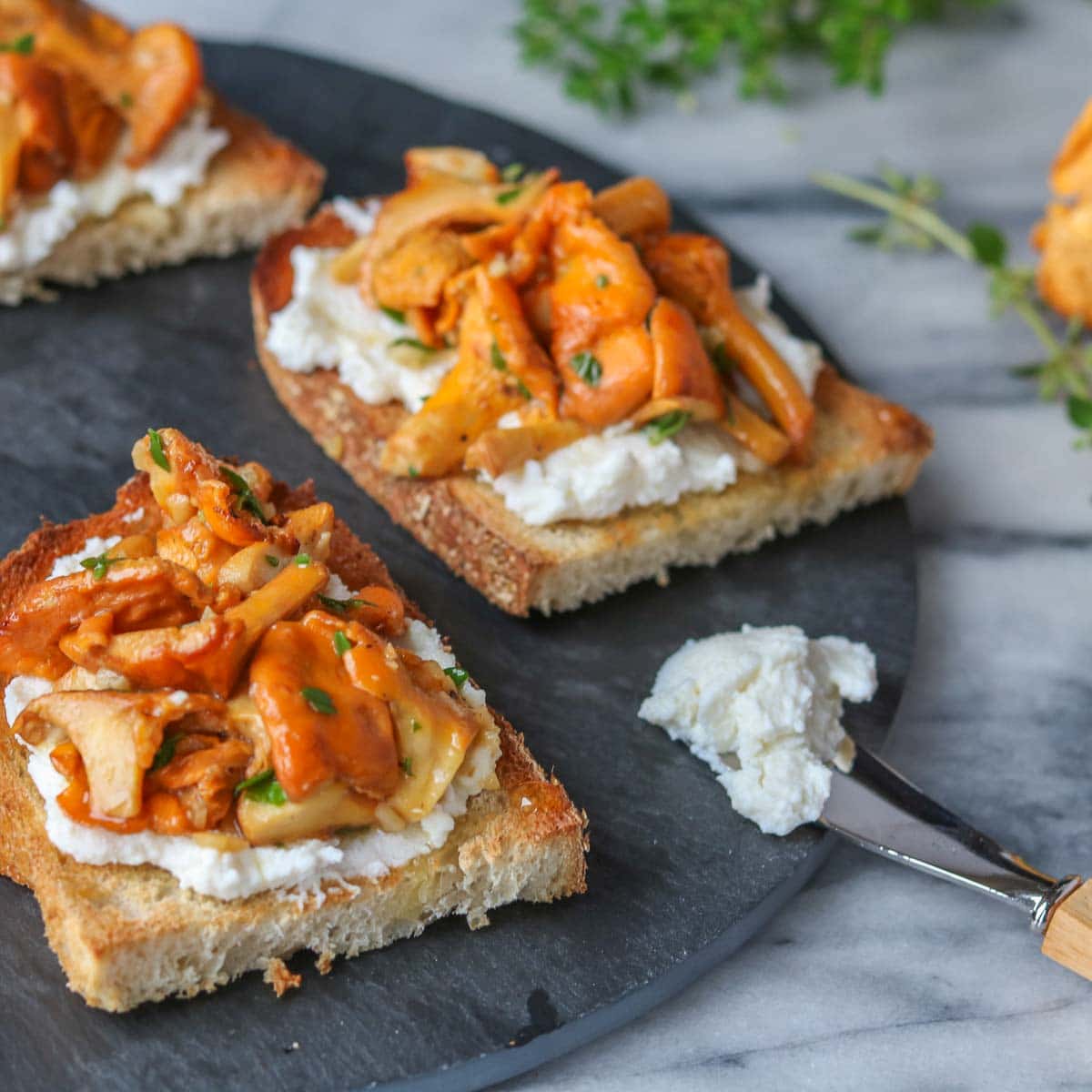 More Easy Crostini Recipes
If you make this chanterelle mushroom recipe, be sure to leave a comment below!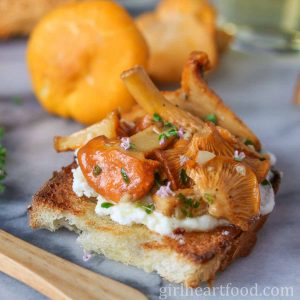 Chanterelle Mushroom Crostini with Ricotta
This easy chanterelle mushroom crostini combines crusty bread, creamy ricotta and perfectly cooked chanterelle mushrooms.  A little drizzle of honey is the finishing touch on this chanterelle ricotta crostini that makes it one delicious bite!  
Ingredients
8

slices

bread

,

approximately 2-inch x 2-inch wide and ½-inch thick

2

tablespoons

olive oil

,

divided

½

tablespoon

butter

2

cloves

garlic

,

finely minced

8

ounces

fresh chanterelle mushrooms

,

cleaned and cut into thirds or quarters depending on size (about 225 grams)

¼

teaspoon

salt

¼

teaspoon

freshly ground black pepper

t

tablespoon

minced fresh thyme leaves

½

cup

ricotta cheese

1.5

tablespoons

honey
Instructions
Preheat oven to 400 degrees Fahrenheit.

Place bread on a baking sheet and brush or drizzle with about 1 tablespoon of olive oil. Bake for 10 to 12 minutes or until bread has reached desired doneness. Carefully remove from oven and set aside.

Meanwhile, heat olive oil and butter in a 10-inch skillet or frying pan over medium-high heat. Add garlic and cook for 30 seconds to a minute, stirring and being careful not to burn.

Add chanterelle mushrooms, salt, black pepper and thyme to the skillet. Stir, then cook for 5 to 8 minutes or so until the mushrooms cook down and begin to lose some of their moisture.

Place about 1 tablespoon of ricotta cheese on each slice of bread. Distribute mushrooms evenly over top and drizzle with honey. Serve and enjoy immediately.
A note on times provided: appliances vary, any prep and/or cook times provided are estimates only.
© Girl Heart Food Inc. Photographs and content are copyright protected.
Tried this recipe?
If you do make this recipe, thank you!! It would mean so much if you could leave a comment below. Love to know how you enjoyed it, and it helps other readers too!