Juicy roasted blueberries, creamy whipped goat cheese, lemony olive oil and freshly chopped chives comes together for one delicious little bite with this ultra easy crostini recipe.  Hungry?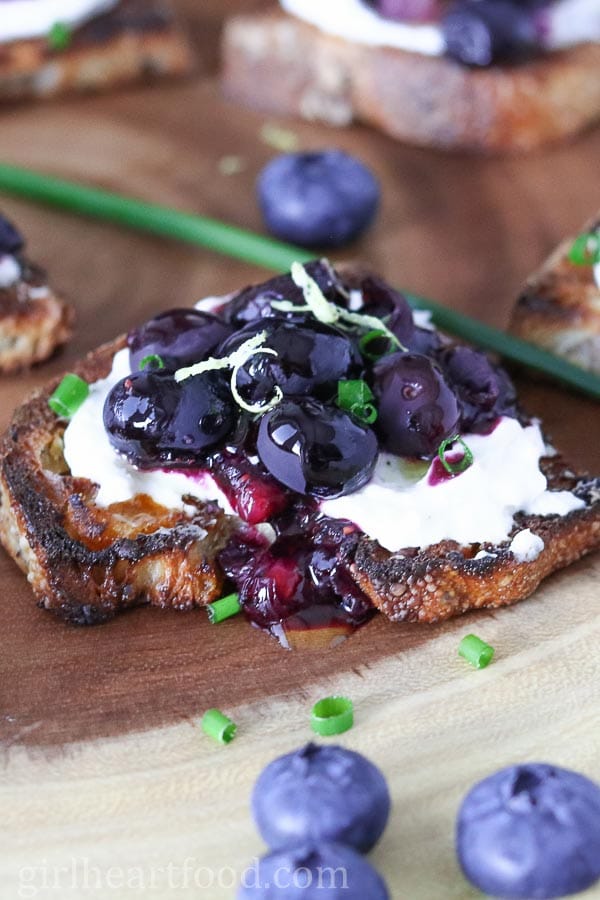 Hey guys!  I'm pretty excited about this crostini recipe that I'm bringing you today.  We are still having super nice weather (thankfully) so I'm all about delicious recipes that are no fuss and require minimal oven time.  Enter these roasted blueberry and whipped goat cheese crostini!
Roasted Blueberry and Whipped Goat Cheese Crostini Recipe
You may know my deep love for crostini. It's strong, you guys.  I think it's  because they are just so darn easy to whip up, they taste delicious (of course) and they are cute little bite-sized things…and who doesn't love that?  These crostini make for one delicious summer bite.   Imagine whipping up a batch of these, grabbing some vino and heading out on the deck with friends.  Easy peasy fun times, that's for sure!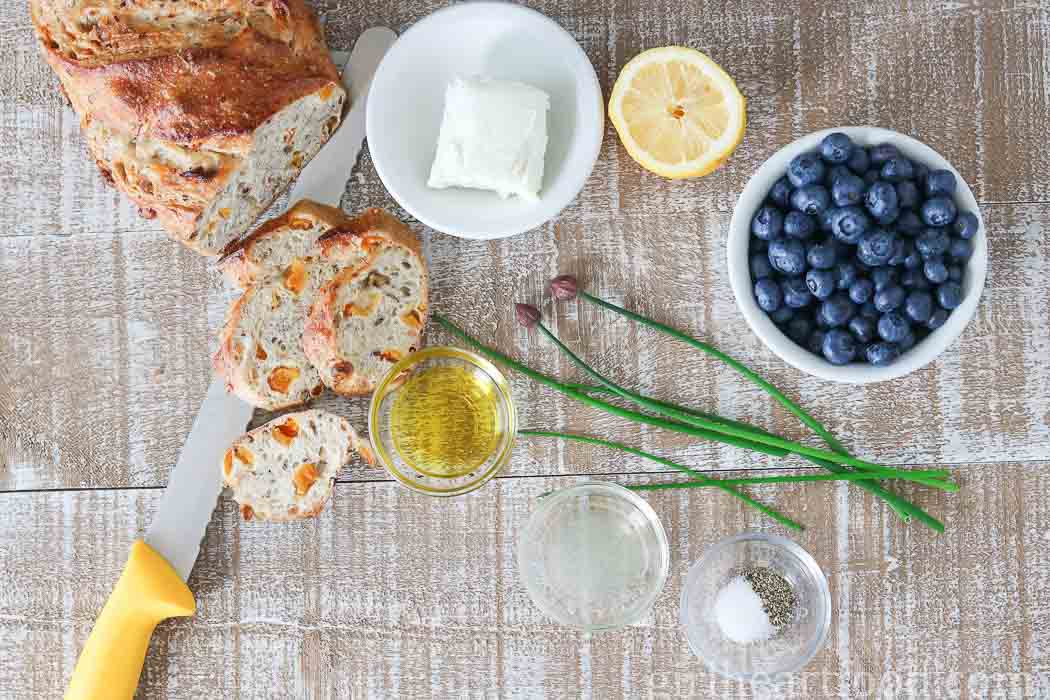 We have to make the most of summer while we can and that means enjoy alllll the fresh berries.  I mean, it's not like we can't get berries year 'round…..its just they're not quite the same in winter months. The berries that I used in this crostini recipe are not Newfoundland berries because they are only just coming 'round.  But, when they do, watch out.  I may be a little biased, but Newfoundland berries are the bestest (is that a word, lol) berries ever.  They are super sweet and I could legit eat them by the handful. Every year my pop picks me a huge bucketful and they are always appreciated.  So sweet.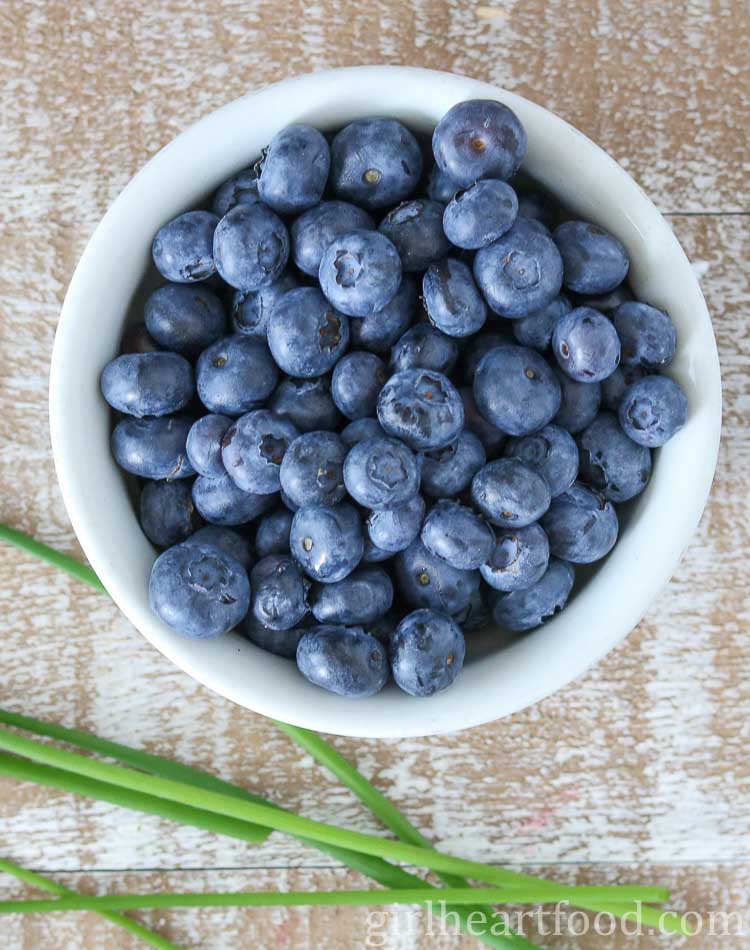 How to Roast Blueberries?
Can you roast blueberries?  YES!! Indeed you can. You may remember I shared a roasted strawberry crostini with you guys last year.   I could honestly make a meal out of just crostini. Well, maybe crostini and vino 😉  I should start a series – can you roast it?  Ha! Well, I lucked out with these roasted blueberries because they turned out wonderfully!  They were super simple to prepare and took only minutes to roast in the oven.  The end result after roasting was super intensified blueberry-ey flavour, much like blueberry jam only warm.  So good, you guys.
Preheat oven to 375 F.
Place fresh blueberries on a parchment lined baking sheet (spread 'em out).
Bake for about 15 minutes until they're kinda 'jammy'.
That's it! They're ready to use in this blueberry crostini recipe and all sorts of yummy things!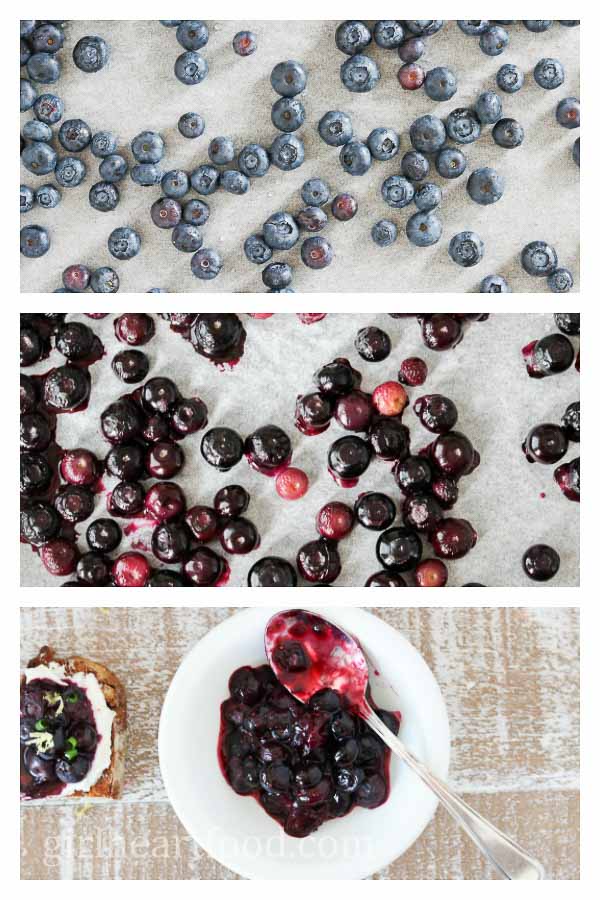 The other major component of this crostini is whipped goat cheese.  Honestly, it's nothing fancy.  It's simply goat cheese, a bit of salt and pepper and lemon juice.  Blend up in a little food processor and it's creamy dreamy.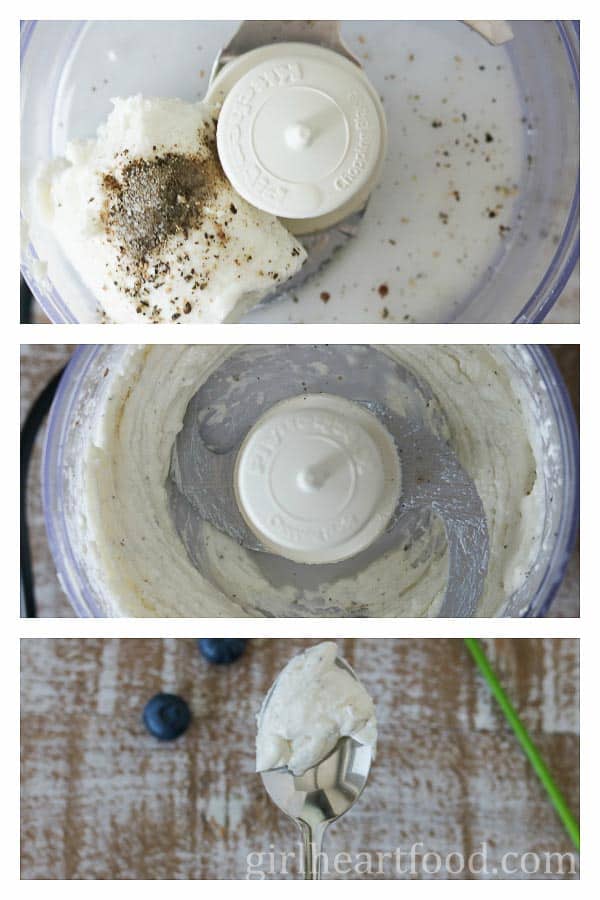 Tips for Making this Crostini Recipe
I used fresh blueberries here.  I recommend you do the same.  If you use frozen, they will not roast well, it will take longer and the end result will be watery.  Ain't nobody got time for that.
You can easily double this recipe for a crowd.
Wanna prep in advance?  That's no problem!  Keep in mind, though, that the blueberries will cool off….not the end of the world.
If you do want to prep in advance, do not assemble these crostini until right before serving or they will be a soggy.  These are best eaten once prepared.
I used an apricot/walnut bread because that was what was super fresh and caught my eye that day at the market, but you could use whatever bread suits your fancy.  Just cut into bite sized pieces as I did here.
Speaking of bread, depending on how small or large you cut your bread, will determine how many portions you yield.  I would say mine were a standard crostini size and I yielded roughly 10 pieces.
To put the icing on the cake (or, er, oil on the crostini) I finished these delicious bites with a little drizzle of lemon olive oil to really reinforce that lemony flavour.  Blueberries and lemon go so well together, don't they??
Other Easy Crostini Recipes you May Enjoy
Hope you love this easy crostini recipe as much as I do!
Until next time, take care and chit chat again soon.
~Dawn
P.S. If you think this crostini recipe with roasted blueberries and whipped goat cheese will make your belly happy too, please be sure to hit that little Pin button.  Many thanks, you guys! XO
Print
Roasted Blueberry and Whipped Goat Cheese Crostini Recipe
Juicy roasted blueberries, creamy whipped goat cheese, lemony olive oil and freshly chopped chives comes together for one delicious little bite with this ultra easy crostini recipe. Hungry?
Ingredients
1.5

cups

fresh blueberries

10

pieces

bread

-your fave, cut into bite-sized pieces

1

tbsp

lemon olive oil

-divided

3

oz

goat cheese

1

tbsp

fresh lemon juice

1/4

tsp

salt

pinch

black pepper

1

tbsp

chives

-minced

1

tsp

lemon zest
Instructions
Preheat oven to 375F.  Place blueberries on parchment lined baking sheet and bake for 15 minutes. Carefully remove and lay to one side.

Place bread on a baking sheet and brush or drizzle with about 1/2 tbsp of olive oil.  Bake about 8-10 minutes or until bread has reached desired doneness. Carefully remove from oven and lay to one side.

Place goat cheese, salt, pepper and lemon juice in a small food processor. Mix until combined and creamy.

Spread whipped goat cheese on bread, top with roasted blueberries, chives and lemon zest. Drizzle with remaining lemon olive oil. Enjoy immediately.