This cheesy scrambled egg sandwich on a brioche bun takes minutes to prepare and is so ridiculously tasty. Garnish with toppings like tomato and avocado and you're set for one deliciously easy egg sandwich, perfect for any meal of the day!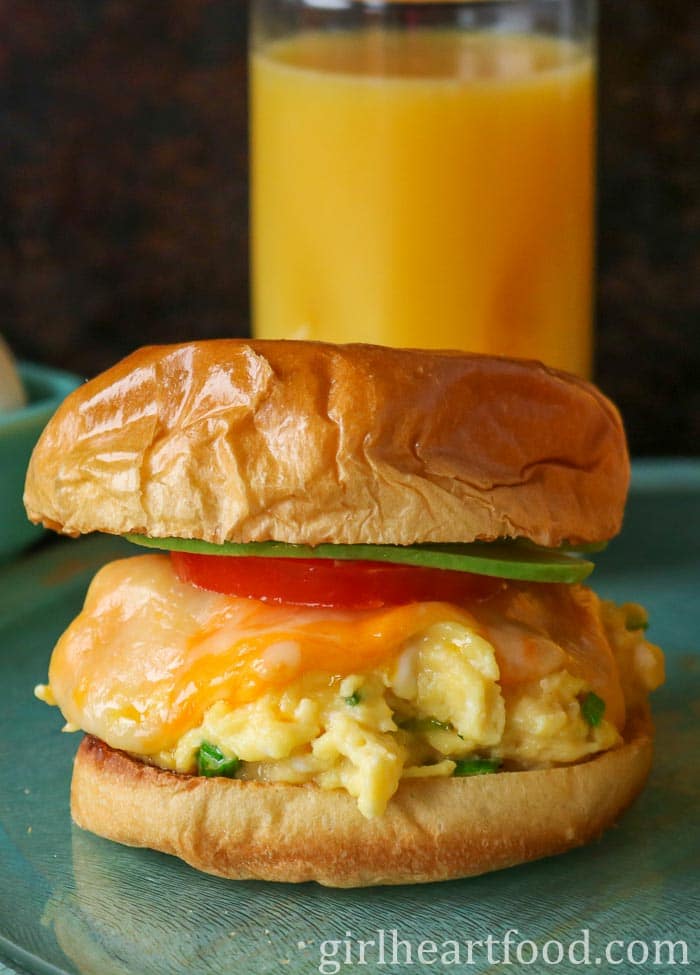 Hi friends!
You know how we love handheld recipes here on Girl Heart Food and this scrambled egg sandwich is no exception!
It literally comes together in minutes and is so satisfying.
If you watched the movie Birds of Prey, you may remember Harley Quinn's obsession with breakfast sandwiches. Yep, that's basically me. This isn't the sandwich in the movie, but it's definitely a favourite (and I hope yours, too)!
Even though the components are 'breakfast-y', this would be delicious for any meal of the day, really … just like my pop's western sandwich recipe.
And I use a version of a trick from my childhood days for making these bad boys. It's the way the cheese component is prepared.
Clearly, I have a lot of cheese forward recipes around here (hello pb and jam grilled cheese). That's because I love it!
When I was younger (and coming home from school), for a snack, I'd throw some cubes of cheddar on a plate and zap in the microwave. It would get super melty and I'd enjoy with crackers. Plus, it literally took seconds to prepare.
So, in an effort to not overcook the scrambled eggs and get a nice cheesy layer, I placed some shredded cheese in a pan and warmed until it was mostly melted. Then, I scooped up with a straight edge spatula and onto the eggs it went. Easy!
How to Make This Cheesy Scrambled Egg Sandwich
Full details on how to make this egg sandwich are in the recipe below, but here are the basics:
In a bowl, whisk together eggs with milk and a pinch of salt.
To eggs, add green onion (scrambled eggs with onions is so yummy!)
Melt some butter in a non-stick pan and add eggs. As eggs start to cook, drag your spatula through to create egg curds or ribbons.
Once it's done, immediately remove from the pan so the eggs don't overcook.
Toast brioche buns and butter. Distribute scrambled eggs on bottom buns.
Melt some cheese in a non-stick pan.
Drizzle hot sauce over top buns and place the melted cheese on top of the eggs.
Garnish eggs with sliced tomato and avocado.
Assemble your sandwich and dig in!! Don't forget those napkins!
Hungry for more? Subscribe to the Girl Heart Food Newsletter!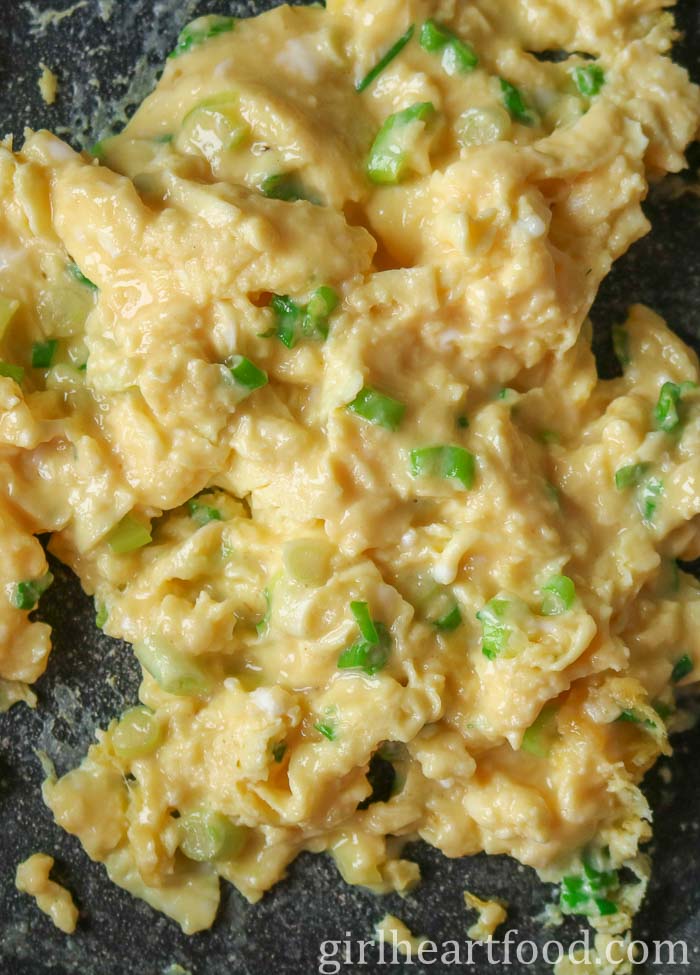 How Many Eggs Do I Need Per Sandwich?
For two scrambled egg sandwiches, I like to use five large eggs so things are nice and substantial.
I would recommend no less than two eggs per sandwich.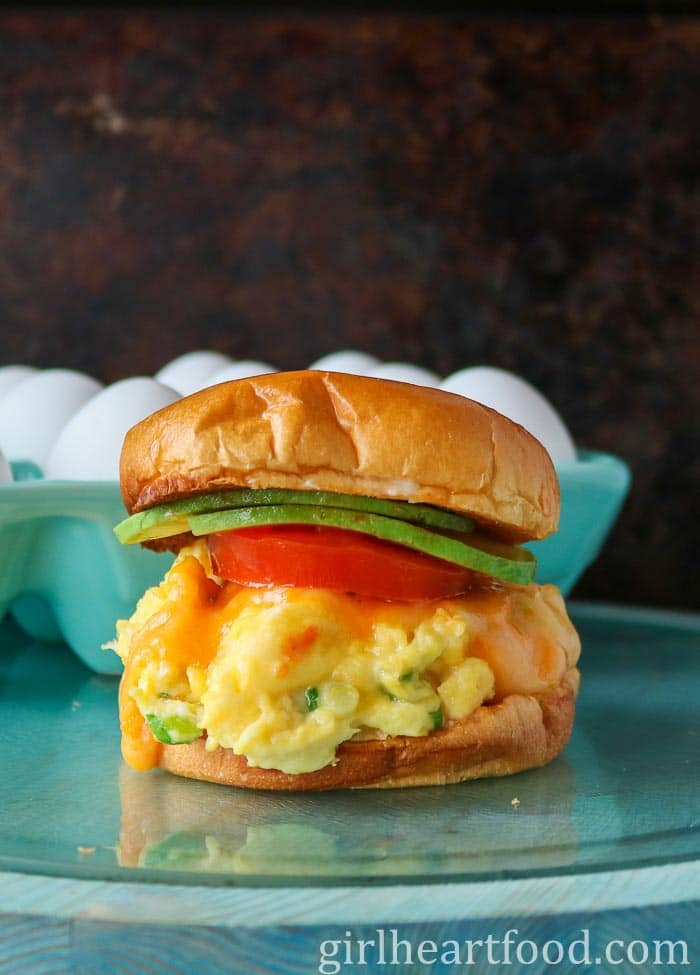 Can I Double The Recipe?
For sure!
This recipe makes two sandwiches, but you can easily double.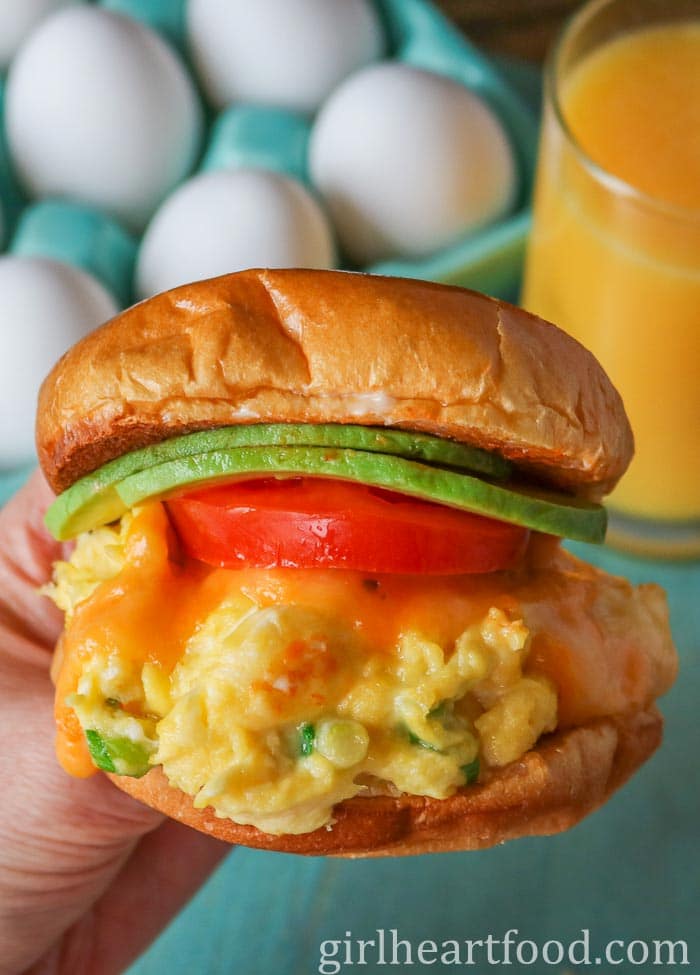 More Tips & Variations
As soon as your scrambled eggs are cooked, remove them from the pan so they don't overcook. Ain't nobody got time for overcooked, rubbery eggs!
Don't have green onion? Try chives instead. Alternatively, you can use a pinch of onion powder or omit if onions aren't your thing.
A pinch of garlic powder or cayenne powder works lovely in the scrambled eggs too.
Garnish as you like! Tomato and avocado are used here, but other delicious options are baby spinach, arugula and sliced onion.
This sandwich is made on a brioche bun and I think it really adds to the delicious flavour. If you don't have those on hand, you can certainly use a regular hamburger bun, an English muffin or your favourite bread.
If you're looking for something to go with this cheese and egg sandwich, try my smashed skillet potatoes.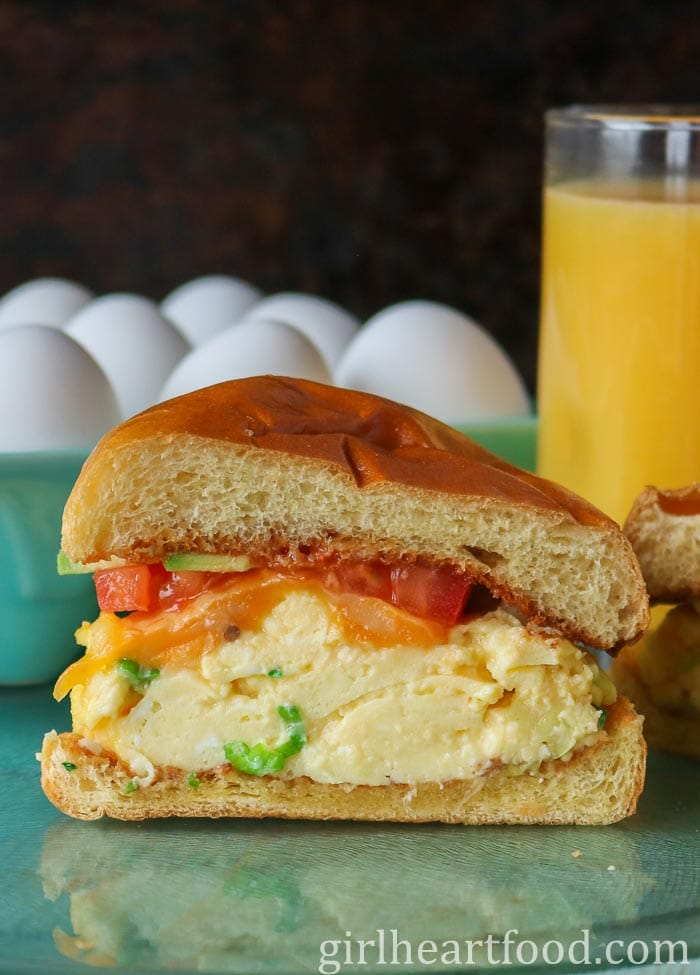 More Easy Breakfast Recipes
Hope you love this easy egg sandwich as much as we do!
Did you make these scrambled egg sandwiches? That's awesome! Love it if you leave and comment below.
Let's Be Social!
Follow Girl Heart Food on Facebook, Instagram, Pinterest and Twitter for all the latest delicious eats! Oh, and don't forget to subscribe to our newsletter!
Scrambled Egg Sandwich with Cheese
This cheesy scrambled egg sandwich on a brioche bun takes minutes to prepare and is so ridiculously tasty. Garnish with toppings like tomato and avocado and you're set for one deliciously easy egg sandwich sandwich, perfect for any meal of the day!
Ingredients
1.5

tablespoons

butter

, divided

5

large

eggs

1

tablespoon

milk

(or cream or half and half)

pinch

salt

2

tablespoons

chopped green onion

2

brioche hamburger buns

(or your favourite hamburger buns)

2

teaspoons

hot sauce

(or to taste)

⅓

cup

shredded cheddar or mozzarella cheese

(about 5 tablespoons)

Sliced tomato

(garnish, optional)

Sliced avocado

(garnish, optional)
Instructions
Combine eggs with milk, pinch of salt and green onion in a bowl. Whisk until foamy.

Heat 1 tablespoon of butter in a 10-inch non-stick skillet over low heat.

Once butter has melted, pour in eggs. Wait for 30 seconds or so and then, using a silicone spatula, start slowly drawing or pulling the spatula through the eggs to form ribbons/curds until the eggs are cooked through, but don't overcook. Remove from the pan and onto a plate.

Toast buns (use a toaster oven or in your oven) and spread with remaining ½ tablespoon of butter. Drizzle a little hot sauce on the top bun.

Wipe out the pan (that the eggs were in) and on medium heat, add two little piles of shredded cheese until mostly melted.

For each sandwich, top the bottom bun with half of the eggs, then cheese. Garnish with tomato and avocado or enjoy as is.
Nutrition estimate (if provided) is based on 1 serving.
Nutrition information (if provided) is provided as a courtesy and should be considered an estimate only. Ingredients can vary and Girl Heart Food makes no guarantees to the accuracy of this information. It should not be considered a substitute for a professional nutritionist's advice.
A note on times provided: appliances vary, any prep and/or cook times provided are guidelines only.