With plenty of black beans, fresh corn and spicy Monterey jack cheese, these black bean quesadillas come together in under 30 minutes and disappear fast! Delicious for dinner with a side salad or enjoy as game day eats with friends.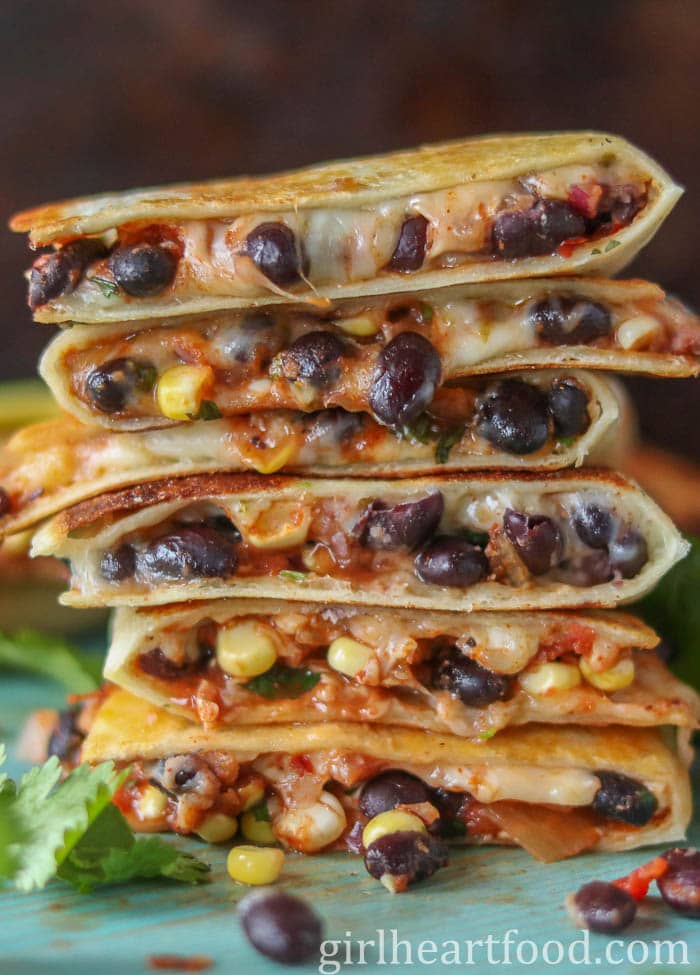 Hi friends!
It's no surprise that I love cheesy eats.
I'm pretty sure "cheese" is my middle name.
Not a day goes by where I don't have cheese.
And I have at least 5 varieties in our fridge at all times.
Heck, this year I even have a cheese advent calendar. No kidding.
So, when I combined spicy Monterey jack cheese with yummy black beans, sweet corn and salsa to make these black bean quesadillas I knew I had a winner.
Just like my refried bean quesadillas, these black bean quesadillas don't last long.
Ingredients for Black Bean Quesadillas
Black beans (of course)
Corn
Salsa
Red onion
Lime juice
Cilantro
Smoked paprika
Monterey jack cheese
Tortillas
Olive oil or vegetable oil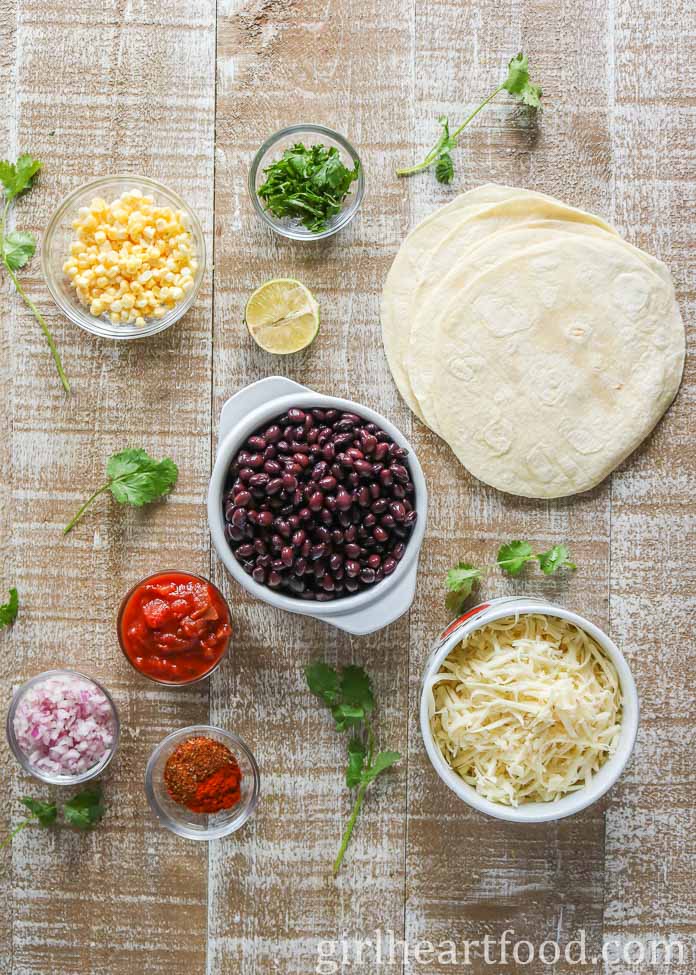 How To Make Them
Full details are in the recipe card below, but here are the basics to make black bean quesadillas:
Rinse and drain beans (well) and place them in a bowl. Give them the tiniest mash so that most beans are whole, while some others are mashed.
To beans, add remaining filling ingredients (aside from cheese).
Mix to combine all that goodness!
Pile on half of the shredded cheese onto one half of each tortilla.
Evenly distribute black bean mixture over top of cheese.
More cheese, please, over top.
Fold over each tortilla so it's a half-moon shape, pressing down gently.
Pan fry the quesadillas in batches in a greased pan (I like to cook two at a time). The goal is to get the outside crispy, golden and delicious, while the inside to be heated through and the cheese melted (and, bonus, if any cheese happens to sneak out, no worries. Those bits get all crispy and delicious)!
All that's left to do is cut these delicious black bean quesadillas in half, serve and enjoy!
Tip: Don't put those quesadillas in the pan and leave them! They can burn fast! They take minutes on each side so just stick with it.
What Type of Cheese Should I Use?
Use a good melting cheese and shred your own for optimal flavour and ooey gooey cheesiness.
Monterey Jack was used, but other yummy melting cheeses are cheddar, pizza mozzarella, Gouda, fontina or provolone (or use a combo of your favourites).
Can I Make These Vegan?
Sure thing!
If you prefer vegan quesadillas, use your favourite vegan cheese (instead of dairy cheese) and ensure that your flour tortillas are vegan.
Best Way to Reheat Quesadillas
Reheating leftovers is easy! Ways to reheat these black bean quesadillas are:
Microwave: Place quesadillas on a microwave-safe plate and heat for 20 second intervals until they're heated through.
Oven: Heat oven to 375 degrees Fahrenheit and place quesadillas on a sheet pan. Cook about 10 to 15 minutes or until heated through.
Pan on Stovetop: My favourite way to reheat quesadillas is to place in a non-stick frying pan over medium-low to medium heat until heated through. This yields the crispiest results. Watch them, though, because they can burn easily.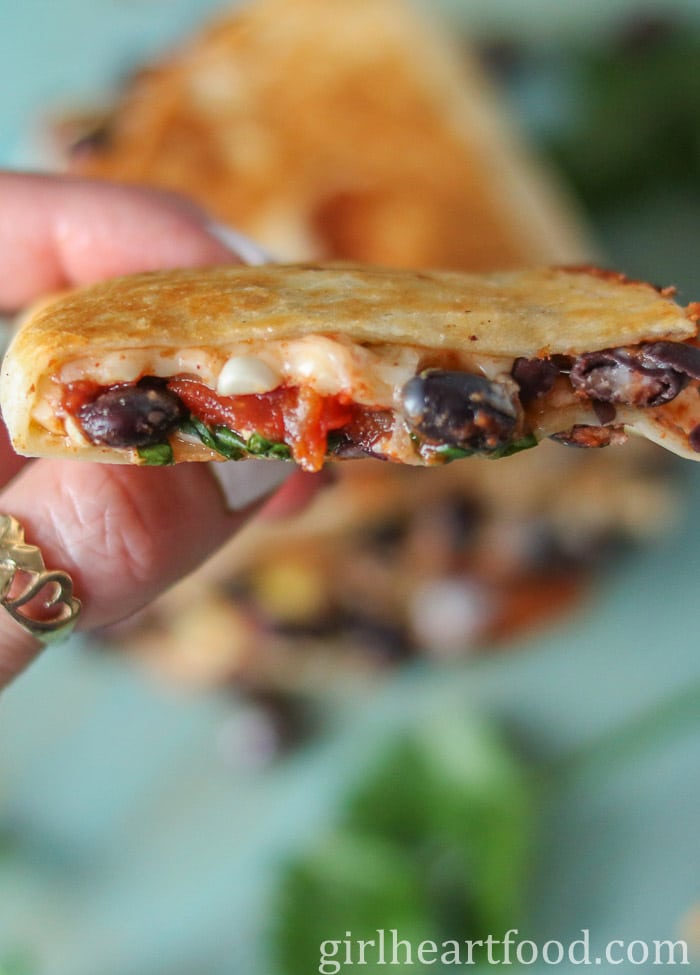 What To Serve With Them
These veggie quesadillas are super versatile! You can have as a meatless dinner as is or enjoy with a hearty salad (like this quinoa salad).
They work equally as well as part of some game day eats with friends. Throw in some homemade guacamole, sour cream or Greek yogurt and a pitcher of frozen strawberry mango margaritas and you've got yourself a real party. If you're like me, a party means being home in cozy pants watching a movie, LOL.
Tips and Variations
Always rinse and drain your beans well. Wet beans equates to soggy quesadillas and that's never a good thing!
Two teaspoons of taco seasoning was used, but you could use more if you like.
Fresh corn was used, but you could use frozen if that's what you have on hand. I like to thaw for a little first, though.
Not a fan of cilantro? No worries! Simply omit. And if you do want some green colour, use parsley.
Use your favourite variety of salsa, keeping in mind that if you use a spicy version, for example, it will have an impact on how spicy these black bean quesadillas are.
Sub the red onion with milder green onion if you want. Alternatively, to tame the red onion, give them a little rinse under cold water and drain well.
If you're looking for other quesadilla fillings, sliced pickled peppers work great (just ensure they're patted dry of excess moisture first). A little smear of adobo sauce is lovely too.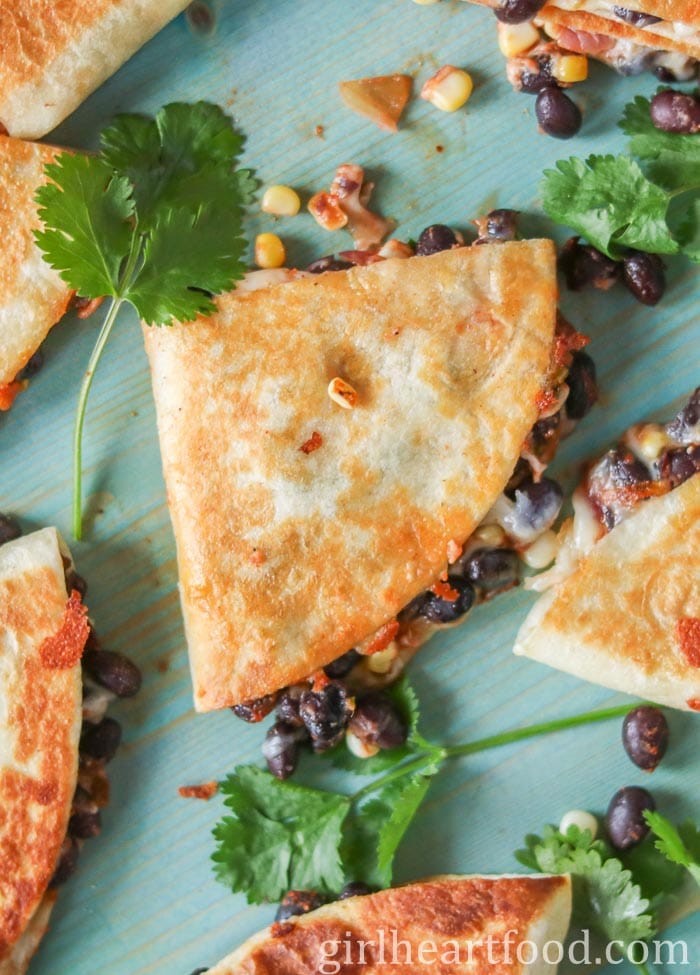 More Yummy Recipes
If you make this black bean quesadilla recipe, be sure to leave a comment below!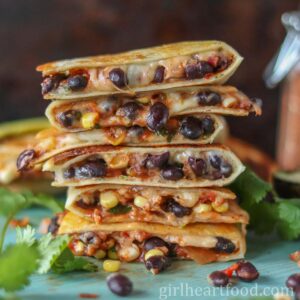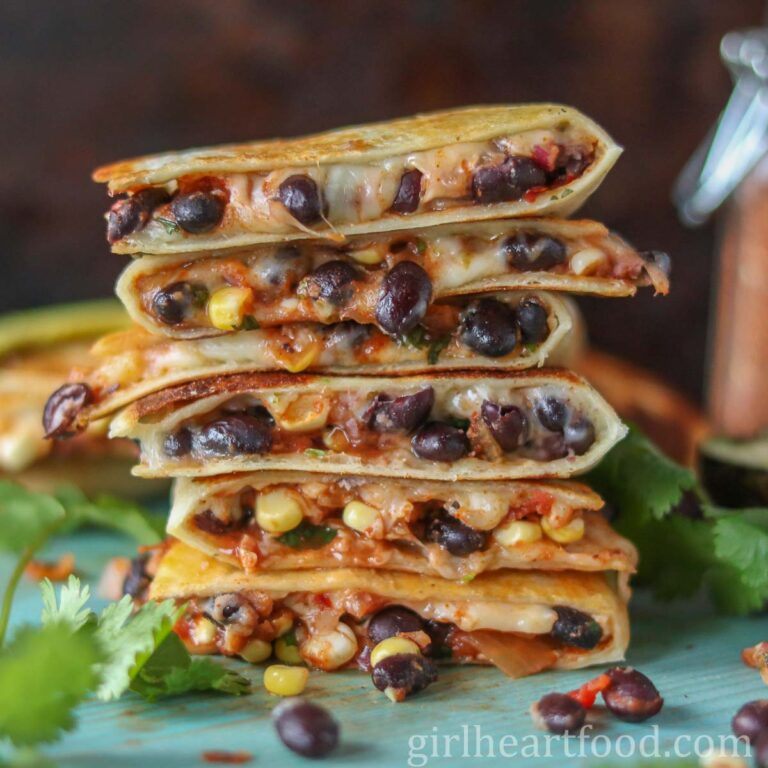 Black Bean Quesadillas
With plenty of black beans, fresh corn and spicy monterey jack cheese, these black bean quesadillas come together in under 30 minutes and disappear fast! Delicious for dinner with a side salad or enjoy as game day eats with friends.
Ingredients
1

(19-ounce) can

no salt added black beans

,

rinsed and drained

2

teaspoons

taco seasoning,

or to taste

½

teaspoon

ground chipotle chili pepper or smoked paprika

½

cup

fresh corn kernels

,

or thawed and drained frozen corn or drained canned corn

⅓

cup

red onion

,

peeled and minced

⅓

cup

salsa

½

lime

,

juiced

2 to 3

tablespoons

fresh cilantro

,

chopped

6

ounces

jalapeno Monterey Jack Cheese (or regular)

,

shredded (1.5 cups). Alternatively, use your favourite shredded vegan cheese.

3

teaspoons

olive oil or vegetable oil

,

approximately

6

flour tortillas

,

about 7 to 8 inches in diameter each

Guacamole, salsa, sour cream or plain Greek yogurt

,

to serve with (optional)
Instructions
Preheat your oven to 200 degrees Fahrenheit (that way you can keep your cooked quesadillas warm as you are cooking them in batches).

To make black bean quesadillas, place beans in a medium bowl and mash just a tad with a potato masher (leaving most beans whole while just a little mashed).

To beans, add taco seasoning, chipotle chili pepper, corn kernels, red onion, salsa, lime juice and cilantro, stirring to combine.

Distribute half of the cheese over half of each tortilla.

Then, distribute the black bean filling over top of cheese. Top with remaining cheese. Fold over each tortilla so it's a half-moon shape.

To cook quesadillas, heat 1 teaspoon of olive oil in a large non-stick frying pan over medium-low to medium heat. Gently swirl the oil around the pan to coat.

Note: Cook the quesadillas in batches, two quesadillas at a time, adding more oil to the pan between batches.

Place two quesadillas in the pan. Cook quesadillas for about 2 to 3 minutes on one side.

Flip the quesadillas to the other side and continue to cook for another 2 to 3 minutes or until they're golden brown and crispy on the outside, the inside is heated through, and the cheese is melted. Watch that they don't burn, because they can cook quickly.

Note: You can place the cooked quesadillas onto a sheet pan in a preheated oven to keep warm while you are finishing cooking the remaining quesadillas.

Repeat process for cooking remaining quesadillas.

Once done, cut each quesadilla in half so you have 12 pieces and serve with your favourite sauces for dipping. Enjoy!

Note: If you have any leftovers, properly store in an airtight container in the refrigerator and use within 3 to 4 days, reheating upon enjoying.
A note on times provided: appliances vary, any prep and/or cook times provided are estimates only.
Tried this recipe?
If you do make this recipe, thank you!! It would mean so much if you could leave a comment below. Love to know how you enjoyed it, and it helps other readers too!