Ditch store-bought and make this super simple guacamole recipe in minutes! This avocado dip is fresh, loaded with flavour and as creamy or as chunky as you want it to be. Makes for a delicious game day snack for dunking those chips!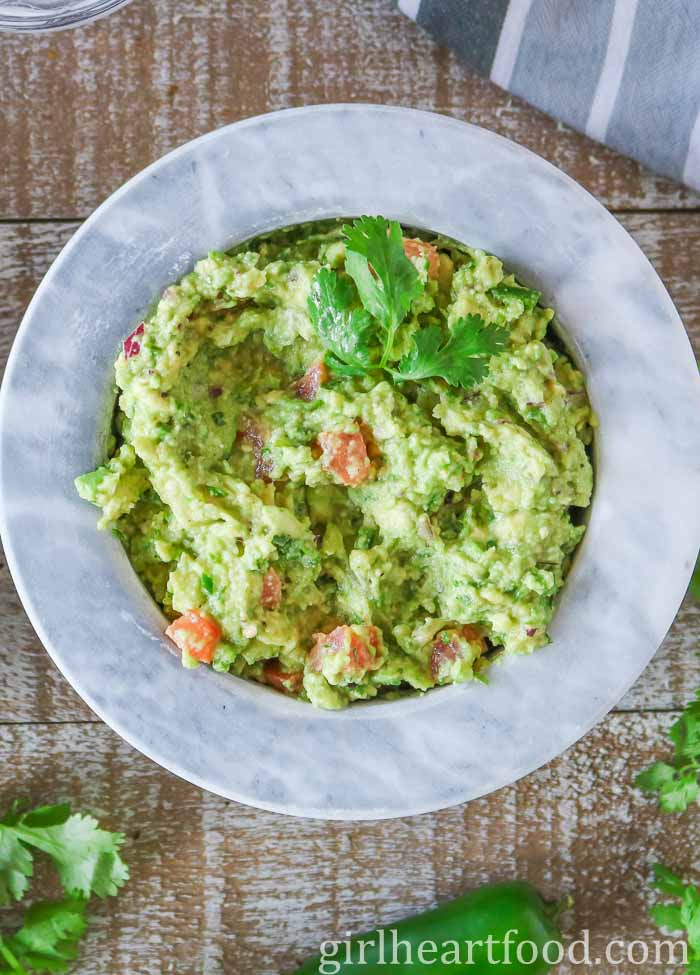 This simple guacamole recipe was originally posted in November 2015, but has been updated with new recipe pictures and details.
Many years ago before hubby and I were married, he decided to make us some guacamole for a Saturday night snack.
It was my first time having and I definitely wasn't a fan. I know. Crazy, isn't it?! To think about that now, I can't believe it!
It was years later that my love for avocados and guacamole bloomed. Strange thing. If you keep trying a food you're not fond of, eventually you do (well, that was certainly the case with me).
These days I absolutely love guacamole and avocados, in general. We always have avocados in the fridge. Always. They are a staple in our home, right alongside milk, eggs and cheese.
I was like that with cilantro too. It tasted soapy to me. Now, I have no problem with it whatsoever and love it on so many things.
We've all seen those pre-made containers of guacamole in the grocery store and some of them are pretty good and, yes, I have even bought. There is no need, though.
This recipe literally takes minutes to make and when you prepare it at home you know exactly what's in there and can adjust to your tastes.
And for the record …
Now I enjoy guacamole on the regular, especially with chickpea tacos!
What is Guacamole? What's It Made Of?
Guacamole is an avocado-based dip originating from Mexico. Side note: did ya know avocado is a fruit?
Ingredients for guacamole are:
avocado
lime juice
salt
cumin
onion
garlic
cilantro
cayenne, hot sauce and/or jalapeno
diced tomato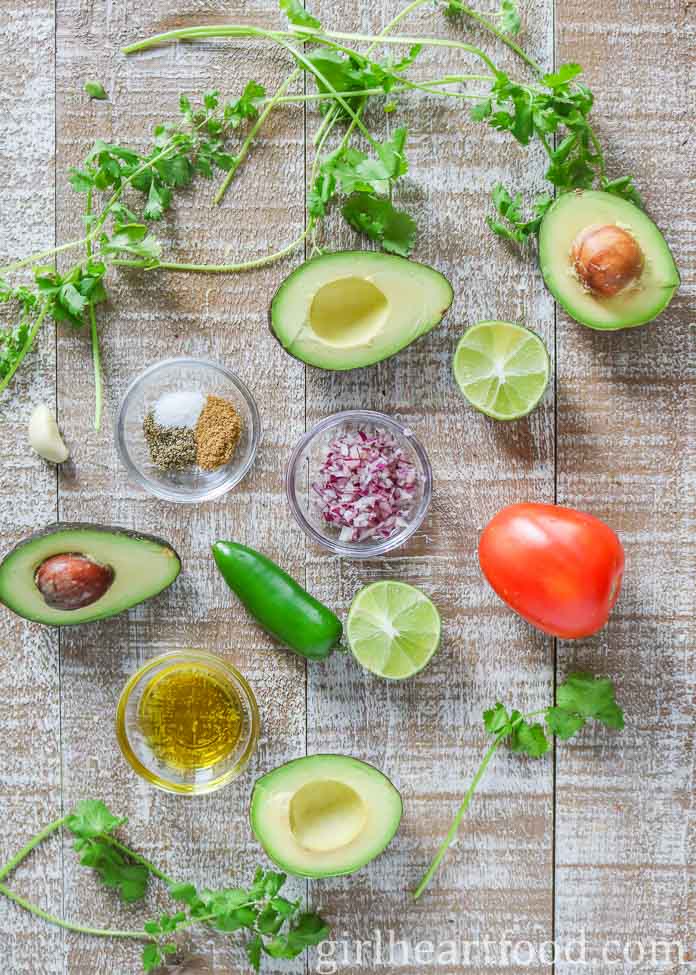 How to Make Guacamole
Full details on how to make this simple guacamole recipe are in the recipe card below, but here are the basics:
Place peeled avocado (with pit removed, of course) in a bowl and gently mash with a potato masher (such a handy tool).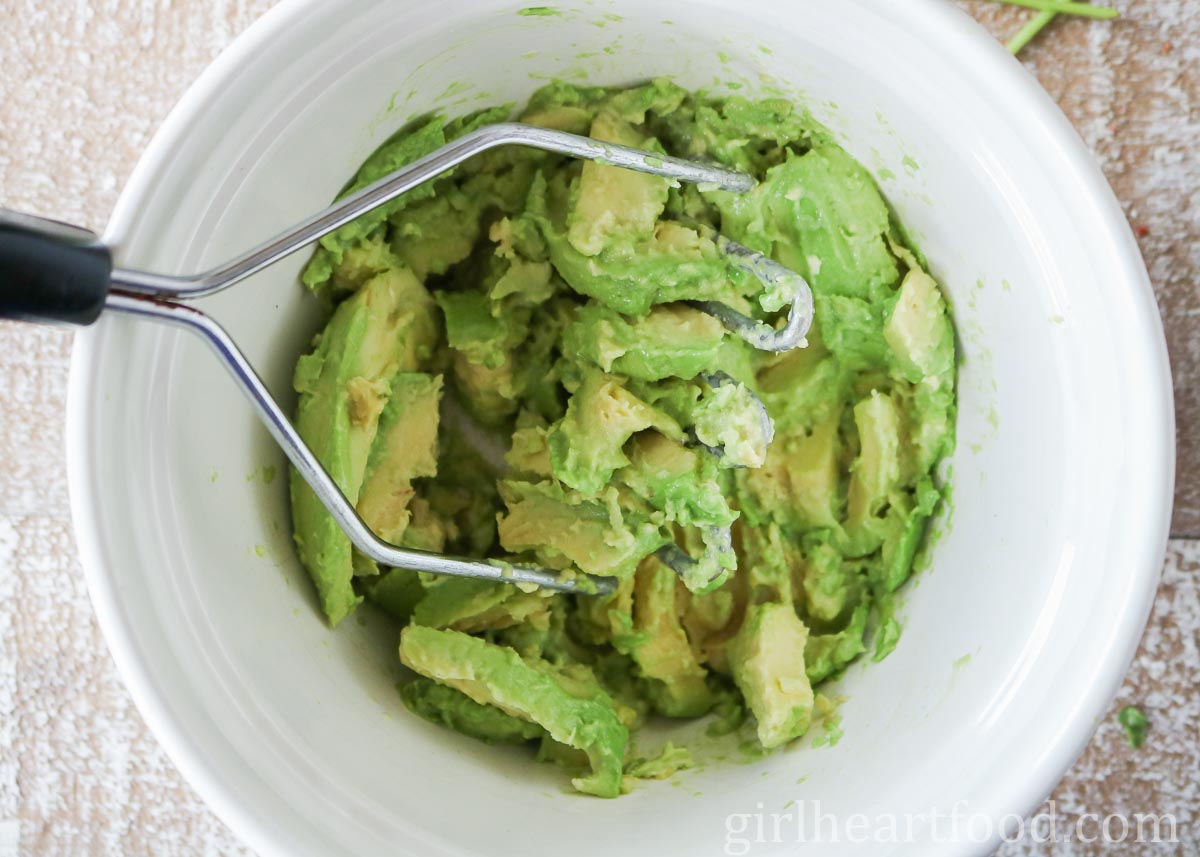 The, add fresh lime juice, olive oil, seasonings, onion, garlic, jalapeno, tomato and cilantro. Stir everything until combined.
Tip: Be a tad gentle with the tomatoes, you don't want to mush those too much.
Enjoy with your fave chips!
So simple, right?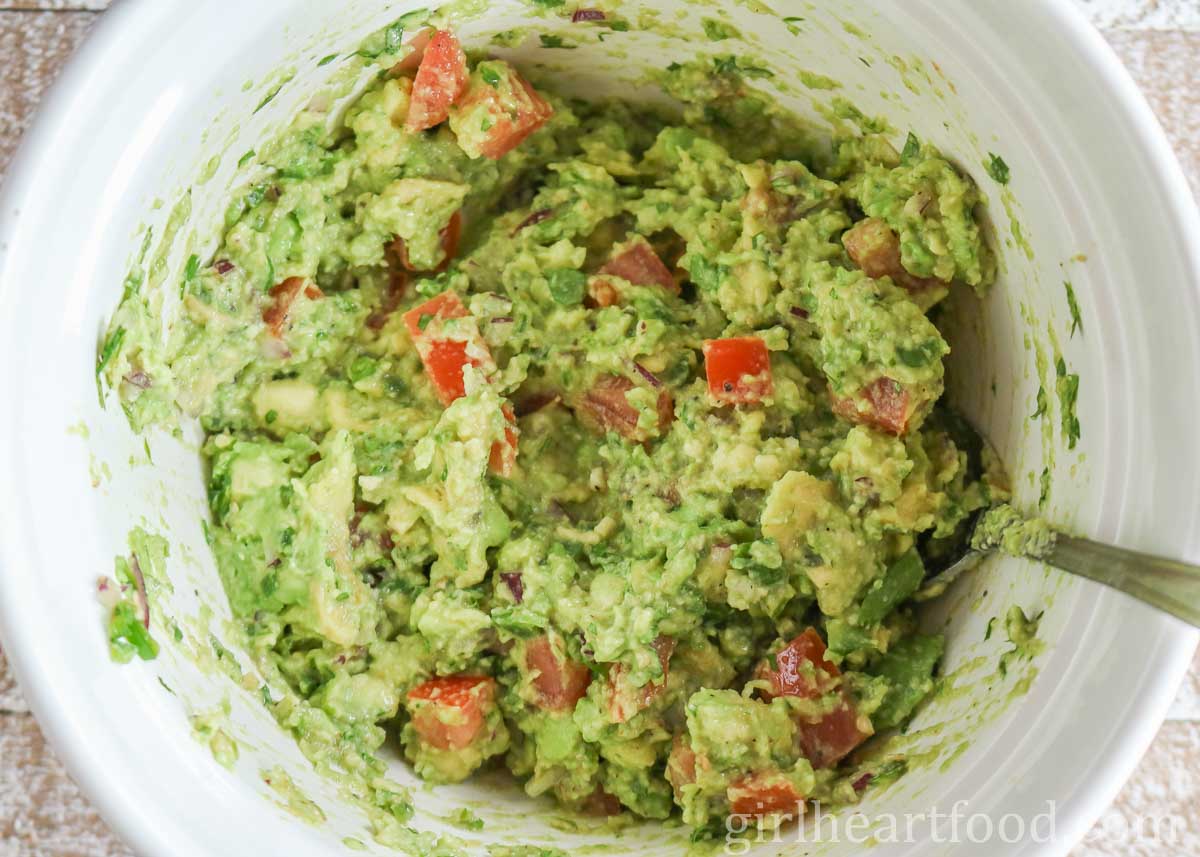 Hungry for more? Subscribe to the Girl Heart Food Newsletter!
Chunky versus Smooth
That's more of a personal preference!
You can mash super smooth to have a creamy guacamole or leave some bits for a chunky version (just mash a little less). You do what you enjoy best!
How Long Does It Last
Like with most things, guacamole is best enjoyed when it's freshly made. Usually when we make at home, it doesn't last past day one because it's so dang tasty.
However, if you can't finish it all in one sitting, though, this dip will last about 1 to 2 days in the fridge (store in an airtight container).
How to Keep Guacamole from Turning Brown
There are a bunch of ways that will help keep guacamole from turning brown like:
Lime Juice
Squeeze a generous layer of lime juice over top of the guacamole.
Food Plastic Wrap
Press food plastic wrap right over and into the dip (so there's less oxidation).
Water
Cover leftovers with a small layer of water. Drain when ready to enjoy.
Greek Yogurt or Sour Cream
A total cheat (but works) is to stir in a spoonful of Greek yogurt into the guacamole (the acidity helps prolong the green colour). Guacamole with sour cream also works too!
Avocado Pit
I've heard placing the avocado pit in the centre of the guacamole helps it stay greener longer, but I haven't personally tried that one out. You?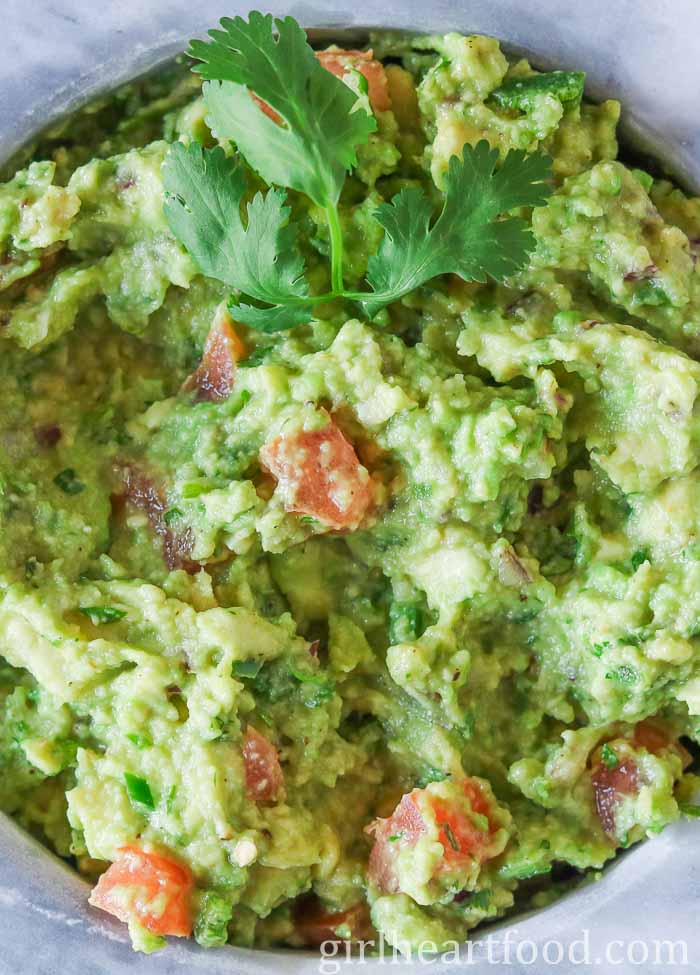 Mix Things Up!
To try a different flavour profile with guacamole add-ins.
For chipotle guacamole, mix in some chipotle chili flakes or finely chopped chipotle peppers in adobo sauce (to taste). It adds a lovely smoky heat and flavour.
If you are opting for a chipotle guacamole, you may want to skip the fresh hot pepper.
More Helpful Tips
Pick a ripe avocado.
Make it close to when you are about to enjoy for best freshness. Because guacamole only takes minutes to whip up, that shouldn't be a problem.
Don't skip the lime juice! It helps prolong the green colour. Plus, it adds a lovely brightness to the dip. Don't have lime on hand? Use lemon.
Don't have a fresh hot pepper in your fridge? Try a dash or two of your favourite hot sauce.
For the onion component, use what you have on hand: white or red onion or shallot.
If you like more of an ingredient (like cilantro or onion, for example), use more. Like a little less, use less. Like mentioned, guacamole is easily adjustable to taste.
Speaking of adjusting to tastes, if you like things less spicy remove ribs and seeds from the jalapeno.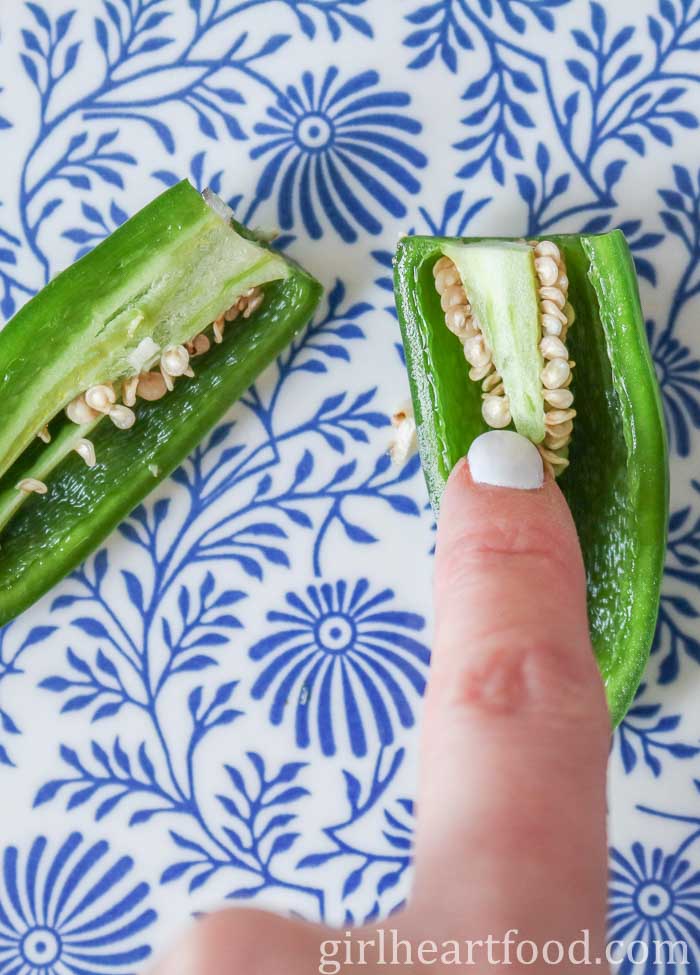 Ways to Enjoy
Chips (classic, right?)
Use as a spread on a sandwich or wrap instead of mayo
Have on toast (hello famous avocado toast). Try with an egg on top. It's delicious!
Enjoy with scrambled eggs
Nachos is never a bad idea
Making things more substantial, this simple guacamole recipe would be SO good spooned over pork carnitas , shrimp tacos or enjoyed with cheesy beef quesadillas.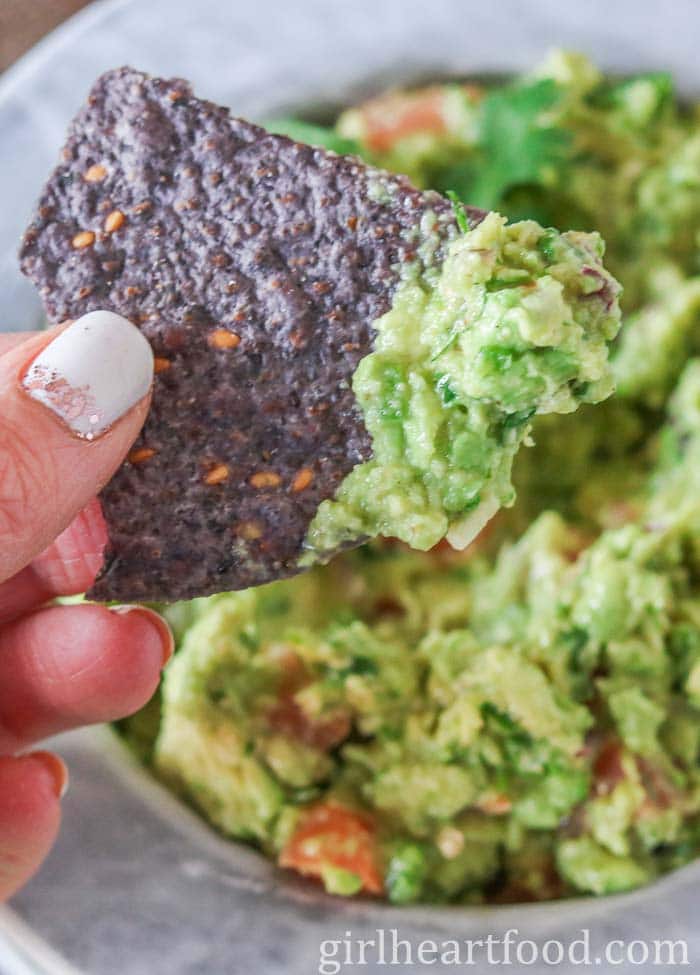 More Easy Dips
This dip is pretty simple but really tasty. Sometimes simple really is best.
Hope you love this simple guacamole recipe as much as we do!
If you make this easy guacamole recipe, be sure to leave a comment below. Love to know how you enjoyed!
Let's Be Social!
Follow Girl Heart Food on Facebook, Instagram, Pinterest and Twitter for all the latest delicious eats! Oh, and don't forget to subscribe to our newsletter!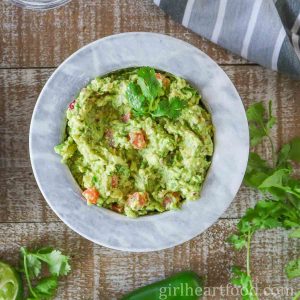 Simple Guacamole Recipe (made in minutes!)
Ditch store-bought and make this super simple guacamole recipe in minutes! This avocado dip is fresh, loaded with flavour and as creamy or as chunky as you want it to be. Makes for a delicious game day snack for dunking those chips!
Ingredients
2

avocados

, halved, pitted and peeled

2 to 3

tablespoons

lime juice

(from about 1 to 1.5 limes)

1

tablespoon

olive oil

(optional)

¼

teaspoon

salt

(or to taste)

¼

teaspoon

black pepper

½

teaspoon

ground cumin

2

tablespoons

minced yellow, white or red onion

1

clove

garlic

, minced

1

jalapeno

, minced (remove seeds and ribs if you want)

½

roma tomato

, seeds removed, chopped

2

tablespoons

chopped fresh cilantro

(or to taste)
Instructions
Add avocados to a bowl. Gently mash with a potato masher. Make as creamy or as chunky as you like.

Squeeze in lime juice and pour in olive oil.

To avocado mixture, add salt, pepper, cumin, onion, garlic, jalapeno, tomato and cilantro. Gently stir to combine.

Transfer guacamole to a serving bowl and garnish with reserved cilantro. Serve immediately with your favourite chips!

Note: Enjoy immediately or properly store in an airtight container in your refrigerator and enjoy within 1 to 2 days.
Nutrition (ESTIMATE ONLY)
Calories:
203
kcal
Carbohydrates:
11
g
Protein:
2
g
Fat:
18
g
Saturated Fat:
2
g
Sodium:
154
mg
Potassium:
522
mg
Fiber:
7
g
Sugar:
1
g
Vitamin A:
265
IU
Vitamin C:
20.7
mg
Calcium:
18
mg
Iron:
0.8
mg
Nutrition estimate (if provided) is based on 1 Serving.
Nutrition information (if provided) is provided as a courtesy and should be considered an estimate only. Ingredients can vary and Girl Heart Food makes no guarantees to the accuracy of this information. It should not be considered a substitute for a professional nutritionist's advice.
A note on times provided: appliances vary, any prep and/or cook times provided are guidelines only.