Looking for a delicious recipe for caramelized onions? Here are some easy step by step instructions for making the very best caramelized onions that you could use on all your favourite foods, like pizza, burgers and more!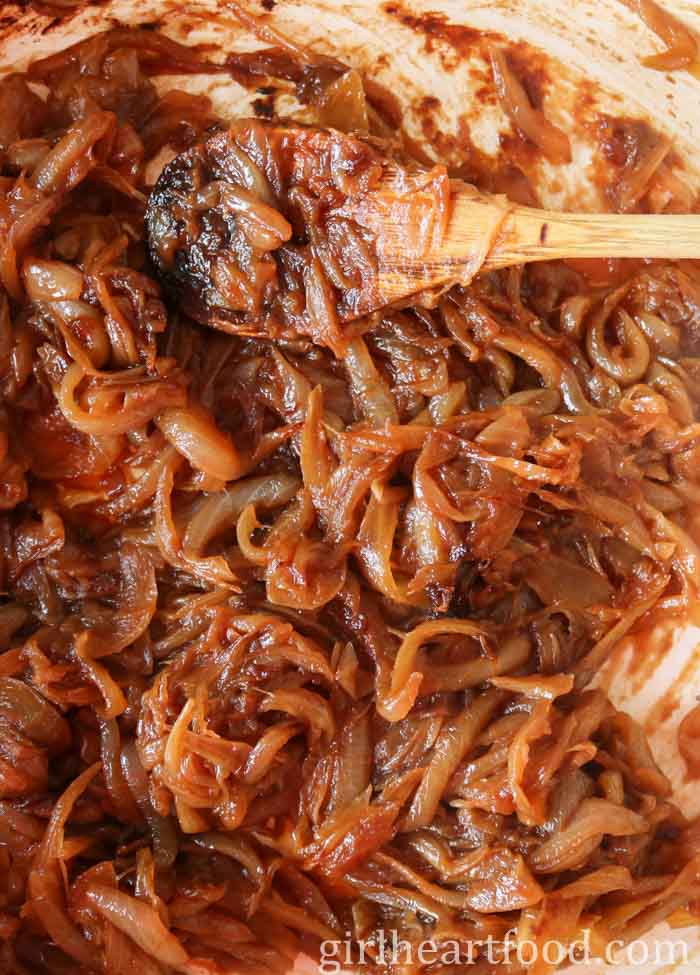 Hi friends!
Hope your weekend is going great! We had a lovely one around here with lots of sunshine and I couldn't be happier.
Of course, I have been cooking (what's new, right?) and cut what seemed like 5 bazillion pounds of onions to use in recipes … not just any onions, though, delicious caramelized onions. They take any recipe to the next level. Seriously good!
So, there I was this weekend, in my kitchen bawling my eyeballs out whilst cutting onions. Totally worth it, though, LOL.
What are Caramelized Onions?
Onions, like a lot of produce, naturally have sugar in them. When you cook onions low and slow, essentially you are encouraging the release of those sugars, thus 'caramelizing' them. As the onions cook and soften, sugars are released and they get golden brown, sweet and delicious!

Caramelized onions are not fried onions.
Best Onion to Use
For caramelizing onions, I usually opt for yellow onions (because they're so readily available and they have a great taste). White onions, shallots or even red onions would work too.
Quantity of Onions Needed
When caramelizing onions, they cook down a lot. I would recommend using no less than 1 pound of onions and up to 3 pounds (or more if you really want lots).

The size of onions can vary dramatically. On average, though, there are about 3 to 4 yellow medium-sized onions in one pound. To be sure, use your grocery store scale.

For this recipe, I opted for the middle ground … two pounds of onions, which will yield a little more than 1 cup of caramelized onions.

This is about the size of yellow onion I used.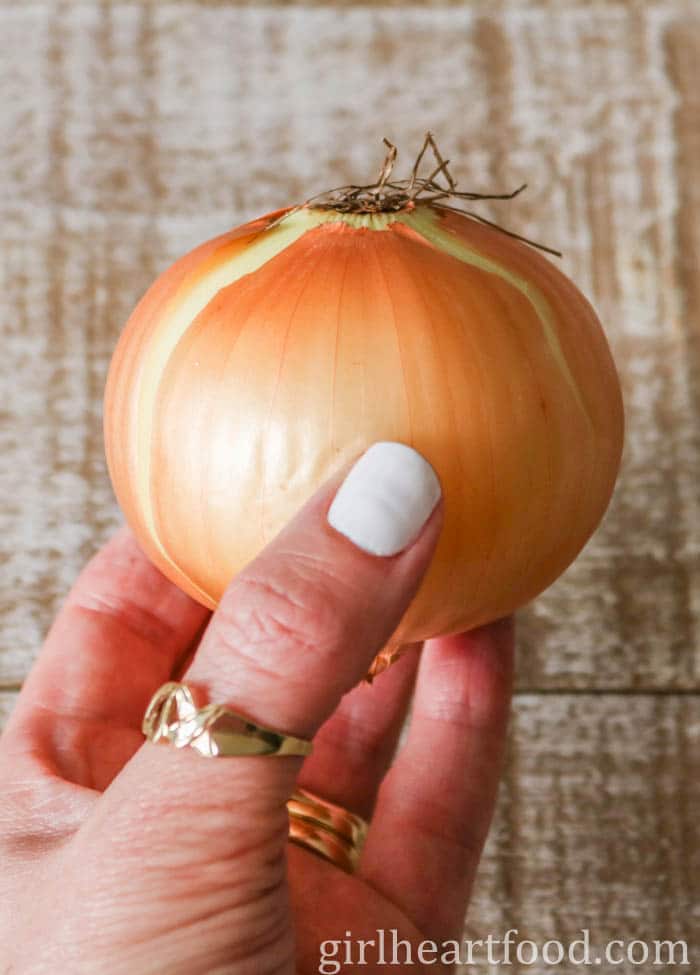 How Thick Should The Onions Be
Aim for roughly ⅛ to ¼ inch thick.

Of course, it's no biggie if you happen to cut some a little thicker, but aim for roughly that thickness.

You don't want the onions too thin because they may burn.
How to Slice an Onion
Firstly, whenever slicing any produce (or anything) and using a sharp knife, be careful!!
Get your cutting board out, along with a sharp knife.
Slice the onion in half.
Cut root ends off each half and discard.
Peel onion (and remove any tough inner layers (if there are any)) and discard.
Lay onion flat and start to slice.
Once you get so far into slicing, turn the onion over so it lays flat again and continue slicing.
Now, you have perfectly sliced onion ready to be used!
Hungry for more? Subscribe to the Girl Heart Food Newsletter!
Best Pan to Use
Use a large pan, about 12 inches in diameter.
Pick a stainless steel pan, cast-iron pan or an enameled cast-iron pan (which is what I used).
Oil to Use
Use a combination of butter and olive oil. Butter alone may burn.

I opted for a 'salted' butter, but you could use 'unsalted'. Because I opted for 'salted' I didn't season the onion at the end of cook time, but you could season if you prefer.
Temperature To Cook On
On the low side! Low and slow is the way to go when caramelizing onions. You want to slowly encourage the sugars to release from the onions while cooking them.

I set my burner to medium-low.
Tip: Pans can vary in how they conduct heat, as well as your heat source (stove). Use your judgement! If you see that the onions are 'frying' or burning, turn the temperature down.
How Long Does It Take to Make
This is a labour of love here. Don't start the onions and then leave them. Grab your fave beverage, turn on some tunes and settle in to make the best caramelized onions ever!
You're looking at about 40 to 60 minutes from start to finish. The range is because, of course, it will take less time to cook one pound of onions compared to, say, three pounds. Also, some people may like their caramelized onions deeper in colour than others.
How to Make Caramelized Onions
Full details are in the recipe card below, but here are the basics:
In a large pan on medium-low, add olive oil and butter. Heat until butter is melted.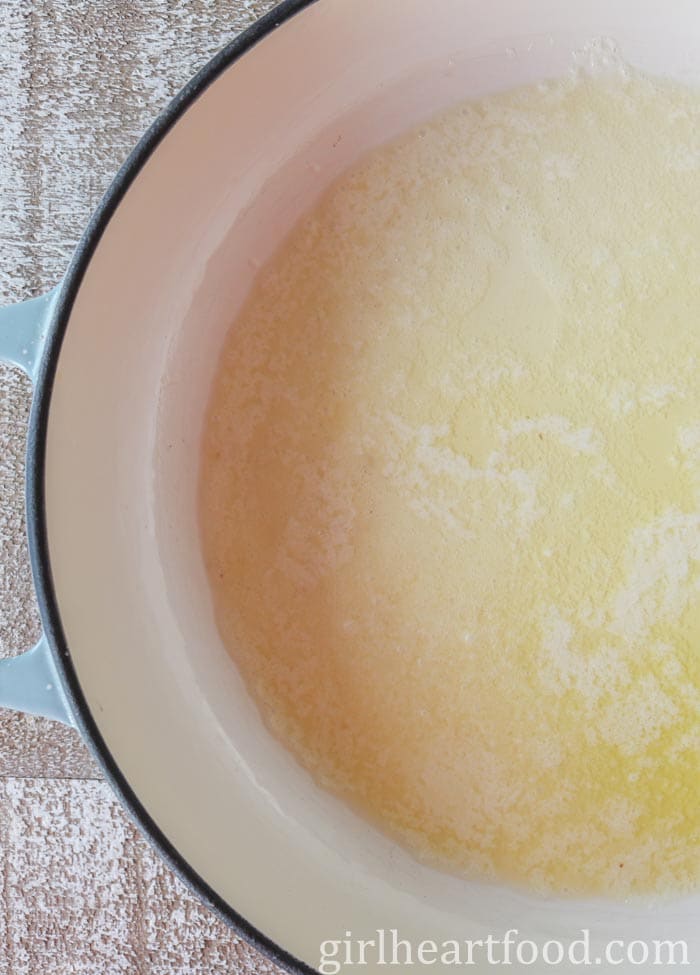 Add onions to the pan to begin cooking 'em.
Tip: If you're using a lot of onions, like more than 2 pounds, you could add the onions in batches. Add some and cook for a just a few minutes, then repeat one or two more times until all the onions are in the pan. Then, caramelize away!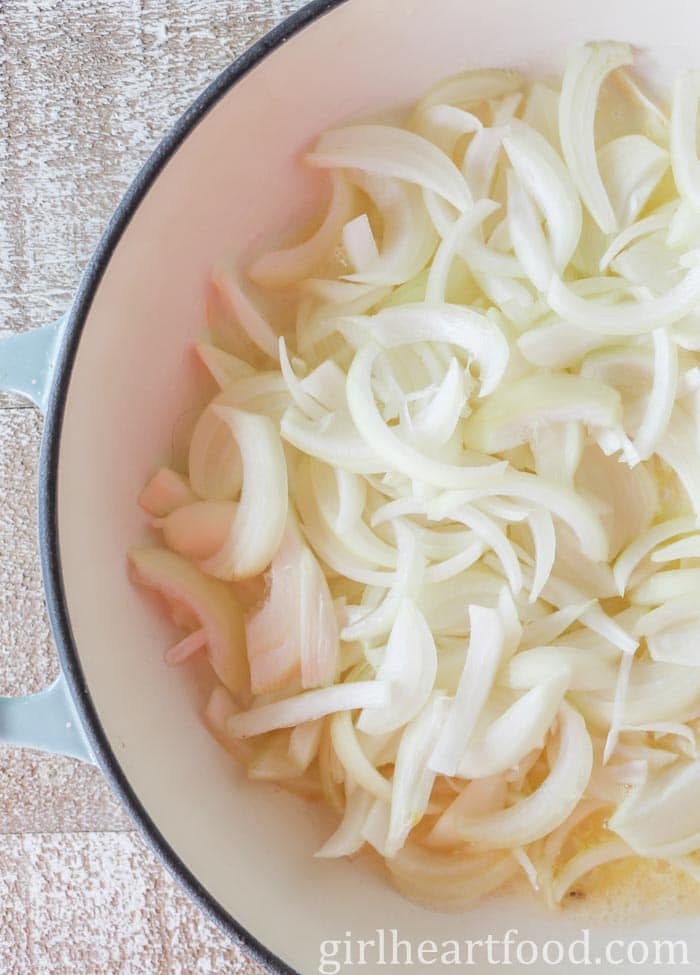 Stir onions to coat in butter and oil mixture. After a little bit, they start to soften.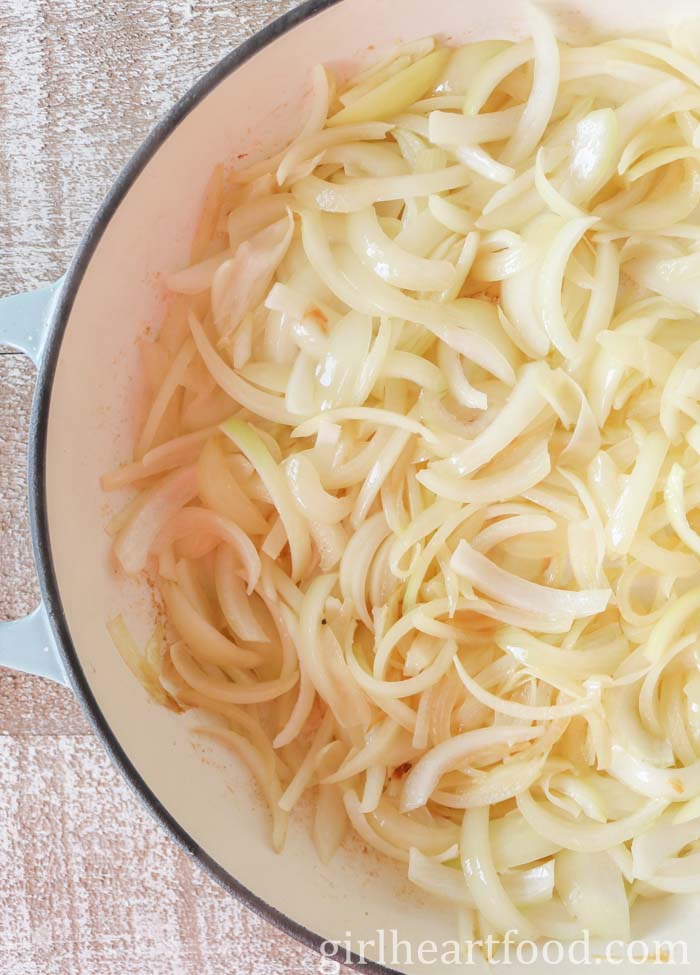 Okay, now that the onions are in the pan, patience is key. Allow the onions to slowly cook, stirring periodically (about every 5 to 10 minutes). You'll notice that they are starting to turn slightly golden in colour.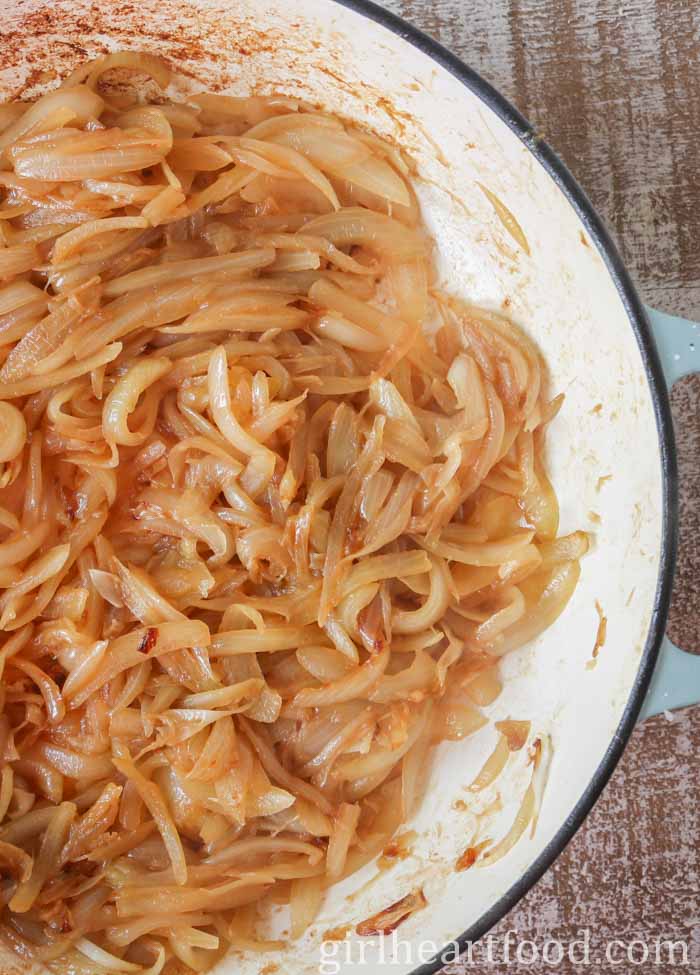 You'll start to see the onions release their sugars. Use a wooden spoon to scrape the little golden bits from the bottom of the pan, stirring back into the onions. That's goodness right there!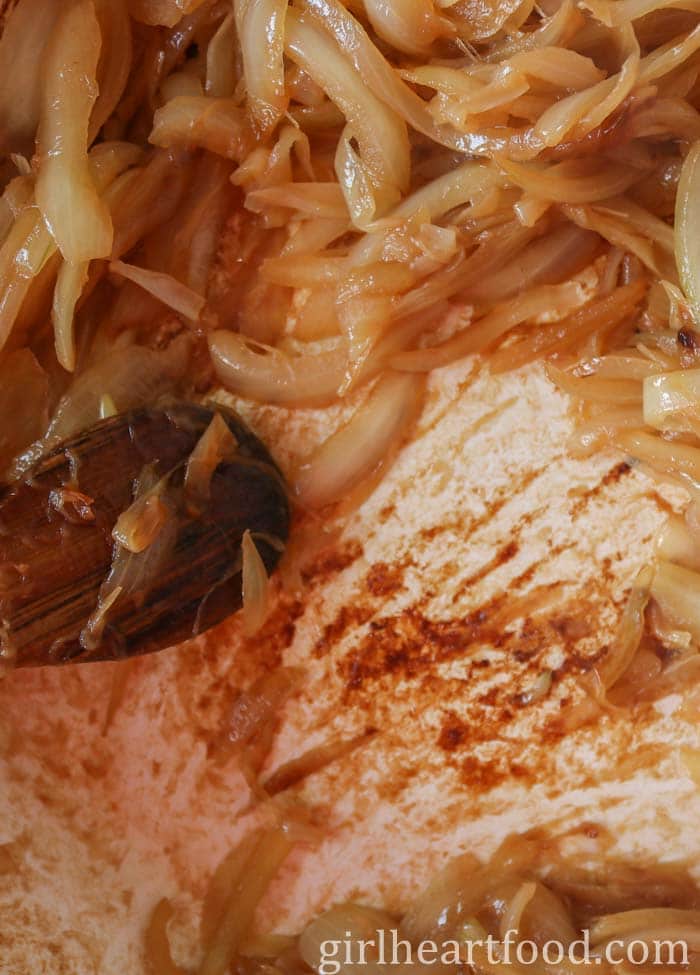 Every once in a while, deglaze with a little hot water (use hot water, or even boil the kettle), scrapping up excess brown bits and stirring back into the onions. Use 3 to 4 tablespoons of water at a time.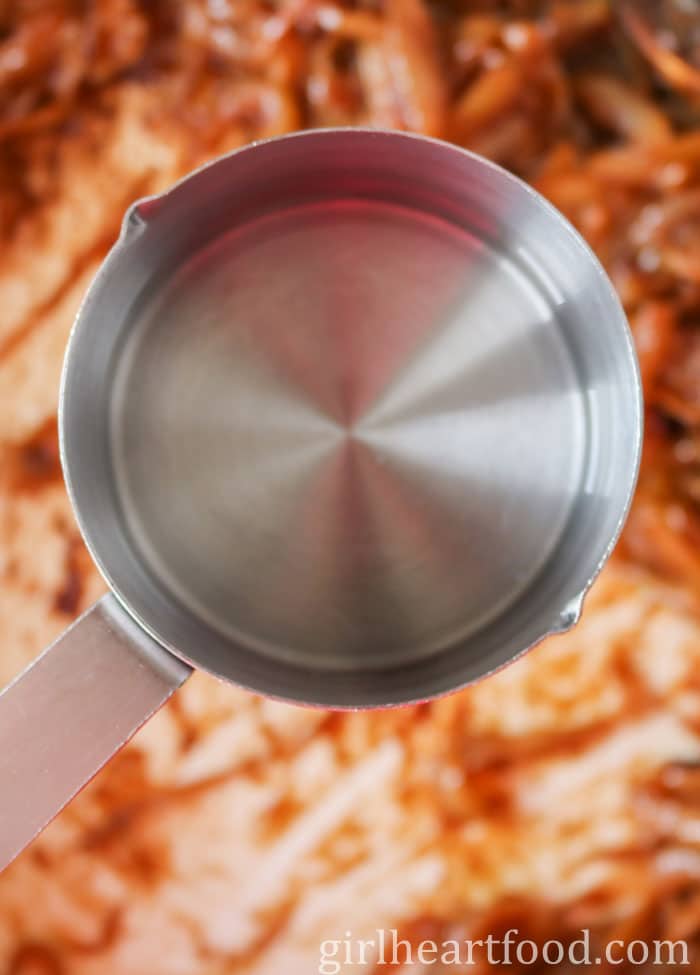 The water is useful because it helps getting those really stuck on brown bits and it helps to cook the onions. I typically use ¾ cup to a cup or so of hot water over the whole cooking process.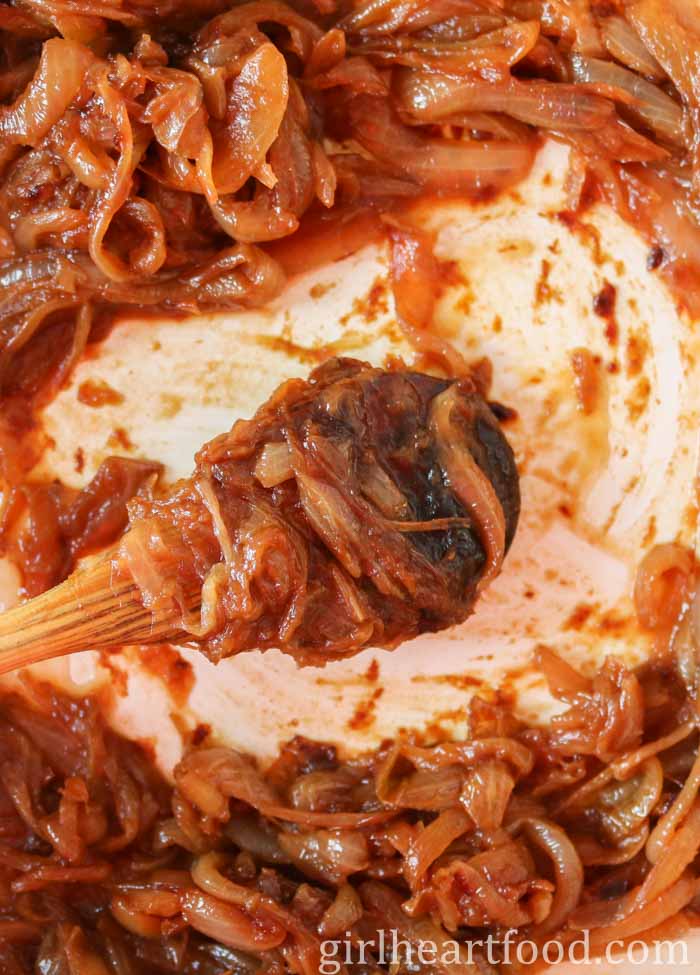 Continue cooking until they've reached a nice caramel colour! You could even cook them further if you like.
When you've reached your desired doneness, deglaze one more time with a little hot water, ensuring you get every last bit of that brown goodness on the bottom and side of the pan. Now your onions are ready to be enjoyed!
How Long Do They Last
Properly stored in a covered container in the refrigerator, enjoy within 3 to 4 days.
Can I Freeze Caramelized Onions?
Yes! Freeze for up to 3 months.
Store cooled caramelized onions into a sealable freezer-safe bag. Seal and press flat so you have a 'sheet' of caramelized onions. Don't forget to label the bag with what it is (and the date it was made). Thaw when ready to enjoy and use in your favourite recipes.
Alternatively, distribute cooled caramelized onions into an ice-cube tray and freeze. You can pop some out, thaw and use as needed.
How to Use
Hope you've enjoyed this easy caramelized onion recipe and use it to jazz up all kinds of good eats!
Stay tuned because I have some delicious recipes using caramelized onions coming your way soon.
If you make this recipe for caramelized onions, be sure to leave a comment below. Love to know how you enjoyed! Thank you!!
Let's Be Social!
Follow Girl Heart Food on Facebook, Instagram, Pinterest and Twitter for all the latest delicious eats! Oh, and don't forget to subscribe to our newsletter!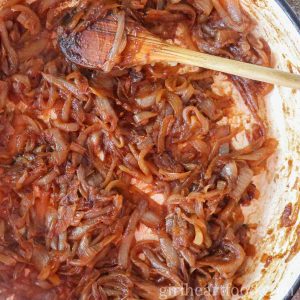 Easy Caramelized Onions (step-by-step guide)
Looking for an delicious recipe for caramelized onions? Here are some easy step by step instructions for making the very Best Caramelized Onions that you could use on all your favourite foods, like pizza, burgers and more.
Ingredients
2

pounds

yellow onions

, peeled & sliced about ⅛ inch to ¼ inch thick

2

tablespoons

butter

1

tablespoons

olive oil

1

cup

hot water

(approximately)

salt

(to taste, optional)

black pepper

(to taste, optional)
Instructions
Heat butter and olive oil in a 12-inch pan (like a cast-iron pan or enameled cast-iron pan), over medium-low heat.

Note: We are not frying onions here, we are caramelizing, so if you sense that your heat is too high as you are cooking to onions, reduce it.

Add onions, stirring to coat in the butter.

Allow the onions to slowly cook, stirring periodically, about every 5 to 10 minutes.

When stirring, scrape up any brown bits that have accumulated in the bottom of the pan with a wooden spoon, stirring those brown bits back into the onions.

Every once in a while when there are a lot of brown bits, deglaze with a little hot water, about 3 to 4 tablespoons at a time and scrape up those brown bits and incorporate them back into the onions.

Continue caramelizing the onions until they've reached your desired colour. The whole process will take anywhere from 40 to 60 minutes.

Once you've reached your desired doneness, deglaze with a little water one more time, scrapping up all the brown bits and stirring into the onions.

If you like, you can season with a little salt and pepper. Use caramelized onions on your favourite sandwiches, burgers, appetizers and more!
Nutrition estimate (if provided) is based on 1 Serving.
Nutrition information (if provided) is provided as a courtesy and should be considered an estimate only. Ingredients can vary and Girl Heart Food makes no guarantees to the accuracy of this information. It should not be considered a substitute for a professional nutritionist's advice.
A note on times provided: appliances vary, any prep and/or cook times provided are guidelines only.