These homemade baked beans use pantry staples and are so simple to make! There's a rich tomato base, along with molasses, brown sugar, bacon and rosemary.  Delicious on their own or as a hearty side to dinner.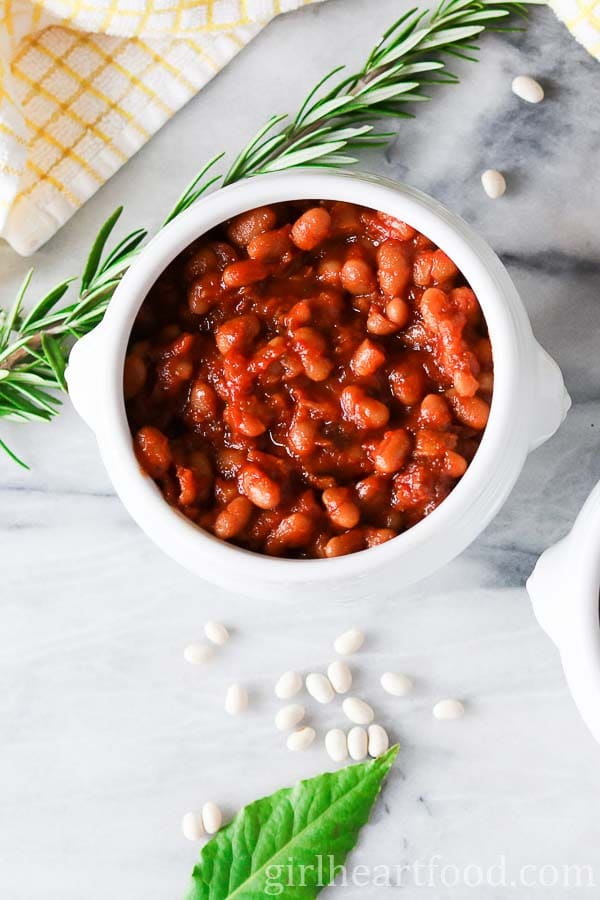 This recipe was originally published in July of 2015 and has been updated.
Hey everyone!  How's it goin'?  Are you all ready for Valentine's Day?  Our fur baby's birthday is that day (he'll be 8!) so, of course, he is top priority.  But, I'm sure hubby and I will do something special to celebrate…make a nice meal or something.  I have my cards all lined up and ready to go.  I usually get hubby a mushy one and a funny one.  I gotta say, the funny one was so funny, I chuckled out loud in the store 😀 I'll share the card after Valentine's Day in my Instagram story so be sure to follow along. Do you do anything special with your sweetie or your gal pals?  Now, there's nothing sexier than beans (HA), so let's get to it 😉 —>
Why you Should Eat Beans
Beans are something that we regularly eat at home and you should to!  Why?
Beans are loaded in fibre, protein, vitamins and are low fat, which means they are good for you and fill you up.
Beans are versatile!  You can make old fashioned homemade baked beans (like here, of course), put 'em in soups, salads, and they are fabulous in dips.
Beans are freakin' cheap! You can buy a huge bag for a couple bucks and can get a whole bunch of meals from one bag. Dry beans are the most budget friendly, but canned beans are also inexpensive. If you do buy canned beans, make sure you get the 'unsalted' variety, drain them and rinse them before using. They are not used in this recipe, but I do regularly stock them in our pantry for quick meals (like my white chicken chili).
How to Make Old Fashioned Baked Beans From Scratch
There's nothing complicated with making these homemade baked beans and all of the ingredients are simple pantry staples.
For this recipe you want to use dried navy beans (not pre-processed canned beans).  You should place the dried beans in a large bowl, cover with cold water and let them soak overnight.  Then, the next day, remove them from the water and they are ready to use!  Other than crisping the bacon first, all of the ingredients are placed in one pot and baked for about 6 hours.  Nothing to it!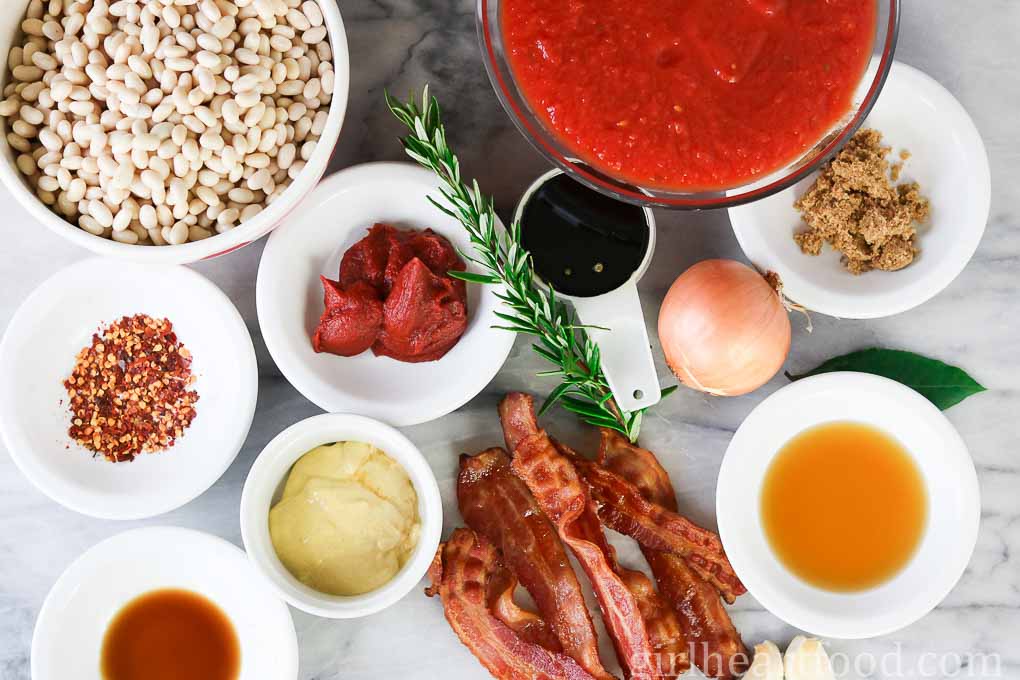 Homemade baked beans is definitely a dish that is perfect all year round!  Just think about it – they are great in the winter after coming in from outside; they warm ya up and fill your belly.  In the summer, who doesn't love baked beans sitting around a campfire? Lately, hubby & I have enjoyed a side of beans with steak for supper. Have a glass of wine with it and that's fine dining I tell ya!  Baked beans has it goin' on – well, you know, as far as beans goes 🙂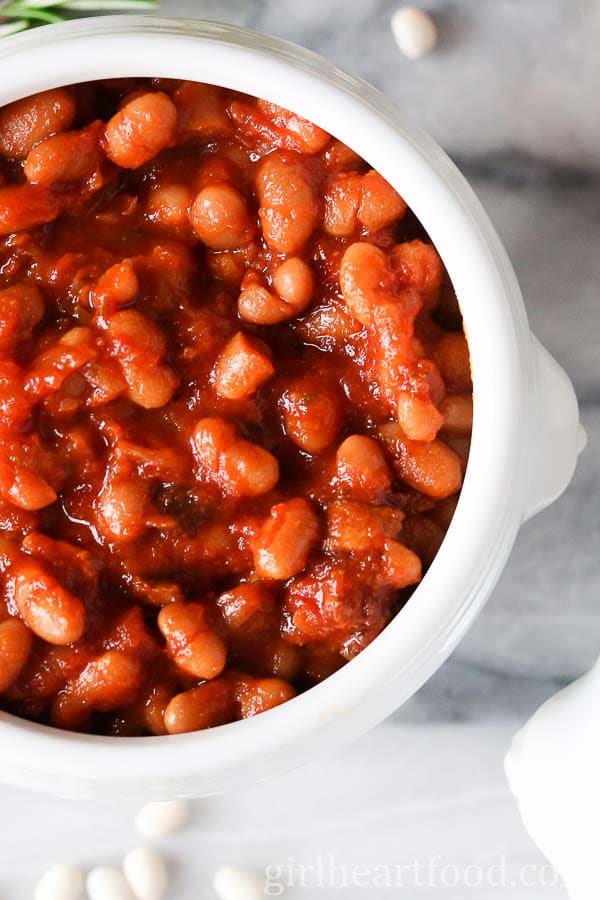 Baked Beans are a Freezer Friendly Meal
As an added bonus, these baked beans freeze really well so you can make a batch and have ready to go when you just don't have the time to cook. After they have cooled, portion them up and place into vacuum seal bags. Spread the sealed bags out flat and place in the freezer.  You'll have a delicious meal ready when you are!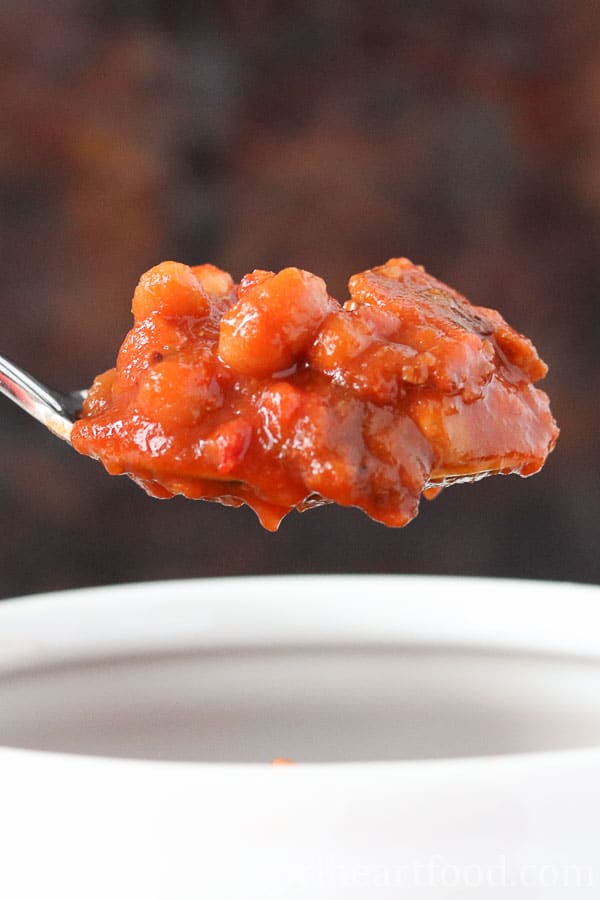 If you enjoy these as much as we do, I'm pretty sure you'll be going back to the pot for seconds 😉
Don't forget to subscribe below to stay in the loop on all the latest recipes!
Until next time take care and chit chat again soon!
P.S. If you think these homemade baked beans will make your belly happy too, please be sure to hit that little Pin button down below.  Many thanks, you guys! XO
Homemade Baked Beans
These homemade baked beans uses pantry staples and are so simple to make! There's a rich tomato base, along with molasses, brown sugar, bacon and rosemary. Delicious on their own or as a hearty side to dinner.
Cook Time
5
hours
30
minutes
Total Time
5
hours
50
minutes
Ingredients
2

cups

dried navy beans

1

can

whole tomatoes

-about 796ml can

3

tbsp

tomato paste

1/3

cup

molasses

2

tbsp

maple syrup

2

tbsp

dijon mustard

1

tbsp

brown sugar

1

tsp

Worcestershire sauce

2

bay leaves

1

onion

-chopped

2

cloves

garlic

-minced

1

tsp

red pepper flakes

-or to taste

2

sprigs

rosemary

-minced, or 1 tsp dried rosemary

8

slices

bacon

4

cups

water

-more, as necessary, for desired consistency

1/2

tsp

black pepper

1/2

tsp

salt

-or to taste
Instructions
Soak beans overnight in refrigerator (put beans in a bowl and generously cover with water).

The next day, when you are ready to go, preheat oven to 375 F. Place bacon on parchment paper covered baking sheet and cook until crisp, 15-20 minutes (or you could fry bacon on stovetop on medium heat until crispy). Drain grease. Once cool enough to handle, crumble bacon. Lay to one side. Reduce heat in oven to 325F.

Place canned tomatoes in dutch oven (about 5-6 quart size) along with tomato paste, molasses, maple syrup, Dijon mustard, brown sugar, and Worcestershire sauce. Blitz with an immersion blender to combine.

Next, add bay leaves, onion, garlic, red pepper flakes, rosemary, reserved cooked bacon, and black pepper. Stir to combine. Top up with water (about 4 cups starting out).

Cook for about 5.5 - 6 hours, covered, carefully checking on every 2 hours or so by topping up with water (if necessary and to your desired consistency) and stirring, making sure beans don't burn or stick. Once beans are at desired doneness, season with salt. Enjoy!
Recipe Notes
I like to check on the beans every 2 hours or so to check and see if more water is required and they aren't sticking to the pot.  I will usually add about 1/2 cup to a cup of water at a time, if necessary, to loosen the mixture up.
When prepping the beans for the oven, if you don't have an immersion blender, you can easily mix the wet ingredients (tomatoes, etc) by mashing with a potato masher.
Nutrition Facts
Homemade Baked Beans
Amount Per Serving (1 serving)
Calories 234
Calories from Fat 81
% Daily Value*
Total Fat 9g 14%
Cholesterol 14mg 5%
Sodium 442mg 18%
Potassium 581mg 17%
Total Carbohydrates 31g 10%
Protein 7g 14%
* Percent Daily Values are based on a 2000 calorie diet.
Other Recipes you May Love!