Looking for a new lunch idea? This hearty veggie sandwich is piled high with flavourful veggies and sliced cheese. It's seriously filling, incredibly delicious, and made in minutes. Mix up your lunch routine and make your belly happy!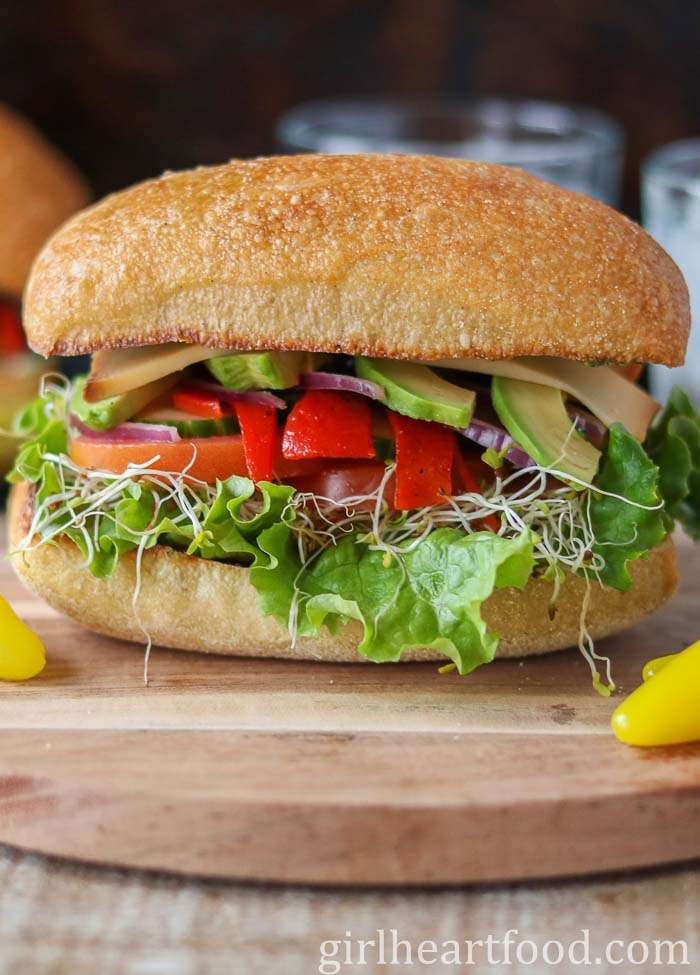 So happy to be sharing this veggie sandwich with you all!
If you're trying to incorporate more veggie-based meals into your diet, you gotta give this sandwich a try!
Ever since this past fall, hubby and I have been enjoying a whole lotta veggie-based meals.
And one of our absolute favourite things is this sandwich.
It's really good.
No meat? No problem! This one is jam-packed with all sorts tastiness.
Crunch? Check.
Freshness? Definitely.
Creaminess? Yep!
Savoriness? Oh yeah!
This sandwich has it goin' on.
It's hearty and comes together in minutes. I'm thinking you may need this one for lunch today with a nice bowl of tomato soup? What do ya think?
Ultimate Veggie Sandwich Ingredients
There is no right or wrong here. If you like more (or less) of a topping, simply adjust to taste. For this veggie sandwich, you'll need:
Your fave sandwich bread or buns (I used a chewy ciabatta from a local bakery)
Green leaf lettuce
Alfalfa sprouts (adds such a lovely freshness)
Tomato
Cucumber (hello crunch factor!)
Roasted red pepper (gives a little brininess, which is yummy!)
Red onion (adds a nice pungent bite)
Avocado (lends a lovely creaminess)
Gouda cheese (the smokiness adds something special here, but you could omit or use another variety if you prefer)
Dijon mustard
Mayonnaise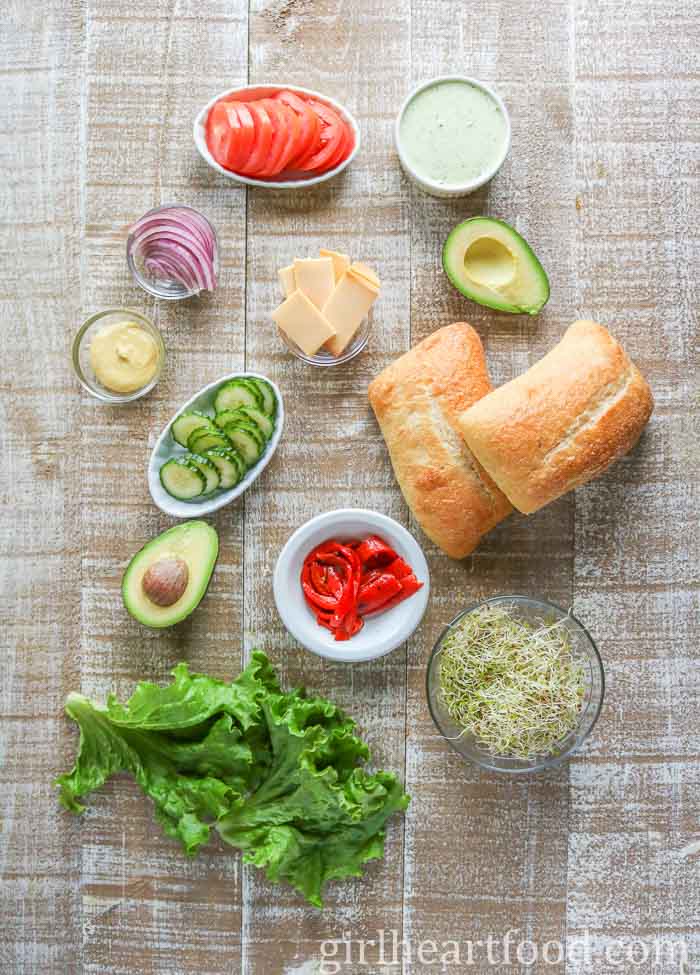 How To Make This Sandwich
Full details are in the recipe card below, but here are the basics:
Carefully cut the ciabatta bun in half, then toast the bun.
Spread Dijon mustard over the cut side of the bottom half and mayonnaise over the cut side of the top half of the bun.
Start building the sandwich! Top the bottom bun with leaf lettuce, alfalfa sprouts, sliced tomato, cucumber, roasted red pepper, red onion, avocado and smoky Gouda.
Place the top bun over top and dig in!
Sandwich Condiments
A combination of Dijon mustard and herb mayo is used for this veggie sandwich.
For the herb mayo, I basically used what fresh herbs I had on hand, like parsley, baby arugula, basil, and green onion. Use what you've got!
Just blend up some mayonnaise with fresh herbs, a little lemon juice, and a pinch of salt and pepper.
I like to use a mini food processor, but if you don't have one of those simply chop your herbs finely and whisk with the mayonnaise and other ingredients. Nothing to it.
Use a mixture of herbs or just one variety.
Tip: Just make sure your herbs are patted dry of any excess moisture so they don't water down the favoured mayo.
And, if you rather use just mayonnaise as is, go for it!
Don't have fresh herbs on hand, but want something besides basic mayonnaise? Mix your mayonnaise with a little hot sauce to taste.
Basically, do what makes your belly happy!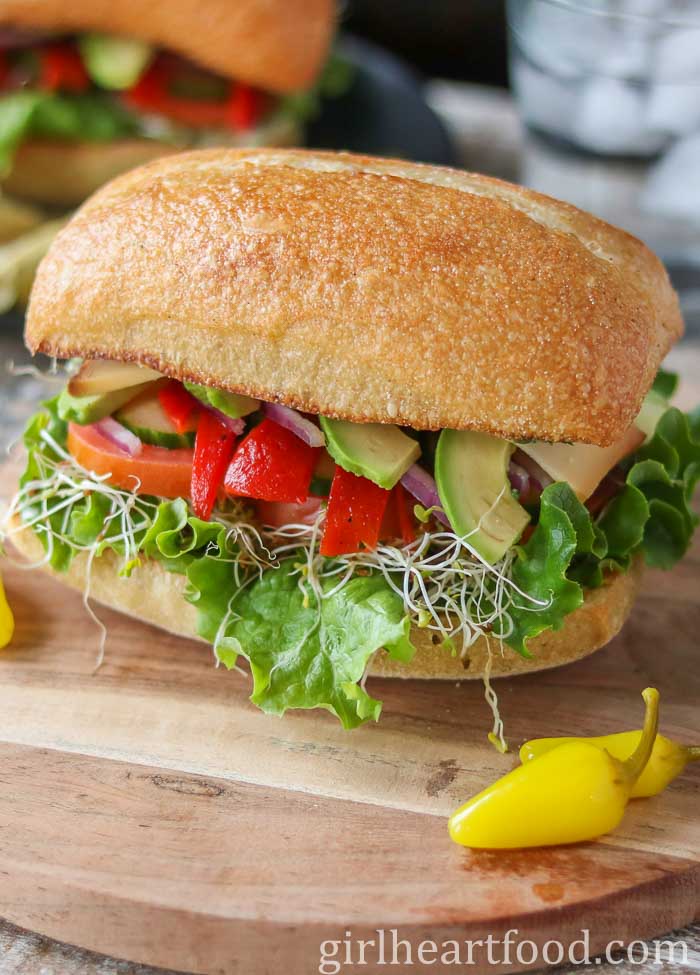 What To Serve With It
Enjoy this sandwich with any of these sides:
Tips for Making This Sandwich
Roasted red peppers can be quite wet. Ensure you pat it dry of excess moisture with paper towels before adding to your sandwich. Excess moisture can lead to a soggy sandwich and nobody wants that.
I like to make and enjoy this sandwich right away for optimum freshness and taste.
The avocado is sliced, but you could mash if you prefer. If you mash, you may want to use the whole avocado instead of half.
Sandwich Topping Variations
Don't want to use mayonnaise? Try homemade hummus as a spread instead.
Use a bread that you enjoy! For this veggie sandwich, I used ciabatta, but you could use something else, like focaccia or baguette. Use what's fresh at your bakery or what you enjoy. Go for something with heft (not, say, a basic white bread) so it can stand up to those toppings.
Mix up the leafy green vegetable! Instead of green leaf lettuce, try red leaf, baby spinach, baby arugula, or romaine.
Cucumber was used for freshness and crunch. Don't have on hand? Try some sliced pickle instead.
Smoked Gouda is used (and I totally recommend because it adds a lovely smoky flavour). You can use another variety, though, if you prefer or omit it entirely.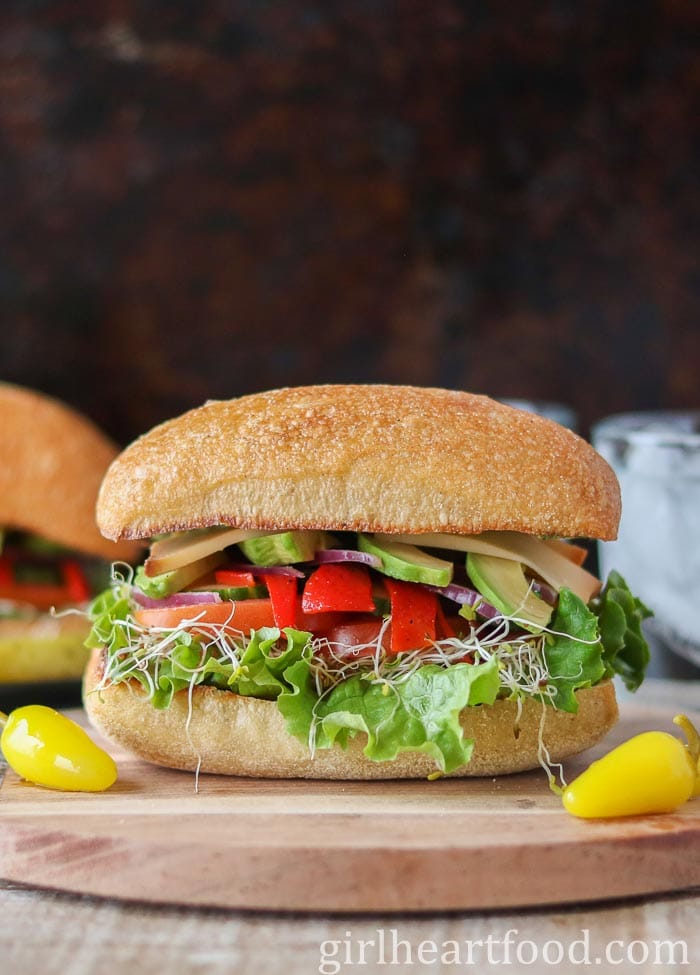 More Yummy Sandwich Ideas
If you make this easy veggie sandwich, please leave a comment below!
Veggie Sandwich
Looking for a new lunch idea? This hearty veggie sandwich is piled high with flavourful veggies and sliced cheese. It's seriously filling, incredibly delicious, and made in minutes. Mix up your lunch routine and make your belly happy!
Ingredients
2

(6-inch)

ciabatta buns

,

or your favourite sandwich bread

2

tablespoons

mayonnaise

,

or hummus or herb mayo recipe in "Notes" below

1.5

tablespoons

Dijon mustard

2

leaves

green leaf lettuce

1.5 to 2

ounces

alfalfa sprouts

,

about 50 grams

1

tomato

,

sliced

¼

cup

English cucumber

,

thinly sliced (about 12 slices)

1

roasted red pepper

,

cut into strips and patted dry of excess moisture

¼

small

red onion

,

peeled and thinly sliced

½

avocado

,

pitted, peeled and sliced

2

ounces

Smoked Gouda cheese

,

sliced (optional)
Instructions
Carefully cut ciabatta buns in half (horizontally) and toast.

Distribute mayonnaise equally between the cut side of the bottom buns and mustard equally between the cut side of the top buns.

Start building sandwiches: For each sandwich, place a leaf of lettuce on each bottom bun (on top of mayonnaise). Then layer on alfalfa sprouts, tomato, cucumber, roasted red pepper, onion, avocado, and Gouda cheese (if using). Place top bun over top (with mustard side on the inside) to form the sandwich. Cut in half, if desired. Serve and enjoy!
Notes
Herb Mayo: In a small food processor, blend ½ cup of mayonnaise with 1 tablespoon of lemon juice, ¼ cup of parsley, ¼ cup of baby arugula, 5 to 6 basil leaves, 1 tablespoon chopped green onion, and a pinch each of salt and pepper. There's more than enough mayo here for two sandwiches. Place leftovers in an airtight container in the fridge and enjoy within 3 to 4 days. Note: If you have other favourite herbs on hand or ones that you enjoy, you can use those instead.
If you want to use hummus, this is a yummy hummus recipe.
A note on times provided: appliances vary, any prep and/or cook times provided are estimates only.
© Girl Heart Food Inc. Photographs and content are copyright protected.
Tried this recipe?
If you do make this recipe, thank you!! It would mean so much if you could leave a comment below. Love to know how you enjoyed it, and it helps other readers too!