This easy roasted beet salad recipe combines perfectly roasted beets, creamy goat cheese, plenty of mixed greens and a scrumptious homemade balsamic vinaigrette. Delicious for lunch or as a side with dinner!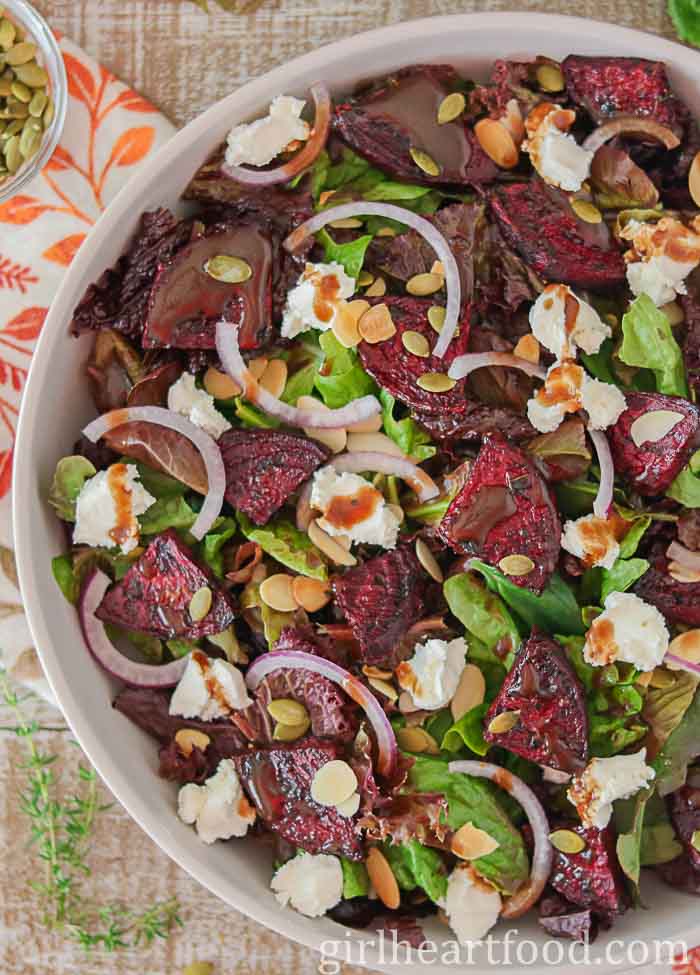 I absolutely love beets! They're so versatile and super budget friendly. Plus, when you roast beets they get all tender, sweet and delicious!
I've used beets in a beet cashew dip and enjoyed simply as a side dish with other root veggies.
If you follow along Girl Heart Food, you know how I love to use local ingredients that are grown right here.
Our growing season is so short here in Newfoundland so we have to take advantage of it while we can. Root veggies, like beetroot, grow particularly well here.
I nabbed a couple of beets (and a whole bunch of mixed greens) from my parent's garden to make this roasted beet and goat cheese salad. How cool is that?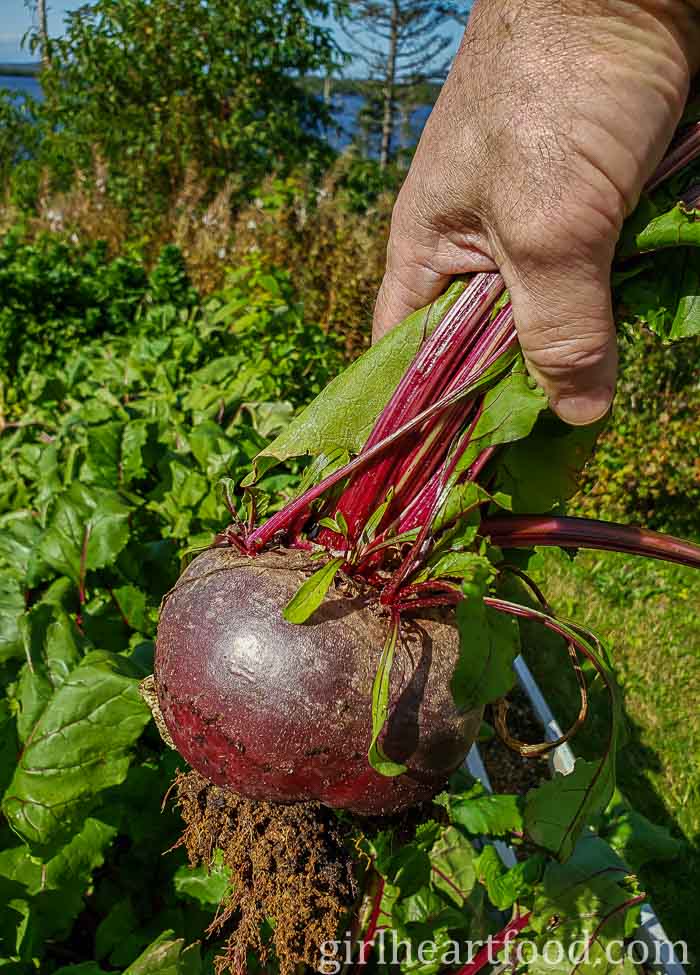 Ingredients for this Roasted Beet Salad Recipe
Fresh beets
Thyme
Plenty of your favourite mixed greens
Goat cheese
Thinly sliced red onion
Toasted sliced almonds
Pumpkin seeds
Olive oil
Seasoning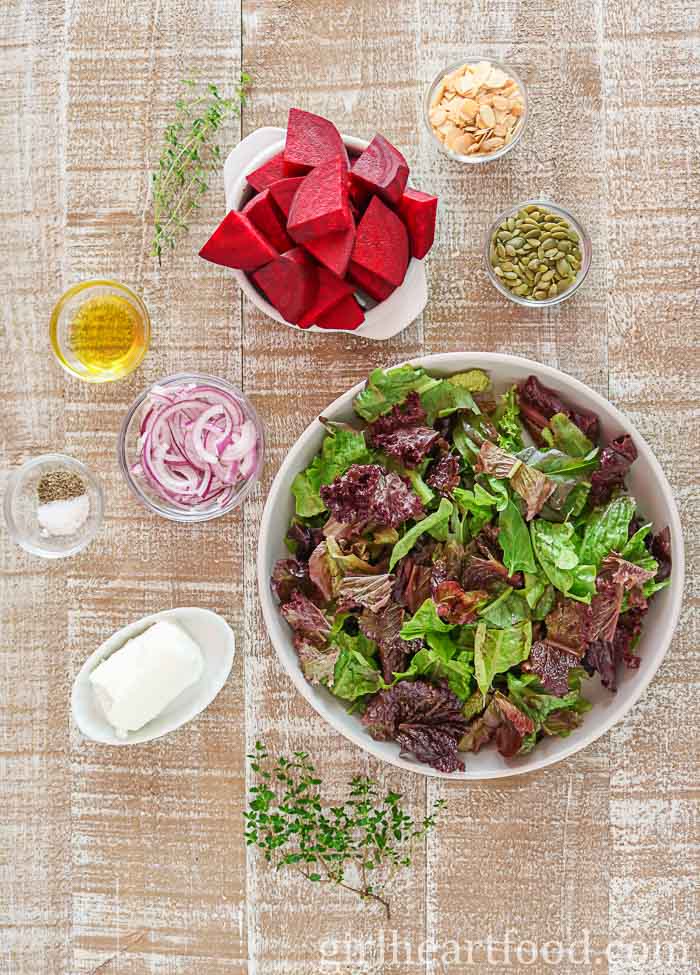 Hungry for more? Subscribe to the Girl Heart Food Newsletter!
How To Roast Beets
There's all sorts of ways to roast beets. You can roast 'em whole or chop into bite-sized pieces (which cuts down on cook time).
For this beet salad, I opted to roast them the latter. So, here's the lowdown on how to roast 'em.
Tip: Wear some disposable gloves if you don't want that pretty hue from the beets all over your hands.
Slice into bite-sized pieces, about a ½-inch thick.
Preheat your oven to 400 degrees Fahrenheit (you could also do a little less and roast longer, if you like).
Toss beets with a little olive oil, salt, pepper and thyme and place on a sheet pan (cover sheet pan with parchment for easier clean up).
Bake 30 to 40 minutes, turning once until beets are roasted and have softened.
Let cool a little before using in this roasted beet salad recipe.
Can I Roast Beets Ahead of Time?
You sure can!
Simply roast and allow to cool. Store in an airtight container in the refrigerator for up to 3 to 4 days. Beets are also delicious cold!
Homemade Balsamic Vinaigrette
This maple balsamic dressing is seriously my regular go-to salad dressing.
It pairs so well with practically any salad and takes about a minute to whip up. There's no added junk or preservatives, just real ingredients. What's not to love?
So, what ingredients do ya need for homemade balsamic vinaigrette?
Olive oil
Balsamic vinegar
Maple syrup
Salt and pepper
Dijon mustard
That's it! You literally place the ingredients in a small mason jar, cover, shake and pour. So easy and so freakin' delicious!
Change It Up! For this homemade vinaigrette, I use 3 parts oil to 1 part vinegar. If you want things more acidic with a little more tang and bite, change the ratio by using 3 parts oil to 2 parts vinegar (basically increase the vinegar component).
Tip: Like with most salads, dress just before serving so the greens don't go limp.
More Tips & Variations
Want to save time? Purchase 'pre-cooked' beets and enjoy as is or roast them for a little, just to get some caramelization.
Red beets were used in this salad, but you could use yellow or candy cane beets instead (or a combo of them).
Not into goat cheese? Try this as a beet salad with feta instead.
Mix up the nuts! Try crushed walnuts instead, if you like.
Speaking of nuts, give your sliced almonds a little toast in a dry pan for extra flavour. Don't have the heat too high and watch 'em because they can burn quickly. And when they're done? Remove them from the pan because they can continue to cook if left.
Use whatever greens you enjoy or have on hand; just cut into bite-sized pieces. Red or green leaf lettuce, Boston lettuce, kale, arugula or baby spinach are all delicious options.
Ever wonder how to make onion less pungent? Thinly slice 'em, then rinse and drain under cold water. It'll remove some of their bite if that ain't your thing!
Looking for extra crunch? Try some homemade croutons on top!
Add some sweetness with some dried cranberries!
I typically enjoy this as a cold beet salad by allowing the beets to cool while I prepare the rest of my ingredients and balsamic dressing. If you like, you could enjoy the beets slightly warm. You do you!
More Easy Side Dish Recipes
Hope you love this beetroot salad as much as we do!
If you make this cold beet salad, be sure to leave a comment below. Love to know how you enjoyed!
Let's Be Social!
Follow Girl Heart Food on Facebook, Instagram, Pinterest and Twitter for all the latest delicious eats! Oh, and don't forget to subscribe to our newsletter!
Roasted Beet Salad Recipe (with goat cheese)
This easy roasted beet salad recipe combines perfectly roasted beets,
creamy goat cheese, plenty of mixed greens and a scrumptious homemade
balsamic vinaigrette. Delicious for lunch or as a side with dinner!

Ingredients
Roasted Beet Salad
1.5

pound

beets

(about 2 medium beets)

1

tablespoon

olive oil

½

teaspoon

salt

½

teaspoon

black pepper

1

tablespoon

fresh thyme

, minced (1 teaspoon dried thyme)

8

cups

lettuce

, cut into bite-szied pieces (your favourite variety)

½

cup

goat cheese

⅓

cup

red onion

, peeled and thinly sliced

3

tablespoons

unsalted pumpkin seeds

3

tablespoons

sliced almonds
Maple Balsamic Vinaigrette
6

tablespoons

olive oil

2

tablespoons

balsamic vinegar

1.5

tablespoons

maple syrup

2

teaspoons

Dijon mustard

pinch

salt

pinch

black pepper
Instructions
Roasted Beet Salad Recipe
Preheat oven to 400 degrees Fahrenheit.

Meanwhile, clean and peel beets. Cut into bite-sized chunks, about ½-inch thick.

In a bowl, toss beets with olive oil and season with salt, pepper and thyme.

Spread beets onto a sheet pan (line sheet pan with parchment paper for easier cleanup, if you like) and roast for about 30 to 40 minutes, turning once. Once beets are cooked, allow them to cool before using in salad (unless you prefer them warm).

Spread lettuce into a large bowl and top with roasted beets and remaining ingredients. Drizzle or toss with maple balsamic vinaigrette. Enjoy!
Homemade Balsamic Vinaigrette
Combine all ingredients in a small jar, cover and shake to incorporate.
Nutrition (ESTIMATE ONLY)
Calories:
507
kcal
Carbohydrates:
31
g
Protein:
14
g
Fat:
39
g
Saturated Fat:
9
g
Cholesterol:
13
mg
Sodium:
575
mg
Potassium:
925
mg
Fiber:
8
g
Sugar:
21
g
Vitamin A:
1155
IU
Vitamin C:
16
mg
Calcium:
134
mg
Iron:
4
mg
Nutrition estimate (if provided) is based on 1 serving.
Nutrition information (if provided) is provided as a courtesy and should be considered an estimate only. Ingredients can vary and Girl Heart Food makes no guarantees to the accuracy of this information. It should not be considered a substitute for a professional nutritionist's advice.
A note on times provided: appliances vary, any prep and/or cook times provided are guidelines only.