These No Bake Pumpkin Pie Bites are made with a few basic ingredients and are a fabulous way to use up that huge can of pumpkin puree you have hanging around in your fridge. Plus, they are a tad healthier than having a big hunk of pumpkin pie (which I love, by the way). Fair warning – you just may want to eat more than one!
Hey everyone!  Happy Thanksgiving to my fellow Canadians!  What are you up to?  I hope you are face first into a big ol' plate of turkey dinner with all the delicious sides.  Speaking of sides, what's your fave?  I think mine has got to be dressing, otherwise known as stuffing.  I don't know what it is about that stuff, but I can eat a huge plate of just that….oh, and with gravy.
No Bake Pumpkin Pie Bites
These no bake pumpkin pie bites are made with a few simple ingredients (and you probably already have them on hand – yay!!).  Like this recipe, I'm going to keep this simple and quick today cause I got some eatin' to do.  Please forgive me  – dinner calls 😉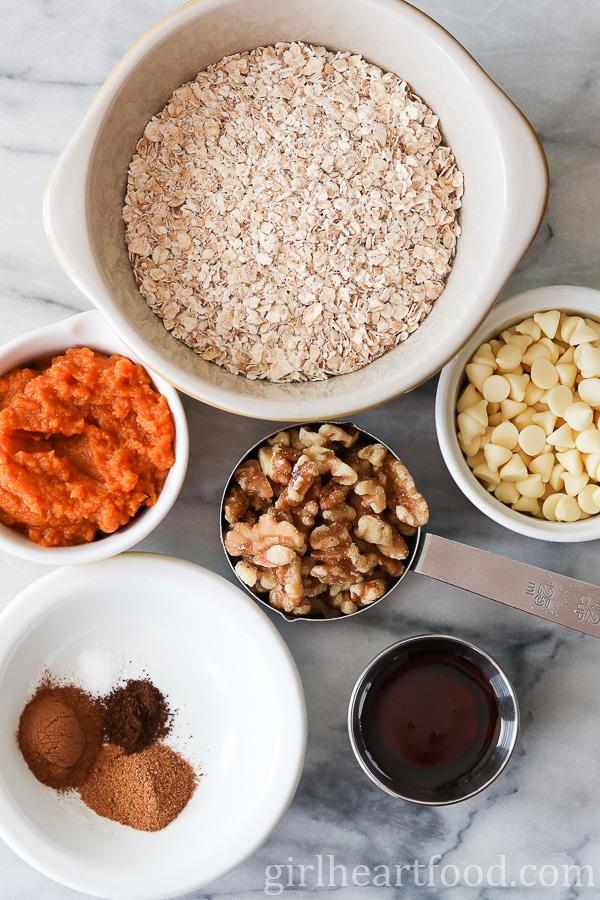 What is Pumpkin Puree?
Don't confuse pumpkin puree with canned pumpkin or pumpkin pie filling.  Sounds silly, right?  I mean, they both come in a can!  Basically, pumpkin puree is the real deal.  Like, real pumpkin that's pureed.  No added stuff.  Canned pumpkin, on the other hand, is sweetened and usually has a bunch of spices added to the mix, like cinnamon, nutmeg and clove. For these no bake pumpkin pie bites, I'm using pumpkin puree.
The only size can of pure pumpkin puree that I've found around here is a whopping 3 cup can.  What the what?  Who needs that much pumpkin in a recipe.  Don't get me wrong, the stuff is great, it's just a lot.  Sometimes I find it hard to avoid food wastage with just hubby and I so I'm always trying to look for ways to re purpose stuff into another meal.
I love little nibbles like these Pumpkin Pie Bites and they couldn't be easier to whip up.   In less than 10 minutes, you could be shoving one of these into your pie hole.  You just mix the ingredients up in a food processor, form into balls and way to go!
They are perfectly delish to eat right away, but even better when chilled for 30 minutes or so.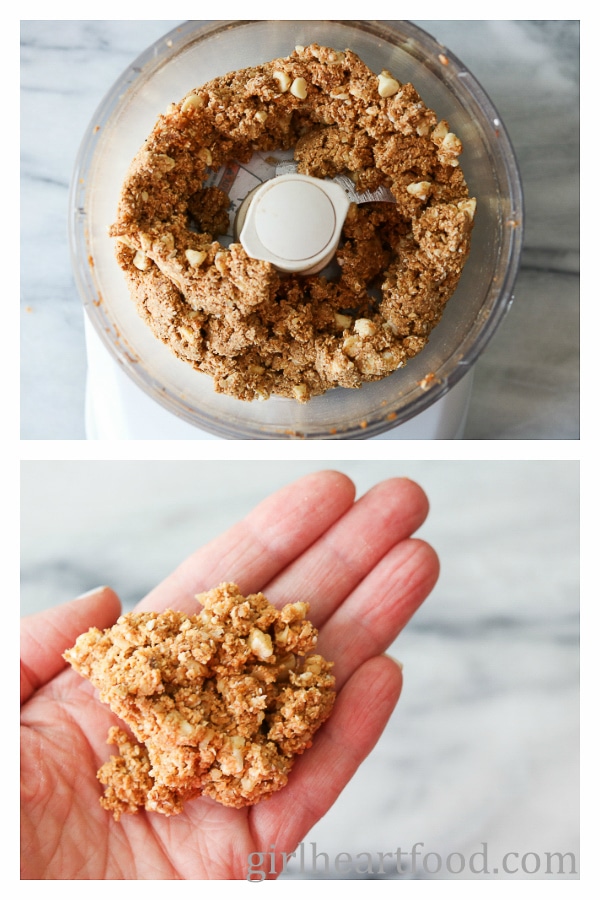 I added white chocolate chips to the mix here to emulate a 'whipped cream' if you will and they add the perfect little touch of sweetness.   Milk or dark chocolate would work lovely too.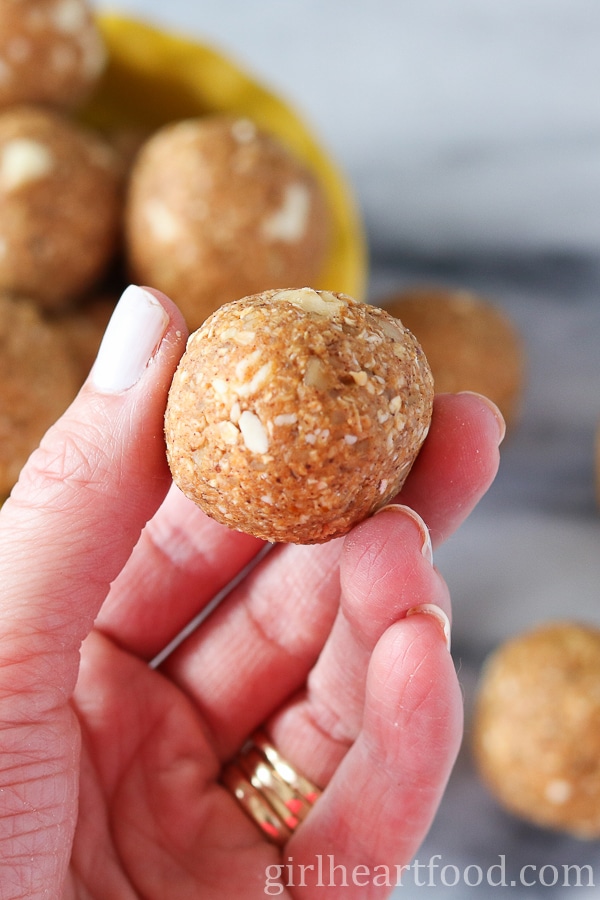 It's corny, but we should all be thankful every single day – thankful for life, thankful for friends, thankful for family.
It's all too easy to take things for granted.  We've all been there, complaining about stupid stuff in our daily lives.  But, as the saying goes 'don't sweat the small stuff.'  Take a minute today and be in the moment.  Look around.  Smile.  Do something nice for someone else.  Be thankful.
I want to take this moment to thank you, my subscribers, my readers.  I appreciate every single one of you.  It makes me so happy to cook, share recipes and stories with you guys and chit chat with you.  Thank you.  It means the world to me.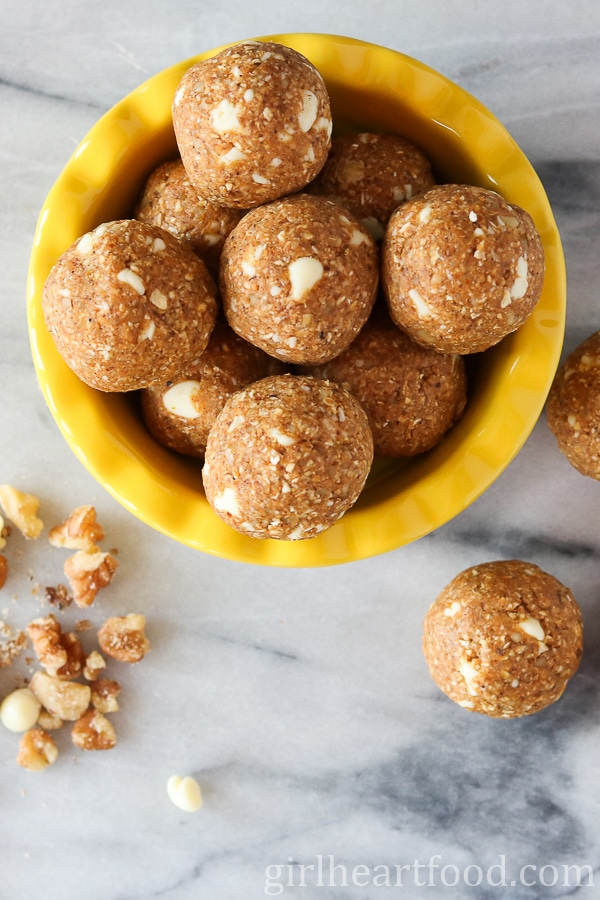 Happy Thanksgiving.
P.S. If you missed my last post, you can check it out here.
P.P.S If you think these Pumpkin Pie Bites will make your belly happy too, please be sure to hit that little Pin button.  Many thanks, you guys! XO
Print
Pumpkin Pie Bites
These Pumpkin Pie Bites are made with a few basic ingredients and are a fabulous way to use up that huge can of pumpkin puree you have hanging around in your fridge.
Servings
15
balls, approx.
Ingredients
1/2

cup

pure pumpkin puree

3

tbsp

maple syrup

1

tsp

cinnamon

1/2

tsp

nutmeg

1/4

tsp

ground cloves

pinch

salt

1.5

cups

oats

1/2

cup

walnuts

-roughly chopped

1/2

cup

white chocolate chips
Instructions
In a food processor add pumpkin, maple syrup, cinnamon, nutmeg, cloves and salt. Mix to combine, about 30 seconds.

Add oats and walnuts, mixing until just combined, about 1 minute.

Add white chocolate chips and mix until just combine, about 30 seconds - 1 minute.

About a tablespoon or so, roll into balls. Store in fridge. I like to place mine in fridge for about 30 minutes or so to chill before eating, but that is optional. Enjoy!
Nutrition
Calories:
103
kcal
|
Carbohydrates:
13
g
|
Protein:
2
g
|
Fat:
5
g
|
Saturated Fat:
1
g
|
Cholesterol:
1
mg
|
Sodium:
6
mg
|
Potassium:
89
mg
|
Fiber:
1
g
|
Sugar:
6
g
|
Vitamin A:
1270
IU
|
Vitamin C:
0.3
mg
|
Calcium:
28
mg
|
Iron:
0.6
mg