With a simple blend of just five warming spices, this homemade pumpkin pie spice recipe is fabulous to have on hand to use in all your favourite fall recipes! Plus, this DIY pumpkin pie spice is made in minutes!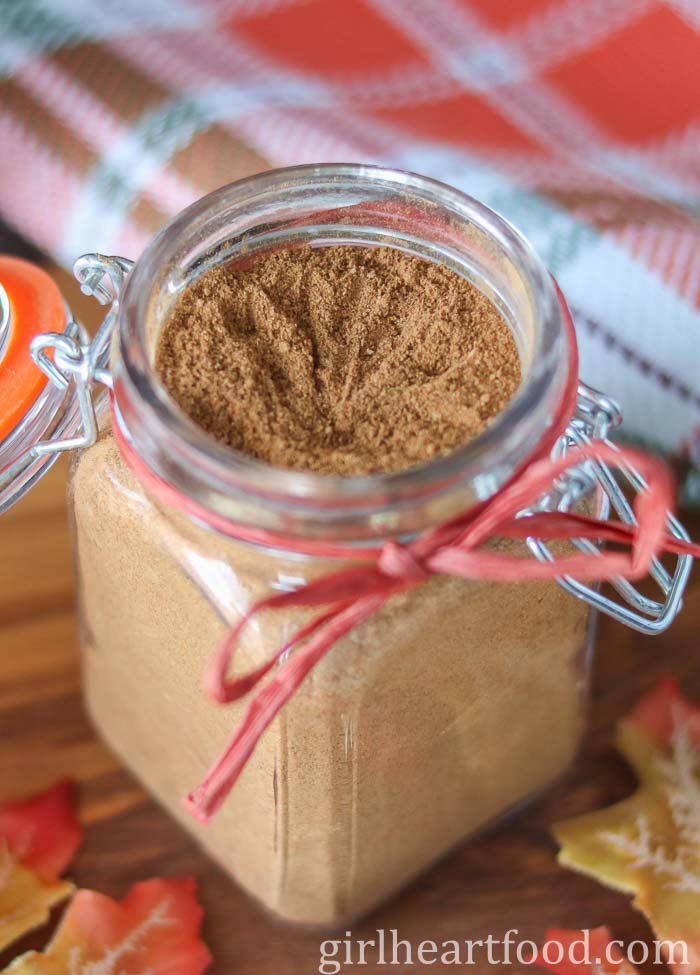 Pumpkin spice and everything nice, am I right? As I've said before, fall is my favourite time of year. I just love it.
The food.
Cozy clothes.
Those lovely scented candles (that I buy way too many of).
Tall boots.
And pumpkin spice everything, especially in a pumpkin smoothie and hummus.
I was looking at my store-bought container of pumpkin spice the other day and thought to myself, "Why am I paying for this?? I have all these spices on hand."
The store-bought jar has preservatives in there too, specifically sulphites.
Plus, if I make a DIY pumpkin spice recipe, there will be absolutely no added junk. Yay for that, so that's what I did!
Now, don't get me wrong. There are sulphites in wine too. But Dawn ain't giving up wine, LOL.
Pumpkin Pie Spice Ingredients
Pumpkin pie spice, or simply pumpkin spice, is made of five ingredients (that you probably have on hand in your pantry), with the primary spice being cinnamon. It includes:
Ground cinnamon
Ground ginger
Ground nutmeg
Allspice
Ground cloves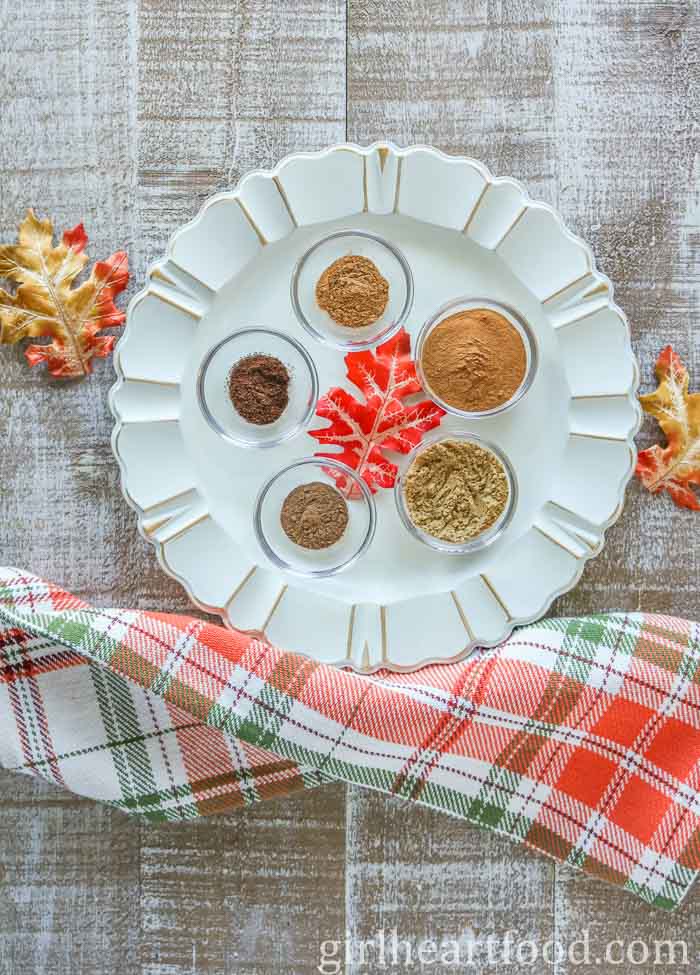 How To Make Pumpkin Spice at Home
You literally mix all the spices in a bowl and place in an airtight container. Easy!
Best Spices To Buy
Not all spices are created equal. Sure, you can buy spices on the cheap, but they may not be of the same quality as others. Buy a brand you know and trust.
Look for spices that are bright, basically those they don't look dried out and smell as they should.
Also, don't buy too much of any one spice at once. Sure, you can probably get, like, a ginormous container of cinnamon at a wholesaler on the cheap, but are you really gonna use all of it in a reasonable time before it starts to lose freshness? Unless you know you are going to use it or can share with a friend, buy smaller quantities.
Best Way To Store Spices
In order to achieve maximum flavour out of this homemade pumpkin pie spice recipe (and your spices, in general), proper storage is essential. So, there are some things to keep in mind:
Store in an airtight container. Small glass jars, like mason jars, work lovely here. Tip: If you're removing store-bought spices from their original container, ensure you note the best before date on the packaging so you know how long it's good for.
Label your spices! Ever go to the bulk food store, pick up some spices and didn't label right away? Yeah, me too. Then, you may totally forget what the heck you bought. Label so there's no mistaking what it is.
Store in a cool, dark place. Your pantry cupboard or kitchen drawer works great. Some people often store spices next to their stove. Don't do that! You're exposing them to heat, light and possibly moisture and, thereby, reducing their quality.
Finish off a jar of, say, cumin? Don't automatically top up the jar with new stuff. Clean and dry the jar first so everything stays nice and fresh.
Don't go dipping any contaminated spoons into that jar of spice. Ensure your measuring spoon doesn't have any other food items on their from cooking and it's not wet/damp.
How Long It Lasts
Like mentioned above, when making this DIY pumpkin spice, use fresh spices for optimal taste.
The older spices are the less fresh they are, which could mean less pungent.
Ideally, use this homemade pumpkin pie spice within 6 months or up to a year. I'm sure you could probably use after that, but that's what I prefer for optimal freshness.
How To Use Pumpkin Spice
Homemade pumpkin pie spice adds so much flavour to everything, from sweet to savoury dishes and everything in between! Some of my faves are:
Pumpkin spice latte
Waffles and pancakes
Muffins
Loaves and cakes
Cookies and cupcakes
Energy balls
Hummus
Pasta
Smoothies
Soups
And so much more!
Tips For Making This Recipe
Use fresh spices! Don't go grabbing spices that have been in your cupboard for, like, 3 years.
This pumpkin spice recipe can easily be doubled or tripled. I made a big batch to use throughout the fall season.
It makes a fabulous hostess gift! Grab some cute little containers from your local craft or dollar store and wrap in a pretty bow or ribbon.
If you really love nutmeg, for example, feel free to add a smidgen more! It's seriously an easy pumpkin pie spice recipe; we love it!
More Easy Fall Recipes
So, go ahead, make your own pumpkin pie spice and use on all your favourite fall eats and drinks! Hope you love it as much as we do!
If you make this homemade pumpkin pie spice, be sure to leave a comment below!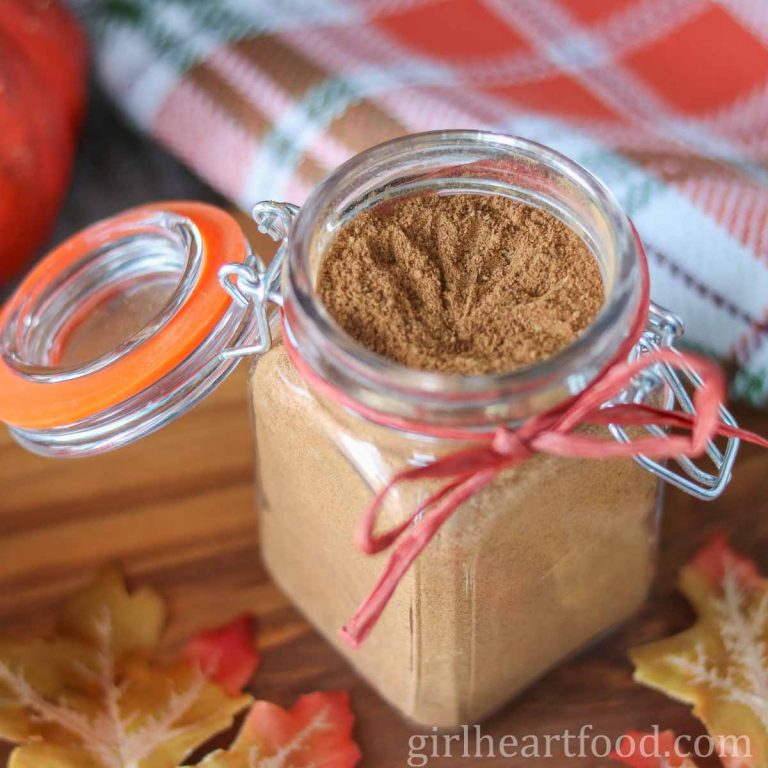 Homemade Pumpkin Pie Spice Recipe
With a simple blend of just five warming spices, this homemade pumpkin pie spice recipe is fabulous to have on hand to use in all your favourite fall recipes! Plus, it's made in minutes!
Ingredients
3

tablespoons

ground cinnamon

1.5

tablespoons

ground ginger

1.5

teaspoons

ground nutmeg

1

teaspoon

ground clove

1

teaspoon

allspice
Instructions
In a bowl (or mix directly in a storage jar), mix all spices together until everything is well combined.

Place into a storage jar, cover and store in a cool, dark place (like your spice drawer or pantry cupboard). Enjoy within 6 months to a year for optimal freshness.
A note on times provided: appliances vary, any prep and/or cook times provided are estimates only.
© Girl Heart Food Inc. Photographs and content are copyright protected.
Tried this recipe?
If you do make this recipe, thank you!! It would mean so much if you could leave a comment below. Love to know how you enjoyed it, and it helps other readers too!