Made with only 7 ingredients, these no bake chocolate coconut balls (or snack bites) come together quickly and taste delicious!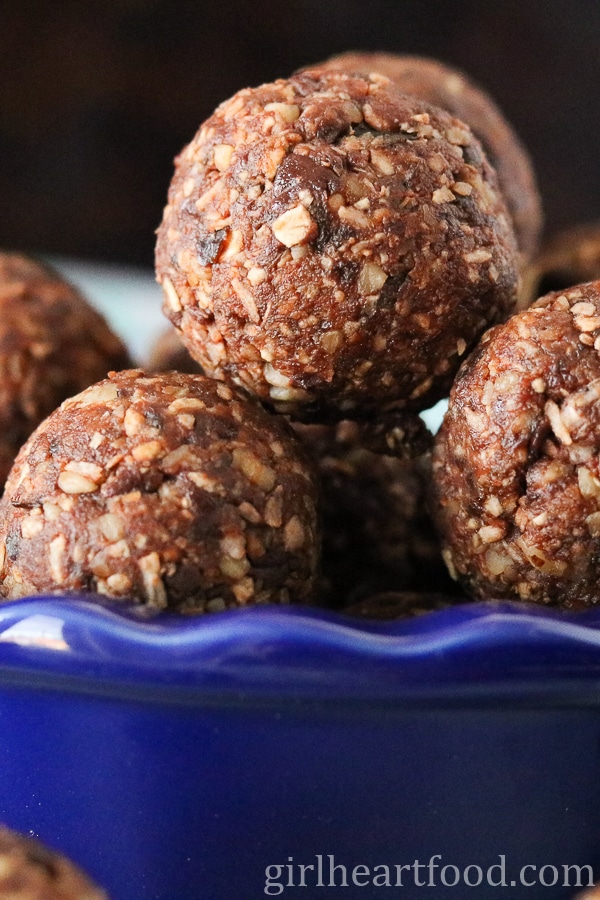 Hi friends!
Sharing another easy recipe before the weekend.
We are this close to Friday. What are your plans? Because we were traveling last weekend, we have a whole bunch of our favourite shows recorded so it will definitely be a TV fest! Oh, and cooking, lots of cooking.
Fall is my favourite time of year, especially because of all the comfort food.
Like most of the recipes you'll find here, this recipe for chocolate and coconut balls is very simple. Oh, and did I mention delicious?
Deciding on an appropriate name, though, not so much. Sometimes I can be a little cray cray and my mind goes to funny places.
So, when deciding what to call these little snack bites, I was a little perplexed.
I mean, the base and main component of this recipe is prunes. Yes, prunes. And prunes are definitely not very, um, sexy. Tasty? Yes! So names …
Prune balls?
Nope.
Prune bites?
Nope.
Chocolate and coconut snack balls?
Yes!
I may overanalyze things just a tad. My hubby can confirm that. But, that's a story for another day!
Prunes as a Natural Sweetener
The prunes provide a lovely base for these chocolate and coconut balls.
There was no need to add any sugar to this recipe because they are sweetened with prunes (and, of course, chocolate provides some sweetness).
More Snacks You May Enjoy
I've also made these no bake balls with dates instead of prunes. Both work deliciously! Use what you have on hand!
If you make these chocolate coconut balls, be sure to leave a comment below!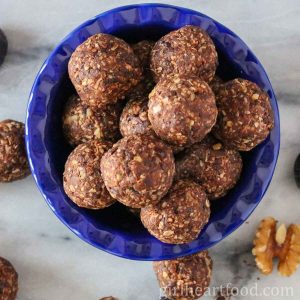 Chocolate Coconut Balls (No Bake)
Made with only 7 ingredients, these no bake chocolate coconut balls (or snack bites) come together quickly and taste delicious!
Ingredients
1

cup

pitted prunes or dates

,

about 16 to 17 pitted prunes or 20 to 23 pitted deglet nour dates

1

cup

gluten-free rolled oats

½

cup

dark chocolate

,

roughly chopped (use vegan chocolate if desired)

½

cup

shredded unsweetened coconut

⅔

cup

walnuts

,

roughly chopped

2

tablespoons

coconut oil

pinch

sea salt
Instructions
Place pitted prunes or dates in food processor and blend until broken down, about 1 to 2 minutes.

Add remainder of ingredients to prunes and blend until just combined, about 1 to 2 minutes.

Form the mixture into balls, about 1 tablespoon per ball. Place onto a wax paper-lined baking sheet or dish and place in the fridge for about 1 hour to firm up. Store in an airtight container in the fridge and enjoy within a week.
A note on times provided: appliances vary, any prep and/or cook times provided are estimates only.
© Girl Heart Food Inc. Photographs and content are copyright protected.
Tried this recipe?
If you do make this recipe, thank you!! It would mean so much if you could leave a comment below. Love to know how you enjoyed it, and it helps other readers too!