These tasty vanilla glazed donuts take only minutes to prepare and less than 10 minutes to bake. Decorate with your favourite sprinkles and you have one fun (pretty) treat!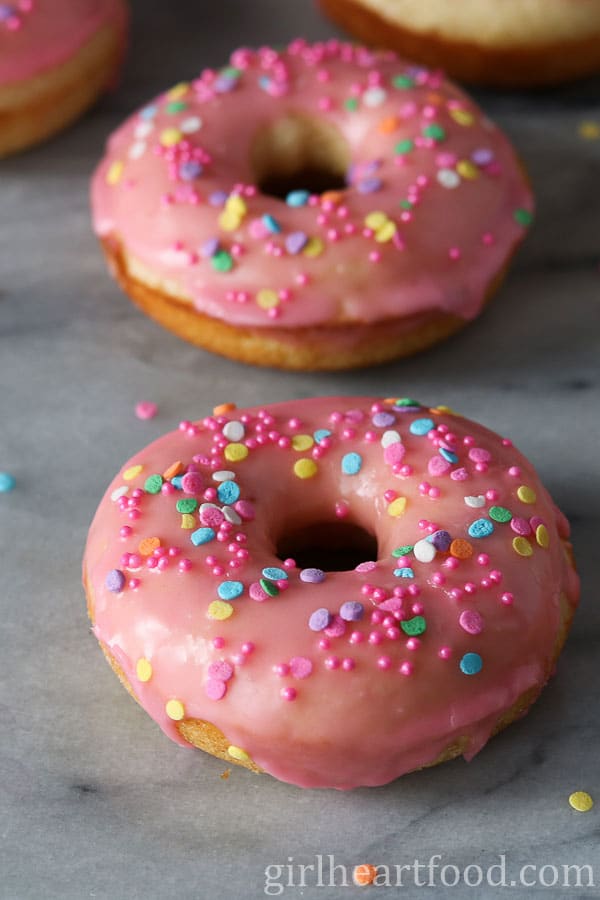 Have you made your own donuts at home? It couldn't be simpler!
This easy baked donuts have been on rotation in our home for quite some time (sprinkles optional but not really, if you ask me).
My life changed when I purchased a donut pan (okay, tad dramatic, but it was so worth it).
I didn't realize how easy baked donuts were to make. And because these are baked, they are so much better than their fried counterpart.
So, what's your favourite thing to enjoy with donuts? Coffee? A cold glass of milk? I'd have to say for me it would be coffee and I gotta dunk!
And I ain't gonna lie. If it's, like, 9 o'clock on Saturday night I just may enjoy one of these homemade donuts with a glass of vino.
How To Make This Recipe
Full details are in the recipe card below, but here are the basics:
Preheat your oven and grease your donut pan. Lay to one side.
In a bowl, combine flour, sugar, baking powder and salt. Stir to combine.
Add milk, egg, melted butter and vanilla extract to flour mixture. Use a hand mixer (or a spatula) to blend everything together.
Spoon the mixture into the pan or place the mixture into a piping bag and pipe it in (do whatever you're comfortable with). I just spooned in. This is a tutorial on how to make a homemade piping bag (just adjust the tip to be a bit larger for the donut batter).
Bake
Allow donuts to cool completely before icing.
Tip: Tap the pan on a hard surface a couple of times so the batter is even and any air bubbles are released.
Donut Glaze
All you need for a simple donut glaze is:
Icing sugar
Vanilla extra
Water
You basically mix together the ingredients and add some optional food colouring (for fun).
When making any icing sugar glaze, a little liquid goes a long way. It's best not to add all the water all at once, but rather a teaspoon or so at a time until you've reached your desired consistency.
If you happen to add too much liquid and your icing sugar is too runny, no worries! Just add a little more icing sugar to thicken again.
Gel food colouring was used (totally optional) for a pretty pink colour. I opted for gel food colouring over liquid because it's more potent and didn't want to further loosen the donut glaze.
I used the tiniest bit of pink gel food colouring. That stuff is potent!!
Dip the tip of a wooden toothpick into the gel pot and swirl it into the glaze until you've reached the desired colour that makes you happy.
If you prefer to skip the colouring, that's okay too!
Tip: If you opt to using regular liquid food colouring, consider adding less water to the glaze.
How Long Do These Vanilla Glazed Donuts Last
Like with most baked goods, these vanilla donuts are best enjoyed when they are made because that's when they're at their optimal freshness.
More Baked Donut Recipes
If you make these vanilla glaze donuts, be sure to leave a comment below!
This baked donut recipe was originally published in March 2018 but has been updated.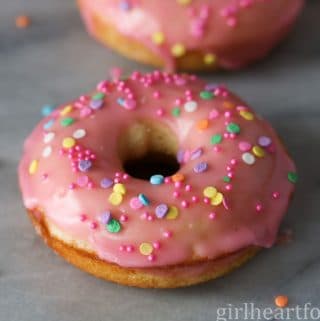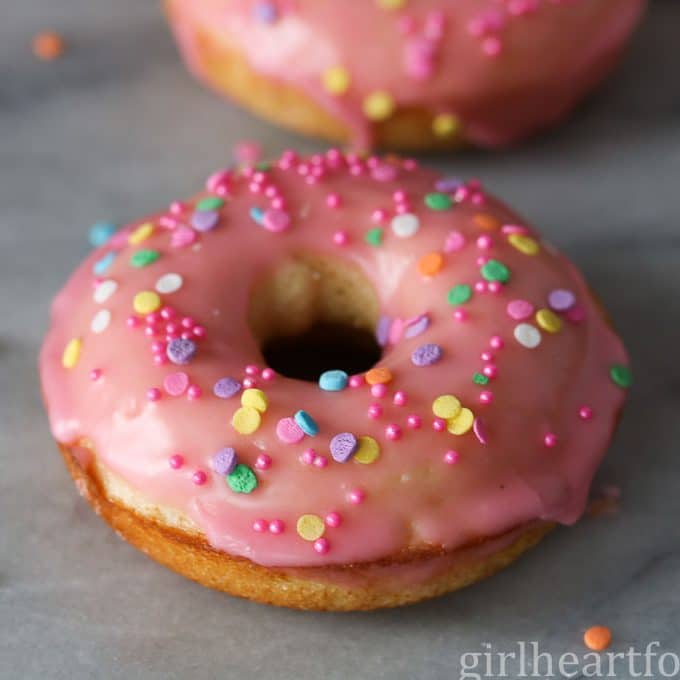 Vanilla Glazed Donuts (With Simple Icing Sugar)
These easy Vanilla Glazed Baked Donuts take only minutes to prepare and less than 10 minutes to bake. Decorate with your favourite sprinkles and you have one fun (pretty) treat!
Ingredients
Donuts
Cooking spray

,

for greasing pan

1

cup

all-purpose flour

,

sifted (spoon the flour in your measuring cup and level off with a knife)

½

cup

granulated sugar

1

teaspoon

baking powder

½

teaspoon

salt

⅓

cup

milk

,

I used whole or full fat milk

1

large

egg

2

tablespoons

unsalted butter

,

melted

2

teaspoons

vanilla extract
Glaze
1

cup

icing sugar

1

teaspoon

vanilla extract

,

or less if you want less vanilla flavour

5

teaspoons

water

pink gel colouring

,

to desired colour (optional)
Garnish
Sprinkles

,

garnish to taste (optional)
Instructions
Donuts
Preheat oven to 425 degrees Fahrenheit. Spray a 6-count donut pan with cooking spray and set aside.

In a mixing bowl, whisk together the flour, sugar, baking powder, and salt.

To flour mixture, add milk, egg, melted butter, and vanilla extract. Using a hand mixer, blend for a minute or two until just combined.

Distribute donut batter into prepared pan. 

Bake on middle rack of oven for 7 to 8 minutes or until a wooden toothpick or cake tester inserted in the donuts comes out clean. Carefully remove pan from oven. Let donuts cool 10 to 15 minutes before removing donuts from pan. Let the donuts cool completely on a cooling rack before icing.
Glaze
Add icing sugar to a bowl and add vanilla extract and water (a teaspoon or so at a time until you've reached your desired consistency … a little water goes a long way) and gel food colouring (if using). Whisk or stir with a spoon until everything is combined and smooth.

Note: If using the gel food colouring, I suggest using a tiny amount on the tip of a toothpick to swirl into icing sugar mixture (again, a little goes a long way). If you are using a LIQUID food colouring, you'll want to add a little less water so you don't thin out the glaze too much.
Glaze the Donuts
Once donuts are cool, invert them into the glaze and distribute sprinkles over top. Place onto a cooling rack and let glaze set for 10 minutes or so or enjoy right away!
A note on times provided: appliances vary, any prep and/or cook times provided are estimates only.
© Girl Heart Food Inc. Photographs and content are copyright protected.
Tried this recipe?
If you do make this recipe, thank you!! It would mean so much if you could leave a comment below. Love to know how you enjoyed it, and it helps other readers too!