These easy baked Coffee Donuts are made with espresso powder and topped with an easy peanut butter chocolate glaze.  They can be made in under 25 minutes, so forget going to the coffee shop and make these at home!
This Monday is brought to you by DONUTS!  You know that day of the week that most people kinda despise?  These donuts make Monday and little more bearable.  Plus, they are not as indulgent as you may think.  They are baked so the fat content in these little beauties is on the lower side. You may just be able to eat two.  You're welcome!  Have you ever read the nutritional content on some of those fried store bought/bakery donuts?  You probably shouldn't.  For reals.  It will probably scare you or, more likely, just ruin the dang thing for you.  Make donuts at home; there's no turning back once you do!
Coffee Donuts
Ever make homemade donuts before?  It's easier than you think! All you have to do is –
Mix up dry ingredients in a bowl
Add wet ingredients to dry ingredients until combined
Pour into greased donut pan & bake
Cool
Glaze
Enjoy!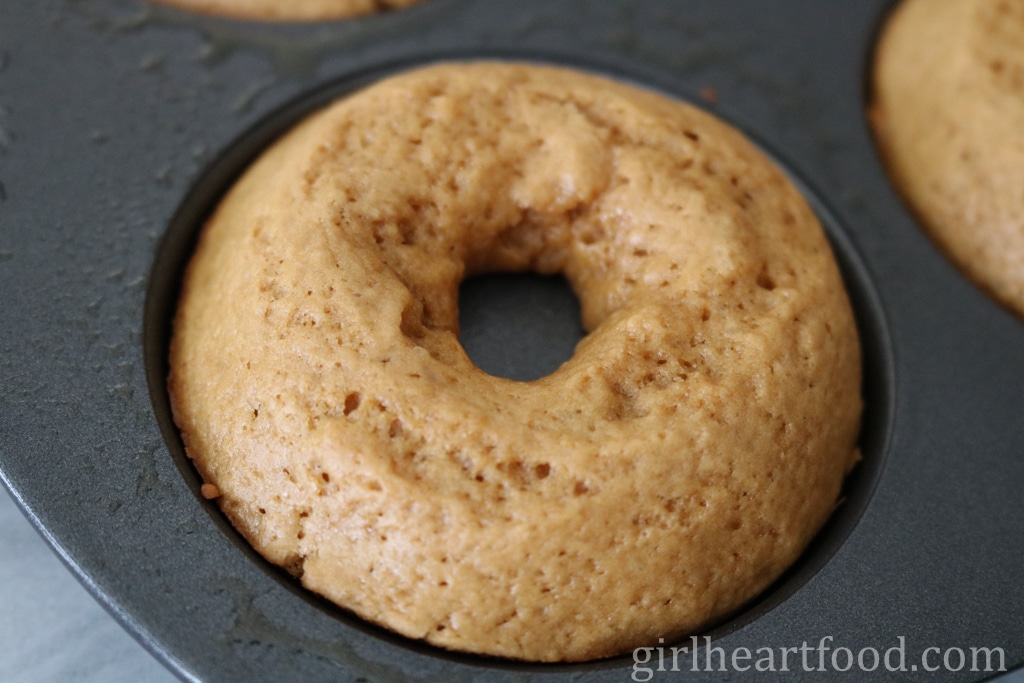 So if you read my last Monthly Favourites for February, then you know that this chicka got herself a brand spankin' new donut pan – a 6 unit one to be exact.  Annnnnd, that was totally intentional.  What I love about this pan (and this recipe), is that there's a small batch of donuts made.  No one needs 12 donuts floating around their kitchen, or at least I don't.  Plus, donuts are SO much better made and eaten fresh, so 6 is plenty.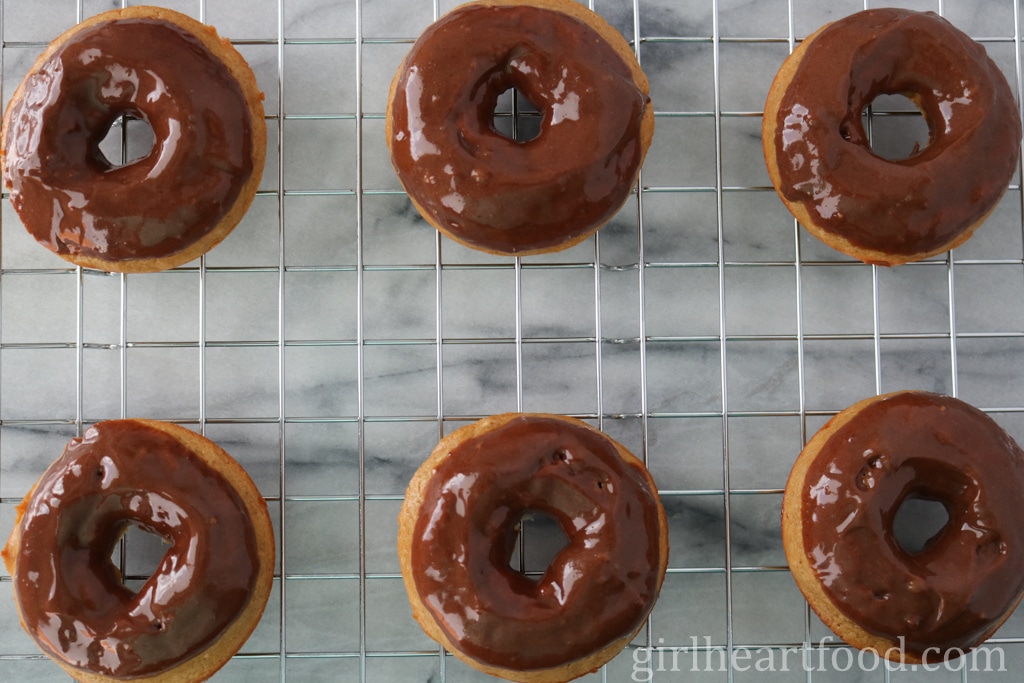 Delicious Chocolate Glaze for Baked Donuts
Haven't ever made homemade donuts before, I consulted the wrapping that came on my Wilson pan.  There was a base recipe for donuts that I adapted for my own tastes and that Peanut Butter Chocolate Glaze?  Well, that one came outta my head and it is goooo-ooood!  I've been  obsessed with peanut butter, chocolate and coffee lately and one of my favourite smoothies is based on that flavour profile.
Dunk these bad boys in that Peanut Butter Chocolate Glaze, then sprinkle some nuts on them like you would confetti…..or as the cool kids say 'make it rain.'  Truth be told, I don't know what the cool kids say, but let's pretend I do.  Just roll with it, ok?
The inside of these Coffee Donuts have a lovely, moist cake-like texture and they go absolutely perfect with a tall, cold glass o' milk……or just shoved right in your pie hole if you've just come in the door and you're ravishing<——-not that I've ever done that. #YesIHave.
I think there's a little mouse in my kitchen; it keeps taking bites out of my donuts——> hehehehehe
My world has changed since I've got my new donut pan and I highly recommend you get your hands on one too.  It's a lovely way to make fresh donuts right in your own kitchen for less dolla bills than store bought.  Plus, you can control what's in 'em and they are way healthier than those fried ones.  Have on sold ya on a donut pan yet?  I wouldn't steer you wrong!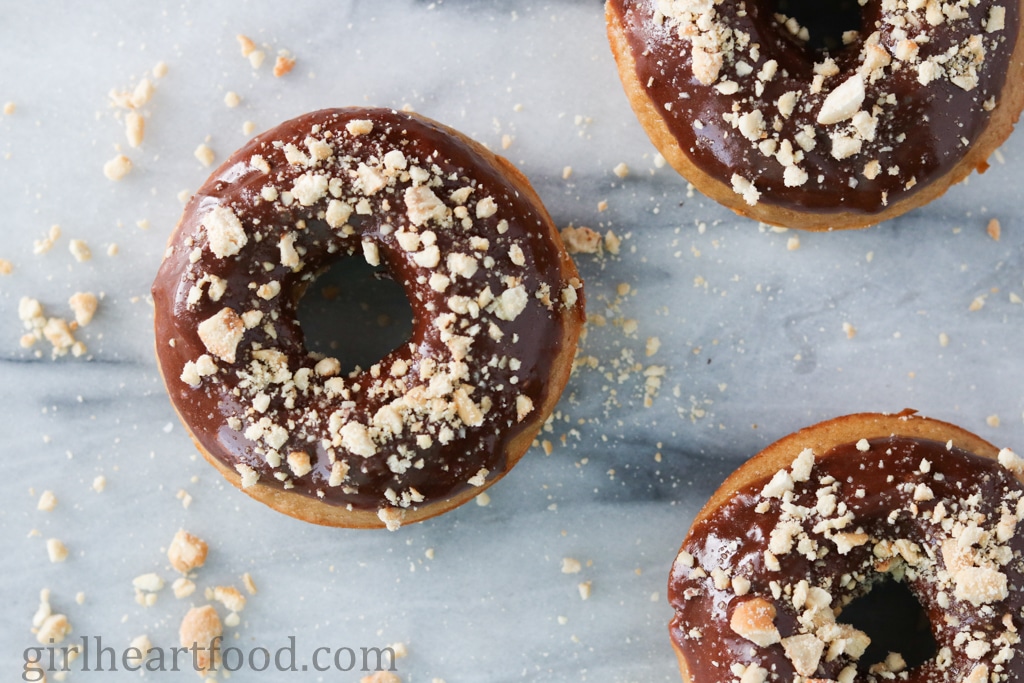 Other Easy Baked Donut Recipes you May Enjoy
What's your favourite type of donut?  I know; how could you possibly have one answer for that question?!  I think we should start a new tradition – every Monday starts with a donut.  Who's with me??
Hope you get a chance to try this recipe, you guys.  You're gonna love it! Oh, good news, I have another donut recipe coming up for you soon.  You gotta have options, right?
Hope you love these coffee donuts as much as I do!
Until next time take care and chit chat again soon 🙂
~Dawn
P.S. If you think that these coffee donuts will make your belly happy too, please  be sure to hit that little PIN button.  Many thanks, you guys! XO
Print
Coffee Donuts with Peanut Butter Chocolate Glaze
These easy baked Coffee Donuts are made with espresso powder and topped with an easy peanut butter chocolate glaze. They can be made in under 25 minutes, so forget going to the coffee shop and make these at home!
Ingredients
Coffee Donuts
1

cup

all purpose flour

-sifted

1/2

cup

sugar

1

tsp

baking powder

1/2

tsp

salt

1.5

tbsp

instant espresso powder

1.5

tbsp

unsalted butter

-melted

1/3

cup

buttermilk

1

egg

-I used large

Pam

-for greasing pan
Peanut Butter Chocolate Glaze
1

tbsp

peanut butter

-I used smooth natural

1

tbsp

unsalted butter

-softened

1

tbsp

cocoa powder

2.5

tbsp

icing sugar

2

tbsp

milk

-I used 2%

pinch

salt
Instructions
Coffee Donuts
Preheat oven to 425F. In a bowl combine flour, sugar, baking powder, salt and instant espresso powder. Stir to combine and lay to one side.

To flour mixture add butter and buttermilk and mix using hand mixer for about 30 seconds to one minute. Add egg and mix until just combined.

Spray donut pan with Pam and distribute batter evenly. Bake for 7-8 minutes. Done when toothpick inserted comes out clean. Let cool in pan for about 10 minutes before removing to glaze.
Peanut Butter Chocolate Glaze
In a small food processor combine all ingredients and blend until combined and smooth, about 1-2 minutes. Pour into bowl. Invert donuts into glaze, one at a time, and place on a rack and sprinkle with nuts. Best enjoyed immediately!