This homemade granola is packed with flavours of cinnamon, nutmeg and coconut. It's a delicious accompaniment to yogurt for one hearty, filling breakfast!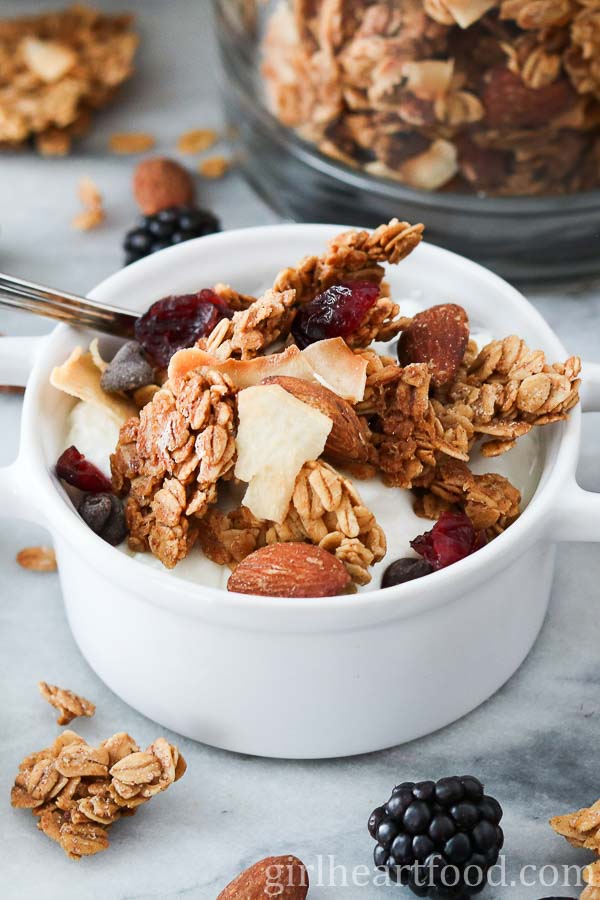 Happy (almost) Friday, you guys!  How is March treating you so far?  For those of you who don't know, I've been enjoying (I say that loosely) 'Meatless March' where I'm only eating vegetarian meals for the whole month.  I'm a little over a week into it and the struggle is real.  I don't know how much longer I can go on.
I mentioned that my mother texted me wanting to partake in the challenge.  She dropped out.  On day 1.  No lie.  So, I texted her –
Me—>'How goes day 1??"
Mom—>'Ohhhh, not good.  Had. Chicken.  Still trying though :)'
So, I think about it, feeling a little perplexed. 
Me—> 'It's literally one day and you had chicken?!'
Mom—>I've got to try harder :)'
Me—> 'Yep.  I have a feeling that you'll have something this weekend too.'
Mom—>'Maaaaaaybe.'
So, now I know that as much as mom enjoys the occasional vegetarian meal, she will never become  a vegetarian.
Snacks like this homemade granola make things a lot easier, vegetarian or not.
How to Make Homemade Granola
The thing I love about homemade granola is that you literally just stir all the ingredients together, place on a baking sheet and way to go!  I've tried different techniques to get the best possible clustery granola.  For instance,  I tried stirring the granola part-way through baking.  However, what I've discovered works best is just leave it be.  Half way through baking, rotate the sheet and then the last few minutes throw the coconut on top to get all toasty!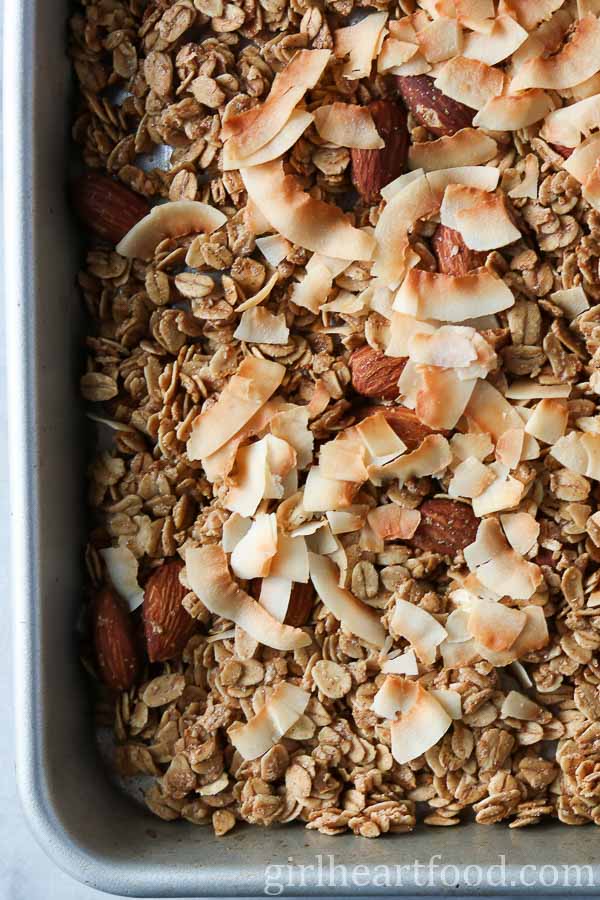 How to Get Big Granola Clusters
The hardest part about making granola is waiting for it to cool! But, please do. If you wait for it to completely cool, you are left with those larger clusters of granola (the best part, if you ask me). Upon stirring, you will break those pieces up, so the more you stir, the smaller the clusters you will have.  I like big clusters and I cannot lie……..
Add-Ins for Homemade Granola
The fun thing about making granola from scratch is that you can customize to your lil' taste buds.  After you've baked and cooled your batch, you can add dried fruit or chocolate chips to your liking. For this homemade granola, I stirred in some chocolate chips and dried cranberries, but you do you!
How to Enjoy Homemade Granola
How do you enjoy homemade granola?  My favourite way is over yogurt, but it's also lovely on its own or with some milk.  Speaking of milk, if I do use it, I have to enjoy the minute, no the second, the milk hits the granola.  It has got to be crunchy.  No soaking for me.  Which do you prefer?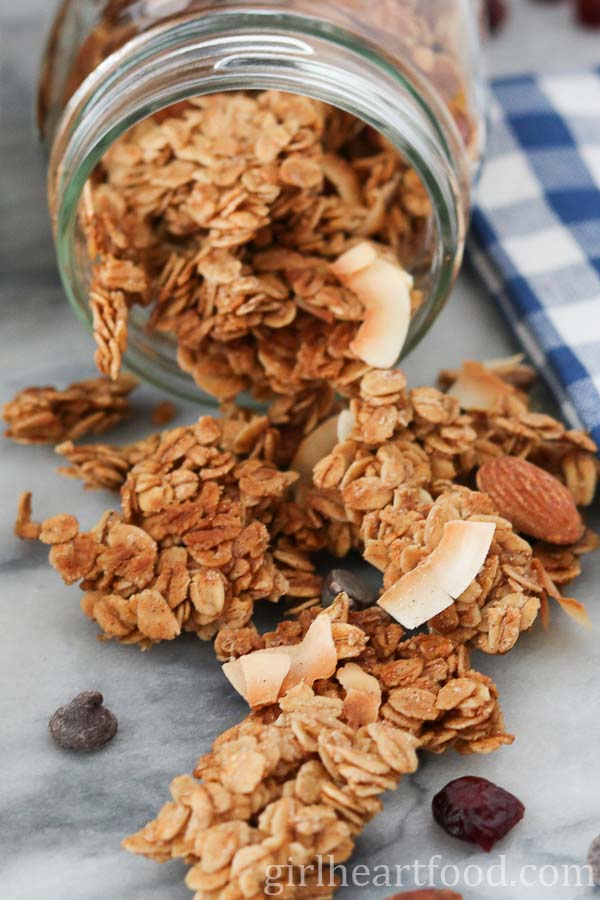 Hope you enjoy this easy homemade granola! Have a tasty food-filled weekend and see ya back here next week.
Until next time, take care and chit chat again soon!
P.S. If you think this homemade granola will make you belly happy too, please be sure to hit that little Pin button.  Many thanks, you guys! XO
Homemade Granola
This homemade granola is packed with flavours of cinnamon, nutmeg and coconut. It's a delicious accompaniment to yogurt for one hearty, filling breakfast!
Ingredients
4

cups

large flake oats

1

cup

almonds

1/3

cup

coconut oil

-melted

1/2

cup

maple syrup

1/4

cup

brown sugar

2

tsp

pure vanilla extract

1

tsp

cinnamon

1/2

tsp

salt

1/4

tsp

nutmeg

1

cup

coconut flakes

-or 1 cup unsweetened shredded coconut
Optional Add-Ins
chocolate chips

dried cranberries

dried figs

dried apricots
Instructions
Mix oats with almonds in a bowl. Preheat oven to 325 F. Line large baking sheet with parchment paper. Lay to one side.

Mix together remaining ingredients in another bowl (except coconut flakes), whisking to combine until smooth. Pour over oat/almond mixture. Stir well to combine.

Pour mixture over prepared baking sheet, pressing down. Bake for 20 minutes. Carefully, rotate pan and bake for another 15 minutes. Carefully remove pan from oven, add coconut chips (or shredded coconut) over top and bake another 3-4 minutes.

Allow to cool completely on pan before breaking up into clusters. The more you handle, the smaller the pieces you will have. If desired, stir in optional add-ins. Enjoy!
Nutrition Facts
Homemade Granola
Amount Per Serving
Calories 260
Calories from Fat 126
% Daily Value*
Total Fat 14g 22%
Sodium 83mg 3%
Potassium 205mg 6%
Total Carbohydrates 29g 10%
Protein 5g 10%
* Percent Daily Values are based on a 2000 calorie diet.