Cod au Gratin is a traditional Newfoundland recipe with the star ingredient being, of course, cod! There's a lovely béchamel, or white sauce, covering the fish. Then, it's topped with cheese and breadcrumbs and oven baked until bubbly and golden brown. So comforting and delicious!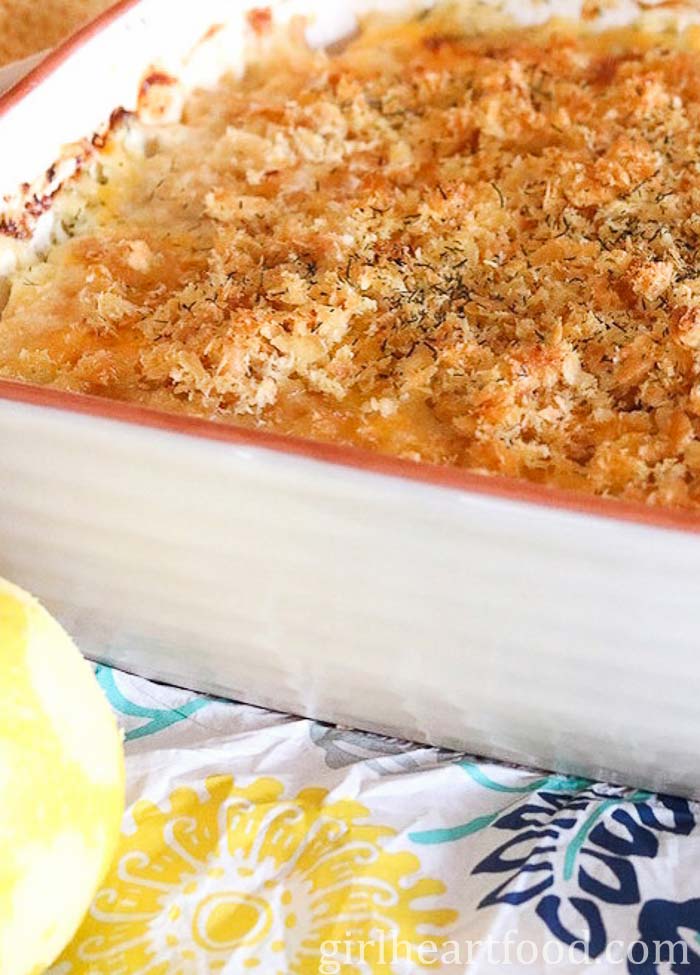 Hi friends!
Sharing an iconic Newfoundland recipe with you today: cod au gratin!
I just love sharing traditional Newfoundland recipes. Some of my favourites are salt cod fish cakes, boiled beans, crispy cod tongues and toutons (fried bread dough).
So what's this traditional Newfoundland cod au gratin recipe all about?
Well, cod is the fish in Newfoundland. And cod au gratin is among the most popular traditional dishes of the province. You can find this recipe made at some time or another in practically everyone's home in Newfoundland. It's no wonder, it's so comforting!
My Mother-in-law gave me these beautiful frozen cod fillets and they went to good use in this dish. Au gratin anything is never a bad thing, is it? I mean, cheese covered whatever and baked? Sign me up!
I like to add dill and lemon to my recipe. Not everyone's version of cod au gratin has dill, but I love to add it because seafood and dill go so well together. It's definitely a classic combo.
Another little twist that I like to do (just to take it one step further) is to add lemon zest to the sauce. I find that the freshness of the lemon and dill really brighten the dish.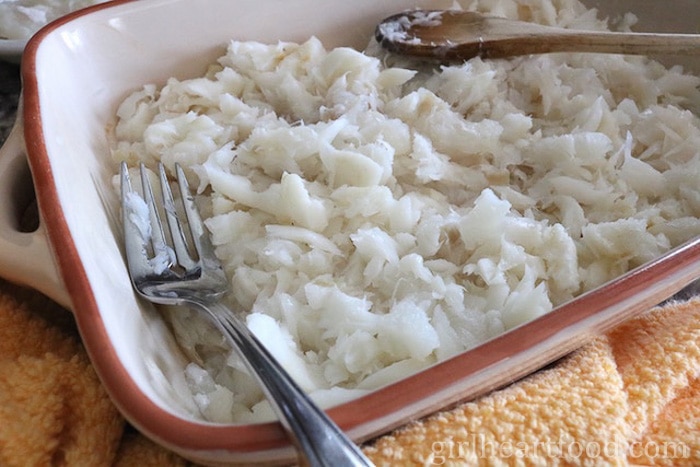 How to Make Cod au Gratin
Full details on how to make this traditional Newfoundland cod au gratin are in the recipe card below, but here are the basics:
If using cod that has been previously frozen, pre-cook it in a casserole dish and lay to one side (I find this helps because it reduces some of the water in the cod fish and your end result is not too wet).
Cook onion in a saucepan on the stovetop until softened.
In another saucepan, make the roux (flour & butter mixture to thicken the sauce).
Add milk to roux, cook until thickened a little, and season with salt, pepper, lemon zest and dill.
Pour sauce mixture over cod, top with cheese and bread crumbs.
Bake until bubbly and brown.
Let cool slightly and garnish with additional dill.
Enjoy!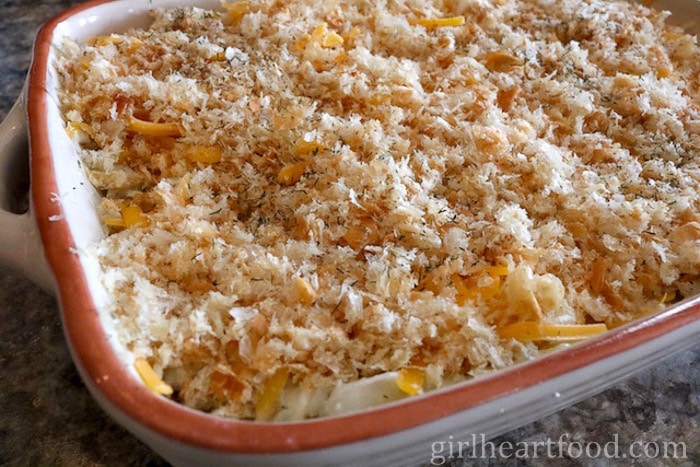 Hungry for more? Subscribe to the Girl Heart Food Newsletter!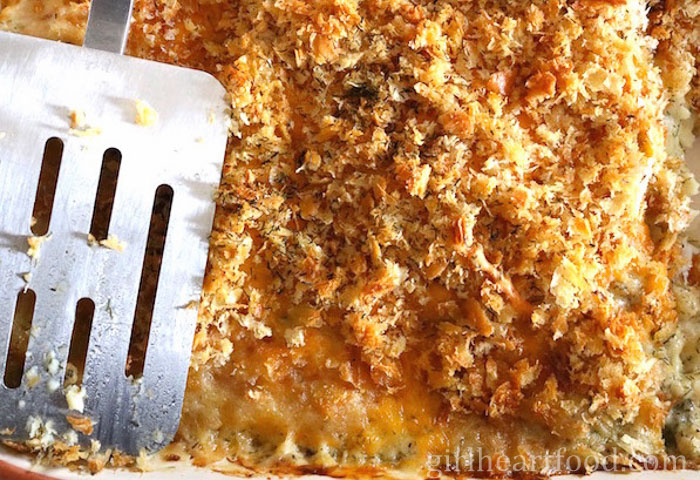 Can I Make This Ahead of Time?
Yep! Like most recipes, this is best enjoyed when it's baked. However, it does reheat well. Keep in mind, though, it may be a little less moist if reheating.
If you want to prep the recipe up to the point before baking, go right ahead! Properly store in an airtight container in the fridge a day ahead and bake the next day. You just may have to bake a little longer until heated through (as it was in the cold fridge).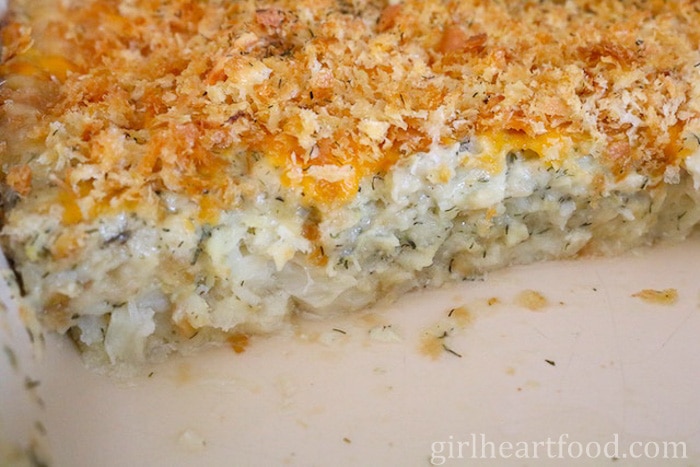 What to Serve with Cod au Gratin
Lemon wedges are highly recommended.
Hot sauce dabbled over top adds a little somethin'.
Serve with a mixed green salad to really make this a substantial meal
A thick slice of homemade bread. My favourite? Bread slathered in butter and drizzled with molasses. Trust me. It works with the cod au gratin.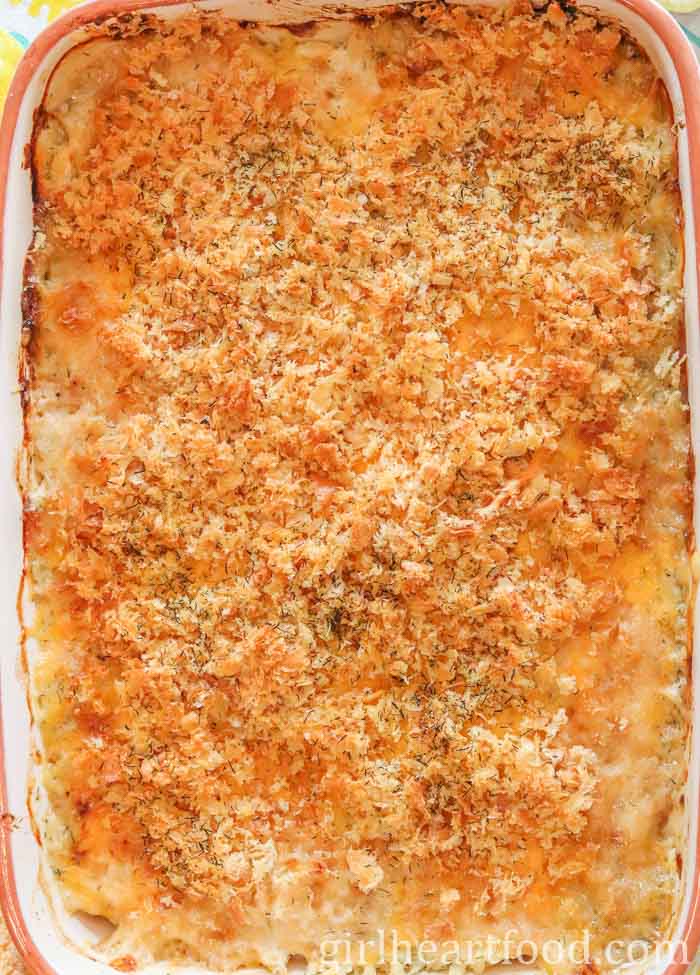 Can This Recipe Be Served as an Appetizer?
Yes! Cod au gratin works as an appetizer as part of a multi-course meal. Of course, it's substantial enough to easily be a meal in itself.
For this recipe, I made in one big dish. However, for presentation purposes it really looks nice cooked and served in little individual dishes.
This recipe yields about 4 servings for dinner or 6 appetizer servings.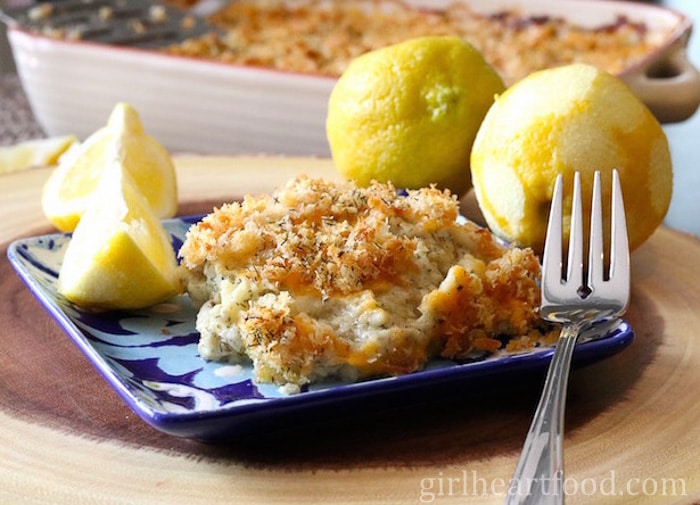 More Tips & Variations for Making this Cod au Gratin Recipe
You can use either frozen or fresh cod fillets. As mentioned, if using frozen cod fillets, pre-cook a little to get rid of excess moisture. I find that cod, when frozen, releases a lot of moisture when cooked. By pre-cooking the cod, it gets rid of excess moisture so that lovely creamy béchamel sauce you have made doesn't get watered down. If you are using fresh cod, you don't have to pre-cook before baking the cod au gratin.
Croissant bread crumbs or regular bread crumbs work in this recipe (regular bread crumbs are more traditional).
Want an even richer sauce? Use equal parts milk and half-and-half (or cream) instead of all milk.
Dill was used in this cod au gratin and it works so lovely with the fish. If you'd rather not use it, you can omit. Another yummy herb is thyme.
Let the cod au gratin cool for a little after it's baked before digging in. This gives things a chance to cool down a bit and set.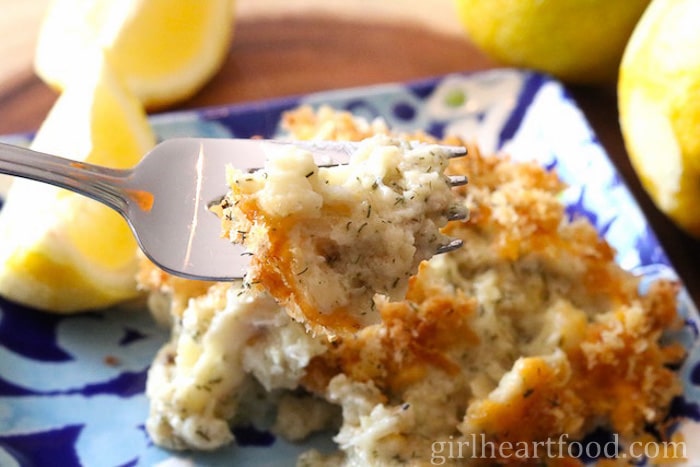 Hope you love this cod au gratin recipe as much as we do!
If you make this traditional Newfoundland cod au gratin recipe, be sure to leave a comment below. Love to know how you enjoyed!
Let's Be Social!
Follow Girl Heart Food on Facebook, Instagram, Pinterest and Twitter for all the latest delicious eats! Oh, and don't forget to subscribe to our newsletter!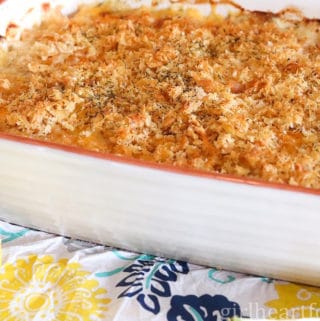 Traditional Newfoundland Cod au Gratin
Cod au gratin is a traditional Newfoundland recipe with the star ingredient being, of course, cod! There's a lovely béchamel, or white sauce, covering the fish. Then, it's topped with cheese and breadcrumbs and oven baked until bubbly and brown. So comforting and delicious!
Ingredients
1.5

pound

cod fillets (boneless and skinless)

, cut into bite-sized pieces (about 3 large fillets)

1.5

cups

milk

(use 2 cups if you want things more 'saucy')

1

tablespoon

olive oil

1

yellow onion

, peeled and minced

4

tablespoons

unsalted butter

(¼ cup)

4

tablespoons

all-purpose flour

1.25

teaspoons

salt

, divided

½

teaspoon

black pepper

1

tablespoon

lemon zest

(reserve lemon for wedges (4) for later)

1 ¾

teaspoons

dried dill

, divided (use less if you want less of a dill taste)

2

cups

shredded cheddar cheese

1

croissant

(made into bread crumbs or 1 cup bread crumbs)
Instructions
In a small saucepan on the stovetop, heat milk over low heat. Preheat oven to 375 degrees Fahrenheit at this point, too. Place cod in a casserole dish and sprinkle with ¼ teaspoon of salt. Set aside until you make the sauce. See note below if using cod fillets that have been previously frozen, as in my case.

Meanwhile, in another saucepan on the stovetop, heat 1 tablespoon of olive oil over medium-low heat. Add onion and cook, stirring often, until softened, about 5 minutes.

To onion, add butter; melt. Add flour and stir to form a paste. Cook, stirring often, for about 3 to 5 minutes. Slowly add milk to this (½ cup at a time), whisking after each addition until thickened about 3 to 4 minutes or so. Sauce mixture should coat the back of a spoon. Mixture will be thick.

To sauce mixture, add remaining 1 teaspoon of salt, pepper, lemon zest and 1.5 teaspoons of dill (you can use less, if you prefer). Stir to combine. Pour sauce mixture over cod, coating all fish. Stir to ensure mixture is incorporated well.

Add cheese and croissant crumbs (or regular bread crumbs) on top of sauced fish mixture. Bake in preheated oven for 40 minutes until brown and bubbly.

Once done, sprinkle remaining ¼ teaspoon of dried dill over top. Let cool about 20 to 30 minutes before serving (don't skip this; it allows things to settle). Serve with lemon wedges (if desired). Enjoy!
Notes
If you are using frozen cod fillets (like I did), I recommend thawing and precooking a little to remove excess moisture. Preheat oven to 350 degrees Fahrenheit and place cod fillets in baking dish and cook for about 25 minutes. Carefully remove from the oven, drain any excess liquid and tear the pieces of cod a little to break up. Continue with the recipe. This is not necessary, but I find that it works well because you don't want the sauce to be watered down and runny.
More recipe tips in body of post above.
Nutrition (ESTIMATE ONLY)
Calories:
653
kcal
Carbohydrates:
21
g
Protein:
50
g
Fat:
41
g
Saturated Fat:
23
g
Cholesterol:
181
mg
Sodium:
1279
mg
Potassium:
950
mg
Fiber:
1
g
Sugar:
8
g
Vitamin A:
1264
IU
Vitamin C:
6
mg
Calcium:
561
mg
Iron:
2
mg
Nutrition estimate (if provided) is based on 1 Serving.
Nutrition information (if provided) is provided as a courtesy and should be considered an estimate only. Ingredients can vary and Girl Heart Food makes no guarantees to the accuracy of this information. It should not be considered a substitute for a professional nutritionist's advice.
A note on times provided: appliances vary, any prep and/or cook times provided are guidelines only.