These Oven Baked Fish Tacos with Smoky Chipotle Sauce are bursting with flavour. The fish has a nice crispy coating, there's lots of fresh toppings, like avocado, red cabbage and onion & it's all topped off with a spicy and smoky chipotle sauce.
Oven Baked Fish Tacos
Hey everyone!  Happy taco Tuesday! Today I'm bringing you easy, oven baked fish tacos.  These are unreal.  The sauce is the bomb dot com.  The think I could honestly tip the entire batch of sauce on my head & pour it into my pie hole and call it a day.  Seriously.  But that would be waaaay inappropriate and then there would  be  none left for the tacos and that would be a shame.
How's your week going so far?  So, it's officially Spring!  We are in the last full week of March and I don't know where the time is flying.  Any upcoming Easter plans?  No big ones for me; I just know for sure that I'm gonna be eating a whole lot of turkey and Easter eggies (don't you just love those?)
I initially intended to make a chipotle mango sauce for this recipe, but when I started to peel the perfectly firm and ripe mango it was brown on the inside 🙁  Bummer.  I guess that's all you can do when you live on an island and much of the province's food has to be shipped in from elsewhere.
The mango must have frozen or something during the shipment.  Now, it's not what you may be thinking; it's not an island like in the Caribbean or something where there are loads of white sandy beaches and turquoise blue oceans all romantical and stuff (yes, I made this word up and yes I do use it).  Despite not living in the Caribbean, I really love where I live.  We have lots of trees and obviously surrounded by water, but it can get cold.  And I think we have like 2 weeks of warm summer weather, that's if we're lucky.  What we don't have in weather we make up for in beautiful scenery, a rich culture and unique food – jigg's dinner (aka 'cooked dinner', which typically involves salt meat boiled with veg), fish-n-brewis (salt fish, hard bread, potato, salted pork fat (aka scrunchions), and toutons (fried bread dough served with butter & molasses, I mean c'mon….so good).  Pretty interesting, isn't it??  These types of foods, though, are definitely not something you would eat everyday 'cause you wouldn't find enough water to quench your thirst, lol.  For me, it's more of a treat.  Like, I eat fish-n-brews once a year, typically on Christmas Eve.
All this and not to mention if you aren't from here and you visit you can get 'screeched in' where there's a whole process involving you kissing a cod. Yeap, pucker up, baby!!  Don't worry, it's followed by a nice shot of screech (rum).   Anywho….off topic, let's continue onto these delicious Oven Baked Fish Tacos with Smoky Chipotle Sauce 🙂
How to Prepare Fish for Tacos
Cut fillets into pieces
Dredge in spice mixture
Dip in egg mixture
Dip in corn flake mixture and press to adhere
Bake
So, I didn't make the sauce that I initially intended to make, but it turned out so good anyway.  Actually, it turned out better than I think if there was mango in there.  It actually reminds me of the sauce that a fabulous local tapas restaurant makes for their tacos.  I think that this sauce is going to be always in the fridge in this household.  I have options listed below in the event that you don't have or can't get chipotles in adobo sauce.  Having said that, please do try to get it, because it really does make the sauce and brings the recipe to a whole other level, ok?  Pretty please 😉
Cod is like the fish around here, but I choose to use tilapia in this recipe because I like the texture and firmness of it.  Feel free to use whatever white fish you please.  These fish tacos are super light and fresh; the fish is coated with some spices like chili powder and cayenne and then covered in corn flake crumbs and baked.
There are loads of fresh garnishes (as usual for me) which add a nice crunch and texture and then the whole thing is drizzled with the sauce and you know how I feel about that 😉  Don't forget to give a nice big squeeze of fresh lime on each taco!
You can totally have this on the table in less than 30 minutes, so it makes for a perfect weeknight meal.  Beer is optional 😉   Cheers and have a lovely week, guys!!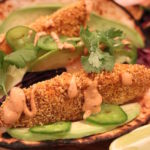 Oven Baked Fish Tacos with Smoky Chipotle Sauce
These Oven Baked Fish Tacos with Smoky Chipotle Sauce are bursting with flavour. The fish has a nice crispy coating, there's lots of fresh toppings, like avocado, red cabbage and onion & it's all topped off with a spicy and smoky chipotle sauce.
Ingredients
Chipotle Sauce
1/4

cup

light mayo

1/4

cup

greek yogurt

3

chipotle peppers

-in adobo sauce (see note below)

1/2

lime

-juice only

1/4

tsp

salt
Tacos
2

fillets

white fish

-about 6-7 oz each, see note below

1.5

tsp

cumin

1/2

tsp

cayenne pepper

1/2

tsp

salt

1/2

tsp

black pepper

1.5

tsp

chili powder

2

eggs

1/2

cup

corn flake crumbs

Pam Baking spray

6

small

flour tortillas

-or corn
Garnishes
1/3

red onion

-thinly sliced (about 1/2 cup)

1

cup

red cabbage

-thinly sliced

1

avocado

-thinly sliced

1

jalapeno pepper

-thinly sliced

cilantro

-handful, leaves torn

2-3

lime

-cut into wedges
Instructions
Chipotle Sauce
Combine all ingredients in a food processor and blend to combine.
Tacos
Preheat oven to 400F and place baking sheet in there to warm. Cut each fish fillet into about 6 pieces. Should have about 12 pieces in total, roughly.

Combine cumin, cayenne, salt, pepper and chili power and dredge fish pieces into to coat.

Beat eggs in a bowl and dredge spice coated fish pieces into. Shake off excess egg.

Place corn flake crumbs on a plate and dip spiced fish pieces into. Press crumbs into fish.

Carefully remove pan from oven and place coated fish pieces onto. Spray with PAM baking spray (optional). Bake for 10 minutes; turn fish pieces and bake for 2 minutes more. Remove from oven.

While fish is cooking in oven, warm tortillas. If you have a gas range, carefully warm over the flame until charred slightly. Place tortilla over rolling pin so it will maintain a slightly curved shape when it cools. If you don't have a gas range, you can heat tortillas in a cast iron pan for a couple of minutes and then continue with rolling pin method. Alternatively, if you don't want to warm tortillas, you don't have to.

To assemble tacos, place red cabbage on each tortilla, followed by some red onion, 2 fish pieces, more red onion, avocado, jalapeño, and cilantro. Drizzle with chipotle sauce. Serve immediately with lime wedges. Enjoy!
Recipe Notes
-You can typically find chipotle peppers in adobo sauce where you would find tortillas, refried beans and salsa in your grocery store.  They are usually in a small can.  If you don't have chipotle peppers, you can use chipotle powder or smoked paprika (about 1 tsp, or to taste).  If you don't have either of those, you can use cayenne pepper or sriracha hot sauce, but the sauce will be different.  It won't have that smoky spice that you would get from chipotle or smoked paprika. -I used tilapia, but you can use your favourite white fish, like cod, haddock or halibut.