This skillet blueberry bread pudding recipe is absolutely loaded with blueberries and has lots of flavour from cinnamon, nutmeg and lemon zest. Delicious with vanilla ice cream!
As we are soon headed into one of the yummiest seasons of the year for produce, today I'm sharing one of my fave recipes using Newfoundland's best: blueberries!
You may have seen my cast-iron skillet fruit cake bread pudding around here so I thought I'd share a more seasonal version that I know you guys are gonna love! By the way, if you're a fan of easy bread pudding recipes (like me), there's more to come!
This bread pudding recipe isn't loaded with a lot of refined sugar. Aside from the ¼ cup of sugar and a little jam, this one gets most of its sweetness naturally from those little blue gems.
I always, always, have blueberries on hand throughout the year thanks to relatives who generously share with me (thanks mom, mom-in-law and pop). Wild blueberries are smaller than mass produced varieties but have way more flavour. They're sweeter and seriously addictive.
What Is Bread Pudding?
Bread pudding is a bread-based dessert (kinda like custard), which usually includes:
Bread (usually on the stale/dry side, basically "day old" bread)
Milk and/or cream
Eggs
Sugar
Spices
Some sort of fruit like raisins or, in this case, blueberries.
It's a fabulous way to use up bread that you have lying around without having to waste it!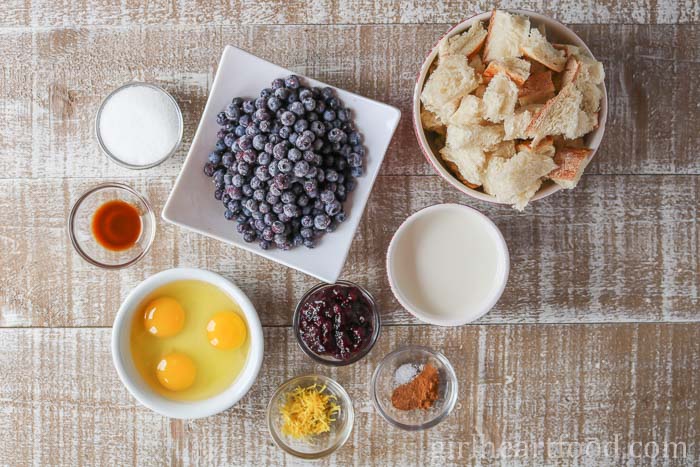 How To Make Bread Pudding
Full details on how to make this blueberry bread pudding are in the recipe card below, but here are the basics:
Place cubes of bread in a greased skillet.
Sprinkle blueberries over top of bread, getting into those little nooks and crannies.
In a bowl, mix together, milk, cream, eggs, vanilla, cinnamon, nutmeg, salt, sugar and lemon zest. The cinnamon will not completely dissolve. This is totally normal for cinnamon; it's a rebel, LOL.
Pour milk mixture over cubes of bread. Gently press down to help the bread absorb the milk mixture. Don't press too hard or squish the berries too much. Let sit 10 to 15 minutes.
Dollop with blueberry jam and bake.
Garnish with extra lemon zest if you like. Cool slightly and enjoy!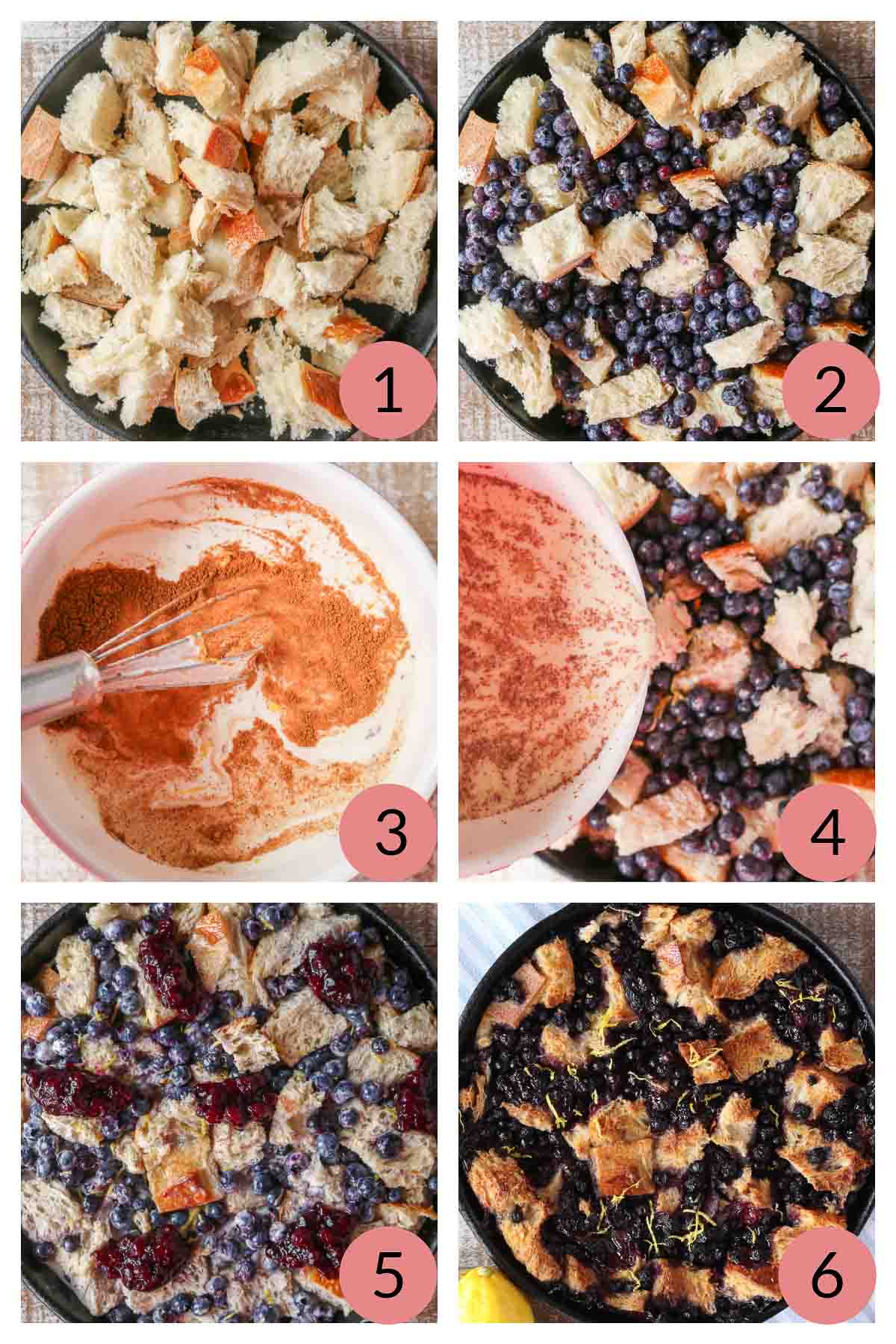 Best Type of Bread To Use
I picked up a "country white loaf" from my local grocery, but other varieties work good too (like Brioche and French bread). Just pick a yummy bread that works best for bread pudding.
I wouldn't recommend a mass produced sandwich style basic bread, though.
And don't go using the freshest bread possible. I know, most times that would totally make sense. However, for a bread pudding recipe, day old bread is best. You want the bread a little dry because it will more easily soak up the milk mixture.
If your bread is too fresh and moist, you can still make this bread pudding. Cut bread into cubes (or tear into bite-sized pieces), place on a baking sheet in a 300 degree Fahrenheit oven and bake for about 10 minutes. Then proceed with the recipe.
Do I Need to Refrigerate Bread Pudding?
Yes! This is quite moist, has eggs and milk and all that good stuff, so I would totally recommend storing in the fridge.
Of course, bread pudding is best enjoyed warm out of the oven with a big scoop of ice cream, but it will last 3 to 4 days properly stored in the fridge (remove from the skillet and store in an airtight container). Reheat leftovers when ready to enjoy.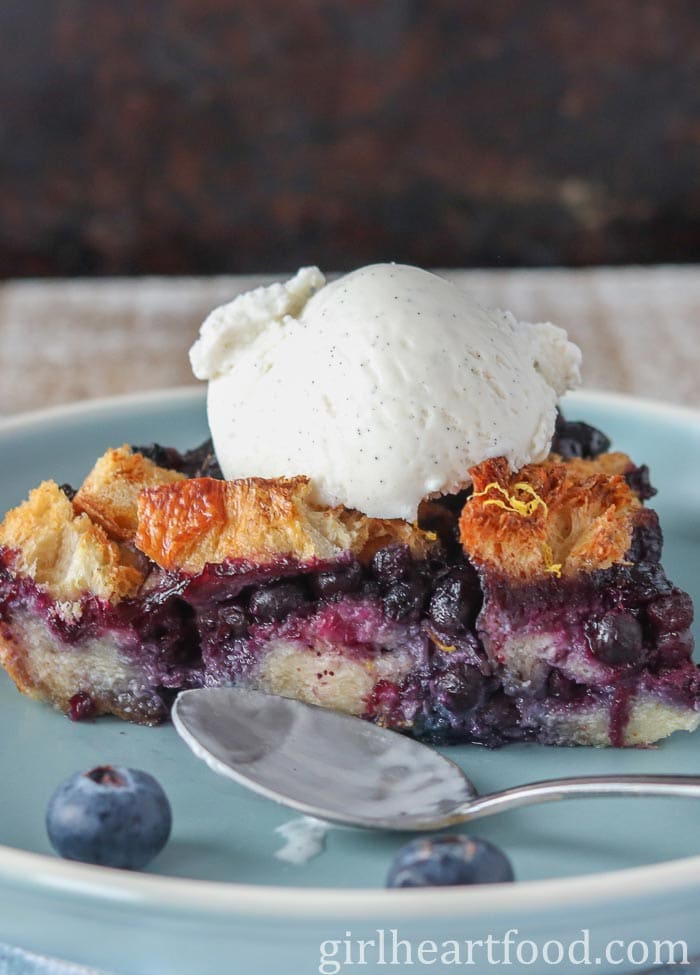 More Yummy Berry Recipes
You can certainly enjoy this blueberry bread pudding as is, but I highly recommended serving some with a big scoop of vanilla ice cream. Or, if you really wanna go all out, garnish with a generous spoonful of my homemade lemon curd. Treat yourself! Hope you love it!
If you make this easy bread pudding recipe, be sure to leave a comment below!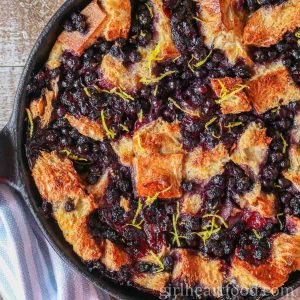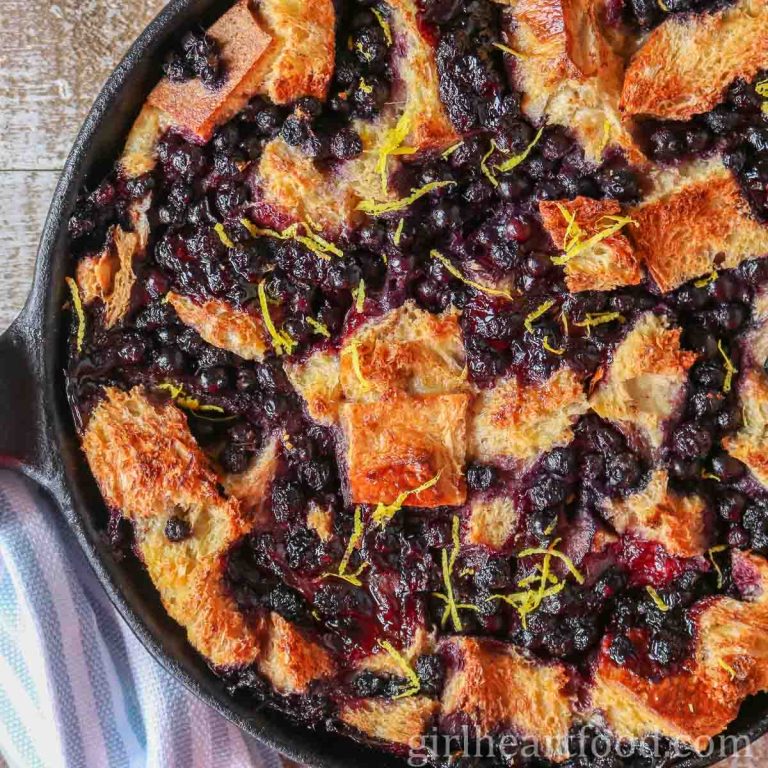 Easy Blueberry Bread Pudding Recipe
This skillet blueberry bread pudding is absolutely loaded with blueberries and has lots of flavour from cinnamon, nutmeg and lemon zest. Delicious with vanilla ice cream!
Ingredients
Baking spray

,

to grease skillet

5

cups

day-old bread (Brioche or French bread works great)

,

cubed (about 8 ounces or ½ pound)

2

cups

blueberries

1.5

cup

milk

½

cup

heavy cream (whipping cream)

3

large

eggs

1

teaspoon

vanilla extract

½

teaspoon

ground cinnamon

¼

teaspoon

ground nutmeg

pinch

salt

¼

cup

granulated sugar

1

tablespoon

lemon zest

,

from about 1 lemon

⅓

cup

blueberry jam

,

optional
Instructions
Preheat oven to 350 degrees Fahrenheit. .

Spray a 10-inch cast-iron skillet (or use a similarly sized baking dish) with baking spray.

Note: If you don't have a cast-iron skillet, use a similarly sized casserole or baking dish.

To skillet, add bread. Sprinkle berries over top of bread and allow some to naturally fall in between cubes of bread.

In a bowl, whisk together the milk, heavy cream, eggs, vanilla extract, cinnamon, nutmeg, salt, sugar and lemon zest.

Pour milk mixture over bread and just GENTLY press bread down to soak up some of the milk mixture. Dollop blueberry jam (if using) over top of bread pudding. Let sit for 10 to 15 minutes.

Bake for 65 to 70 minutes until cooked through and set (if it browns too quickly, top with aluminum foil). Check to see if it's done with a wooden skewer (when inserted in the centre of the bread pudding, it should come out clean).

Note: The bread pudding will rise as it bakes, but fall a little as it cools.  

Carefully remove from the oven and let cool for 30 minutes before serving. Serve warm with whipped cream or vanilla ice cream. Enjoy!

Note: Bread pudding is best enjoyed freshly made. However, any leftovers can be properly stored in an airtight container in the fridge and used within 3 to 4 days, reheating when ready to enjoy.
A note on times provided: appliances vary, any prep and/or cook times provided are estimates only.
© Girl Heart Food Inc. Photographs and content are copyright protected.
Tried this recipe?
If you do make this recipe, thank you!! It would mean so much if you could leave a comment below. Love to know how you enjoyed it, and it helps other readers too!