This comforting tomato tortellini soup is chock-full of tomato flavour and has lots of hearty kale. Top it off with some freshly grated Parmesan cheese and it will surely make your belly happy!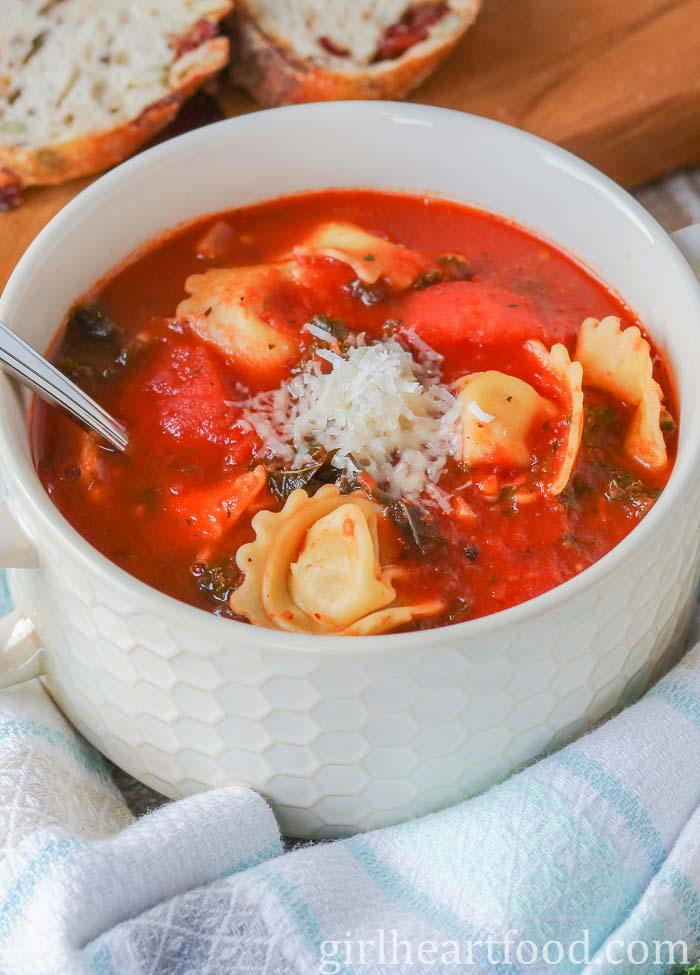 Though it's technically spring, I still have a few delicious soup recipes to share with you guys before I go full on spring mode, like this super easy tomato tortellini soup.
I don't about you, but I could legit eat soup year-round. You may have heard me say before, but we do this thing in our home that I like to refer to as "soup Sunday."
Basically, every Sunday I whip up a batch of soup and it always hits to spot. Soup is so satisfying on a cold day, don't ya think?
Fan of tomato soup? Try this fresh tomato soup!
Tomato Tortellini Soup Recipe With Kale
This tomato tortellini soup can easily be made after a long day. From prep to finish, it can be made in under 30 minutes. There's nothing complicated or fussy here; it's just simple, delicious food.
I love it when you can take sensible shortcuts and still have a satisfying meal that you can feel good about eating.
I often use store-bought rotisserie chicken as a time saver and this time I used store-bought cheese tortellini.
What are some kitchen hacks that you like to use or shortcuts that make your life easier? I'd love to hear 'em!
How to Peel Tomatoes
Besides the canned tomato base of this tomato soup, I added a couple of fresh tomatoes. Though not completely necessary, I removed the skin on them to make them a little more visually pleasant. Peeling tomatoes is easy and literally takes minutes. You can totally do it while the soup is simmering! To peel tomatoes:
Using a knife, make an "X" in the bottom of the tomato.
Gently place the tomatoes into a pot of boiling water for a minute.
Remove the tomatoes from the water and place in a bowl of ice water.
The skin removes easily. Chop and use in soup or whatever recipe you like.
If you'd rather skip peeling the tomatoes, that's okay too! Just chop the tomatoes and proceed with the recipe.
Recipe Variations
Kale was used in this soup, but baby spinach or chard would work lovely too. Keep in mind, though, that kale is a little more hearty than spinach. If using spinach, I would recommend adding during the last two minutes of cook time.
Want to make this tortellini soup even heartier? Add in some cooked Italian sausage (or your fave variety) or cooked chicken.
Don't have tortellini on hand? Though it won't technically be a "tortellini" soup, other types of pasta would work in a pinch (think elbow macaroni, stars or other small pastas).
Want a creamy tortellini soup? Stir in a little heavy cream at the end.
What To Serve With This Soup
Looking for sides? This soup is delicious with any of these:
More Yummy Soup Recipes
If you make this tomato tortellini soup recipe, be sure to leave a comment below!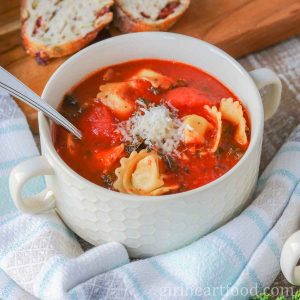 Easy Tomato Tortellini Soup Recipe
This comforting tomato tortellini soup is chock-full of tomato flavour and has lots of hearty kale. Top it off with some freshly grated Parmesan cheese and it will surely make your belly happy!
Ingredients
1

tablespoon

olive oil

1

onion

,

peeled and diced

3

cloves

garlic

,

minced

1

teaspoon

dried basil

½

teaspoon

dried oregano

½

teaspoon

freshly ground black pepper

½

teaspoon

crushed red pepper flakes

1

(28-ounce) can

whole peeled tomatoes

,

tomatoes blended with immersion blender until smooth or roughly mashed with a potato masher (depending on the consistency you want) before using

3.5

cups

low sodium vegetable broth

8

ounces

cheese tortellini

,

about one (250-gram) package

5

cups

chopped kale (bite-sized pieces, leave only, no stems)

2

roma tomatoes

,

peeled (optional) and cut into bite-sized chunks

salt

,

to taste (see "Notes" below, Point "1")

Grated Parmesan cheese

,

garnish to taste (optional)
Instructions
Heat olive oil in a large pot over medium heat. (I used an enameled cast-iron Dutch oven.)

Add onion and cook, stirring often, until softened, about 5 minutes. Stir in garlic and cook for 1 minute.

Stir in basil, oregano, black pepper and crushed red pepper flakes. Cook for 1 minute. Stir in the canned tomatoes and vegetable broth. Bring to a simmer.

Stir in tortellini, kale and fresh roma tomatoes (see text in post above on how to peel if you are doing so). Cook for 6 to 8 minutes or until the tortellini are cooked through. Season with salt to taste.

To serve, divide the soup into bowls and garnish (if desired) with grated Parmesan cheese. Enjoy!
Notes
Canned tomatoes can vary in salt content, so keep that in mind when adding salt.
The tortellini used in this tomato tortellini soup were cheese filled. You can used whatever variety you wish.
A note on times provided: appliances vary, any prep and/or cook times provided are estimates only.
© Girl Heart Food Inc. Photographs and content are copyright protected.
Tried this recipe?
If you do make this recipe, thank you!! It would mean so much if you could leave a comment below. Love to know how you enjoyed it, and it helps other readers too!