Like a big hug from grandma, this old fashioned slow cooker split pea soup is chock-full of veggies, cubes of ham and yellow split peas for one comforting, belly-warming, meal!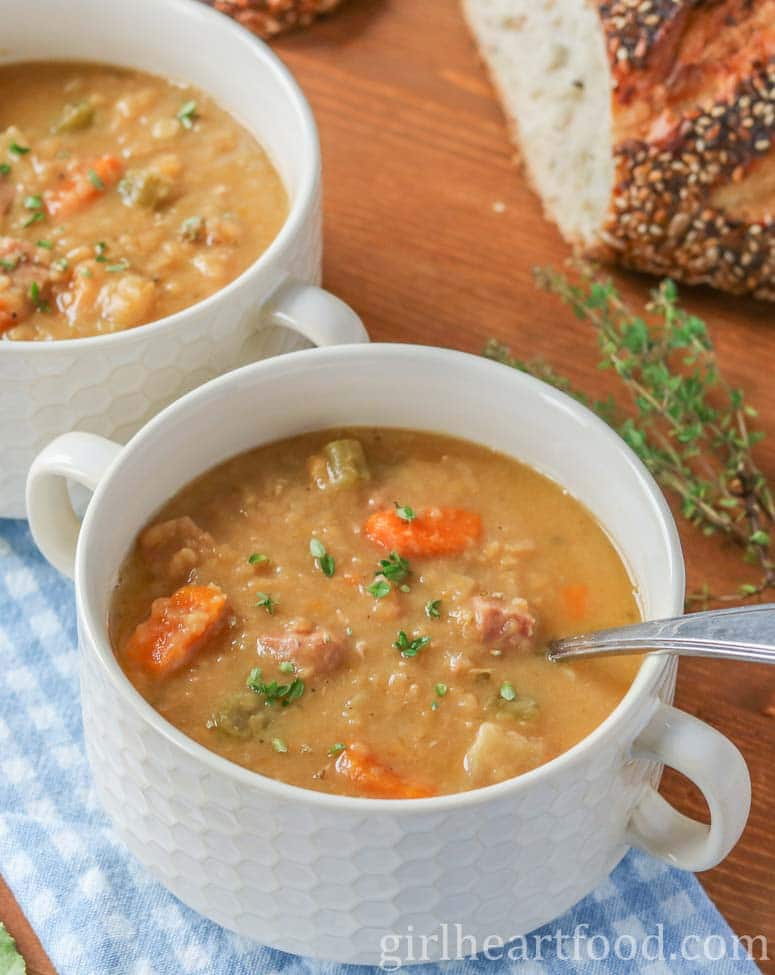 I grew up on yellow split pea soup (as well as cod au gratin and boiled beans) My grandmother always made pea soup, typically with 'doughboys' (which are flour-based dumplings plopped right in the pot on top of the soup; they cook up nice and fluffy).
I don't serve my ham and pea soup with doughboys (though I enjoy them). I'd much rather save the belly room for another bowl of soup. You gotta weigh your foodie options, am I right?
Years ago, I'm talking about 20 years, when I wasn't as 'kitchen-experienced' as I am now, I decided to make pea soup on the stove top. After all, I grew up with the stuff, right?
Then, I went outside … to wash the car!
What?! Yeah, not good to say the least. These days I'd like to think I'm a little more sensible, but only by a tad. Ha!
My cooking skills have improved considerably since then. However, there are things I'd still prefer to be blissfully unaware of, ya know, like calories in a glass of wine or in a brownie, LOL.
Nowadays, I make my split pea soup in the slow cooker. And, guess what? I can leave it for a bit!! Ha!
How to Make Pea Soup
When I tell you this split pea soup is easy, I'm not lying (not that I'd ever do that to you, anyway, but you know what I mean).
You literally place all the ingredients in a slow cooker, turn on low and that's it. Dump and go.
After everything has cooked, remove and discard bay leaves, add some butter and salt and enjoy! Nothing to it!
Hungry for more? Subscribe to the Girl Heart Food Newsletter!
Do I Need to Soak Split Peas?
Nope! Just make sure before you use them to rinse and remove any rocks (yes, there could be some in the bag) or dark, inedible peas. Other than that, they just go in the slow cooker with the other ingredients.
Will Split Pea Soup Thicken As It Cools?
It sure does! This yellow split pea soup thickens up considerably as it cools. If you are reheating on the stovetop, you can enjoy as is or add a little more chicken broth to thin out.
Can I Freeze Pea Soup?
Yep! Pea soup freezes beautifully!
After the soup has cooled, portion as desired (I like to portion smaller quantities so I can just take out what's needed at any given time; plus, it thaws quickly) and place into vacuum sealer bags (follow the instructions for your vacuum sealer to seal). Once sealed, spread the bags out flat. Place onto a sheet pan and into your freezer. Once frozen, you can remove the sheet pan and stack the frozen packages of soup neatly in your freezer.
Alternatively, use your favourite sealable freezer-safe bags or freezer-safe containers (leaving some headspace at the top of the container for the liquid to expand as it freezes).
Freeze the soup for up to three months. Don't forget to label the bag or container with the recipe name and date it was made, so you'll know for later.
When ready to enjoy, thaw the soup overnight in the refrigerator.
To reheat, place the soup in a saucepan on the stovetop over medium heat, stirring occasionally, until heated through. If you want to loosen or thin the soup, add a splash of broth
More Recipe Tips & Variations
Every model of slow cooker is different so your cook time may vary. I have a super basic one. It was actually a wedding gift and I treasure it. Also, don't open up the lid if you don't need to because it will increase the cooking time.
I use cubes of cooked ham in this recipe. However, if you want to keep it vegetarian, simply omit the ham and use veggie broth. You may have to add a little more salt (depending on your taste if ham is omitted).
Speaking of ham, the variety or brand you use may vary in salt content. Season soup to taste.
If you have a leftover ham bone, feel free to add to the slow cooker to infuse flavour. Just remove when the soup is cooked.
Don't throw away those celery leaves! Chop some up and throw in the pot. They have so much flavour!
Cut the celery, carrot and parsnip into roughly ½-inch chunks. This soup cooks for quite some time so you still want a little texture.
Turnip (rutabaga) is pretty popular in Newfoundland split pea soup too. I didn't use it here, but feel free to add some or sub out the parsnip.
More Easy Soup Recipes
Hope you love this slow cooker split pea soup. It's really good!
Being a huge vinegar fan, when I serve myself a bowl of this stick-to-ya-ribs split pea soup, I always, enjoy a splash of white vinegar. Trust me, it works.
If you make this slow cooker split pea soup with ham, be sure to leave a comment below. Love to know how you enjoyed!
Let's Be Social!
Follow Girl Heart Food on Facebook, Instagram, Pinterest and Twitter for all the latest delicious eats! Oh, and don't forget to subscribe to our newsletter!
Slow Cooker Split Pea Soup With Ham
Like a big hug from grandma, this slow cooker split pea soup is chock-full of veggies, cubes of ham and yellow split peas for one comforting, belly-warming, meal!
Ingredients
2

cups

dried yellow split peas

(one (450 gram) package or about 1 pound)

1

pound

cooked ham

, cut into small cubes (about 3 cups)

1

yellow onion

, peeled and diced

3

stalks

celery

, chopped into ½-inch chunks

3

carrots

, peeled and chopped into ½-inch chunks

2

parsnips

, peeled and chopped into ½-inch chunks

2

cloves

garlic

, minced

1

tablespoon

chopped fresh thyme

(or 1 teaspoon dried, plus more for garnish, if you like)

2

bay leaves

6 to 7

cups

low sodium chicken broth

(more if you want a looser or thinner consistency)

1

teaspoon

black pepper

salt

(to taste)

1

tablespoon

unsalted butter
Instructions
Pick over yellow split peas (i.e. remove and discard any foreign objects, like rocks, and any imperfect yellow split peas). Rinse and drain.

Place yellow split peas, ham, onion, celery, carrots, parsnips, garlic, thyme, bay leaves, broth and black pepper into a 6-quart slow cooker on the low setting, stirring to combine.

Note: I like to start with 6 cups of broth and add more later, if necessary.

Cover and cook 8 to 10 hours (time may vary depending on your slow cooker).

When done, stir in salt (to taste) and butter. Remove and discard bay leaves. Give everything a stir. Serve and garnish with additional thyme, if desired. Enjoy!

Note: this pea soup thickens as it cools. When reheating, you can always add a little more broth to loosen or thin.
Notes
Every model of slow cooker is different so your cook time may vary. Also, don't open up the lid if you don't need to because it will increase the cooking time.
Nutrition (ESTIMATE ONLY)
Calories:
422
kcal
Carbohydrates:
59
g
Protein:
35
g
Fat:
7
g
Saturated Fat:
3
g
Trans Fat:
1
g
Cholesterol:
41
mg
Sodium:
1143
mg
Potassium:
1447
mg
Fiber:
21
g
Sugar:
11
g
Vitamin A:
5401
IU
Vitamin C:
16
mg
Calcium:
103
mg
Iron:
5
mg
Nutrition estimate (if provided) is based on 1 Serving.
Nutrition information (if provided) is provided as a courtesy and should be considered an estimate only. Ingredients can vary and Girl Heart Food makes no guarantees to the accuracy of this information. It should not be considered a substitute for a professional nutritionist's advice.
A note on times provided: appliances vary, any prep and/or cook times provided are guidelines only.