Sardines on toast makes for an easy and tasty snack or light lunch! There's garlicky bread, flavourful sardines, fresh chili pepper, onion, and lemon for one tasty bite! Plus, this canned sardine recipe comes together in minutes! What's not to love?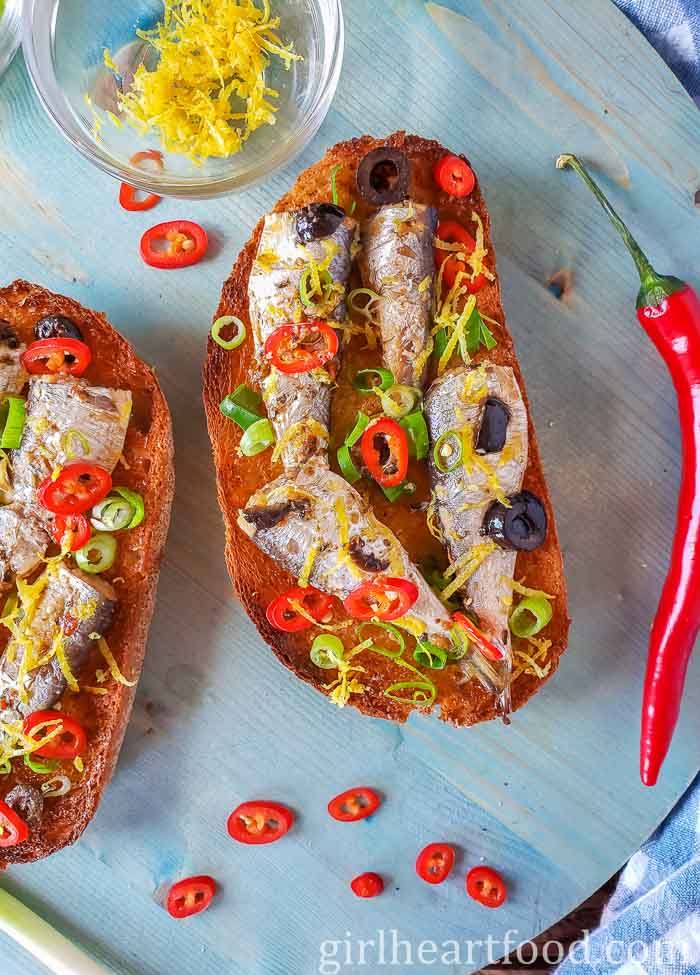 Hi friends!
I love stuff on toast.
I mean, what's not to love?
Your favourite bread with delicious toppings, usually all made relatively quickly.
Aside from cashew butter on toast and mushrooms on toast, sardines on toast are pretty much a regular snack or light lunch for hubby and me.
And, bonus, because we both usually enjoy together, there's no shame in the breath game, LOL.
What's Needed for Sardines on Toast?
Your favourite bread
Olive oil
Tinned sardines in oil
Garlic
Fresh chili pepper
Lemon juice & zest
Green onion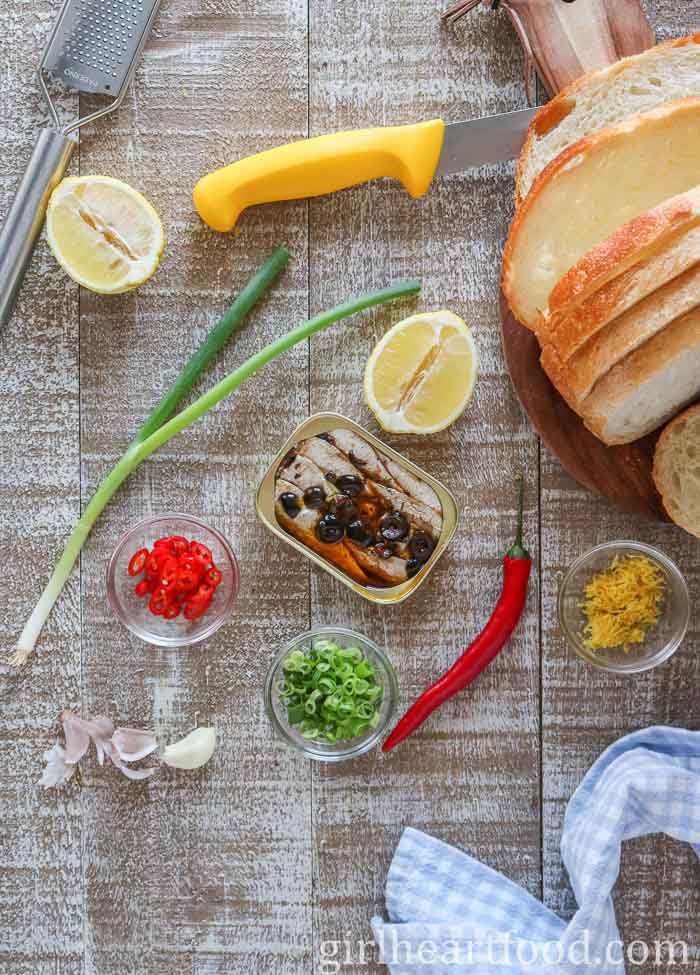 Why Eat Sardines?
I know sardines may not be at the top of mind when considering what to eat, but they really are a great pantry staple to have on hand.
Sardines are budget friendly!
They're a great snack for on the go.
You can enjoy them right out of the can. No need to cook or prepare.
They're quite versatile. You can make all sorts of recipes with sardines. Besides enjoying them as they are, sardines can be used in recipes like sardines on toast (like in this recipe), in pasta, in sandwiches & wraps, with crackers, on salads, and more!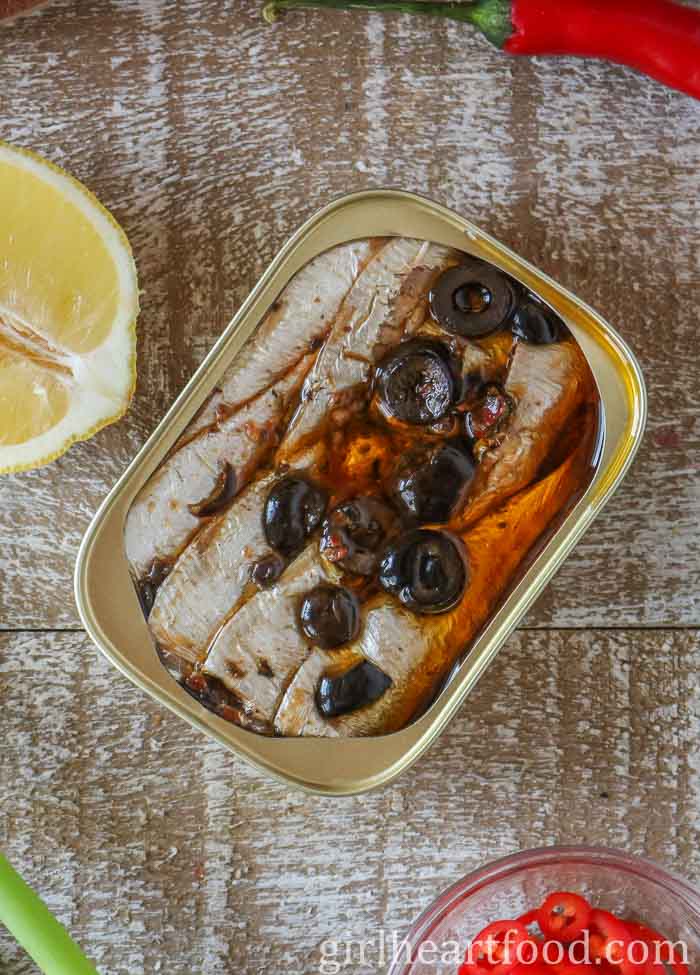 What Do Sardines Taste Like?
Sardines are small fish that are a little salty and have a slightly milder taste than, say, anchovies.
I'm not gonna lie here, though. If you are packing sardines for lunch to take with you to work, just know that they do have a slightly pungent smell and not all your co-workers may be fans.
What's the Best Way to Eat Canned Sardines?
Tinned sardines are often found packed in water or oil and can have other flavours added to spice them up. Both are delicious, but I often use sardines packed in oil (specifically extra virgin olive oil).
It's simply a matter of personal preference which ones you get.
I enjoy brisling sardines and usually purchase a variety that has black olives and seasoning.
Sardines are small fish, but the size you can get in a tin can vary. I typically prefer the smaller sardines over the larger ones.
Bottom line: There are lots of varieties and brands of sardines out there. Use what you enjoy best!
Can You Eat Sardines Out of the Tin? Are They Cooked?
Absolutely! Canned sardines are fully cooked and ready to enjoy straight out of the tin (as I often do).
Because of that, they are a wonderful portable lunch or snack for busy days when you just want to grab something on the fly.
So, if you aren't having sardines on toast, enjoy them as they are.
Hubby loves them with a little squeeze of white vinegar. Good stuff right there!
Can I Eat the Whole Tinned Sardine?
Canned sardines often come with skin, small bones, and tail attached, but it's all completely edible. The bones are small and much softer than what you would find in other varieties of fish so there's no need to take them out.
Note: You can also find boneless and skinless canned sardines and you can certainly use them in this recipe if you like.
How To Make Sardines on Toast
Full details are in the recipe card below, but here are the basics:
Start by brushing a couple of slices of your favourite bread with olive oil and toasting.
Rub a clove of garlic over each slice to give it a little garlic hum. You may not use all of the clove of garlic here.
Place sardines on top of each slice of bread.
Divide the chili pepper, green onion, and lemon zest over top. Then drizzle with a little lemon juice and some of the oil from the tin (if desired).
Tip: The sardines are left whole, but you can mash them a little if you like.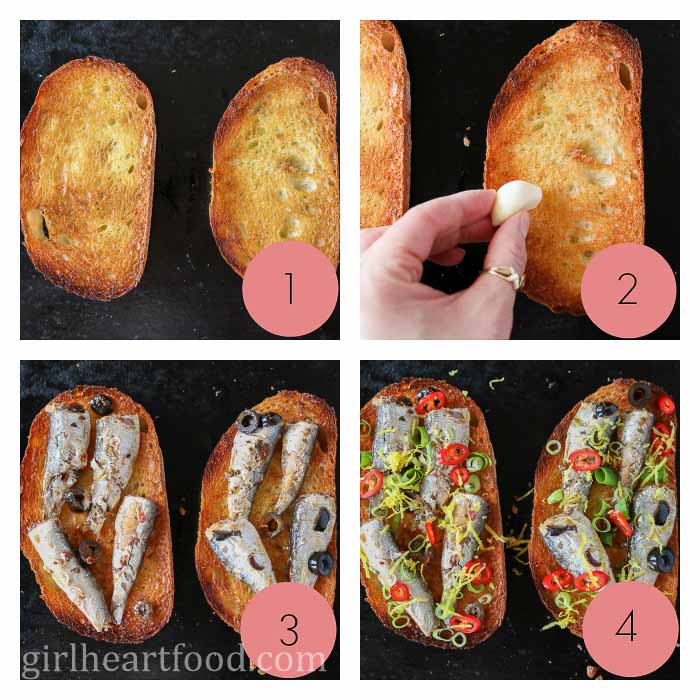 Tips for Making This Recipe
It's recommended that you enjoy this sardines on toast recipe as soon as it's made. That's when the bread is nice and crunchy!
Instead of olive oil, you can brush the bread with some of the oil that the sardines are in to get extra sardine flavour!
Use whatever bread you enjoy best!
Always zest your lemon before juicing. It's so much easier that way.
The sardines that were used in this recipe had olives in the tin. If your variety doesn't, you could add some or omit. It'll still taste delicious!
Feel like warming the sardines? Go for it. Simply place them in a non-stick frying pan over medium heat until it's how you like it.
This recipe can easily be doubled.
Recipe Variations
You can use red chili flakes instead of fresh chili if you prefer.
Thinly sliced red onion is a great substitute for green onion.
Sardines with Dijon mustard is also a delicious combination if you want to mix things up!
Like avocado? Try mashing some and spreading on your toast before topping with everything else.
What To Serve With Sardines
If you're looking to make things more substantial, enjoy these sardines on toast with:
Nibbly bits (like extra olives, some spicy pepperoncini peppers (love those), or even a handful or two of your favourite potato chips)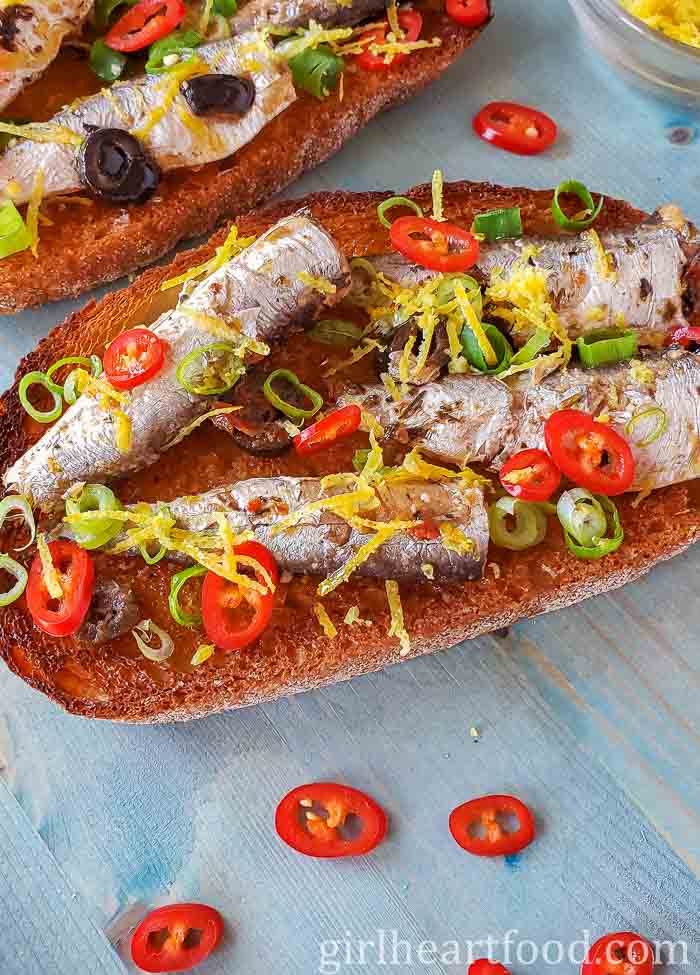 Hope you love this easy canned fish recipe as much as we do!
And if you are a sardine fan, stay tuned! There's another canned sardine recipe coming your way shortly.
If you make this sardines on toast recipe, be sure to leave a comment below!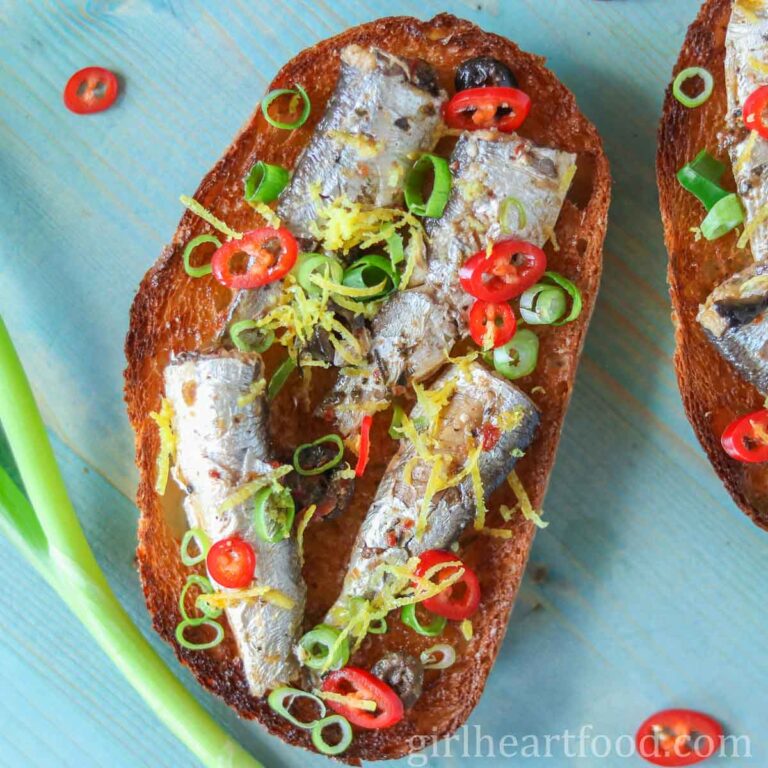 Sardines on Toast
Sardines on toast makes for an easy and tasty snack or light lunch! There's garlicky bread, flavourful sardines, fresh chili pepper, onion and lemon for one tasty bite! Plus, this canned sardine recipe comes together in minutes! What's not to love?
Ingredients
2

slices

bread

,

use your favourite variety

½

tablespoon

olive oil

,

approximately

1

small

clove of garlic

,

peeled

1

(4-ounce) can

brisling sardines in olive oil

,

approximately a 106-gram can of sardines

1

tablespoon

thinly sliced fresh chili pepper

,

or to taste

2

teaspoons

thinly sliced green onion

1

tablespoon

lemon juice

2

teaspoons

lemon zest
Instructions
Preheat your oven to 375 degrees Fahrenheit.

Brush bread with olive oil, place onto a sheet pan and bake in the oven for about 10 minutes or until toasted.

Scrub toasted bread with garlic clove.

Remove the sardines from the oil (don't discard all the oil just yet). Top bread with sardines, chili pepper and green onion.

Note: If you want to warm your sardines, you can do that by warming in a pan first. Also, if you want to mash your sardines before putting on toast, you can do that!

Drizzle with a little lemon juice, some oil from your canned sardines and sprinkle with lemon zest. Serve and enjoy!
A note on times provided: appliances vary, any prep and/or cook times provided are estimates only.
© Girl Heart Food Inc. Photographs and content are copyright protected.
Tried this recipe?
If you do make this recipe, thank you!! It would mean so much if you could leave a comment below. Love to know how you enjoyed it, and it helps other readers too!