This spicy lentil kale soup is hearty, delicious and pretty budget friendly. Made in one pot for easy cleanup, it's like a little bowl of goodness for your tummy!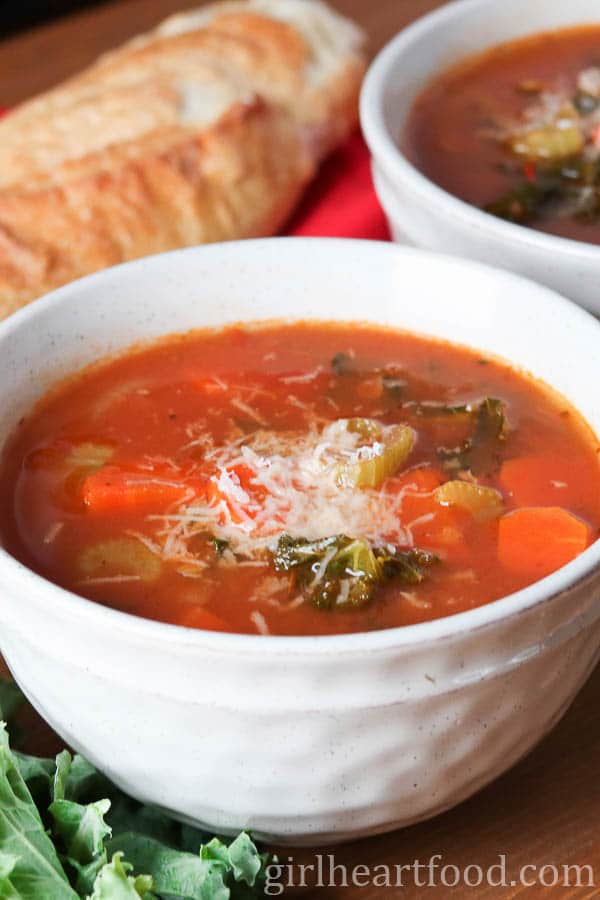 This soup was made for Monday. Monday gets a bad rap sometimes. But, think about it. If there wasn't a Monday, then Friday wouldn't be so special. Monday is taking one for the team. And if Monday wasn't a thing, would Tuesday be the new Monday? This is too much for today.
This spicy lentil soup is totally on the healthier side so it helps wipe away any weekend indulgences … that's what I tell myself at least.
Totally ate too much this past weekend. Fries? Yes, please! Bacon and eggs? Sure! You had that extra glass of wine. Why not?
You had a busy week. You don't even want to look at those skinny jeans Monday morning; it's not gonna happen. No worries, fill yourself with this goodness, and get yourself set for an awesome week!
In my opinion, it's all about balance. If you can't indulge every once it a while (especially on the weekend), then that's no fun at all. A little indulgence here, a little healthier there. Nothing complicated, just like this lentil and kale soup.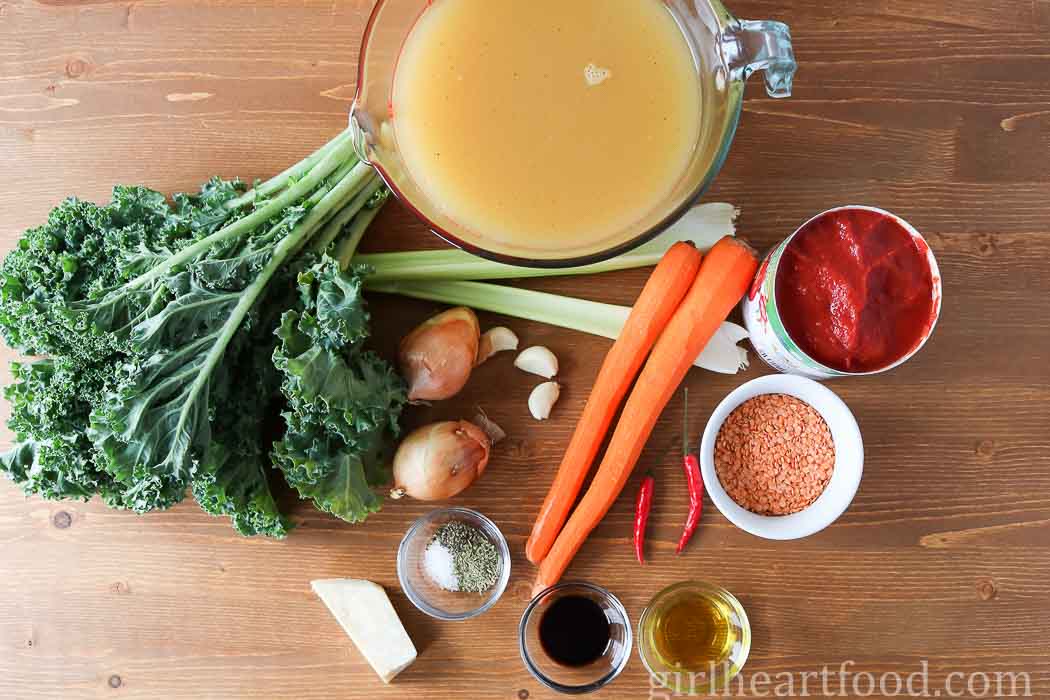 Why We Love Spicy Lentil Kale Soup
It tastes delicious!
This soup is loaded with veggies, like kale, which adds flavour and heartiness.
It's pretty budget friendly with simple pantry staples, like red lentils.
Uses ingredients that you probably already have on hand.
It's made in one pot for easy cleanup.
What To Serve with Soup
Grilled cheese sandwich
Simple green salad
Crusty bread for dunking
Croutons (delicious over top of the soup)
I don't know about you, but I could eat soup all year long, even in the summer. And it's weird because I like to say I run hot. Like, I'm usually always warm. But, offered a bowl of comforting soup and I'm all in. Hope you love this lentil soup as much as we do! It's great on a cold day!
More Yummy Veggie Soups
If you make this spicy lentil soup recipe, be sure to leave a comment below!
This lentil kale soup was originally published in July 2015 but has been updated.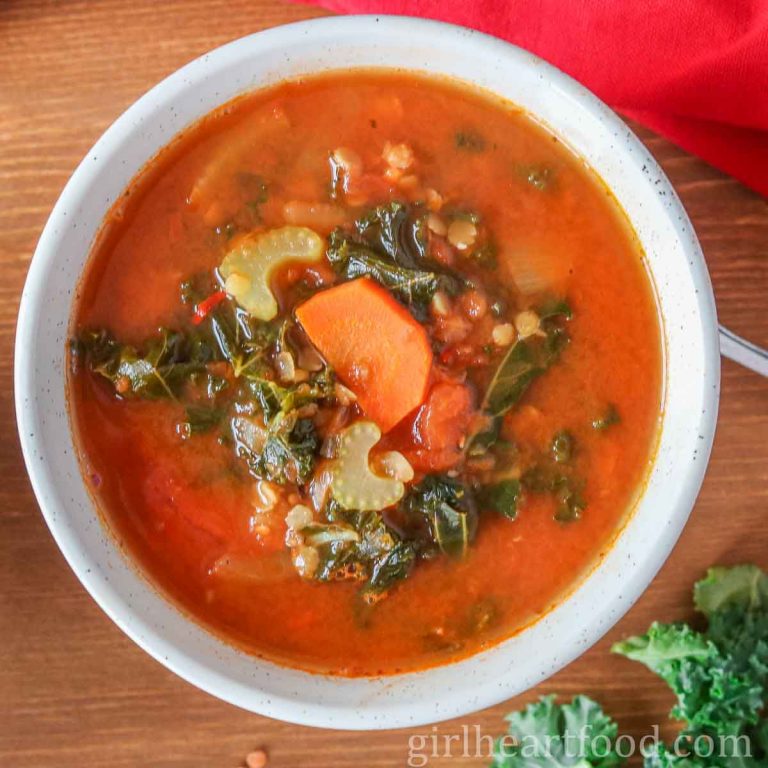 Spicy Lentil Kale Soup Recipe
This spicy lentil kale soup is a hearty, delicious and pretty budget friendly. Made in one pot for easy cleanup, it's like a little bowl of goodness for your tummy.
Ingredients
1

tablespoon

olive oil

1

yellow onion

,

peeled and diced

3

cloves

garlic

,

minced

1 to 2

red Thai chili peppers

,

minced (or to taste)

2

carrots

,

peeled and sliced about ¼-inch thick

2

ribs

celery

,

sliced about ¼-inch thick

½

teaspoon

dried thyme

½

teaspoon

dried oregano

¾

teaspoon

salt

½

teaspoon

freshly ground black pepper

8

cups

low sodium vegetable broth

1

(28-ounce) can

whole peeled tomatoes

,

blend tomatoes with an immersion blender or roughly mash with a potato masher to break up before using

½

cup

dried red lentils

,

picked over (remove and discard any rocks, foreign objects and imperfect lentils), rinsed and drained

6

cups

chopped kale (bite-size pieces, leaves only, no stems)

1

tablespoon

balsamic vinegar

,

or apple cider vinegar

Grated Parmesan cheese

,

garnish to taste (optional)
Instructions
Heat olive oil in a large pot over medium heat. (I used an enameled cast-iron Dutch oven.)

Add onion and cook, stirring often, until softened, about 5 minutes.

Stir in garlic and chili peppers and cook for about 1 minute until garlic is fragrant.

Add carrots, celery, thyme, oregano, salt and black pepper. Cook, stirring occasionally, for about 5 minutes.

Add vegetable broth, tomatoes and lentils. Stir.

Bring to a boil, then reduce the heat (to about medium-low heat) to a simmer. Cook, covered, for 5 minutes. Next, stir in kale and cook for about 5 to 8 minutes until it's wilted.

Stir in balsamic vinegar.

Serve and garnish with Parmesan cheese (if using). Enjoy!
A note on times provided: appliances vary, any prep and/or cook times provided are estimates only.
© Girl Heart Food Inc. Photographs and content are copyright protected.
Tried this recipe?
If you do make this recipe, thank you!! It would mean so much if you could leave a comment below. Love to know how you enjoyed it, and it helps other readers too!