This 2 ingredient roasted almond butter recipe is unbelievably easy to make and tastes so good. Plus, it's made in about 30 minutes! Once you make almond butter from scratch, there's no going back to store-bought.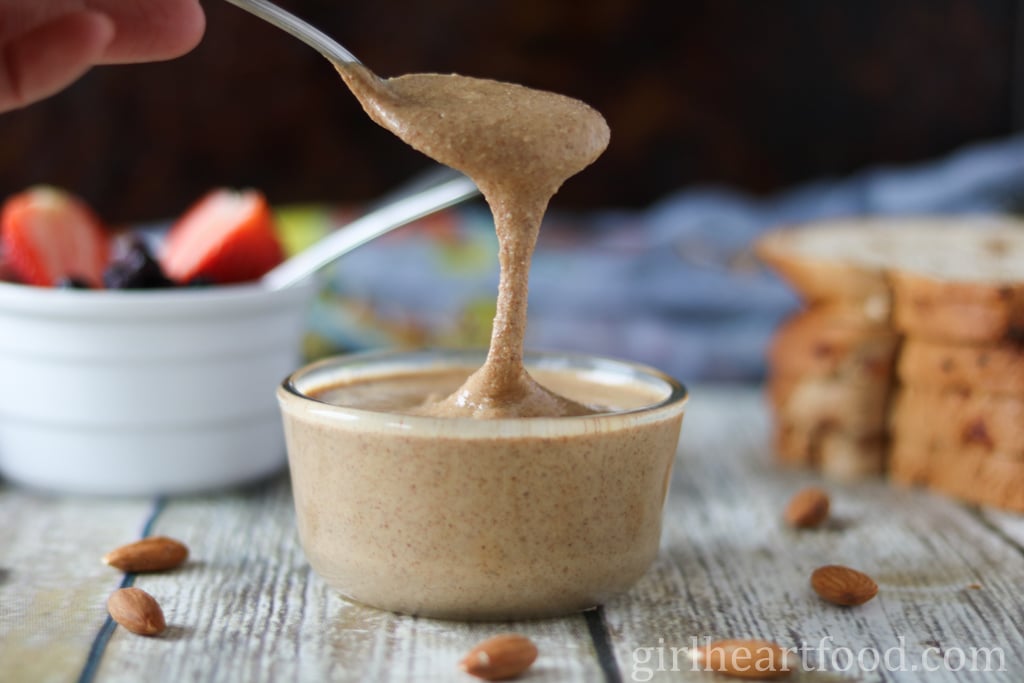 What's up everyone? Have a nice Easter weekend? Ours was pretty chill. Of course, we had our obligatory feed of fish on Friday. Granted, it may have come battered and with fries, but fish all the same.
I was going to bring you a different recipe today, but I had to switch it up; I just couldn't wait to share this roasted almond butter with you all and knew this had to happen today. Share the food love, ya know?
This roasted almond butter is almost too easy to make; almost too easy to call it a recipe, but you know what? It is indeed a recipe and happens to be one of my favourite things to date! Are you an almond butter or peanut butter fan? I happen to like both and always have a jar of each in my fridge.
Love homemade nut butters? Check out this cashew butter recipe!
How Much Almonds Are Needed?
With about two cups of almonds, you'll yield about one cup of almond butter.
How to Roast Almonds
Roasting almonds only takes minutes. Don't put 'em in the oven, though, and leave for too long because they can burn fast!
Spread the almonds onto a baking sheet and bake for about 8 to 10 minutes. That's it. Roasting gives the almonds another level of flavour that really adds to this nut butter.
Tips for Making this Homemade Almond Butter
Prefer to the leave the salt out? That's perfectly fine! The roasted almond butter will still taste delicious.
Depending on the power of your food processor, it may take longer (or perhaps less) than 8 to 10 minutes to process those almonds and that's fine. You know you're done when the consistency is smooth and creamy. Making this almond butter was like magic before my eyes. No joke. One minute it's almonds, then practically dust, then, boom, homemade almond butter! After the dust stage, LOL, it starts to come together. You know when you are making bread or dough in a mixer and that moment when it just starts to pull together? It's so freaky to watch that happen with this recipe.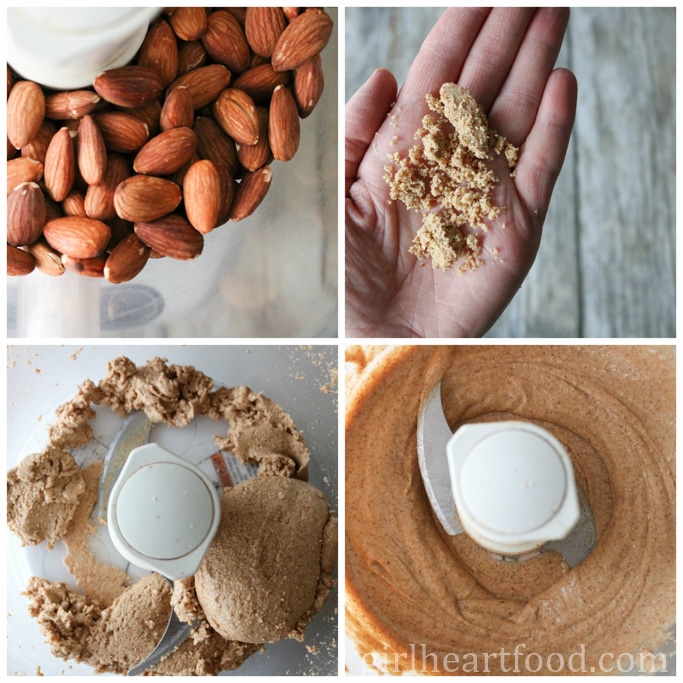 You process the heck out of those almonds, stopping to scrape the sides of the processor every couple of minutes, or as necessary. When you first start out, those almonds are going to look drier than the Sahara desert. It's drier than dry.
You'll get thirsty just looking at it. You get the point. You're going to think, 'OMG, what the heck is this? This is not right at all. Dawn really shagged this one up.' Nope. I wouldn't steer you wrong; just go with it and you'll end up with super creamy roasted almond butter.
How to Use
Enjoy on toast
Spoon over granola
Use in smoothies
Eat straight-up with a spoon (that's what I often do, anyway)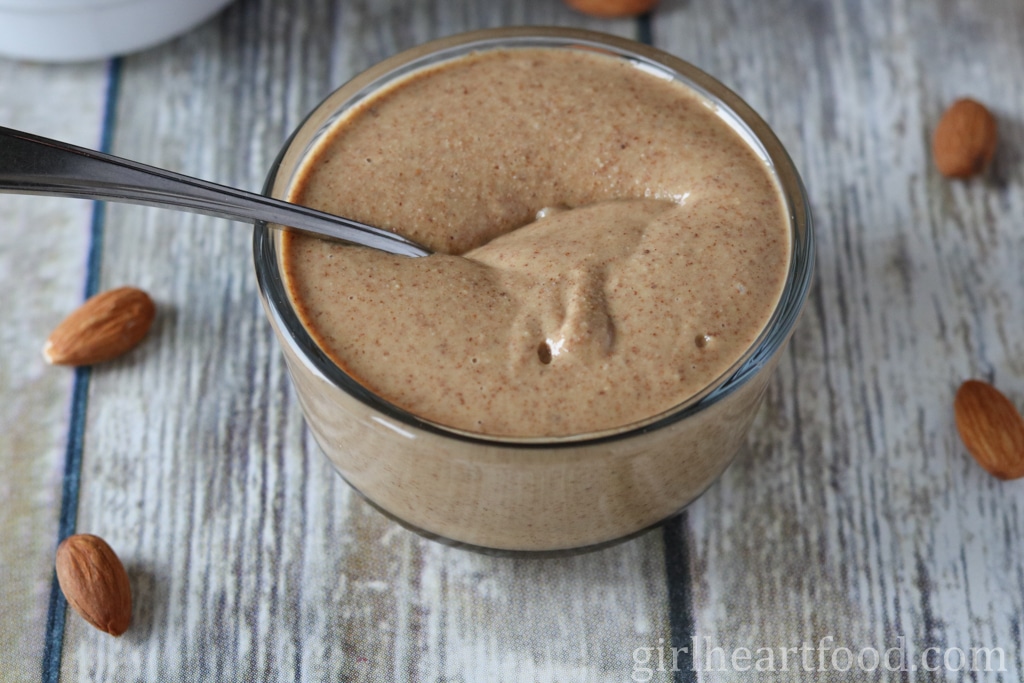 Hope you love this homemade roasted almond butter as much as we do!
If you give this nut butter recipe a try, be sure to leave a comment below. Love to know how you enjoyed!
Let's Be Social!
Follow Girl Heart Food on Facebook, Instagram, Pinterest and Twitter for all the latest delicious eats! Oh, and don't forget to subscribe to our newsletter!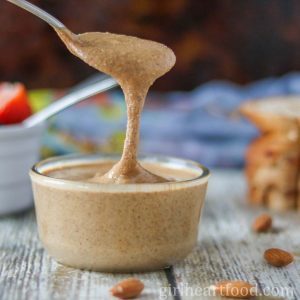 Roasted Almond Butter (2 ingredients)
This 2 ingredient roasted almond butter recipe is unbelievably easy to make and tastes so good. Plus, it's made in about 30 minutes! Once you make almond butter from scratch, there's no going back to store-bought.
Ingredients
2

cups

whole unsalted almonds

½

teaspoon

salt

(I use sea salt)
Instructions
Preheat oven to 350 degree Fahrenheit.

Place almonds on an unlined baking sheet. Bake for 8 to 10 minutes. Do not overbake or they will burn.

Remove from the oven and allow to cool.

Place almonds in a food processor (I use a 12-cup processor).

Process for 8 to 10 minutes, stopping to scrape down sides of processor with a spatula every couple of minutes, or as necessary.

Note: the mixture will initially look very powdery and dry (this is completely normal, just go with it; eventually the almonds will break down and will be smooth and creamy). Also, depending on the power of the processor you are using, the process may take a little longer, but that's okay.

Once mixture is smooth and creamy, stop and add salt and process for another minute until combined.

Portion into a storage jar, cover, refrigerate and enjoy within 2 weeks. Yields about 1 cup. Note: Mixture will thicken slightly in the fridge. Enjoy!
Nutrition (ESTIMATE ONLY)
Calories:
103
kcal
Carbohydrates:
4
g
Protein:
4
g
Fat:
9
g
Saturated Fat:
1
g
Trans Fat:
1
g
Sodium:
73
mg
Potassium:
126
mg
Fiber:
2
g
Sugar:
1
g
Vitamin A:
1
IU
Calcium:
47
mg
Iron:
1
mg
Nutrition estimate (if provided) is based on 1 Serving.
Nutrition information (if provided) is provided as a courtesy and should be considered an estimate only. Ingredients can vary and Girl Heart Food makes no guarantees to the accuracy of this information. It should not be considered a substitute for a professional nutritionist's advice.
A note on times provided: appliances vary, any prep and/or cook times provided are guidelines only.