Super easy, this creamy stovetop mac and cheese comes together in minutes and makes for a delicious main dish or side with dinner. Forget the boxed stuff and make your own macaroni and cheese recipe from scratch!
How's the year treating you so far? Sticking with those goals? I've been continuing to read more, though not as much as I'd like. I've been so dang tired. I blame it on the weather. Cold, dark days never gets my motor running.
You know what does though? Cheese, specifically this creamy stovetop mac and cheese recipe!
I'm pretty much obsessed with cheese. I could never give it up, just like:
Swearing on occasion
Wine on Friday after work
Good chocolate
Popcorn popped on the stove
Real butter
Cream
Did I mention cheese?
I was super happy to come across a truffle cheddar from the UK the other day. It's funky, but not too funky, and really adds something special to this easy stovetop mac and cheese recipe.
Kinda takes it to another level and makes it extra special. How lovely would this be for date night with some vino? Pretty spot on, if you ask me!
Fan of macaroni pasta? Check out this cheeseburger macaroni recipe!
What's the Best Cheese To Use?
I always love to use cheddar for mac and cheese (and in this case I used a delicious truffle cheddar).
Don't like truffle cheddar or don't have on hand? No worries! Use your favourite sharp cheddar. Alternatively, you can use another good melting cheese, like provolone, mozzarella, Gouda or Gruyère (or a combination of your favourites).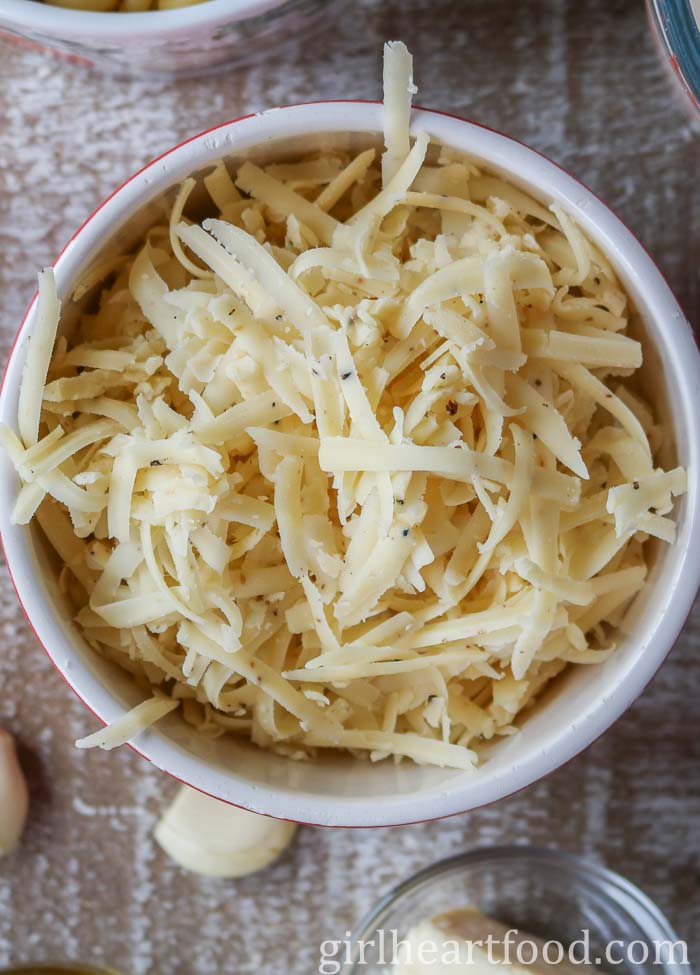 Tips for Making This Recipe
The sauce thickens best (quickest) when the milk is not super cold from the fridge. Let it sit on the counter for a few minutes or warm a little in a saucepan.
Slowly add the milk to the roux, giving it a chance to thicken. Don't add all the milk the one time.
Add the shredded cheese in batches, stirring each batch in until dissolved. Don't boil or overcook cheese. As soon as the mixture is smooth, mix with cooked pasta.
Enjoy right away! That's when it's the creamiest!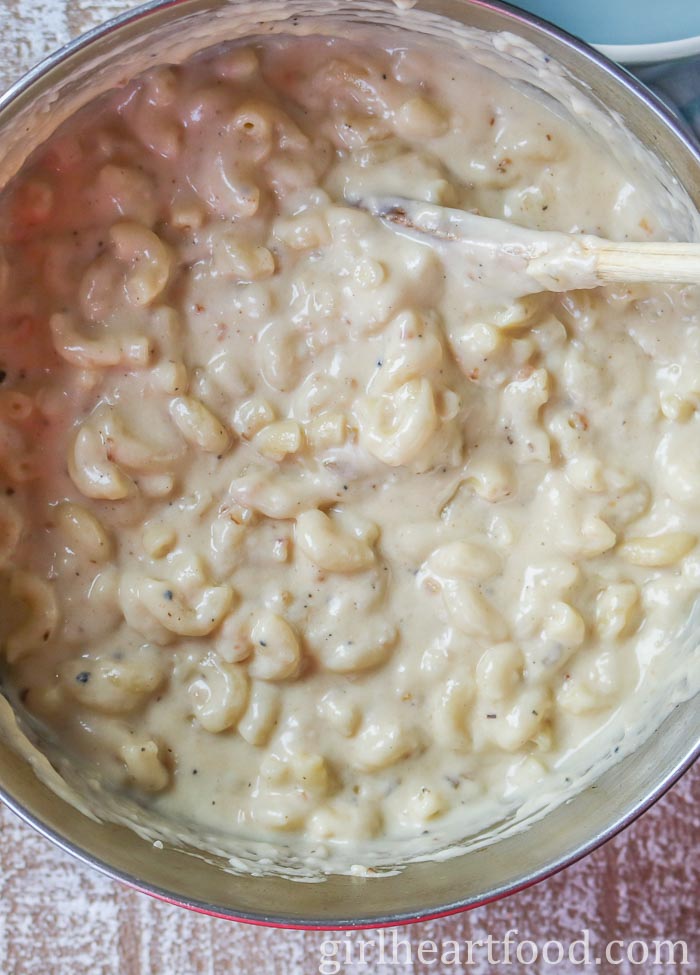 Recipe Variations
Use a teaspoon or so of onion powder instead of shallot (simply stir in with the milk).
Use ½ teaspoon or so of garlic powder instead of garlic.
Try regular sharp cheddar instead of truffle cheddar.
Delicious spice add-ins are mustard powder, cayenne pepper powder or smoked paprika.
I garnished with a little parsley for a pop of colour. However, chives would work lovely too.
Want to make this even more substantial? Add in some crisped pancetta, bacon or prosciutto.
Mix it up! Try another variety of small pasta, like penne or rotini.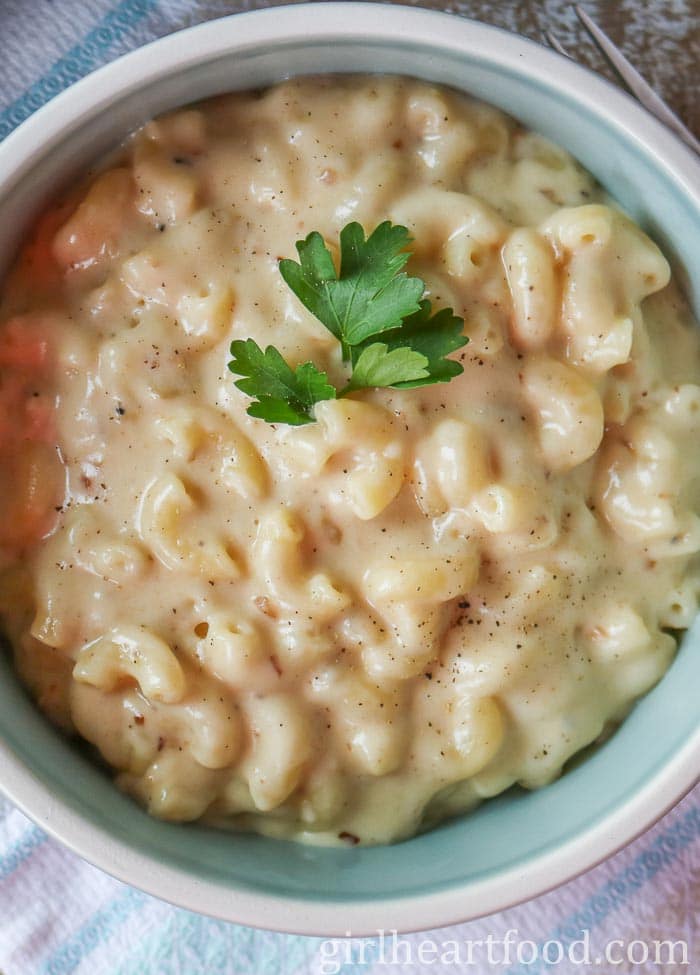 Leftovers and Reheating
This creamy stovetop mac and cheese is best enjoyed freshly made. However, leftovers can be properly stored in an airtight container in the refrigerator and enjoyed within 3 to 4 days. It reheats like a dream!! Of course, the mac will solidify as it cools (because of the cheese in there) but will loosen up once reheated. Trust the process.
To reheat, simply add the mac and cheese (along with a little broth or milk) to a non-stick frying pan over medium heat.
The amount of liquid you add will vary depending on how much leftovers you are reheating.
I always find it's better to add a little liquid at a time (start with about ¼ cup and add more as needed) until the pasta is creamy and heated through.
You don't want to add too much so that it's a liquid mess and the cheesy creaminess is gone.
Stir regularly until it's heated through.
More Easy Comfort Food Recipes
If you make this creamy stovetop mac and cheese recipe, be sure to leave a comment below!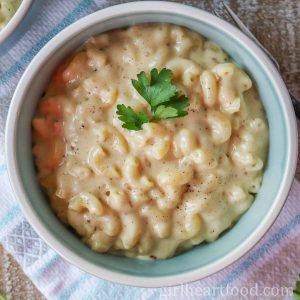 Creamy Stovetop Mac and Cheese Recipe
Super easy this creamy stovetop mac and cheese recipe comes together in minutes and makes for a delicious main dish or side with dinner. Forget the boxed stuff and make your own mac and cheese from scratch!
Ingredients
2

cups

dried macaroni pasta (elbow macaroni)

½

tablespoon

olive oil

1

shallot

,

peeled and minced (or ¼ cup minced white or yellow onion)

2

cloves

garlic

,

minced

¼

cup

unsalted butter

,

cut into cubes for easier melting

¼

cup

all-purpose flour

1 ¾

cup

whole milk

¼

cup

heavy cream

,

or whole milk

¾

teaspoon

salt

½

teaspoon

freshly ground black pepper

8

ounces

shredded truffle cheddar or regular cheddar

,

about 2 cups
Instructions
Cook pasta according to package instructions. Reserve 1.5 cups of the pasta water, then drain the pasta and set aside.

Meanwhile, heat olive oil in medium heavy-bottomed saucepan over medium heat. Add shallot and garlic and cook, stirring often, until the shallot has softened, about 3 to 5 minutes.

Add butter to saucepan. Once butter has melted, stir in flour and cook, stirring, for 2 minutes. 

Mix milk with heavy cream and slowly stir into butter/flour mixture (about ½ cup at a time). Cook until thickened slightly, about 3 to 4 minutes, stirring occasionally. Stir in salt and black pepper.

Reduce heat to low and stir in cheddar cheese. Add cheese in batches, stirring until each batch is incorporated before adding more.

Next, stir in cooked pasta. This mac and cheese is rich and thick. If you need to loosen or thin things, add some reserved pasta water, about a couple of tablespoons at a time until you've reached your desired consistency (you will likely not use all of the reserved water). Serve and enjoy, that's when it's the creamiest.

Note: I like to add a little more cracked black pepper on top of my mac, but that's optional.
A note on times provided: appliances vary, any prep and/or cook times provided are estimates only.
© Girl Heart Food Inc. Photographs and content are copyright protected.
Tried this recipe?
If you do make this recipe, thank you!! It would mean so much if you could leave a comment below. Love to know how you enjoyed it, and it helps other readers too!