This delicious recipe for cod in tomato sauce has a rich and spicy tomato base, beans, olives and perfectly cooked fish. Plus, it's made in one pot for easy clean up! Serve with a big hunk of bread for dunking and you're in for one delicious treat!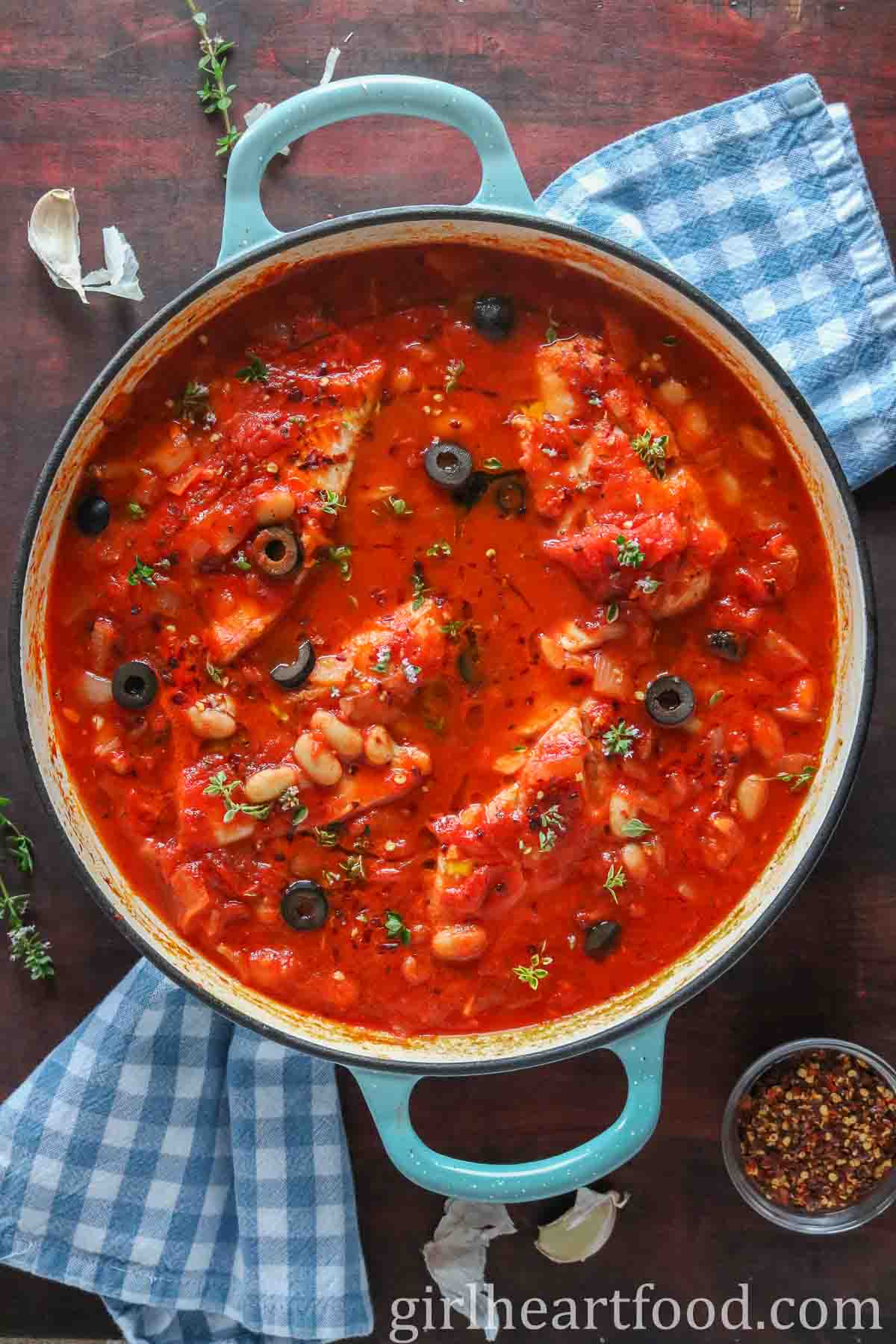 Hey friends!
Stopping in with an easy seafood recipe that's sure to be a fave.
Just like pesto cod or oven baked cod, this Mediterranean cod in tomato sauce is easy enough for weekday dinner or fancy enough for casual entertaining with friends.
With punch-ya-in-the-taste-bud flavours, like briny olives, tender cod, spicy chili flakes and hearty beans, every bite is super satisfying.
I highly suggest serving with a big ol' hunk of bread for dunking, getting every last drop of that tomato sauce.
And if you want to gild the lily here, serve with a glass of crisp white wine and you're set!
Why You'll Love This Cod in Tomato Sauce Recipe
It's naturally gluten free
Made in one pot for easy clean up
Made with wholesome, simple, ingredients
Tastes amazing! With a rich, slightly spicy, broth and a couple of special garnishes, it's super satisfying.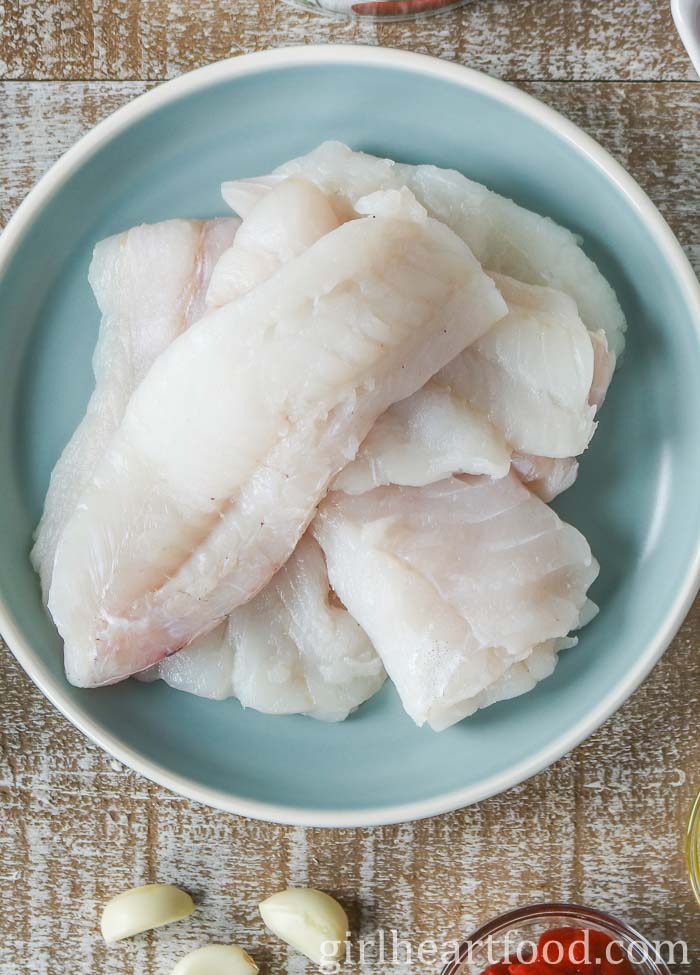 How to Make Fish in Tomato Sauce
Full details are in the recipe card below, but here are the basics:
Add some olive oil to a skillet (I used a decent high-sided 12-inch enameled skillet) and cook diced onion.
Add minced garlic.
Stir in tomato paste and cook for a minute or so.
Pour in canned tomatoes and water (rinse out your can of tomatoes to get every last bit of that goodness).
Add your seasonings.
Mix in beans and olives.
Cover ajar and cook until the sauce thickens a little.
Season cod fillets with a little salt and pepper. Then, tuck them into the tomato sauce, fully submersing. Cover again and simmer until the cod has cooked through and flakes easily with a fork.
Garnish & enjoy! There you have it…you've made some tasty, easy peasy, fish in tomato sauce that you're gonna love!
Hungry for more? Subscribe to the Girl Heart Food Newsletter!
Can I Use Another Type of Fish?
Most certainly! I used fresh boneless/skinless cod fillets, but halibut, tilapia, swordfish, or haddock would be lovely too.
Speaking of fish…fresh versus frozen: I tend to find that with frozen fish fillets, especially cod, they're more watery upon thawing than fresh.
You can use either fresh or frozen in this recipe. Just keep in mind that the frozen will probably make things just a tad more liquidy.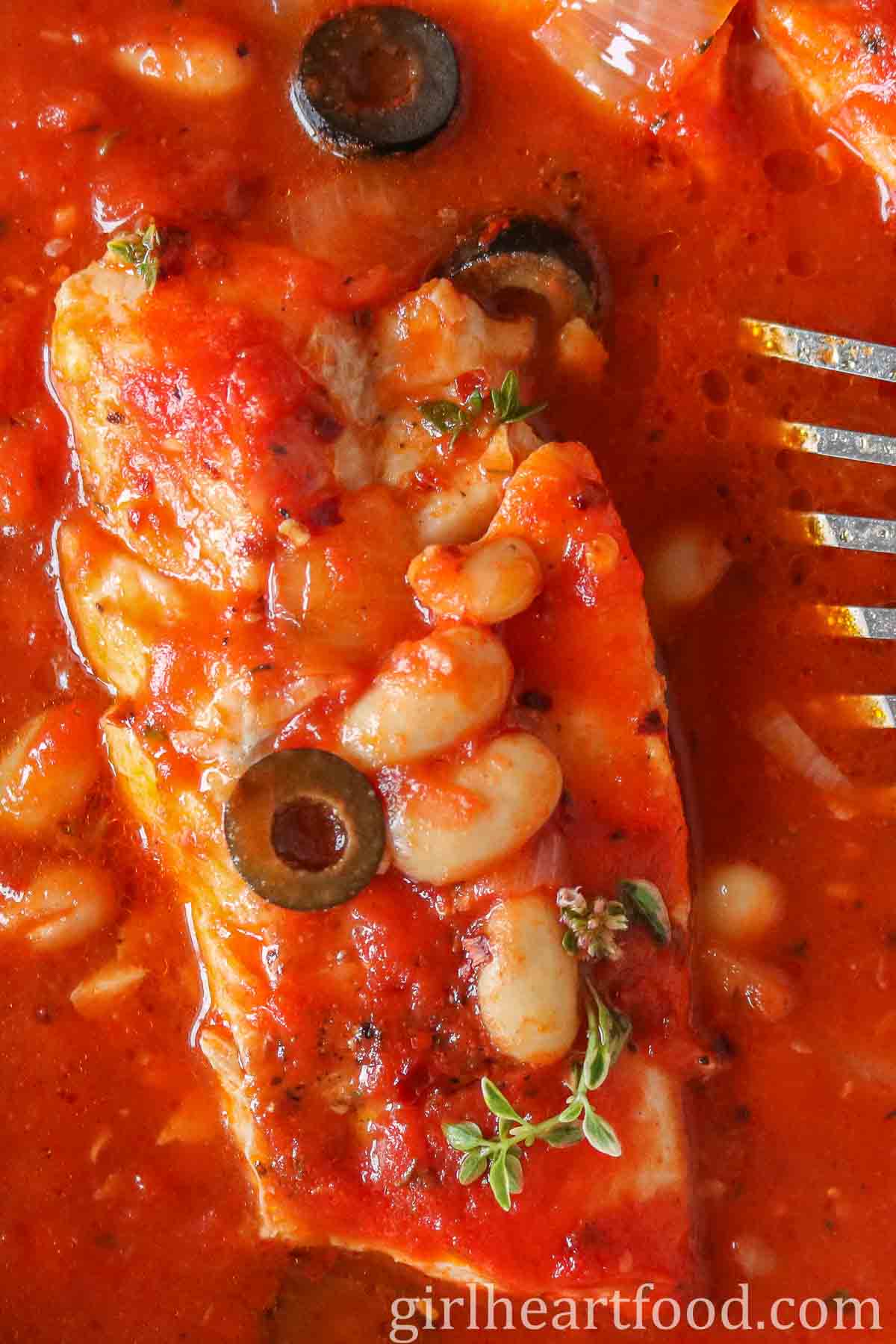 Can I Use Something Besides Beans?
For sure!
If you don't need this to be gluten free or you want something besides beans, use gnocchi instead!
Just cook 'em separately and mix in with the tomato sauce once everything is done or portion the gnocchi and distribute the sauce over top.
Can I Make This Ahead of Time?
If you want to make the sauce component (basically up until the point where you would add the cod), that's ok.
You can make the sauce a day ahead, store (covered) in the refrigerator.
When ready to finish the recipe, warm the sauce, add the cod fillets and cook through.
More Recipe Tips and Variations
Cook time will vary depending on the thickness of your fillets. Cook until fish is completely cooked through and flakes easily with a fork.
Boneless/skinless cod fillets were used here. Still, check fish over for any bones and discard.
I tucked 4 cod fillets into the tomato sauce. You can easily add another one or two fillets, if you like.
Because the spicy tomato sauce is such a predominant flavour here, use good quality canned tomatoes. San Marzano are always delicious.
Note: Crush the tomatoes with your hands so you are still left with visible chunks of tomato – it's delish! You can dump them into a bowl and crush away. Plus, I find it oddly satisfying to crush tomatoes. I know, I'm an odd one.
If you want a thicker tomato sauce consistency, you can omit the water and reduce your tomatoes a little more before adding your fish.
Cans of tomatoes vary in salt content. Add salt to taste.
I opted to use 1 full teaspoon of red chili flakes, but you can use less of you aren't a huge fan of spice or omit all together. Alternatively, mix in some freshly minced chili (red Thai chili works great here).
Canned white kidney (aka cannellini beans) were used, but you can use navy beans or great northern beans instead.
Dried thyme was used in the sauce, but you can use 1 tablespoon of fresh, if you prefer.
Add even more flavour with the addition of a tablespoon or so of capers.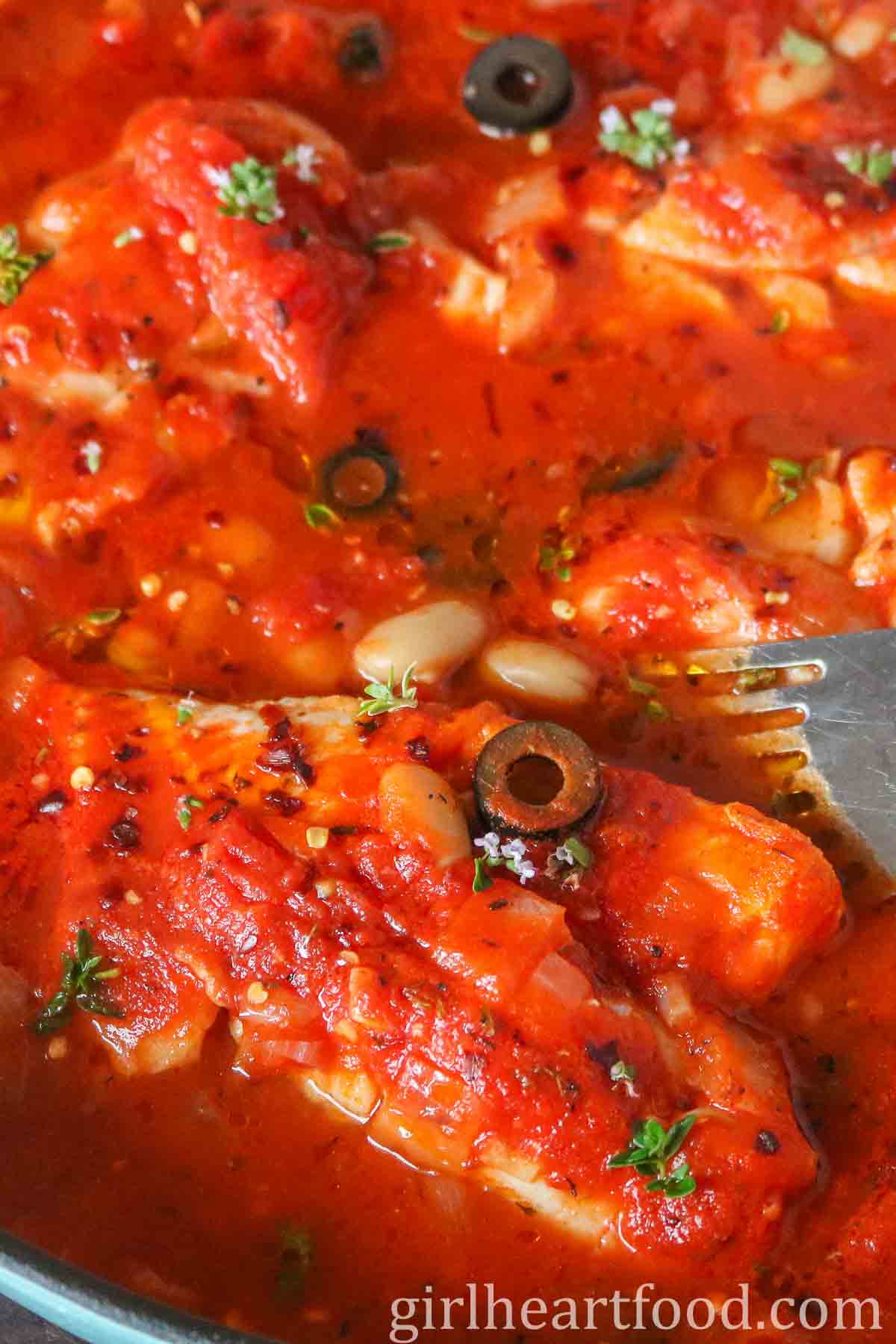 Garnish Options
Freshly chopped parsley
Freshly chopped thyme (lemon thyme is a really good garnish here. We have some growing in our garden at the moment and talk about good)
Chili flakes or fresh chili
Drizzle of lemon olive oil (so good). Lemon olive oil is my fave for this, but if you don't have, that's ok. Use a regular variety.
Serving Suggestions
This recipe is super hearty and doesn't need much, but some nicely toasted or grilled bread would be so good with for mopping up that delicious tomato sauce.
Tip: After your bread is toasted, scrub a little fresh garlic clove over top to give a little extra oomph!
To make things even more substantial,serve in a shallow bowl over grits, polenta or mashed potatoes.
Serving with a mixed green salad would be yummy too.
More Easy Seafood Recipes You May Enjoy
Fish Curry with Coconut Milk – This cod fish curry recipe is loaded with perfectly cooked fish, plenty of veggies and a luscious curry and coconut based sauce. So good!
Easy Fish Stew – This super easy fish stew recipe is as belly warming as it is tasty. Serve with a big hunk of crusty bread!
Pan Fried Cod – Cod fillets lightly dredged in flour, lightly seasoned and pan fried. Simple, but delicious.
Hope you love this cod in tomato sauce recipe as much as we do!
Did you make this easy cod recipe? That's awesome! Please leave a comment below. Love to hear how you enjoyed it. Many thanks!
Let's Be Social!
Follow Girl Heart Food on Facebook, Instagram, Pinterest and Twitter for all the latest delicious eats! Oh, and don't forget to subscribe to our newsletter!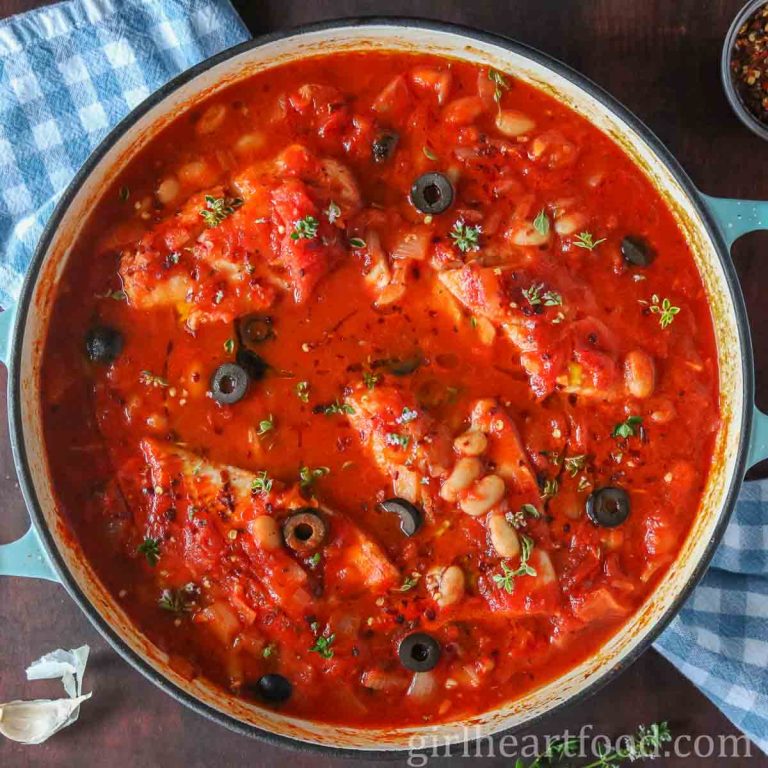 Print
Cod in Tomato Sauce (with beans and olives)
This delicious recipe for cod in tomato sauce has a rich and spicy tomato base, beans, olives and perfectly cooked fish. Plus, it's made in one pot for easy clean up! Serve with a big hunk of bread for dunking and you're in for one delicious treat!
Ingredients
2

tablespoons

olive oil

1

yellow onion

, peeled and diced

3

cloves

garlic

, minced

2

tablespoons

tomato paste

796

millilitre

can whole peeled tomatoes

(crushed with hands or potato masher before using, about 3 cups)

½

cup

water

, rinse out canned tomatoes with water and use that

1

teaspoon

dried thyme

¾

teaspoon

salt

, divided

¾

teaspoon

black pepper

, divided

½ to 1

teaspoon

chili flakes

(depending on how spicy you like things)

19

ounce

can cannellini beans

, rinsed and drained (also known as 'white kidney beans', about 2 cups)

⅓

cup

black olives

, pitted and sliced ( I used 'kalamata')

1 to 2

tablespoons

capers

(optional)

1 ¼

pound

boneless/skinless cod fillets

, 4 fillets (about 4.5 to 5 ounces each)
Garnish Options
fresh minced thyme or lemon thyme leaves

(garnish, optional)

lemon olive oil

(garnish, optional, but highly recommended)
Instructions
In a 12-inch skillet (I used an enameled skillet) over medium heat add olive oil.

Once shimmering, add onion and cook 5 minutes.

Add garlic and cook 1 minute more.

Stir in tomato paste and cook 1 minute.

Stir in canned tomatoes, water (rinse out tomato can with water and use that 'tomato water'), thyme, ½ teaspoon salt, ½ teaspoon of black pepper, chili flakes, beans, olives and capers (if using). Bring to a low simmer, uncovered, for 8 to 10 minutes or until things have reduced/thickened a little.

Note: If you want less sauce (or a thicker consistency) omit the water and/or reduce your sauce a little longer to get a thicker consistency before adding your cod fillets.

Season fillets with remaining ¼ teaspoon each of salt among all four pieces.

Make 4 little wells in sauce and add cod fillets. Fully immerse them in the sauce, covering over.

Cook 8 to 10 minutes (mostly covered, with cover just slightly ajar) on a medium simmer or until the fillets are cooked through, they're opaque and flake easily with a fork.

Note: Cook time can vary, depending on your heat level and how thick your fillets are.

Be careful when removing the fillets from the sauce as they are delicate. Best to use a large spatula here.

Portion into bowls and serve with crusty bread or serve over creamy polenta or grits. Garnish with more thyme, chili flakes and drizzle of lemon (or regular) olive oil, if desired. Enjoy!
Notes
See body of post above for lots of recipe tips.