Creamy, garlicky, and so tasty, this celeriac puree (or celery root puree) is an easy root vegetable side that's perfect for Sunday supper or that special occasion meal. It's a wonderful alternative to potatoes when you're craving something different!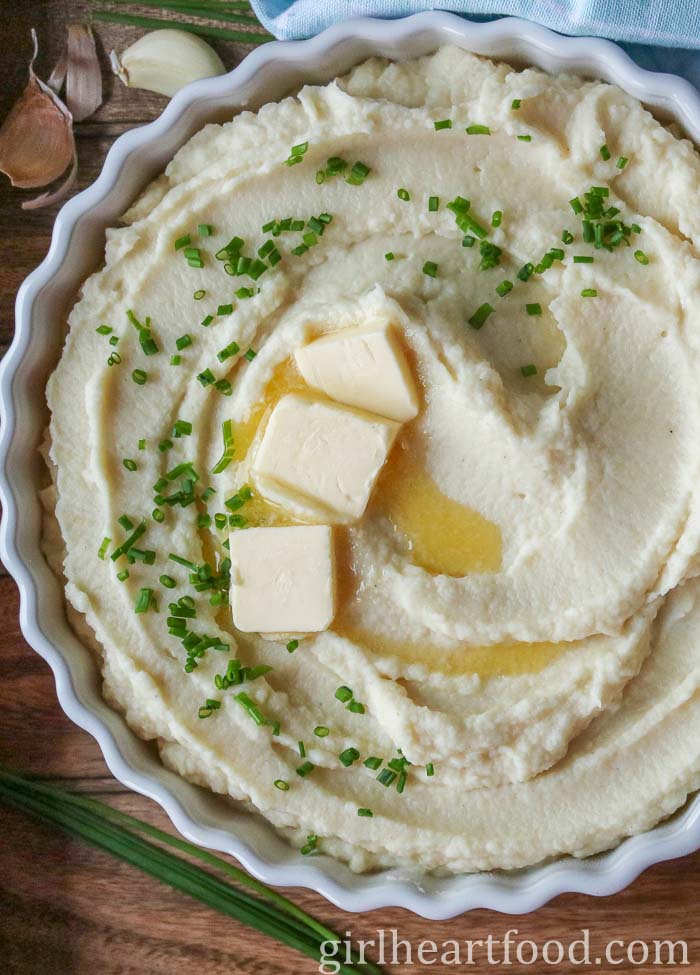 Remember when I shared that yummy celery root soup with you all?
Well, today I have another recipe for ya using this delicious underused root veggie. It's celeriac (or celery root) puree.
If you're looking for a low-carb side that's delicious, just as easy to prepare as mash, and super tasty, this one's for you!
With cream, lots of garlic, and savoury celery root this one packs a punch in the flavour department.
To make a delicious low-carb meal, celeriac puree would go awesome with oven baked cod and veggies.
I topped this veggie puree with some dabs of butter because, well, butter! You you can leave out if you wish.
Why We Love Celeriac Puree
It comes together in about 30 minutes.
It's a great side dish, perfect for when you're trying to mix things up.
It's made with less than 10 ingredients (including salt and garnish).
Celeriac puree tastes amazing!
How To Prepare and Cook Celeriac
Full details on how to make this celery root puree are in the recipe card below, but here are the basics:
After you've cleaned, peeled and cut the celery root (or celeriac) into chunks, place the chunks into a pot of water with cloves of garlic and boil under tender.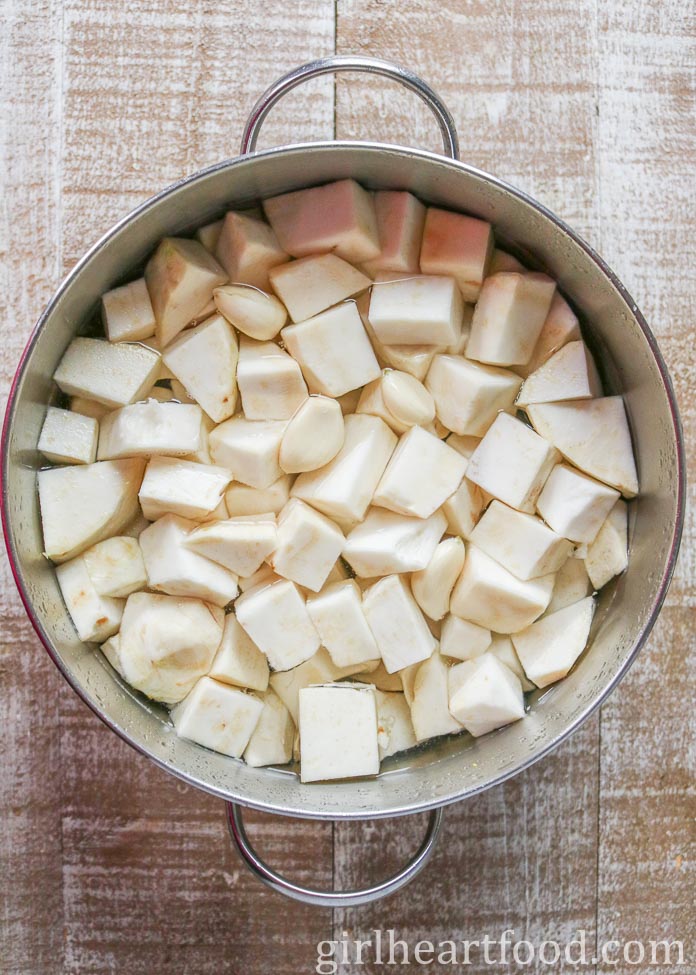 Drain the cooked celery root chunks.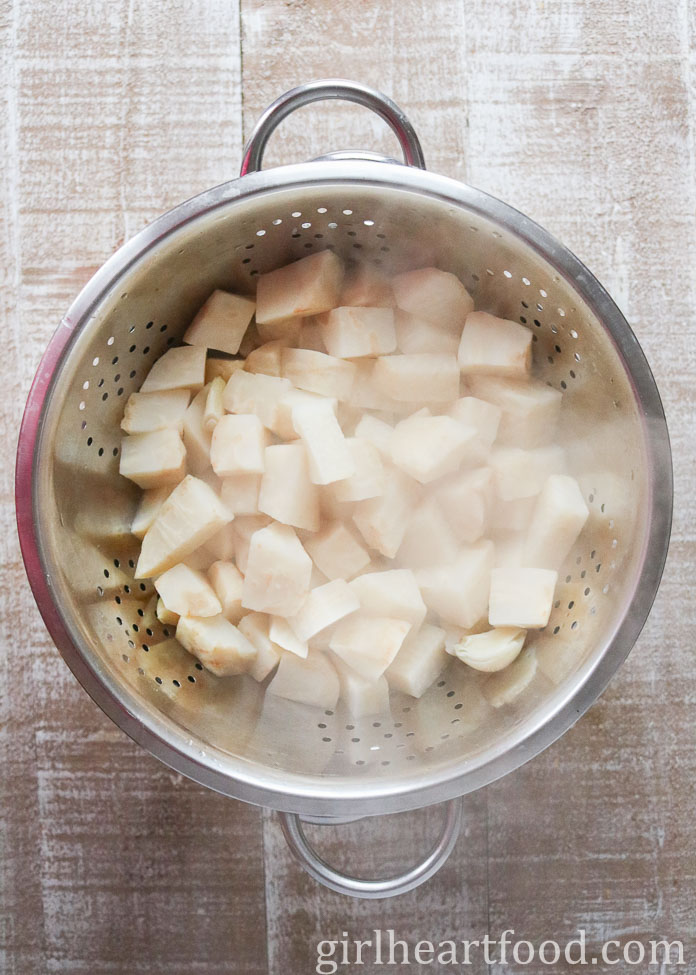 Meanwhile, combine butter with cream, milk, and salt and just warm through.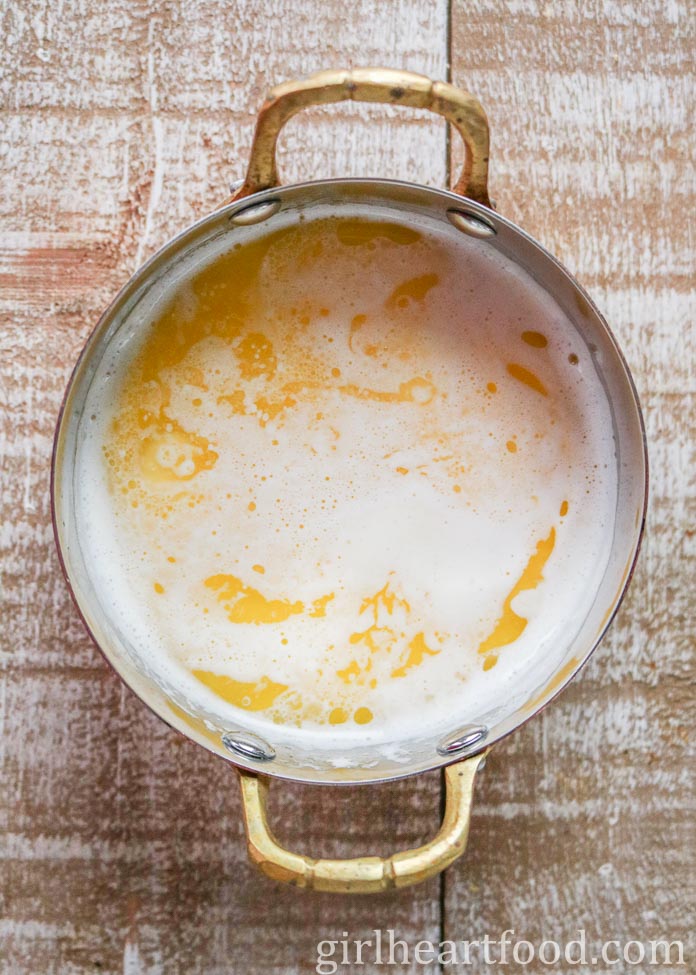 Then it's just a matter of combining the cooked celeriac, garlic, and butter mixture. Place into a mixing bowl and, using a hand mixer, blend until combined and creamy.
Transfer the celery root puree to serving dish, garnish with more butter and chives (if you like), and serve!
Where To Buy Celery Root
Celery root, or celeriac, can be found right along other root veggies in your grocery store or supermarket.
Does It Taste Like Mashed Potatoes?
Not at all.
Though this celeriac puree may look somewhat like mashed potatoes, it doesn't taste like them.
It has a celery, turnip or parsnip kinda taste.
Because celeriac or celery root doesn't have the same starches one would find in something like a potato, you don't have to worry about it getting all gummy when blending with a hand mixer. It comes together beautifully!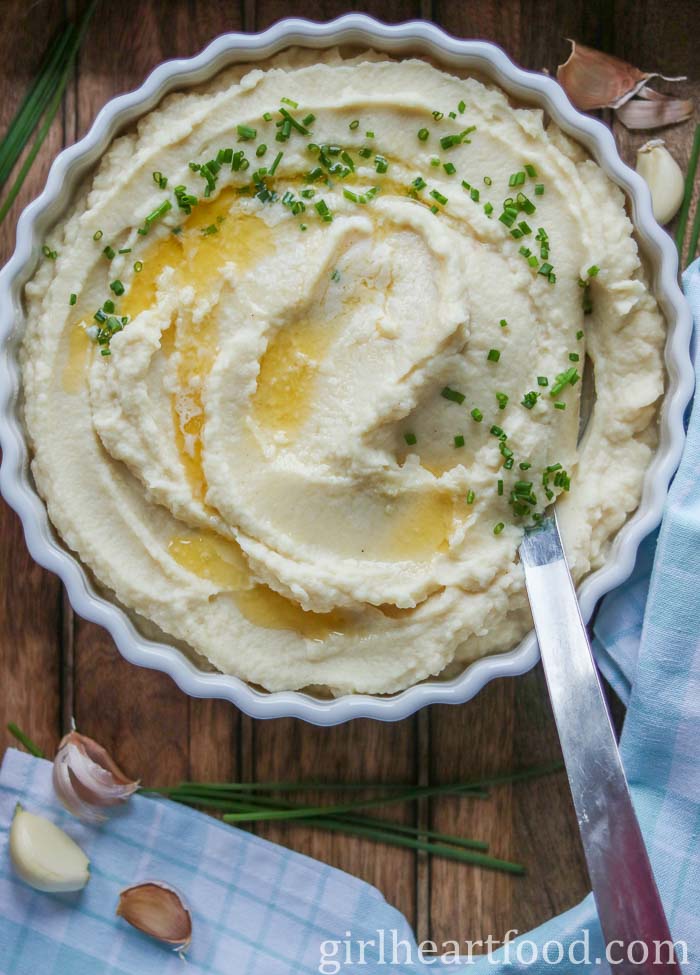 Is Celery Root Low Carb?
For those trying to reduce carbs (or simply want an alternative to mash), celeriac is a great option!
Per 100 grams of cooked celery root, it has only 5.9 grams of carbs compared to about 20 grams of carbs in potato.
Can I Just Mash the Celery Root?
Absolutely!
Use a potato masher (or ricer) if you like instead of using a hand mixer.
If you make mashed celery root, you may have a rougher consistency.
More Root Vegetable Recipes
If you make this celeriac puree, please leave a comment and below!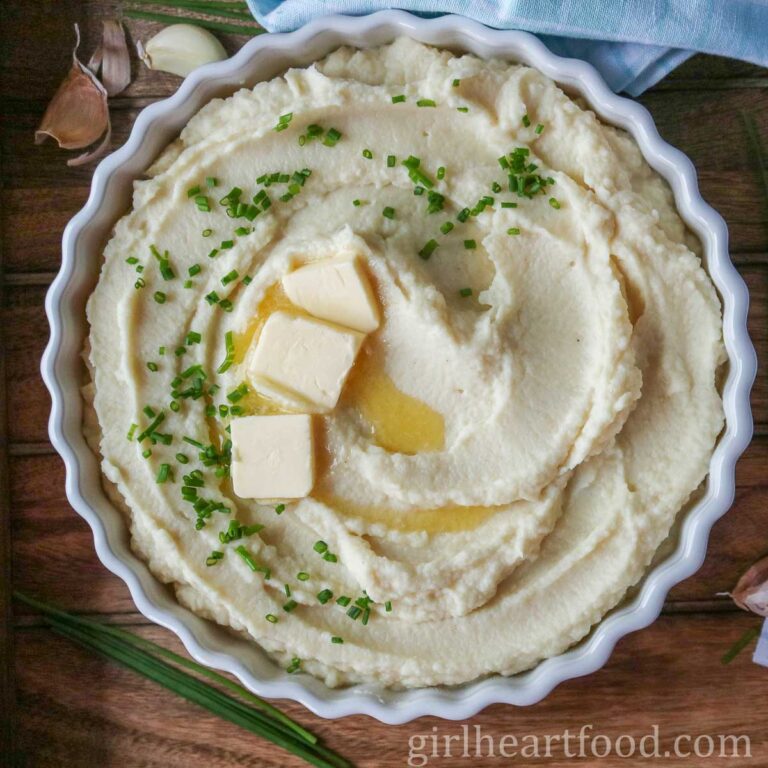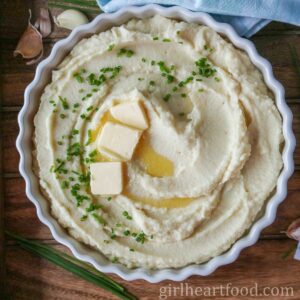 Celeriac Puree (Celery Root Puree)
Creamy, garlicky, and so tasty, this celeriac puree (or celery root puree) is an easy root vegetable side that's perfect for Sunday supper or that special occasion meal. It's a wonderful alternative to potatoes when you're craving something different!
Ingredients
8

cups

celeriac or celery root

,

about 3 pounds and 12 ounces before peeling and about 2 pounds and 10 ounces after peeling

5

cloves

garlic

,

peeled and left whole

½

cup

heavy cream

½

cup

whole milk

3

tablespoons

unsalted butter

,

plus more to taste for optional garnish

1.25

teaspoons

salt

,

or to taste

¼

teaspoon

white pepper

Chopped fresh chives

,

garnish to taste (optional)
Instructions
Clean and peel celeriac root and cut into chunks.

Place celeriac root chunks into a large pot of water with garlic cloves (there should be an inch or two of water above the celeriac, basically ensuring that it is fully submerged and covered by the water). Bring to a boil, cover with lid ajar and cook for about 20 minutes or until celeriac is tender. Drain.

Note: As you are cooking the celeriac, reduce the heat, if necessary, while still maintaining a boil.

Meanwhile, combine cream with milk, butter, and salt in a small saucepan or pot over medium-low heat until warmed through (to remove the chill from the dairy so it doesn't cool down your celeriac when added).

Place cooked celeriac root into a large mixing bowl, along with cream mixture. Use a hand mixer to combine everything until nice and creamy (alternatively, if you just want to rice and/or mash, that's okay too).

Note: If your quantity of celeriac root is less that what was used here, you may want to use a little less of the cream/milk mixture.

Transfer the puree to a serving dish and top with more melted butter and chives, if desired. Serve and enjoy!
Nutrition (ESTIMATE ONLY)
Nutrition Facts
Celeriac Puree (Celery Root Puree)
Amount per Serving
% Daily Value*
* Percent Daily Values are based on a 2000 calorie diet.
Based on 1 serving.
Nutrition information provided is an estimate only.
Nutrition estimate (if provided) is based on 1 Serving.
Nutrition information (if provided) is provided as a courtesy and should be considered an estimate only. Ingredients can vary and Girl Heart Food makes no guarantees to the accuracy of this information. It should not be considered a substitute for a professional nutritionist's advice.
A note on times provided: appliances vary, any prep and/or cook times provided are guidelines only.
Tried this recipe?
If you do make this recipe, thank you!! It would mean so much if you could leave a comment below. Love to know how you enjoyed it, and it helps other readers too!