Jam-packed with berries these easy blueberry muffins with yogurt are fluffy and delicious! They are topped with an orange pecan crumble for added oomph, texture and flavour. Such a great way to start your morning with a cup of tea or coffee!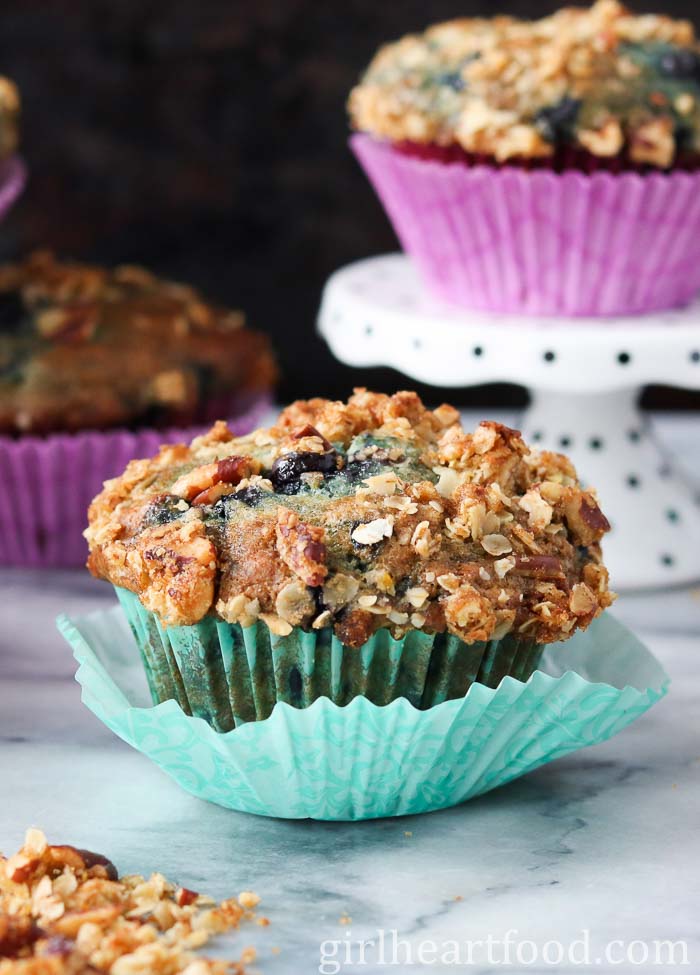 It's the season for blueberry recipes (yay!), like blueberry bread pudding, blueberry donuts and moist blueberry muffins.
These blueberry muffins with crumb topping are not your average muffin, that's for sure! They have local Newfoundland berries in 'em, which kinda makes them inherently awesome!
I may be a little biased, but blueberries grown in Newfoundland are some of the best blueberries found anywhere! They are so sweet and concentrated in blueberry flavour.
Around late summer or early fall, people typically go berry picking in Newfoundland. They are grown wild and you can fill buckets and buckets with these little gems.
I recently got a bunch and couldn't wait to bake with them. They are so much tinier than any mass-produced ones you may find in the grocery store, but they make up for in their amazing flavour. Of course, any blueberry would work great in this recipe, just pick up the best you can find!
Frozen Versus Fresh Berries
Either frozen or fresh berries work in these blueberry muffins.
If using frozen blueberries, there's no need to thaw (or at least fully thaw) before using.
Frozen berries are more delicate than fresh when they are thawed and may bleed into the muffin batter if they are allowed to fully thaw.
How Do I Stop Blueberries From Sinking?
Ever have a muffin or loaf only to find the beautiful berries have sunken to the bottom of the batter? There's a fix for that!

Toss frozen (or just partially thawed) berries with a little flour (about a couple of tablespoons). This will help suspend them in the flour.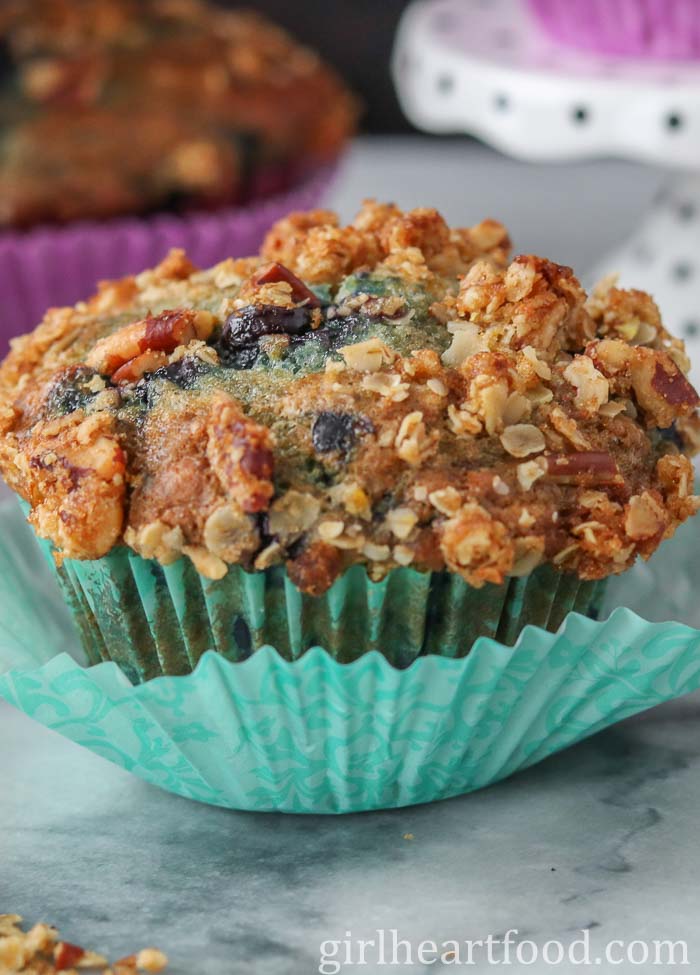 Tips to Make These Blueberry Muffins
The muffin crumb topping is completely optional or, for an easier topping, try a sprinkling of oats.
If you omit the crumb topping, try a little lemon or orange zest in the batter of the muffins.
More Yummy Blueberry Recipes
If you make this easy blueberry muffin recipe, be sure to leave a comment below!
This recipe for blueberry muffins was originally published in October 2015 but has been updated.
Blueberry Muffins
Jam packed with berries these easy blueberry muffins with yogurt are fluffy and delicious! They are topped with an orange pecan crumble for added oomph, texture and flavour. Such a great way to start your morning with a cup of tea or coffee!
Ingredients
Blueberry Muffins
Cooking spray

,

for greasing liners

2

cups

all-purpose flour

,

plus 2 to 3 tablespoons to sprinkle over berries

2

teaspoons

baking powder

1

teaspoon

baking soda

½

teaspoon

salt

2

cups

frozen or fresh blueberries

,

plus a few for the top of each muffin

¾

cup

granulated sugar

½

cup

unsalted butter

1

teaspoon

pure vanilla extract

½

cup

plain Greek yogurt

2

large

eggs
Orange Pecan Crumble
½

cup

quick oats

1

tablespoon

orange zest

,

about 2 oranges

¼

cup

pecans

,

roughly chopped

2

tablespoons

brown sugar

2

tablespoons

cold unsalted butter

,

cubed

pinch

salt
Instructions
Blueberry Muffins
Preheat oven to 400 degrees Fahrenheit. Place muffin liners in a 12-count muffin pan and spray with cooking spray. Set aside.

In a bowl, whisk together the flour, baking powder, baking soda, and salt. Set aside.

Place blueberries in a small bowl and sprinkle with 2 to 3 tablespoons of flour, stirring gently to coat. Set aside.

In the bowl of a stand mixer fitted with a paddle attachment (or using a mixing bowl and a hand mixer), blend (on medium-high speed) sugar and butter for about 2 to 3 minutes or until fluffy. Add vanilla extract and Greek yogurt and blend until combined.

Reduce speed and add eggs, one at a time, blending for about 30 seconds after each egg is added.

Add reserved flour mixture, blending until just incorporated and there are no visible streaks of flour remaining.

Using a spoon or spatula (not the paddle of your stand mixer), very gently stir in the blueberries so they don't break too much. 

Using a standard round ice cream scoop, divide the batter evenly among muffin liners. Top each with a few reserved blueberries (optional). Then, top with orange pecan crumble.

Bake on middle rack for 18 to 20 minutes or until a wooden toothpick or cake tester inserted in the centre of the muffins comes out clean.

Let muffins cool in the pan for about 10 minutes before removing and allowing to further cool on a cooling rack. Enjoy!
Orange Pecan Crumble
In a bowl, stir together the oats, orange zest, pecans and brown sugar. Using a pastry cutter or two knives, cut the butter into the oat mixture until there are crumbly, buttery bits.
A note on times provided: appliances vary, any prep and/or cook times provided are estimates only.
© Girl Heart Food Inc. Photographs and content are copyright protected.
Tried this recipe?
If you do make this recipe, thank you!! It would mean so much if you could leave a comment below. Love to know how you enjoyed it, and it helps other readers too!