This vegetable korma recipe is absolutely loaded with veggies like zucchini, bell pepper, cauliflower, carrot and onion. Everything is cooked in a flavourful curry cream sauce and there are cashews for extra flavour and texture. Forget takeaway and make this deliciousness at home!
Hi friends! What's up? So, we had quite the wind storm around here this past weekend. It was super windy with power outages.
It was unfortunate, too, because our city was hosting the Canadian men's curling championship so I'm sure there were lots of visitors to our province.
So, mother nature, where's spring? I'm done with all this awful weather. What was it like in your neck of the woods?
Anyways, onwards and upwards. Let's talk food. My favourite topic! And I have a super flavourful one for you today; it's an easy veggie korma recipe!
What Is Korma?
Korma is a popular curry dish originating from India. There's usually vegetables (and sometimes, but not always, a protein, like chicken), along with a spiced sauce made with yogurt, cream and/or broth.
What Makes This Vegetable Korma So Delicious?
There's a local Indian restaurant around here that has a vegetable curry with veggies, similar to this recipe. When we have ordered the dish in the past, while it's always tasty, sometimes the sauce to veggie ratio is off, ya know?
While I do love that sauce (because it's super creamy), I also want substance, meaning lots of veggies. I started making my own and it's delicious! Plus, you know that homemade is always best.
So, what makes homemade veggie korma so great?
It's made in one pot.
There's loads of colourful veggies.
It's easily customizable! For instance, add more of a particular vegetable and less of another (if that's what you like) and you can make it as spicy as you prefer.
No need to go out for dinner! Stay home in your cozy clothes and make this!
It tastes amazing!
I could seriously eat this veggie korma every week. I've made so many times and it's always a favourite.
Ingredients Needed
Coconut oil
A bunch of veggies, such as onion, bell pepper, carrot, potato, zucchini and cauliflower
Aromatics like onion, garlic and ginger (as well as seasonings)
Curry powder
Cream or coconut milk
Cashews
Broth
Can I Make This Dairy Free?
Yes, absolutely! Just use full-fat coconut milk instead of heavy cream.
How To Thicken Curry Sauce
Curries shouldn't be too thick, nor too thin. You want a little lusciousness, especially for coating all those beautiful vegetables and soaking up rice or dipping naan.
If you want your vegetable korma to be even thicker, here are some things you can do:
Add in some plain Greek or full fat yogurt.
Use a cornstarch slurry (stir together equal parts cornstarch and cold water) and pour into the curry during the last couple of minutes of cook time. Start with about ½ tablespoon of cornstarch and ½ tablespoon of water (as a little goes a long way). You can always add more after, if you like.
Reduce the sauce some more. Don't reduce too much or you may make your veggies too soft (unless you really enjoy that).
How To Thin Curry Sauce
Conversely, if your veg curry is too thick (or you want more of that rich korma sauce), simply add a little more cream, veggie broth or even a splash of water.
Tips for Making This Recipe
Prep in advance! Everything happens relatively fast when you are cooking it so I would suggest having all your veggies cut and ready to go so that everything moves along swiftly.
If you enjoy more of one veggie than another, that's perfectly fine! Just add more of what you like and reduce another veggie by the same amount.
Like things more spicy? Add a little more chili. And if you like less, add less or omit altogether!
Once all of this was cooked, I garnished with a bunch of cilantro, but if you aren't a fan, feel free to leave out or use parsley if you want that extra colour (or even some chopped green onion).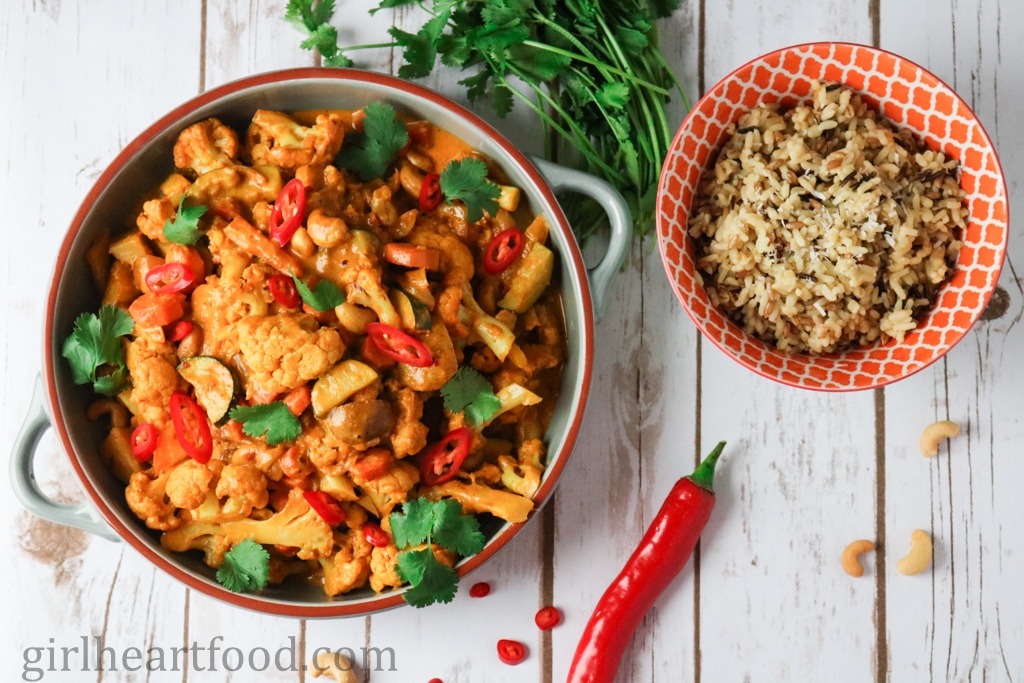 What To Serve With Korma
Rice or quinoa
Cauliflower mash
Naan
Lemon
More Recipes You May Enjoy
If you make this easy vegetable korma recipe, be sure to leave a comment below!
This recipe was originally published March 13, 2017 but has been updated.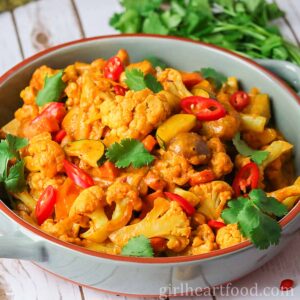 Vegetable Korma
This vegetable korma recipe is absolutely loaded with veggies like zucchini, bell pepper, cauliflower, carrot and onion. Everything is cooked in a flavourful curry cream sauce and there are cashews for extra flavour and texture. Forget takeaway and make this deliciousness at home!
Ingredients
1

tablespoon

coconut oil

,

or vegetable oil

1

yellow onion

,

peeled and sliced

3

cloves

garlic

,

minced

1

tablespoon

minced fresh ginger

1

red Thai chili pepper

,

minced (or to taste)

½

teaspoon

crushed red pepper flakes

,

optional

1

cup

baby potatoes

,

halved or quartered (depending on size)

2

carrots

,

peeled and chopped into ¼-inch chunks

2

tablespoons

tomato paste

1

tablespoon

curry powder

1.5

cups

low sodium vegetable broth

3

cups

cauliflower florets

½

bell pepper

,

sliced into strips (colour of your choice)

1

cup

heavy cream (whipping cream)

1.25

teaspoons

salt

½

teaspoon

freshly ground black pepper

¾

cup

unsalted roasted cashews

1

zucchini

,

sliced into ½-inch rounds and then rounds cut in half

Chopped fresh cilantro

,

garnish to taste (optional)

Sliced fresh chili pepper

,

garnish to taste (optional)
Instructions
Heat coconut oil in an enameled cast-iron Dutch oven over medium-low heat.

Add onion and cook, stirring often, until softened, about 5 minutes.

To onion, add garlic, ginger, chili pepper, crushed red pepper flakes (if using), potatoes and carrots. Cook for 2 minutes, stirring every so often.

Push onion mixture to one side of the pot and add tomato paste and cook for 1 minute. Stir to combine everything.

Add curry powder and vegetable broth and cook an additional 12 to 15 minutes (uncovered) until potatoes and carrots are tender and broth is roughly reduced by half.

Add cauliflower, bell peppers, heavy cream, salt, black pepper and cashews. Stir. Cover and simmer on a medium-low heat for 10 minutes.

Stir in zucchini and cook for 5 minutes more.

Garnish with cilantro and additional chili pepper (if desired). Serve and enjoy!
A note on times provided: appliances vary, any prep and/or cook times provided are estimates only.
© Girl Heart Food Inc. Photographs and content are copyright protected.
Tried this recipe?
If you do make this recipe, thank you!! It would mean so much if you could leave a comment below. Love to know how you enjoyed it, and it helps other readers too!