Knock-ya-socks-off-good, this Pork Schnitzel recipe requires minimal prep and takes minutes to cook. Pounded out pork loin chops are coated with panko bread crumbs and fried in a cast iron pan until golden brown. Serve with a fresh lemon wedge and you have one delicious dinner!
I was elated when friends and fellow bloggers, Milena and Chris, from Craft Beering asked me if I wanted to partake in an Oktoberfest round up they were hosting. Of course I said yes! There are 12 of us participating, which means 12 delicious recipes!
Oktoberfest is a traditional festival held in Germany around this time of year with lots of beer and good times; this year it runs from September 16th – October 3rd so there's lots of time to celebrate! My contribution is this delicious Pork Schnitzel. I was originally thinking that I would make a sandwich with the pork schnitzel. However, honestly, when I saw how yummy these looked 'naked' I just had to leave as is. Why mess with a good thing?
What is Schnitzel?
Schnitzel is meat that is pounded thin with a tenderizer or mallet (or something of the sort) and then coated with flour, eggs and a bread crumb mixture. It's then fried until golden brown. Because the meat is on the thinner side, it cooks rather quickly so it makes for a delicious and easy weekday dinner.
What Type of Meat for Schnitzel? How to Make Pork Schnitzel?
There are various types of protein that can be used for schnitzel, but today we're making an easy pork schnitzel recipe for Oktoberfest! However, chicken would work lovely here too if you want to branch out and try chicken schnitzel.
I have to admit, it was quite therapeutic using that mallet on those pork loin chops. When I've flattened protein in the past, I've used a rolling pin (which does work too), but that mallet did the trick so much better.
Other than getting those frustrations out (so much better than yoga, lol), get your dredging station ready and it's no more to it than that.
Basically, all you do is –
Get your dredging station ready (i.e. flour, panko and eggs)
Cover pork with plastic food wrap and flatten
Dredge pork in flour, egg and panko
Fry until golden brown and cooked through
Tips for Making this Traditional Pork Schnitzel Recipe
This recipe goes super fast! I would suggest getting all your prep work done, laid out and ready to go.
You want the pork schnitzel on the thinner side, about ¼ inch think so they brown up and cook through quickly.
Obviously, I just had to use my cast iron pan for this one. Don't have the heat too high. Medium is the way to go. You want to crisp up those panko bread crumbs and make 'em buttery and golden, but not burn 'em, which can easily happen if your pan is too hot.
Speaking of oil, what type of oil to use of pork schnitzel? Use something neutral with a decent smoke point, like grapeseed or vegetable oil.
Place cooked pork schnitzel on brown paper towels to remove any excess grease while you are continuing with your batches.
What to Serve with Pork Schnitzel
Potato salad
Potatoes with some parsley and butter
Lemon
Sauerkraut
Simple green salad
Spaetzle (type of pasta)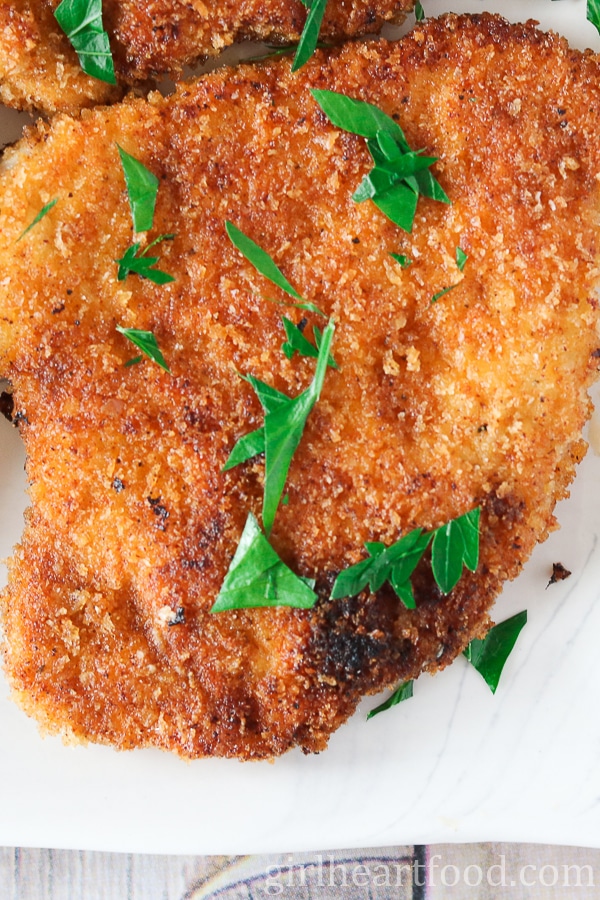 How to Garnish
I roughly chopped some parsley for colour and freshness and sprinkled on. There's absolutely nothing fancy here, folks – just good, comfort food eats.
A little squeeze of lemon is always a good idea too!
I recommend serving these pork schnitzel immediately but, honestly, why would you wait?
Cheers, my friends…..or as they say in German – Prost
More Recipes for Oktoberfest
Don't forget to check out these other delicious Oktoberfest recipes; your belly will be happy you did 😉 All the delicious links are below and there's everything from savoury to sweet recipes!
Craft Beering – Schweinshaxe (Bavarian Roasted Pork Knuckle)
Itsy Bisty Kitchen – Bee Sting Cake
Tasty Ever After – (Kartoffelsuppe) German Potato Soup
Beer Girl Cooks – Beer Mustard Crusted Pork Loin
Sugar Love Spices – Porchetta Panini
Seasons & Suppers – German Beef Rouladen
The Bearded Hiker – Sauerbraten
Kelly Lynn's Sweets & Treats – German Chocolate Cake Cookies
Leeks and High Heels – Beef with Beet Puree and Purple Cauliflower
The Home Cook's Kitchen – Cheese and Cherry Strudel
What Should I Make For – Bavarian Soft Pretzels
Traditional Pork Schnitzel Recipe
Knock-ya-socks-off-good, this Pork Schnitzel requires minimal prep and takes minutes to cook. Pounded out pork loin chops are coated with panko bread crumbs and fried in a cast iron pan until golden brown. Serve with a fresh lemon wedge and you have one delicious dinner!
Ingredients
4

boneless pork loin chops

-approximately 4 ounces each

⅓

cup

all-purpose flour

-approximatly

1

cup

panko bread crumbs

1

egg

-approximately. I used large

1.25

tsp

salt

-divided

1.25

tsp

black pepper

-divided

1

tsp

onion powder

1

tsp

garlic powder

1

tsp

paprika

¼

tsp

cayenne pepper

4

tbsp

grapeseed oil

-divided or veg oil

1

lemon

-cut int wedges (4)

2

tbsp

fresh parsley

-roughly chopped
Instructions
Place two pork chops at a time, side to side, on top of a heavy duty board covered with plastic wrap. Place two layers of plastic food wrap on top. Using a mallet, pound chops to roughly ¼ inch thickness. Sprinkle ¼ tsp each of salt and pepper among the 4 pork chops.

Crack egg in a bowl and whisk to mix up. On a plate add flour, ½ tsp of salt and ¼ tsp of black pepper. Stir to combine. On another plate add panko bread crumbs, ½ tsp of salt, ¼ tsp of black pepper, onion powder, garlic powder, paprika, and cayenne pepper. Stir to combine.

Dip each pork chop in flour, shaking excess. Then, dip in egg, shaking excess. Then dip in panko, pressing down to coat both sides.

Heat 2 tbsp. of oil In a 12-inch cast-iron pan on medium heat.

Add two pork chops and cook 3 minutes per side or until cooked through. Remove and lay to one side and continue with remaining 2 pork chops (add remaining 2 tbsp. of oil before placing last two chops in pan).

Note: Cook time may vary, depending on the thickness of your pork chops.

Garnish with parley and fresh lemon. Enjoy!
Nutrition (ESTIMATE ONLY)
Calories:
461
kcal
Carbohydrates:
23
g
Protein:
34
g
Fat:
25
g
Saturated Fat:
5
g
Cholesterol:
130
mg
Sodium:
919
mg
Potassium:
625
mg
Fiber:
2
g
Sugar:
1
g
Vitamin A:
550
IU
Vitamin C:
16.8
mg
Calcium:
55
mg
Iron:
2.5
mg
Nutrition estimate (if provided) is based on 1 serving.
Nutrition information (if provided) is provided as a courtesy and should be considered an estimate only. Ingredients can vary and Girl Heart Food makes no guarantees to the accuracy of this information. It should not be considered a substitute for a professional nutritionist's advice.
A note on times provided: appliances vary, any prep and/or cook times provided are guidelines only.