These Reese's Pieces cookies with chocolate chips and oatmeal are almost too easy to whip up. They're bursting with peanut butter and chocolatey goodness. All you need is a tall, cold glass of milk for dunking!
I'm in a funny mood today (pretty much 99% of the time, actually). I made these Reese's cookies out of necessity.
Necessity?
Yes, it was necessary.
You see, I do the same thing every year.
I buy the dang Halloween candy bars, like, in September and absolutely devour the box the first weekend it's in the house. Every year it's the same. I think to myself that I'm not going to eat the candy.
What do I do?
Eat all the candy. Okay, not all, but a good chunk of it.
After hiding my shame or, um, throwing away the candy wrappers the next day, I decided to make cookies (because what better than a night of stuffing my pie hole with candy, than making a batch of candy and chocolate-filled cookies, LOL).
Least there will be some candy left for the kids. Okay, I really have to buy more, but whatever.
In the event that you do have leftover Halloween candy, these Reese's Pieces cookies would be a great way to use it up!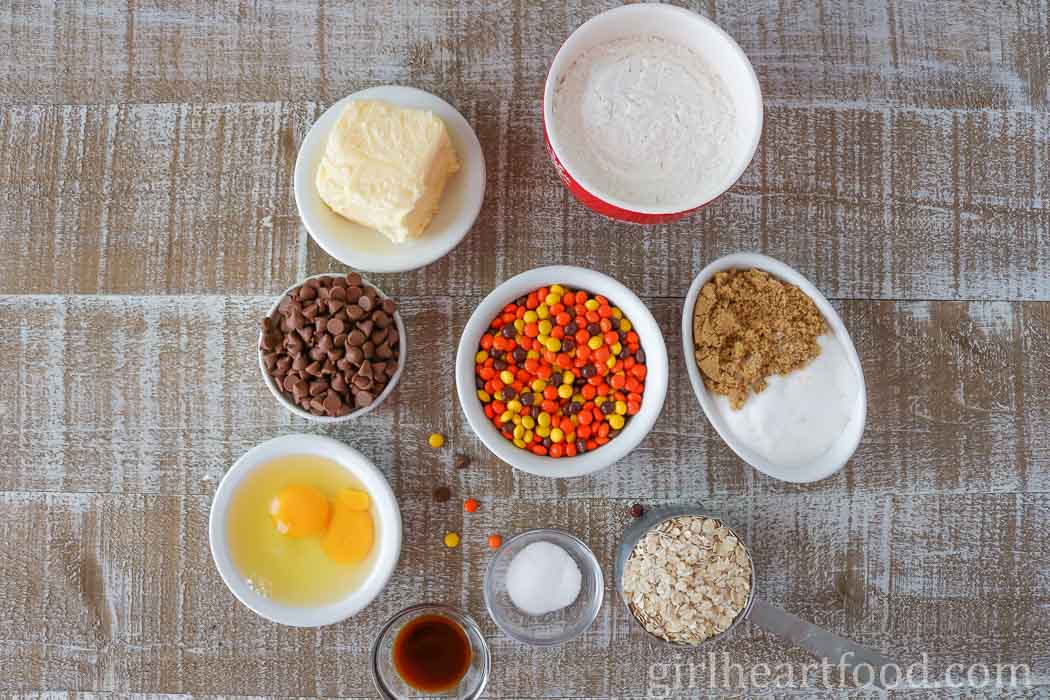 Those candy are like little bites of heaven!
Oh, and chocolate ain't so bad either. Then, there's oats. Just thought I'd throw those in their for the, um, healthy factor. Just roll with it.
This Reese's cookies come together in less than 10 minutes and there's only about 14 minutes bake time.
That's less than 20 minutes to peanut buttery, chocolate-loaded goodness.
Dare I say better than candy bars?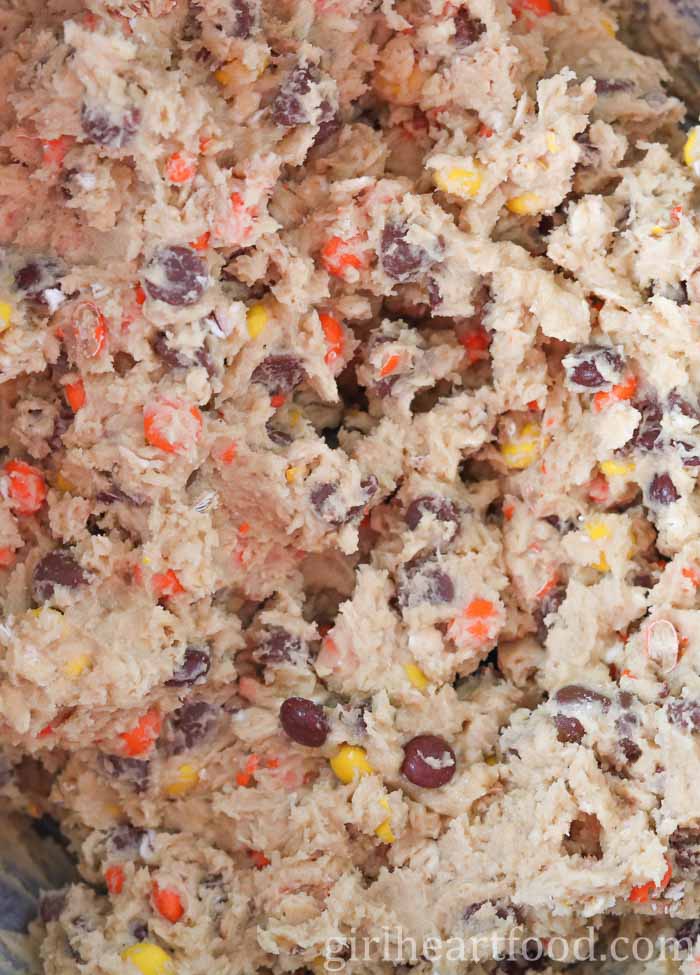 You want a generous scoopful of batter for each cookie, place on a parchment paper-lined cookie sheet and bake.
I could tell you in further detail what makes these cookies delicious, like:
the buttery texture
creamy milk chocolate chips
super peanut buttery Reese's candy
But you should just make them for yourself!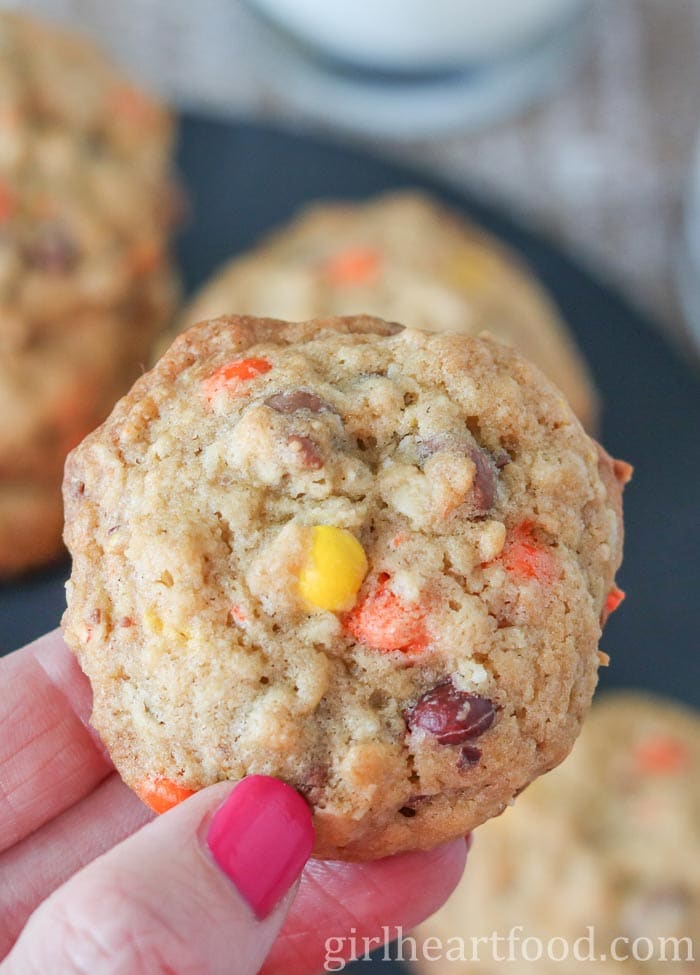 More Easy Peanut Butter Treats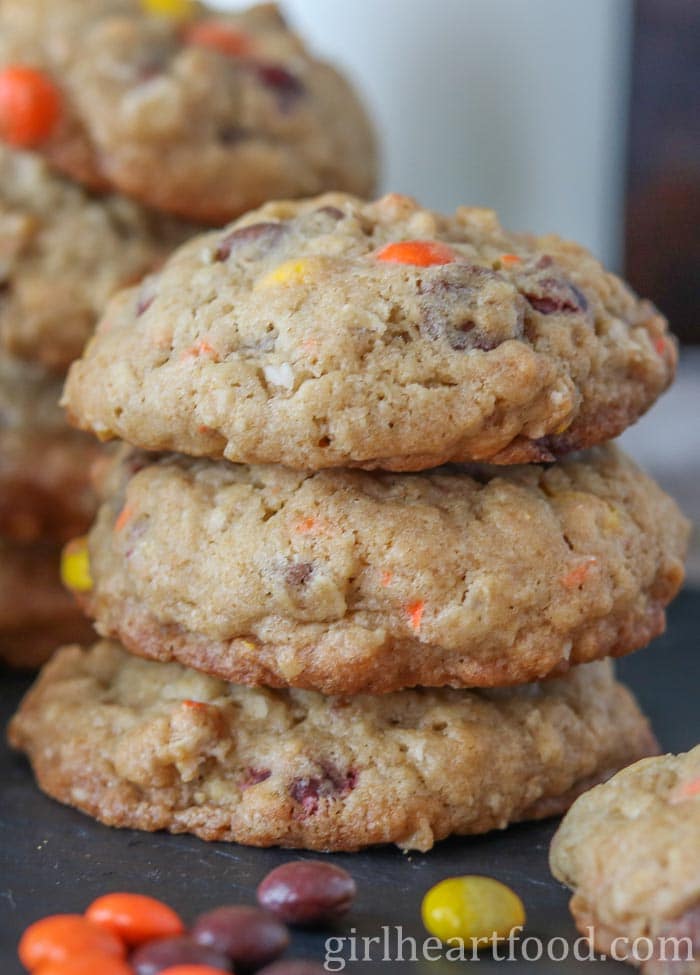 Final (silly) thoughts … the way I look at it, is that candy and cookies help keep me fit. Without them, would I work out? I think not! So, it's necessary that I make these cookies. Good argument, huh? Oh, the little lies we tell ourselves, LOL.
If you make these Reese's Pieces cookies, be sure to leave a comment below!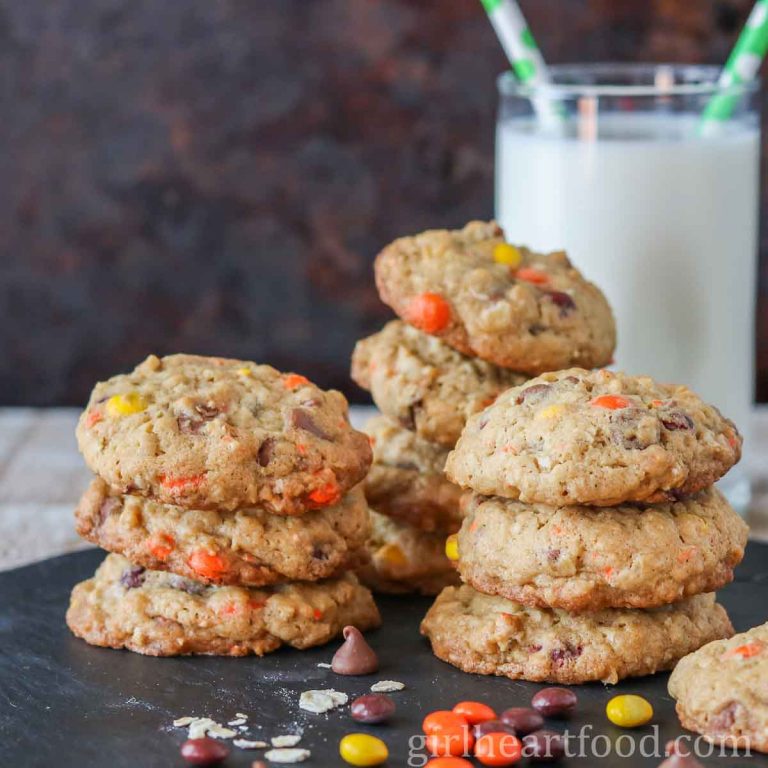 Reese's Pieces Cookies
These Reese's Pieces cookies with chocolate chips and oatmeal are (almost) too easy to whip up. They're bursting with peanut butter and chocolatey goodness. All you need is a tall, cold glass of milk for dunking!
Ingredients
2

cups

all-purpose flour

1

cup

large flake oats

1

teaspoon

baking powder

½

teaspoon

salt

1

cup

unsalted butter

,

softened

½

cup

brown sugar

,

packed

½

cup

granulated sugar

2

large

eggs

2

teaspoons

vanilla extract

1

cup

Reese's Pieces Peanut Butter Candy

,

small or regular variety

1

cup

milk chocolate chips
Instructions
Preheat oven to 350 degrees Fahrenheit. Line a cookie sheet with parchment paper and set aside.

Meanwhile, in a large bowl, whisk together the flour, oats, baking powder and salt. Set aside.

In the bowl of a stand mixer fitted with a paddle attachment (or in a bowl with a hand mixer), blend butter with both sugars until smooth and fluffy (stopping to scrape the sides of the bowl with a rubber spatula, as necessary), about 2 minutes.

Add vanilla extract and blend to combine, about 30 seconds.

Add eggs, one at a time, and blend until combined, about 1 minute.

Pour reserved flour mixture into butter mixture and blend until combined, 1 to 2 minutes. Add candy and chocolate chips and blend about 1 minute.

To make cookies, place about 1 tablespoon scoopfuls of cookie dough, about 2 inches apart (you may have to to two batches, depending on the size of your cookie sheet) onto prepared cookie sheet.

Bake 12 to 14 minutes. Once done, carefully remove the cookies from the oven and transfer them to a cooling rack to cool for about 10 minutes. Serve and enjoy!
Nutrition estimate (if provided) is based on 1 Serving.
Nutrition information (if provided) is provided as a courtesy and should be considered an estimate only. Ingredients can vary and Girl Heart Food makes no guarantees to the accuracy of this information. It should not be considered a substitute for a professional nutritionist's advice.
A note on times provided: appliances vary, any prep and/or cook times provided are estimates only.
Tried this recipe?
If you do make this recipe, thank you!! It would mean so much if you could leave a comment below. Love to know how you enjoyed it, and it helps other readers too!