Looking for that perfect date night meal? Try this leek risotto with goat cheese! This comforting and delicious vegetarian risotto recipe comes together in about 30 minutes with minimal ingredients. No need to go out for dinner; enjoy a restaurant favourite in your own kitchen!
Hi friends!
Risotto is one of my absolute fave things to make!
I love the whole process of making risotto.
How ya gotta stick with it.
How creamy dreamy it gets.
And how delicious it tastes.
Traditionally, risotto is made with Parmesan cheese (like this mushroom risotto).
Today though? I'm sharing this creamy risotto with goat cheese!
Ingredients for Leek Risotto
Arborio rice
Vegetable broth
Wine (use something you enjoy drinking)
Butter
Olive oil
Leek
Garlic
Salt, pepper, and Herbes de Provence
Goat cheese
What Type of Rice Should I Use? Do I Need To Rinse?
Arborio rice is a popular choice for risotto. It's a short grain rice and it's readily available.
You can find it in your supermarket usually where you would find rice or pasta (it usually comes in vacuum sealed packages).
Arborio rice is super starchy, which is why risotto is so creamy dreamy delicious!
And don't rinse it! Normally when one would prepare rice, you'd give it a little rinse under cold water to remove that excess starch. Don't do that here!
How to Make Risotto
Full details on how to make this leek risotto are in the recipe card below, but here are the basics:
Firstly, add broth to a saucepan and place over low heat to keep warm.
Meanwhile, add butter and oil to a pan. Once butter is melted, add sliced leek, minced garlic, salt, and pepper. Cook until the leek is tender and remove for use later.
Add a little more oil to the pan and stir in rice and 'toast'. Tip: We are not actually browning the rice here, just warming for a couple of minutes.
Add wine and stir. Cook until absorbed.
Pour in broth, about a ladle or so at a time. Stir after each addition of broth. Simmer/cook, stirring occasionally and add more broth as it's almost evaporated. Continue this process. Tip: You want a medium simmer (not too low and not roaring). Stir occasionally.
When rice is almost done (at about the 15 minute mark of cooking the rice), add leek mixture back to the pan, along with remaining salt, pepper and Herbes de Provence. Continue cooking rice a little longer until it's rich, creamy, and rice is 'al dente'.
Once you've reached your desired consistency, off heat stir in butter.
Then, stir in goat cheese. Mix well to incorporate.
Risotto is made! Serve and enjoy this delicious leek risotto immediately!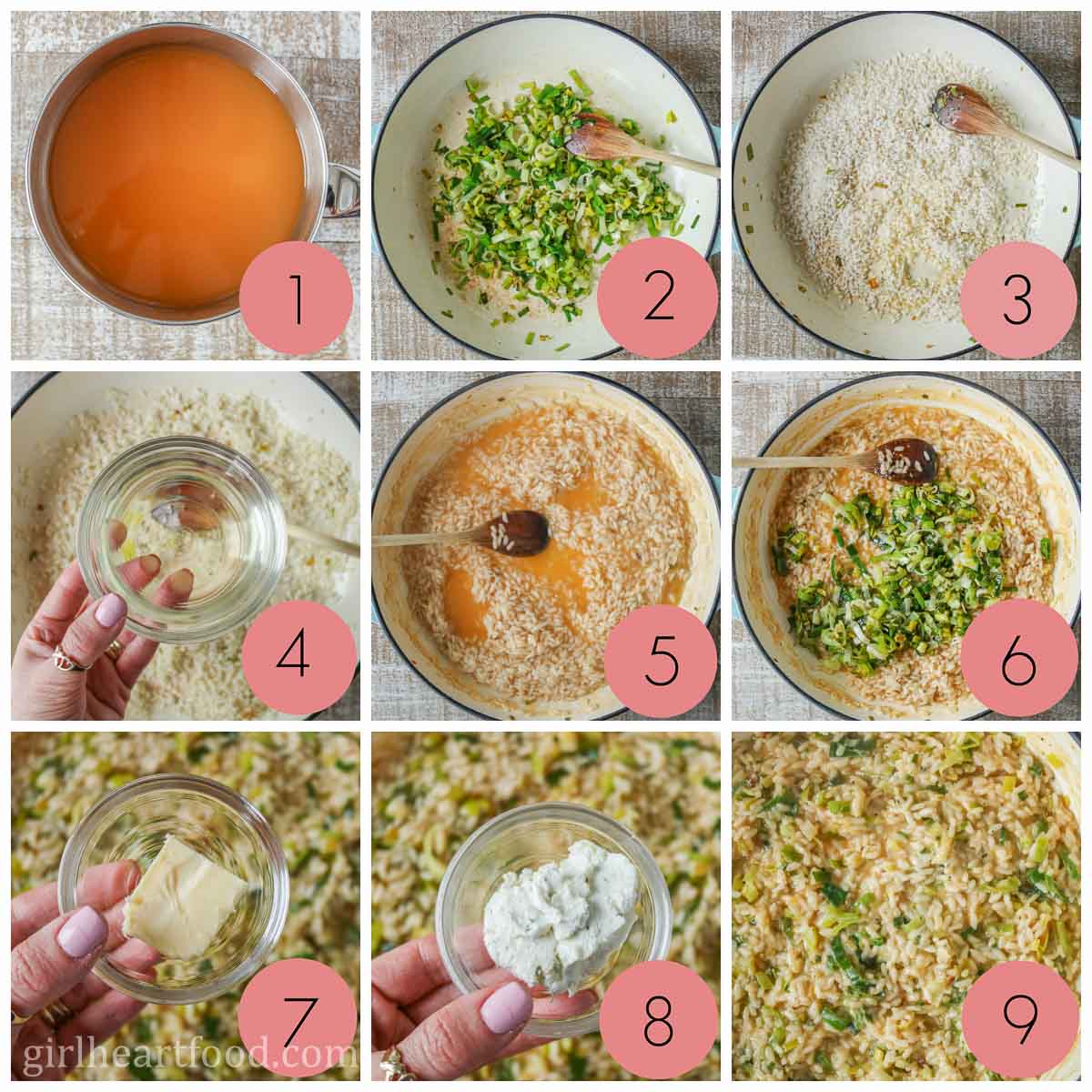 Hungry for more? Subscribe to the Girl Heart Food Newsletter!
Add Some Flavour!
Garnish is always a good idea with whatever you are making. It not only adds visual interest, but can add another element of texture, colour, and flavour.
Upon serving, this leek risotto is lovely with any of these flavour boosters:
Sprinkling of lemon zest
Freshly chopped parsley
Finely minced chives
Thinly sliced green onion or
Toasted pine nuts
How Do I Know When Risotto is Done?
Though this is a pretty easy recipe, it is a labour of love.
You don't put risotto on and leave it. You stay with it.
And, if you're like me, you sip wine whilst doing so!
The key here is to add the broth in increments. Slowly add broth, stir, and simmer until it's almost absorbed before adding more.
What you are doing here is encouraging the starches to release from the arborio rice. We aren't boiling rice here.
Once the rice is added, the whole process can take anywhere from 20 to 30 minutes and you may not use every last drop of broth.
Use visual & taste cues when making risotto.
So, what should ya look for?
The rice should be plump, but still have a slight bite. You definitely don't want the rice to be mushy, but you don't want it raw either. Think like when you are making pasta — ya know, an 'al dente' consistency.
The consistency is creamy and will be even more so once the final dab of butter and goat cheese is added.
Ok, tell me you don't want to dive into that pan right now!
More Recipe Tips
Prep everything before starting! Everything moves along quickly once you start so have everything ready to go.
I used a herb/chive goat cheese to really amp up the flavour, but you could totally use regular if that's what you have on hand or prefer.
Unsalted vegetable broth was used, but you can opt for plain ol' water. You will be missing out on delicious flavour, though! Having said that, if you don't have 4 to 5 cups of veggie broth on hand, you can dilute the broth with a little water.
Speaking of broth, I used an 'unsalted' variety. If you use a regular or even a 'low sodium' variety, you may want to adjust your seasoning accordingly.
Don't skip keeping the broth warm. Why? If you add cold broth to hot rice, you'll immediately bring the temperature down and slow down the whole cooking process.
Herbes de Provence was used (basically, a mixture of herbs, which could include basil, marjoram, oregano, rosemary, sage, tarragon, thyme and sometimes others). You could use another herb, if you prefer, or a combo of what you have on hand. Sage and thyme work lovely with leek.
Don't serve your perfectly cooked risotto in cold bowls. Warm 'em up a little! This is a great tip to warm bowls.
Speaking of serving, enjoy immediately!! Risotto can lose its lushness as it sits. Don't fret if it does! Add a little more warm broth to loosen.
More Easy Recipes for Two
Hope you love this simple risotto recipe as much as we do!
And, if you happen to eat this one straight out of the pan, I ain't gonna judge.
If you try this leek risotto with goat cheese, be sure to leave a comment below. Love to know how you enjoyed!
Let's Be Social!
Follow Girl Heart Food on Facebook, Instagram, Pinterest and Twitter for all the latest delicious eats! Oh, and don't forget to subscribe to our newsletter!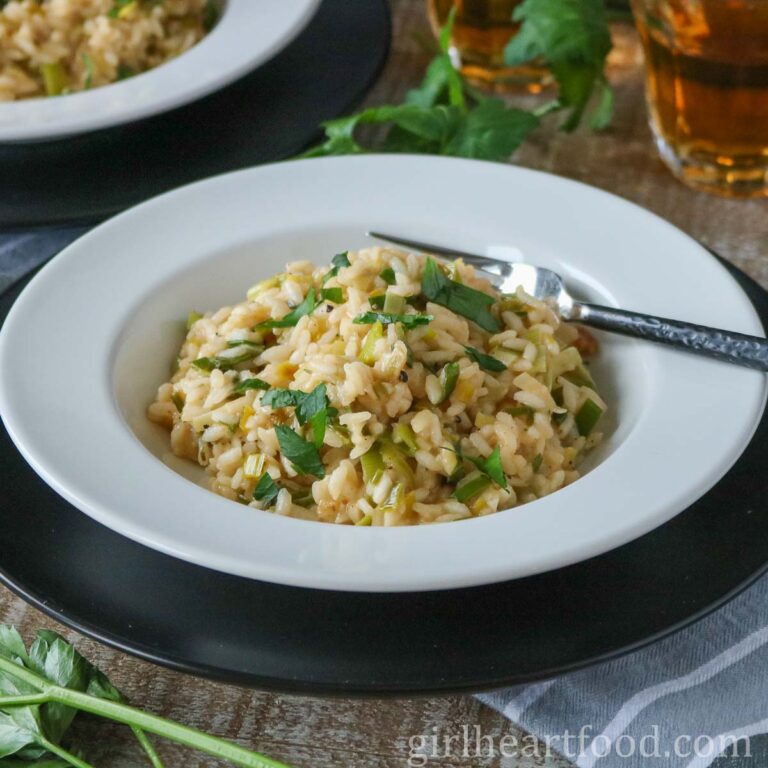 Leek Risotto with Goat Cheese (date night meal)
Looking for that perfect date night meal? Try this leek risotto with goat cheese! This comforting and delicious vegetarian risotto recipe comes together in about 30 minutes with minimal ingredients. No need to go out for dinner; enjoy a restaurant favourite in your own kitchen!
Ingredients
4.5 to 5

cups

unsalted vegetable broth

2

tablespoons

butter

, divided

1.5

tablespoons

olive oil

, divided

1

large

leek

, cut in half and sliced thinly into half moons (about 2 cups). Rinse well and drain before using.

2

cloves

garlic

, minced

1

teaspoon

salt

, divided

½

teaspoon

black pepper

, divided

1

cup

arborio rice

½

cup

white wine

½

teaspoon

Herbes de Provence

(or thyme or sage)

1

tablespoon

herb or chive goat cheese (or regular)

('heaping' tablespoon)
Garnish Ideas (optional)
Fresh parsley

, roughly chopped

Green onion

, sliced thinly

Chives

, minced

Toasted pine nuts

Lemon zest
Instructions
Pour broth into a saucepan over low heat to warm through.

Meanwhile, in a pan (about a 12-inch pan, about 2.5 to 3 inches deep) over medium heat, add 1 tablespoon of butter and add 1 tablespoon olive oil.

Once butter is melted, add leeks and garlic. Season with ¼ teaspoon each of salt and pepper. Cook, stirring often, for about 5 to 8 minutes or until leeks have softened. Transfer the leek/garlic mixture to a plate and set aside.

Add remaining ½ tablespoon of olive oil to pan and stir in rice. Cook 1 to 2 minutes, stirring to coat rice in the oil. Do not brown rice.

Pour in wine and stir. Cook 2 to 3 minutes, stirring occasionally, or until wine has evaporated

About a ladle and a half at a time (about ½ cups or so), add broth to rice, stirring after each addition. You don't want the heat too low, nor too high. A medium simmer is what you should be going for.

Note: You want to stir every so often, about every few minutes.

When broth has almost evaporated, continue adding more broth and stirring every so often until rice is tender and has released its starch.

After about 15 minutes (and when rice is almost done), return the leek/garlic mixture to the pan, and add remaining ¾ teaspoon of salt, ¼ teaspoon of black pepper, and herbes de provence. Stir.

Cook rice about 5 minutes or so more (adding broth, as necessary) until rice is cooked to about 'al dente' (not too mushy and not hard) and you've reached your desired consistency. Don't cook until all broth has evaporated. You want a bit of a looser consistency

Note: You may not use all of your broth here. It generally takes about 4.5 to 5 cups until the rice is cooked and the consistency is reached.

After about 20 to 25 minutes of cooking rice (and when it's cooked), turn off heat. Stir in remaining tablespoon of butter and goat cheese. Note: If you feel like you need to loosen (or thin) things, add a touch more broth and just heat through.

Serve immediately into warm bowls. Garnish (if desired) with parsley, green onion, chives, pine nuts and/or lemon zest. Enjoy! Yields two generous main course servings or 4 appetizer servings.
Nutrition estimate (if provided) is based on 1 Serving.
Nutrition information (if provided) is provided as a courtesy and should be considered an estimate only. Ingredients can vary and Girl Heart Food makes no guarantees to the accuracy of this information. It should not be considered a substitute for a professional nutritionist's advice.
A note on times provided: appliances vary, any prep and/or cook times provided are guidelines only.