This chocolate almond butter is a delicious twist on a basic almond butter recipe. It has a rich chocolate flavour and infused with flecks of unsweetened shredded coconut. Perfect for bread, fruit or just eating with a spoon!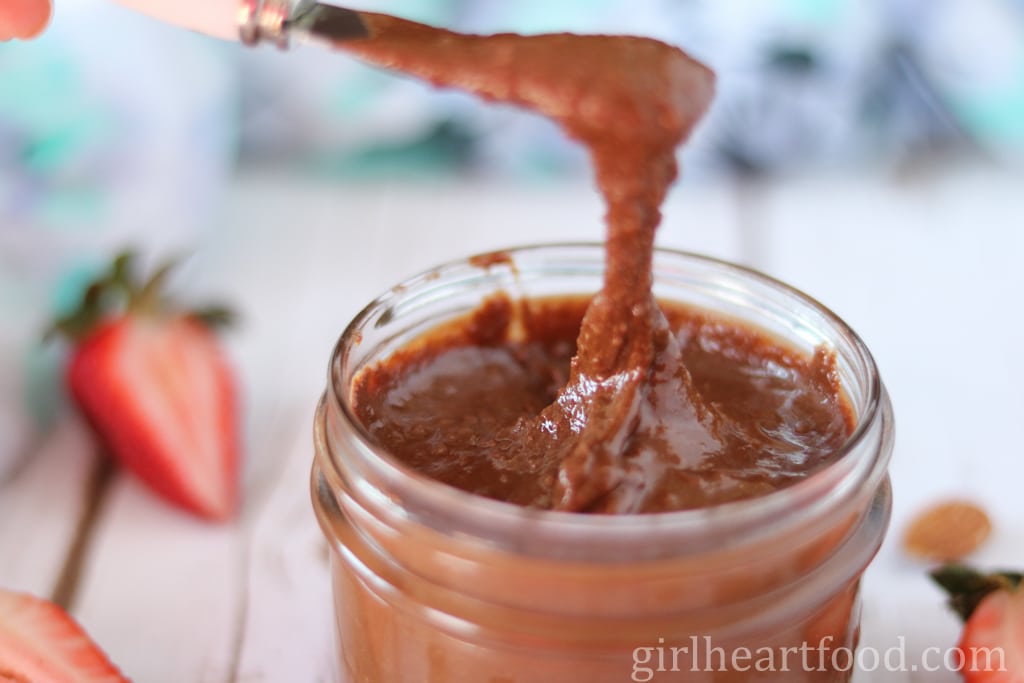 Hi friends! How are you? How was your weekend? The weather was super nice (sunny, not warm) around these parts so it was a great time to get some yard work done.
Guess what I read this past weekend? May is BBQ month! I'm usually always late to the party with these food days, holidays and months. How can I keep up with it all? Practically impossible, right?
We love to BBQ year-round though. In the colder months when hubby goes outside to grill, I stand inside and watch him and pretend to lock him out, LOL. What can I say? I love to tease. While I don't have a BBQ recipe for you today, I do have something delicious!
Because it's Monday, you need a little something to get you out of bed, kick you in the butt and get your day going, am I right? The waft of coffee sometimes just don't cut it. Temptations of chocolate covered anything? Yeah, that should do it. This is where my mind is at this morning. Well, pretty much any morning.
Remember a short while ago I made homemade roasted almond butter? I promised at that time I would deliver a twist on that recipe and here it is, chocolate almond butter (with coconut).
Once you get the base recipe down, throw in some chocolate, coconut and coconut oil and continue processing with your food processor. Almond butter with chocolate is so good and you'll want to make this one again and again!
How to Make this Chocolate Coconut Almond Butter
Basically, roast the almonds, cool, place in a food processor and process until you have a creamy consistency.
Once everything is creamy, add the remainder of your ingredients (salt, chocolate, coconut oil and shredded coconut).
Full details are in the recipe card below.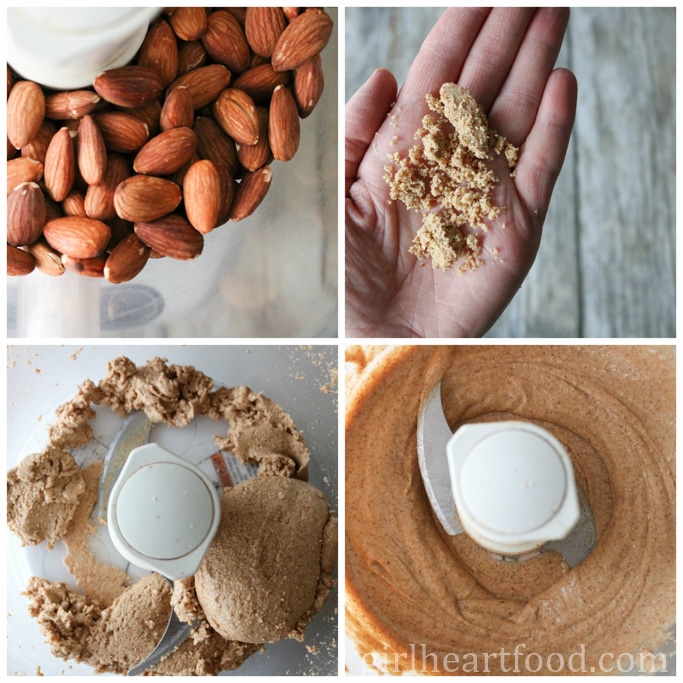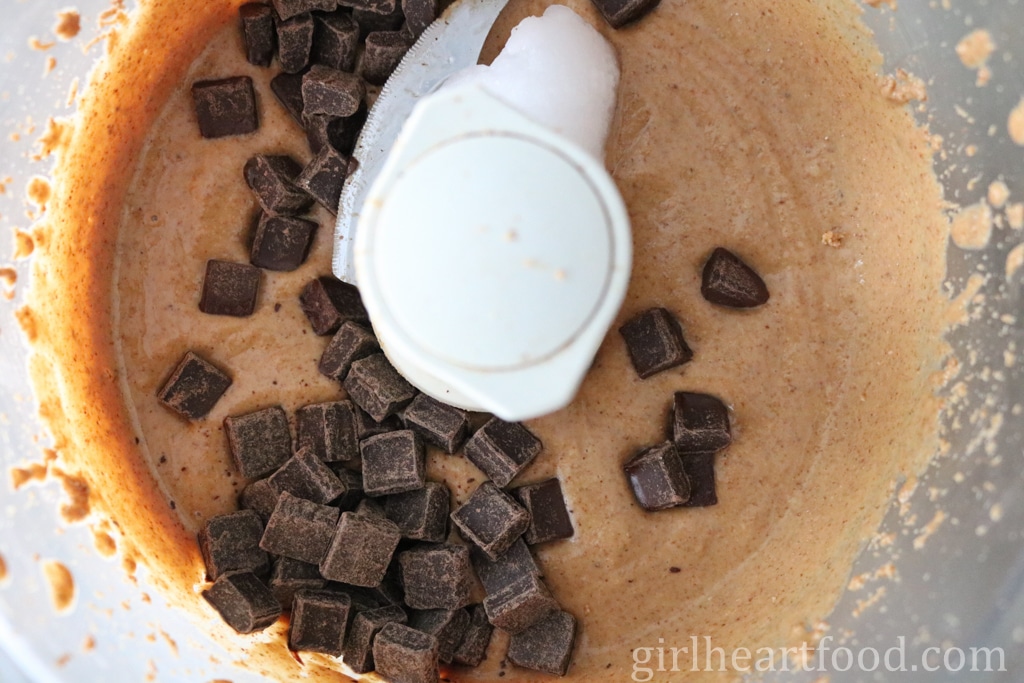 Hungry for more? Subscribe to the Girl Heart Food Newsletter!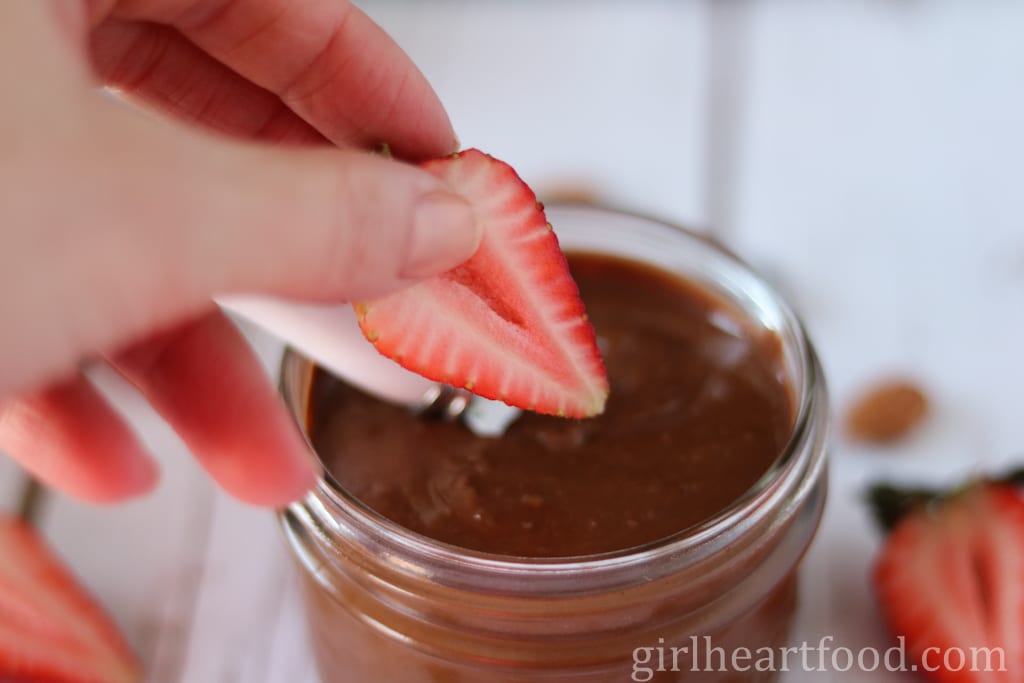 This is a lovely alternative to store-bought spreads. So delicious.
The uses for this almond butter are pretty much limitless. Obviously, it does lend itself to sweeter uses because of the chocolate component, but what's wrong with that?
I've used this chocolate almond butter for dipping fruit, spreading on toast or a cracker or even in a smoothie. And, there has been the not-so-rare (almost always) situation where I just randomly visit the fridge and stick a spoon in there 'cause I am an adult and I can totally do that, LOL. Wouldn't you do the same thing?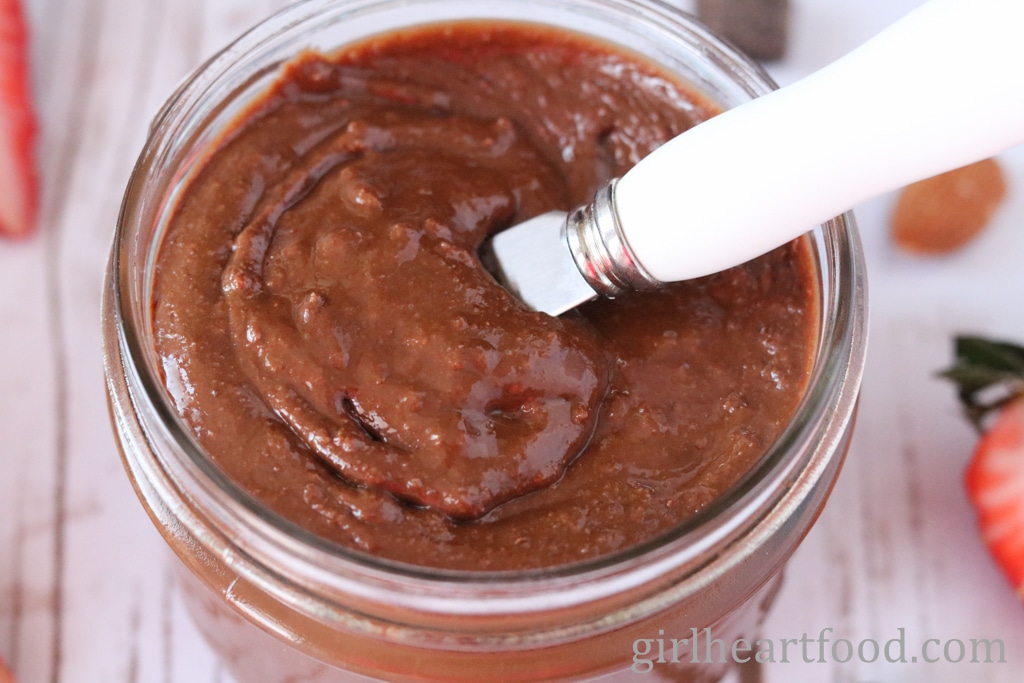 Hope you love this flavoured almond butter recipe as much as we do!
If you try this chocolate almond butter, be sure to leave a comment below. Love to know how you enjoyed!
Let's Be Social!
Follow Girl Heart Food on Facebook, Instagram, Pinterest and Twitter for all the latest delicious eats! Oh, and don't forget to subscribe to our newsletter!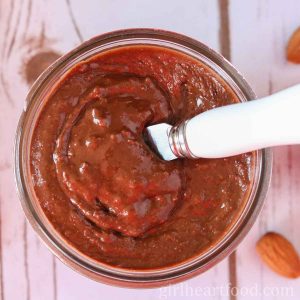 Chocolate Almond Butter (with coconut)
This chocolate almond butter is a delicious twist on a basic almond butter recipe. It has a rich chocolate flavour and infused with flecks of unsweetened shredded coconut. Perfect for bread, fruit or just eating with a spoon!
Ingredients
2

cups

whole unsalted almonds

½

teaspoon

salt

½

cup

dark chocolate pieces (chips or small chunks)

(use a vegan variety, if needed)

1

tablespoon

coconut oil

¼

cup

shredded unsweetened coconut
Instructions
Preheat oven to 350 degrees Fahrenheit.

Place almonds on an unlined baking sheet. Bake for 8 to 10 minutes. Do not overbake or they will burn.

Remove from the oven and allow to cool.

Place almonds in a food processor (I used a 12-cup processor).

Process for 8 to 10 minutes, stopping to scrape the sides of the processor with a rubber spatula every couple of minutes, or as necessary.

Note: the mixture will initially look very powdery and dry (this is completely normal, just go with it; eventually the almonds will break down and will be smooth and creamy). Also, depending on the power of the processor you are using, the process may take a little longer, but that's okay.

Once mixture is smooth and creamy, add salt, dark chocolate and coconut oil and process for another minute or two until chocolate is melted and everything is combined.

Add shredded coconut. Process for about 30 seconds or so (don't break down too much). The mixture will be quite liquid, but will solidify once in the fridge.

Portion into a storage jar, cover, refrigerate and enjoy within 2 weeks. Yields about 1 cup.

Note: Leave out for 5 to 10 minutes or so before using so it will soften slightly and become spreadable
Nutrition (ESTIMATE ONLY)
Calories:
150
kcal
Carbohydrates:
7
g
Protein:
4
g
Fat:
12
g
Saturated Fat:
4
g
Trans Fat:
1
g
Cholesterol:
1
mg
Sodium:
79
mg
Potassium:
170
mg
Fiber:
3
g
Sugar:
3
g
Vitamin A:
1
IU
Vitamin C:
1
mg
Calcium:
65
mg
Iron:
1
mg
Nutrition estimate (if provided) is based on 1 Serving.
Nutrition information (if provided) is provided as a courtesy and should be considered an estimate only. Ingredients can vary and Girl Heart Food makes no guarantees to the accuracy of this information. It should not be considered a substitute for a professional nutritionist's advice.
A note on times provided: appliances vary, any prep and/or cook times provided are guidelines only.