Made with cocoa powder, milk and white chocolate chips, these triple chocolate muffins are fluffy, ultra chocolatey and a delicious way to kick off the week!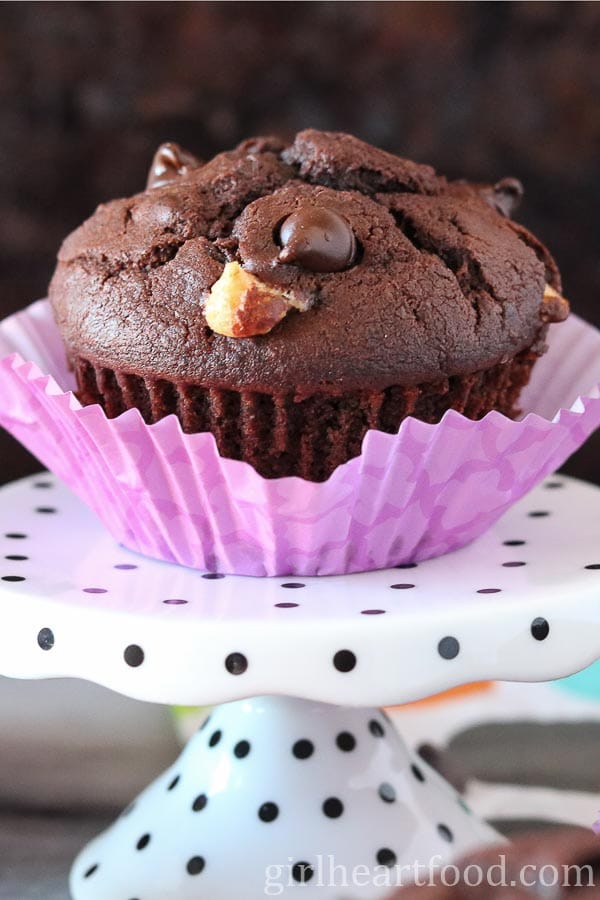 Hi everyone! Starting the week off right … with chocolate!
I know that most people want to eat a little healthier after the weekend, but don't ya think we should ease ourselves into it? I mean, what's the rush, am I right?
Jokes aside, these are really good muffins. One of these fresh out of the oven with a cup of coffee or tall glass of milk makes me happy!
Triple Chocolate Muffins From Scratch
From this chocolate muffins, I used my stand mixer. If you don't have one, a hand mixer will do the trick just as well!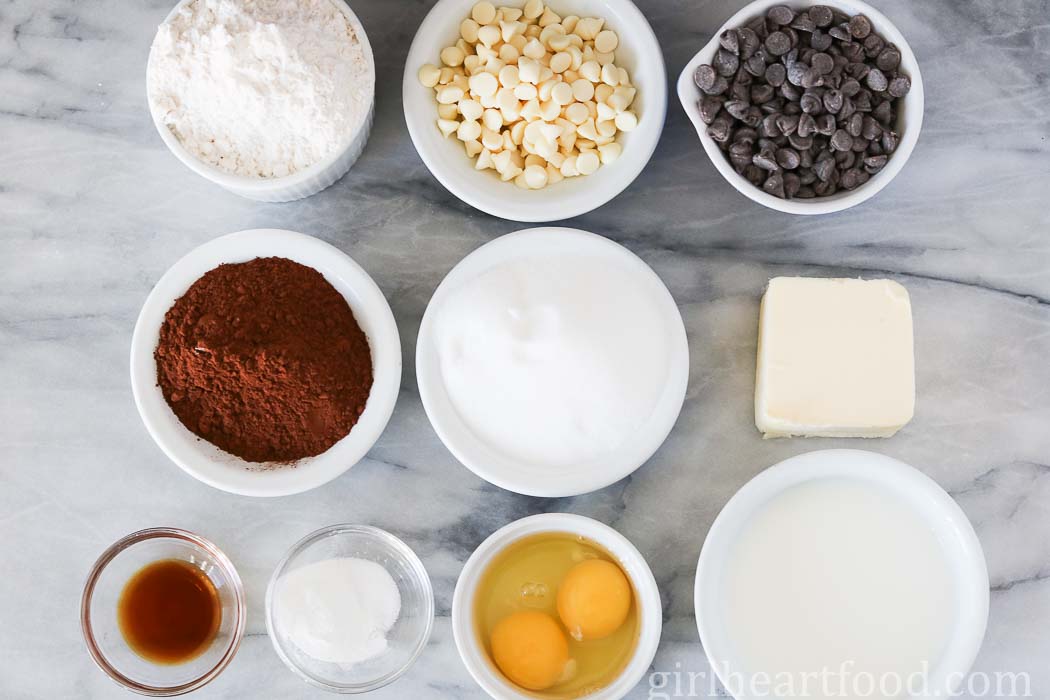 I organized our pantry this weekend and I can actually see the stuff we have there. Don't you just love spring cleaning? Or is it just me? I have to be in the mood to do it, though. But when I am? Watch out! The trick now is to actually keep it organized. The struggle is real. I discovered a whole bunch of chocolate chips: mini, regular, all sorts of flavours. I was like a kid in a candy shop right in my own home. Oh, the little things.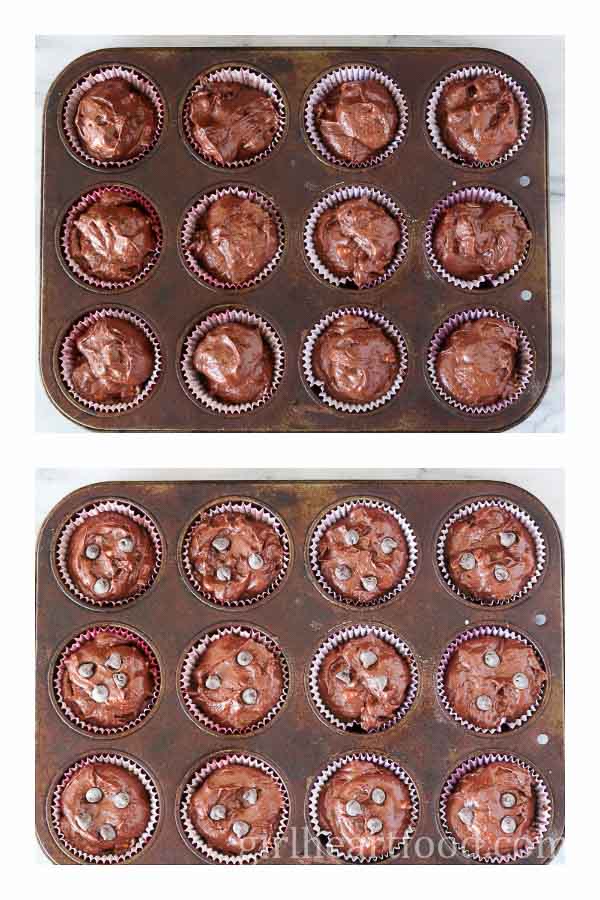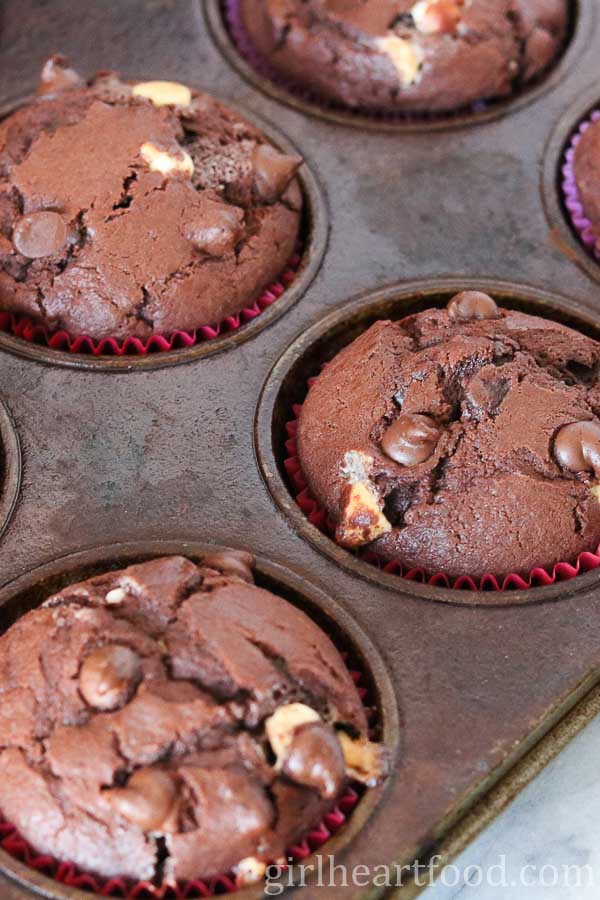 Do you know the key to getting that chocolatey top with muffins? Reserving a few chocolate chips and dabbling into the tops before baking! Then they're literally bursting with chocolate! Plus, it just adds a little something special to the finished product.
Enjoying and Storing
These chocolate muffins, like most baked goods, are best eaten freshly made. I mean, it's chocolate. Why wait, right? I particularly love homemade muffins with a cold glass of milk. What's your favourite way to enjoy them?
If you don't enjoy them the day they are made, store cooled muffins in a single layer in a paper towel-lined airtight/sealed container or resealable food storage bag (the paper towel absorbs some of the excess moisture, so your muffins don't get soggy). Basically, line the bottom of the container or bag with paper towel, place the muffins in there, then top with another layer of paper towel. Cover with the container lid and store on your countertop. The muffins should last for about 1 to 2 days.
Other than that, you can freeze the muffins for up to 3 months. They're great to have on hand when the chocolate craving hits! All you have to do is let the muffins come to room temperature and you could gently warm them in the microwave (if you like).
I'm pretty sure after one taste, they won't last past day one (at least not in our home).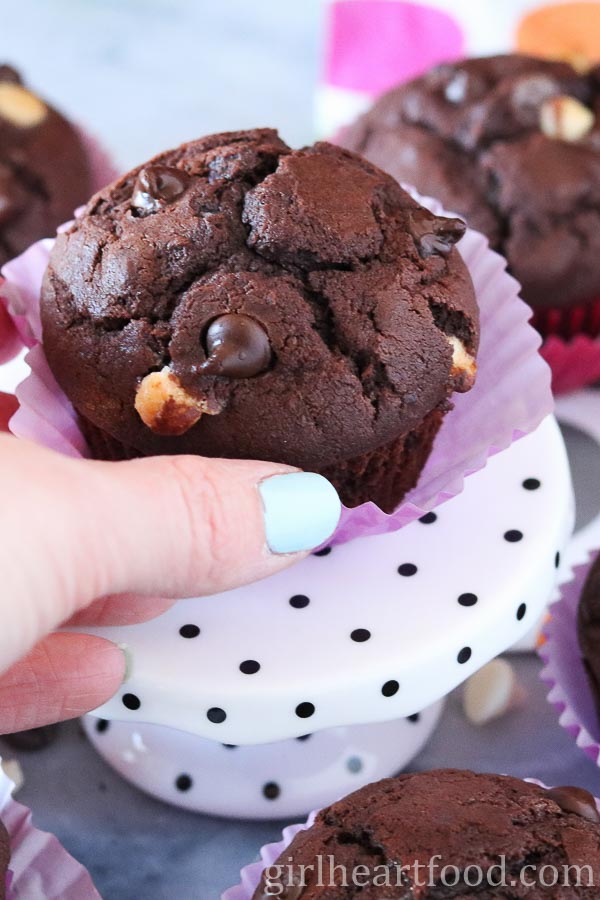 More Chocolate Treats
If you make these triple chocolate muffins, be sure to leave a comment below!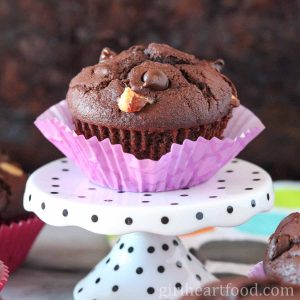 Triple Chocolate Muffins
Made with cocoa powder, milk and white chocolate chips, these triple chocolate muffins are fluffy, ultra chocolatey and a delicious way to kick off the week!
Ingredients
Cooking spray

,

for greasing muffin liners

1.5

cups

all-purpose flour

½

cup

cocoa powder

2

teaspoons

baking powder

½

teaspoon

salt

⅔

cup

granulated sugar

½

cup

unsalted butter

,

softened

2

teaspoons

pure vanilla extract

2

large

eggs

¾

cup

milk

,

I used 2% milk fat

1.5

cups

milk chocolate chips

,

plus more to taste to top the muffins

½

cup

white chocolate chips
Instructions
Preheat oven to 400 degrees Fahrenheit. Line a 12-count muffin pan with muffin liners, spray with cooking spray and set aside.

In a bowl, whisk together the flour, cocoa powder, baking powder and salt. Set aside.

To the bowl of a stand mixer fitted with a paddle attachment (or using a mixing bowl and a hand mixer), blend (on medium-high speed) sugar and butter until combined and creamy, about 1 to 2 minutes (as necessary, stop to scrape the sides of the bowl with a rubber spatula).

Add vanilla extract and blend in. Reduce speed and add eggs, one at a time, blending until just combined.  

Alternating between reserved flour mixture and milk, add to mixer and blend to just combine (there should be no streaks of flour remaining).

Add milk and white chocolate chips and blend about 1 minute until combined. 

Distribute batter among muffin liners and top each muffin with 3 to 4 chocolate chips. 

Bake for 18 minutes or until a wooden toothpick or cake tester inserted in the centre of the muffins comes out clean (some chocolate from the chocolate chips is fine). Let muffins cool in the pan for about 10 minutes before removing and placing onto a cooling rack to further cool. Serve and enjoy!
A note on times provided: appliances vary, any prep and/or cook times provided are estimates only.
© Girl Heart Food Inc. Photographs and content are copyright protected.
Tried this recipe?
If you do make this recipe, thank you!! It would mean so much if you could leave a comment below. Love to know how you enjoyed it, and it helps other readers too!