This easy chili shrimp pasta recipe can be made as quickly as it takes the pasta to cook! Tender shrimp are cooked and tossed with sautéed kale and a spicy chili sauce. This one is a quick, no fuss dinner that hits the spot every time!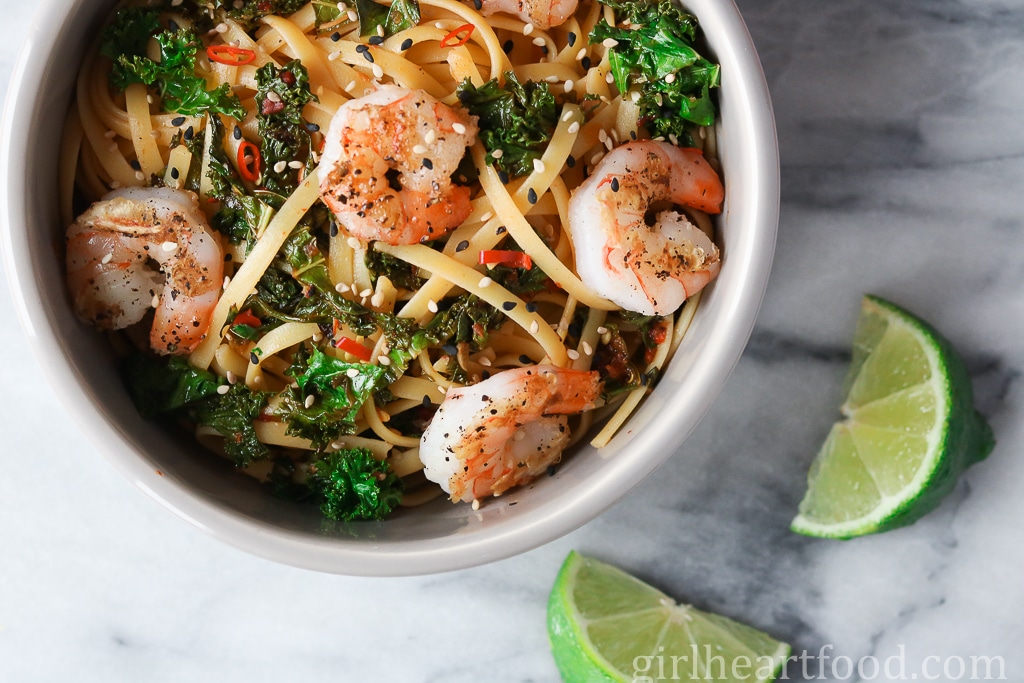 I don't know about you, but I always feel like I never have enough time in the day to get everything that I want to get done, done.
Ever see those people who seem to have everything organized? They seem to have their life together. Do you feel like that person? Me? Nope, I don't.
As much as I write lists and keep a planner (yes, a physical planner), I always feel like I have something else to do and the list is never ending. I don't understand when people say they are 'bored.' There is always something to keep me occupied. You feel the same?
My mother gave me good advice. She said that it's nonsense stressing yourself out trying to get everything done because there will always be more to do so take a minute and breathe. Makes sense when you think of it like that. Kind of puts things into perspective.
Despite running around like a crazy person half the time, I always make time to work out. Let me rephrase that, I have to make time to work out. Running a food blog, testing recipes, eating said recipes and just enjoying eating in general, there's no way in this world that I can not work out.
So suffice to say, I love easy, healthy dinners that can be prepared in little time so I can get on with my day, get that work out done and move on, feel me?
Cooking for One with this Chili Shrimp Pasta
This chili shrimp pasta recipe is made under 15 minutes, it's light and packed with flavour.
It's the perfect go-to meal before getting my butt on the treadmill for a run. This recipe comes together super quickly.
While the pasta is cooking, whip up the ingredients for the sauce and cook the garlic, kale and shrimp.
By the time the pasta is cooked to al dente, you just toss everything together and enjoy. I minced up a chili to give extra heat, but that is totally optional. Though, the chili gives the taste buds a wake up call!
Once every blue moon, hubby is not home for dinner or vice versa. That doesn't mean I'm going to veg out on some cereal or take out. I want real food and real food, fast. The thing with cooking for one is ya don't want to spend a whole lot of time at it so this recipe works perfectly.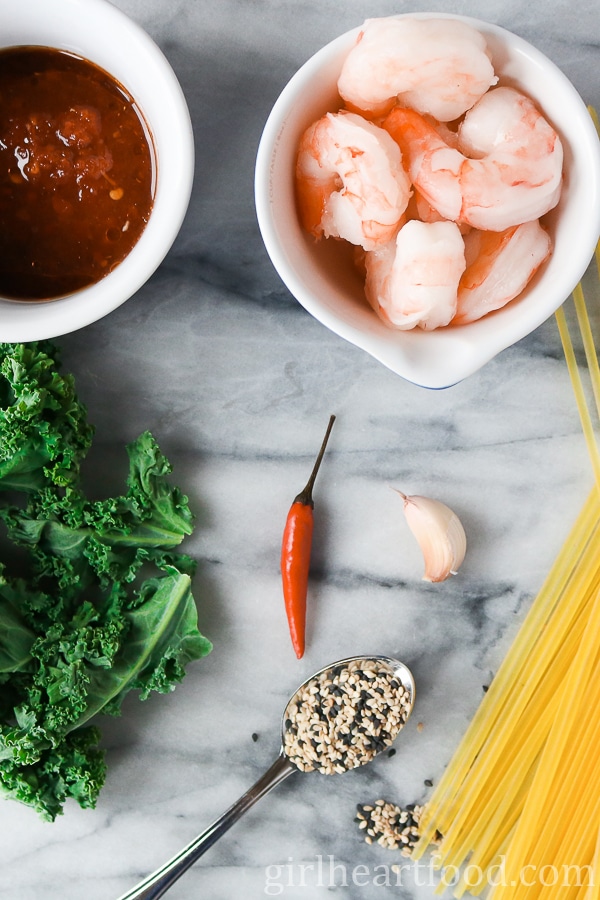 Though there's lime in the sauce, I love to squeeze with an extra bit to give it a little zing.
Hungry for more? Subscribe to the Girl Heart Food Newsletter!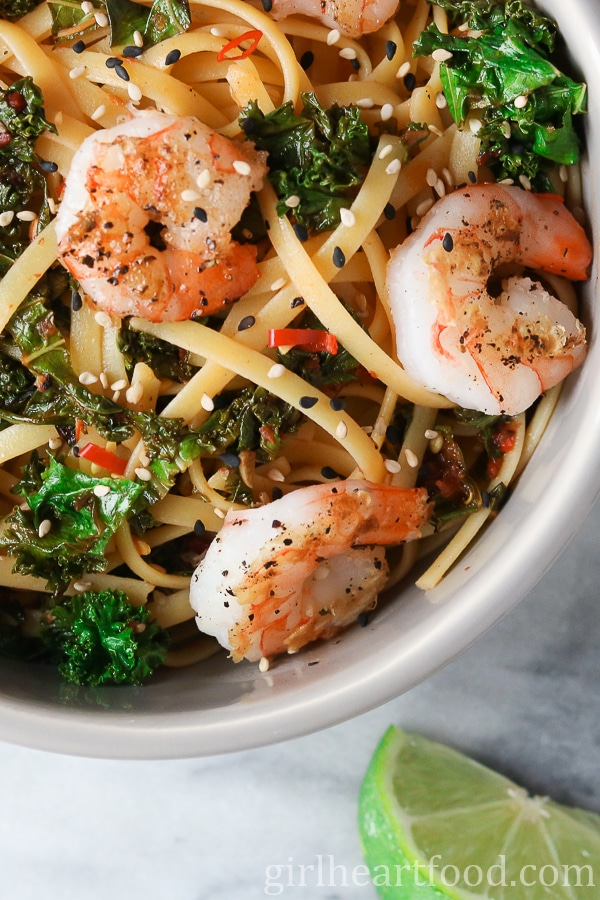 Can I Double The Recipe?
Of Course!
This recipe for is portioned for one, but can easily be doubled or quadrupled according to how many people you want to serve. Just adjust the quantities accordingly.
This is not an overly saucy recipe. A quarter cup of the pasta water is added to the chili sauce mixture to add a little more liquidity to the dish, but you can add more if you like.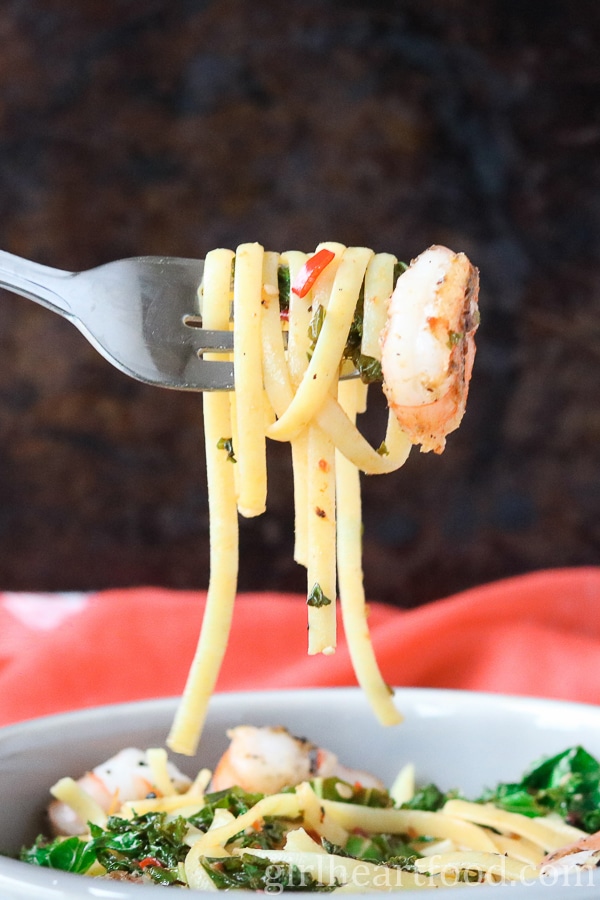 More Easy Pasta Recipes
Hope you love this chili shrimp pasta recipe as much as we do!
If you try this seafood pasta, be sure to leave a comment below. Love to know how you enjoyed!
Let's Be Social!
Follow Girl Heart Food on Facebook, Instagram, Pinterest and Twitter for all the latest delicious eats! Oh, and don't forget to subscribe to our newsletter!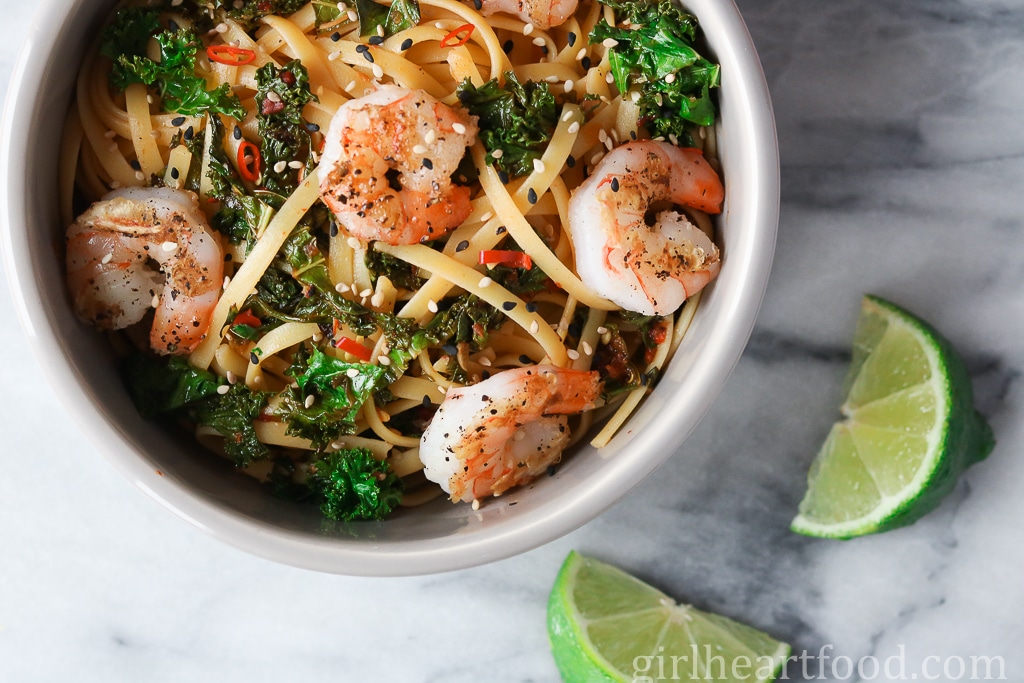 Chili Shrimp Pasta Recipe (for one)
This easy Chili Shrimp Pasta for One can be made as quickly as it takes the pasta to cook! Tender shrimp are cooked and tossed with sautéed kale and a spicy chili sauce. This one is a quick, no fuss dinner that hits the spot every time!
Ingredients
1

tablespoon

low sodium soya sauce

(or regular soy sauce)

1

teaspoon

sesame oil

1

tablespoon

chili garlic sauce

½

teaspoon

fish sauce

½

teaspoon

rice wine vinegar

1

tablespoon

fresh lime juice

1

teaspoon

olive oil

, divided

1

clove

garlic

, minced

1

red thai chili pepper

, minced (optional)

1

cup

thinly sliced kale (leaves only, no stems)

4

ounces

shrimp

(about 125 grams, I used about 8 shrimp)

pinch

black pepper

3

ounces

gluten-free linguine pasta (or regular linguine)

(or about 85 grams)

½

teaspoon

sesame seeds

(garnish)

Lime wedge

(for serving with, optional)
Instructions
Cook pasta per package instructions. Drain (reserving ¼ cup of the cooking water for later).

Meanwhile, while pasta is cooking, make the sauce. In a small bowl, whisk together the soya sauce, sesame oil, chili garlic sauce, fish sauce, rice wine vinegar and lime juice. Set aside.

Heat ½ teaspoon of olive oil in a non-stick pan over medium-low heat.

Cook garlic and chili, stirring often, for one minute. Add kale and cook, stirring occasionally, for two minutes. Remove from pan and onto a plate. Set aside.

Heat remaining ½ teaspoon of olive oil in pan

Cook shrimp for about 3 minutes or until cooked through, turning halfway. Transfer cooked shrimp to a plate and set aside.

Note: Cook time for shrimp may vary, depending on their size. Just heat until cooked through.

Add reserved sauce to pan along with ¼ cup of reserved pasta water. Cook 2 minutes. Mix in pasta, kale mixture and cooked shrimp until well combined.

Transfer pasta to a serving bowl and garnish with sesame seeds and a squeeze of lime, if desired. Enjoy!
Nutrition estimate (if provided) is based on 1 Serving.
Nutrition information (if provided) is provided as a courtesy and should be considered an estimate only. Ingredients can vary and Girl Heart Food makes no guarantees to the accuracy of this information. It should not be considered a substitute for a professional nutritionist's advice.
A note on times provided: appliances vary, any prep and/or cook times provided are guidelines only.