These Easy Vanilla Easter Cupcakes are fluffy and super fun to make!  They have a simple vanilla cake base and are topped with a buttercream frosting, toasted coconut and pretty pastel coloured chocolate candy.  Even the Easter bunny would approve!
Hey friends!  Stopping in  today to bring you these Easter cupcakes.  I seriously had no plans on sharing this one today.  So, I woke up thinking how fun it would be to make a cupcake for Easter with festive candy (the ones a lot of us love).  I made these cupcakes and thought, 'Dawn, you dummy, you have got to share this soon in order to be timely for Easter.' Yeah, duh.  Anywho, without further adieu, Easter Cupcakes!
Easter Traditions
I don't have any strong Easter traditions nowadays.  Growing up, though, I always remember my grandparents giving my brother and I these hollow chocolate Easter eggs with our names written on them in icing sugar.  I remember you could get them at the mall. Unfortunately, I don't recall seeing them in recent years, but they were such a big part of our childhood.
I asked hubby about his Easter traditions growing up and he said it was always a big deal, especially when he was a kid.  His mother would make, like, a hundred 'Easter buns' (probably not that many, but as a kid everything is exaggerated, am I right?).  He said that him and his sister were not allowed to put their little hands on them until guests arrived.  They were, however, allowed to have the duds…those that weren't just perfect.  Sounds like something I'd do now, lol.
Leftover Candy for Easter Cupcakes
Enough reminiscing, let's talk candy.  Let's talk Easter Cupcakes!  So for the recipe, I used generic 'mini egg' candy cause that's what I came across at the grocery and that's what was on sale.  Man, they taste good though.  I used Mini Eggs last year in a bundt cake.  Have you ever used them in anything?  Do tell!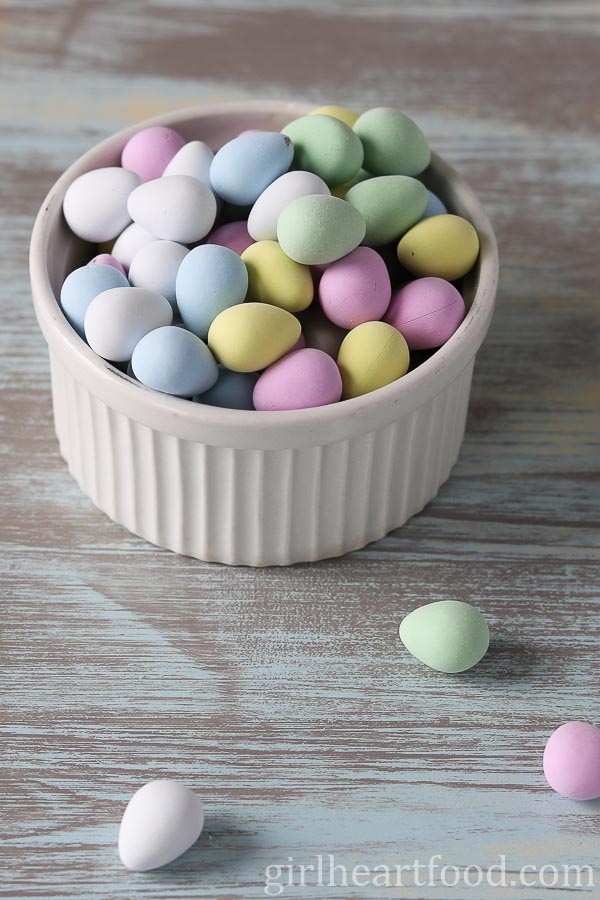 Easy Vanilla Cupcake Recipe
The base of these vanilla cupcakes are super simple to whip up. And it's probably ingredients you have on hand so what are ya waiting for 😉 ?  I put gel food colouring in the buttercream, but that's totally optional.  The key to frosting, is to wait until they are completely cooled. Otherwise, you will end up with a hot mess of melted butter and who wants that?  I mean, unless you are eating lobster or something…..
Look how fluffy these babies are?  I heard recently this thing where a lot of people don't like to use the word 'moist'.  I had no idea.  I have no aversion to it, but am so aware of it when using to describe food.  If I were to use it, it would totally be applicable here 😉
Tell me below what are some Easter traditions of yours, either growing up or now.  I'd love to hear!
Whatever your weekend involves, I hope they include these delicious Easter cupcakes!
Until next time take care and chit chat again soon!
~D
P.S. If you think these Easter Cupcakes will make your belly happy too, please be sure to hit that Pin button down below.  Many thanks, you guys! XO
Ingredients
Easter Cupcakes
1.5

cup

all purpose flour

1

tsp

baking powder

1/2

tsp

baking soda

1/4

tsp

salt

1/2

cup

unsalted butter

-softened at room temperature

1/2

cup

sugar

2

eggs

-I used large

1.5

tsp

pure vanilla extract

3/4

cup

milk

-I used 2%

baking spray

-to grease cupcake liners
Buttercream Frosting
1/2

cup

unsalted butter

-softened at room temperature

2

cups

icing sugar

1

tsp

pure vanilla extract

2

tbsp

milk

-I used 2%

yellow gel food colouring

-optional, to desired colour
Garnish
1/3 cup unsweetened shredded coconut

-toasted. See note below.

leftover Easter candy

-mini eggs or similar, about 3 per cupcake so 36 in total
Instructions
Preheat oven to 350F. In a bowl combine flour, baking powder, baking soda and salt. Stir to combine and lay to one side.

In a stand mixer, blend sugar with butter until smooth, about 2 minutes. Add eggs, one at a time. Then add vanilla and mix to combine.

To butter mixture add about half the flour mixture and half the milk and blend. Repeat with remaining flour and milk until blending, about 1-2 minutes.

Place cupcake liners in a 12 capacity tin and spray with baking spray. Distribute mixture among liners, about 2/3 full. Bake for 18 minutes or until wooden skewer comes out clean when inserted. Let cool for about 5 minutes before removing and letting cool completely before frosting.

Spoon (or pipe) frosting over COOLED cupcakes. Sprinkle with toasted coconut and top with candy (about 3 per cupcake). Enjoy!
Buttercream Frosting
In a stand mixer mix butter with one cup of icing sugar. Add additional cup of icing sugar and mix until smooth. Add vanilla extract and milk and blend until smooth. Spoon over cupcakes or pipe using piping bag.
Recipe Notes
To toast coconut, place on a parchment lined baking sheet and bake about 3-4 minutes until golden brown.  Watch because it can brown quickly.