With a base of fluffy rice, a perfectly cooked sunny-side up egg, kimchi and delicious garnish, this egg and rice bowl recipe is sure to be on repeat whenever you're craving comfort food!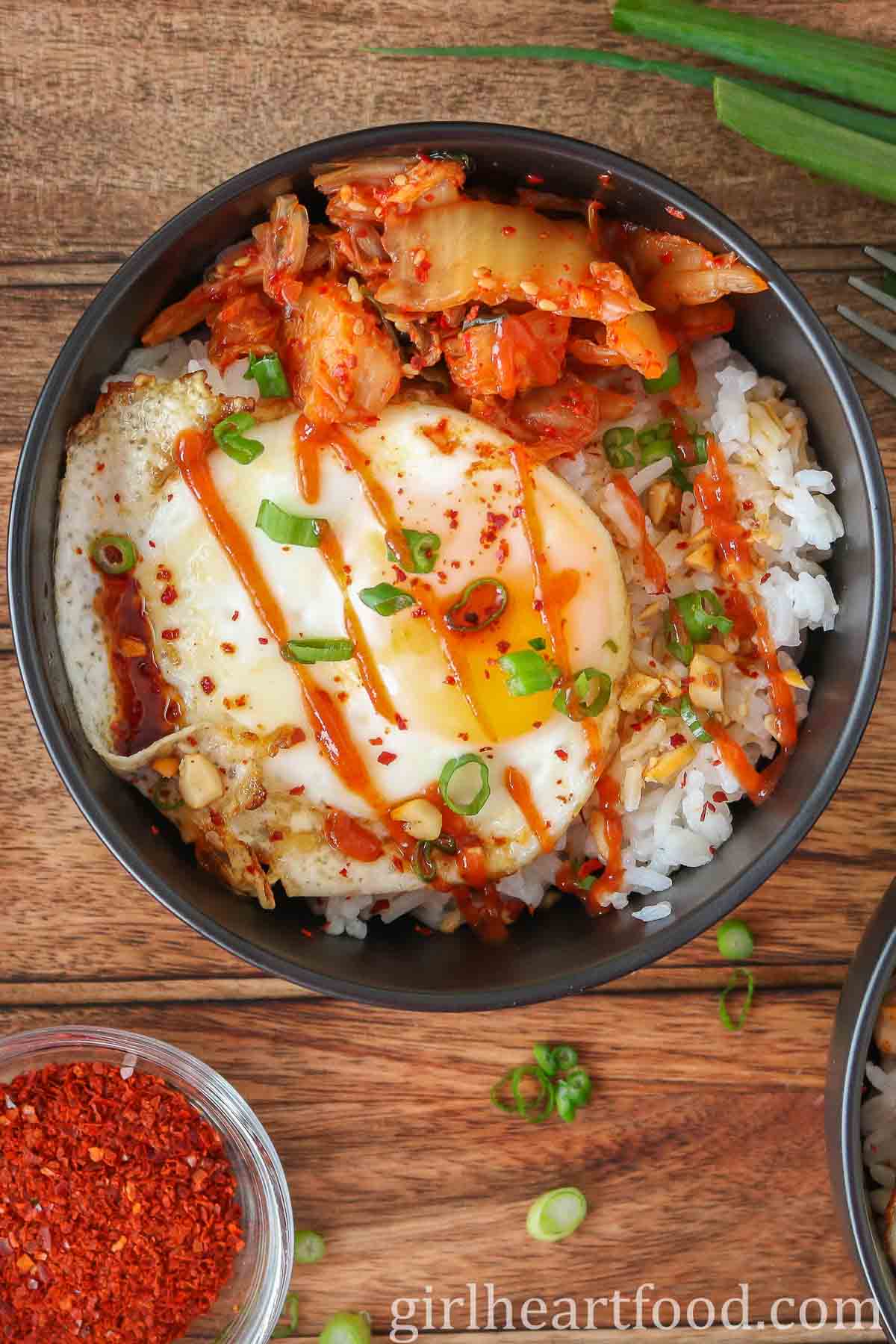 I often get excited about recipes I share here on Girl Heart Food, but some a little more than others, and this egg rice bowl is one of those recipes.
When you look at the ingredient list, it looks rather simple, but when combined? Man, oh, man. It's so incredibly comforting and delicious.
Once you break the egg yolk and let it run into the rice, it creates the most delicious "sauce." Combine that with spicy kimchi and savoury soya sauce, and you're in heaven! Fried egg over rice is so good!
These rice bowls are something we have on the regular and once you give them a go, I'm sure you will too!
Why We Love These Egg Rice Bowls
These egg rice bowls are made with super simple ingredients, yet so delicious!
They come together quickly.
These bowls can be customized to taste with garnish.
Breakfast, lunch, dinner or a snack, these rice bowls work well for just about any meal.
This recipe is so incredibly comforting!
How To Make a Rice Bowl With Egg
Full details are in the recipe card below, but here are the basics:
Cook some rice per package instructions. Then, crack the eggs into a greased non-stick pan. I always like to crack the eggs into little bowls first, then into the pan. That way, I can make sure that no shell gets in there!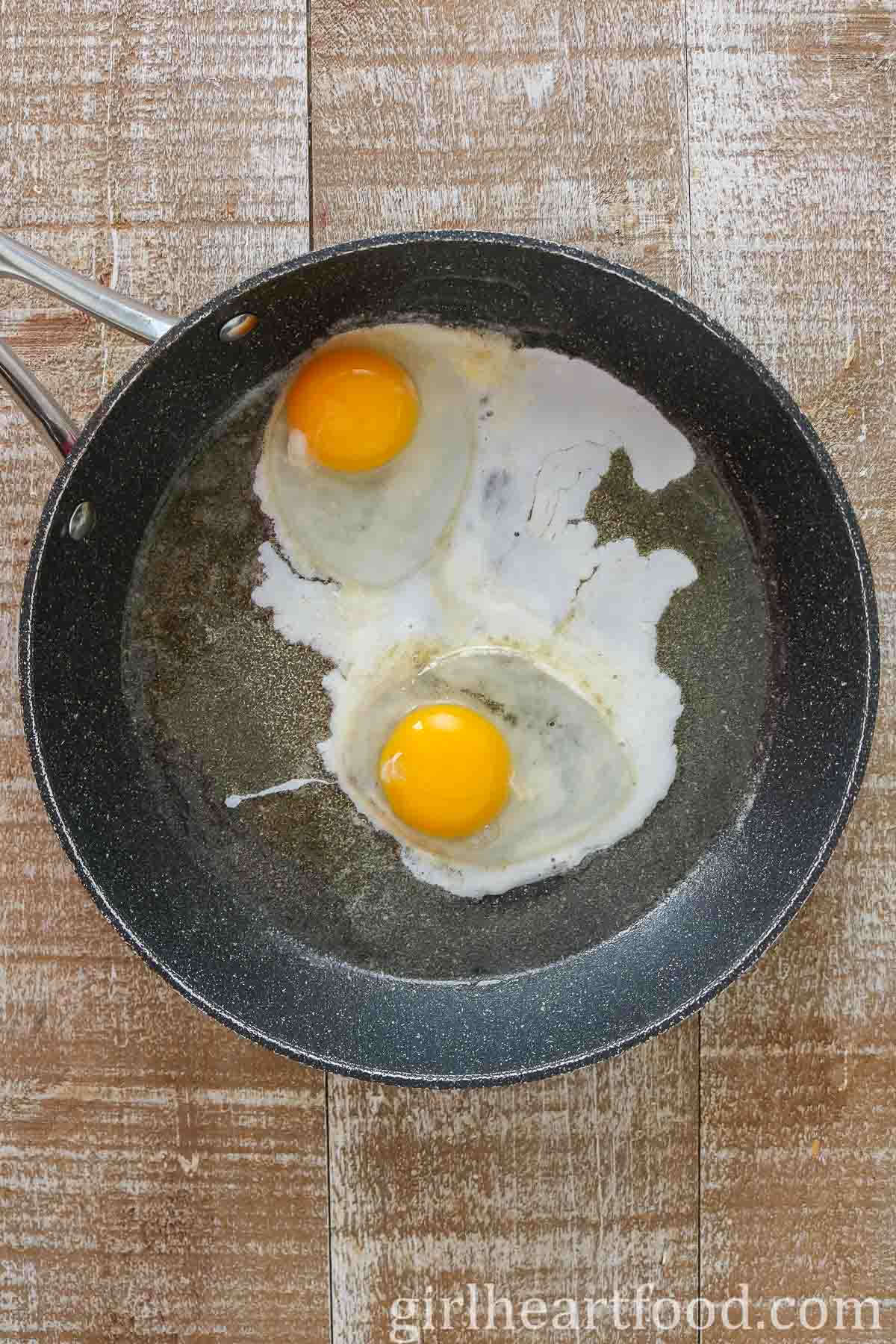 If you prefer a nice sunny-side up egg, simply cook the eggs on one side until the egg whites are set and the yolks are done to your liking. I like to cover the eggs while they are cooking.
If preferred, you can totally flip the eggs to cook on both sides. Cook them to however you like them best.
Once the eggs are cooked, divide the cooked rice between two bowls, then top with the eggs, kimchi, soya sauce and desired garnish.
I suppose that technically a serving of rice is about ½ cup of cooked rice, but, honestly, I love a little more here.
The egg yolk acts as a sauce, then combined with the kimchi liquid, sriracha and soya sauce, the rice gets all tasty and delicious.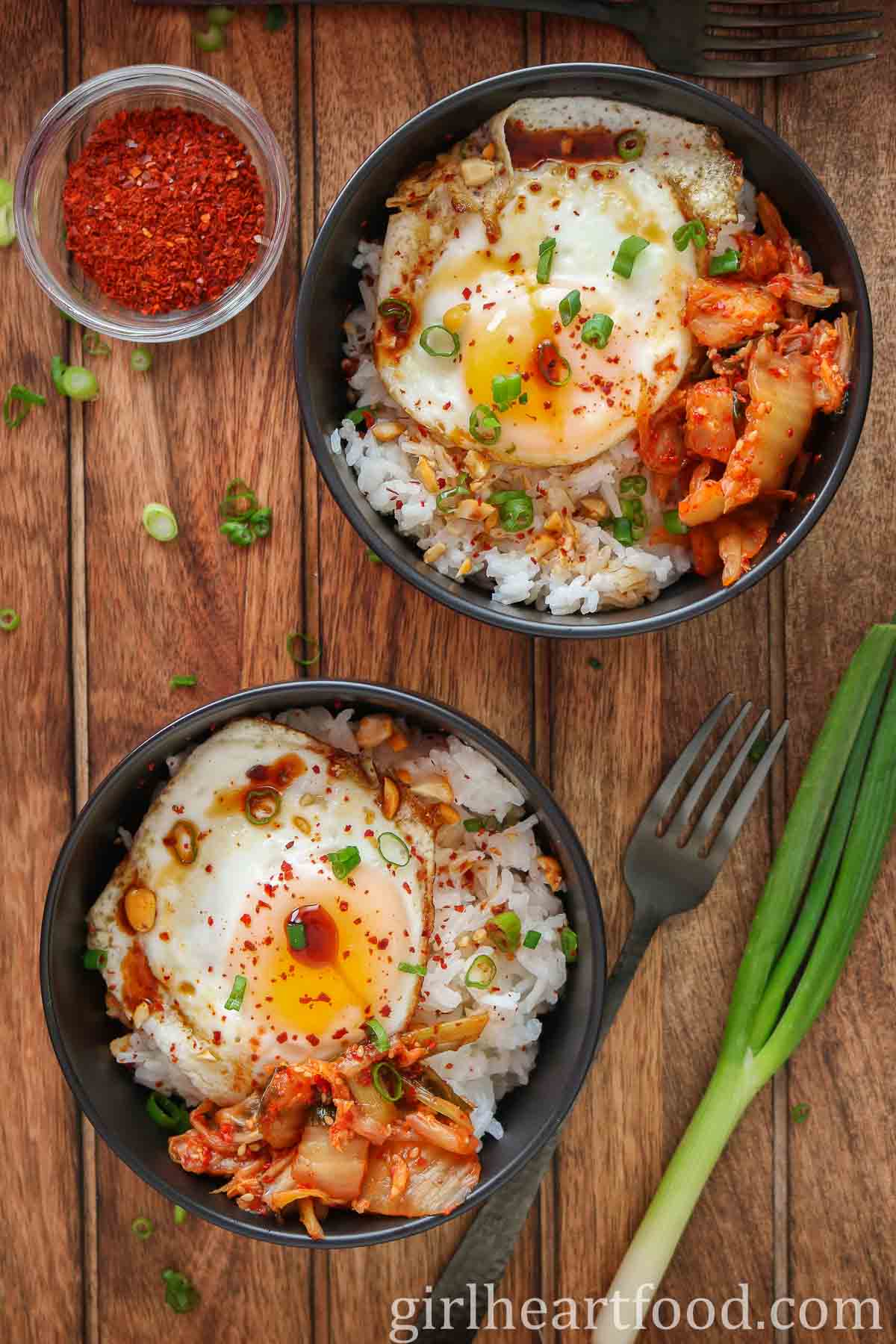 Rice Bowl Topping Ideas
Kimchi
Sliced green onion
Red chili pepper flakes
Chopped peanuts
Sesame seeds
Drizzle of hot sauce
Drizzle of soya sauce
Chili oil (love this on egg rice bowls)
More Recipes With Kimchi
If you make these egg rice bowls, be sure to leave a comment below!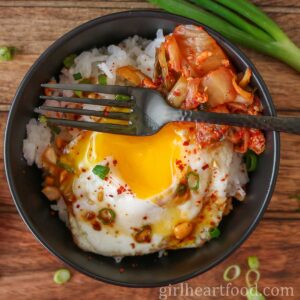 Egg and Rice Bowl Recipe
With a base of fluffy rice, a perfectly cooked sunny-side up egg, kimchi and delicious garnish, this egg and rice bowl recipe is sure to be on repeat whenever you're craving comfort food!
Ingredients
Egg and Rice Bowl
1 to 2

cups

cooked rice (use your favourite variety)

,

depending on how much rice you want (to yield this amount, you'll need approximately ⅓ cup to ⅔ cup of uncooked rice depending on the variety)

½

tablespoon

butter

1

teaspoon

sesame oil

2

large

eggs

¼

cup

kimchi

,

chopped, if necessary, into bite-sized pieces

soy sauce

,

to taste
Garnish Ideas (optional)
Thinly sliced green onion

Crushed peanuts

Sesame seeds

Sriracha

Red chili pepper flakes

Chili oil
Instructions
Cook rice per package instructions, then distribute the rice between two bowls and set aside while you cook the eggs.

Note: As mentioned in the post above, I always love a little extra rice, so typically use more than ½ cup of cooked rice per bowl. You can use whatever amount you prefer.

Heat butter and sesame oil in a non-stick frying pan (a 10-inch pan is great here) over medium heat.

Once butter has melted and is foamy, carefully crack in eggs. Cover with a pan lid (this helps with cooking the eggs).

Note: If desired, you can crack each egg into a small dish first, then carefully add to the pan.

Allow eggs to cook until the whites are set (firm) and the yolk is done to your liking. I like the yolks runny, so generally cook about 2 to 3 minutes. You can cook longer, if you like. Once done, remove the eggs from the pan immediately and place an egg over each rice bowl.

Divide the kimchi between the two bowls, then drizzle with soy sauce (to taste). Garnish to taste (if desired), with any of the garnish ideas. Serve and enjoy!
Notes
Cook time includes time to cook your rice. My rice took about 22 minutes. Depending on the variety of rice you use, your cook time may differ.
A note on times provided: appliances vary, any prep and/or cook times provided are estimates only.
Tried this recipe?
If you do make this recipe, thank you!! It would mean so much if you could leave a comment below. Love to know how you enjoyed it, and it helps other readers too!