Canada has a very special celebration on July 1st, you guys.  So, it happens to be Canada Day.  Buuuut, it's not only Canada Day – it's Canada's 150th birthday!!  How cool is that?  Any celebration involves food, am I right?  I called upon fellow food blogger friends to compile a bunch of iconic Canadian dishes or recipes featuring popular Canadian ingredients (helloooo maple syrup).  There are 15 recipes in this round up from cocktails, apps, mains to desserts; lots to get the celebrations started!  Before we get to that, though, let's get our 'Canada on' with a little low down on the place I call home….woot woot! Check out this yummy round up of all kinds of Canadian dishes for your Canada Day celebrations!
cool things about Canada
neat LITTLE FACTOIDS
So some neat facts about Canada according to Huffington Post –
77% of the world's maple syrup comes from Quebec, a province in Canada?
Mac and cheese is the most purchased pre-packaged item
Canada has more donut shops per capita than any where else
Canada has more lakes than all other countries combined

Basketball was invented in Canada
15,500 of the world's 25,000 polar beers live in Canada
More Neat Little Factoids (in the Event you're on a Game Show, or somethin'?)
Canadians talk about temperature in terms of degrees Celsius, not Fahrenheit
Canadians talk about speed in terms of kilometres, not miles
Canada is the world's second largest country by land mass
And, mind blown, when I heard this on the radio the other day – the only province in Canada that is officially a bilingual province is New Brunswick.  You may think that it would be Québec, but nope! Oh là là!
HUH?  WHAT DID YOU SAY?
There's no surprise Canadians also have their own unique words and expressions, eh (just kiddin'<—FYI – not all Canadians, myself included, use this expression).  So what are some other popular expressions 'round here?
Give'r (meaning go for it<—-I use this A LOT)
Double Double (meaning a coffee at a popular coffee shop in Canada containing two sugar and two cream)
Tuque (a winter hat)
Chesterfield (meaning sofa or couch)
YOU'RE SPELLING IT WRONG, DAWN
We Canadians spell certain words the same as the British spelling, not the American spelling (see, I wasn't spelling these words wrong all along, lol) –
Colour, not color
Favourite, not favorite
Cheque, not check?
Metre, not meter
SNACK TIME – WE GOT IT GOIN' ON
And junk food?  Well, we got some unique stuff here, let me tell ya!
Ketchup Chips (a personal fave, but, then again, salt & vinegar is pretty awesome too)
Coffee Crisp Bar (coffee flavoured wafers coated in chocolate, that's light and crispy)
Smarties (similar to M & M's, but not quite)
Crush Cream Soda (pink and oh so good)
Jos Louis buns – sponge cake with a creamy vanilla filling
Poutine – though it's reach has expanded, it originated here.  Fries + cheese curd + gravy = pure taste bud heaven
RECIPES to celebrate Canada day – BRING ON THE FOOD!
Without further adieu, here are some delicious recipes for you to enjoy.  Fair warning – you may just get a little hungry…grab a snack ?
Whiskey Maplecino from Sugar Love Spices (pictured below & photo credit)
 Ultimate Caesar Cocktail from me (Girl Heart Food)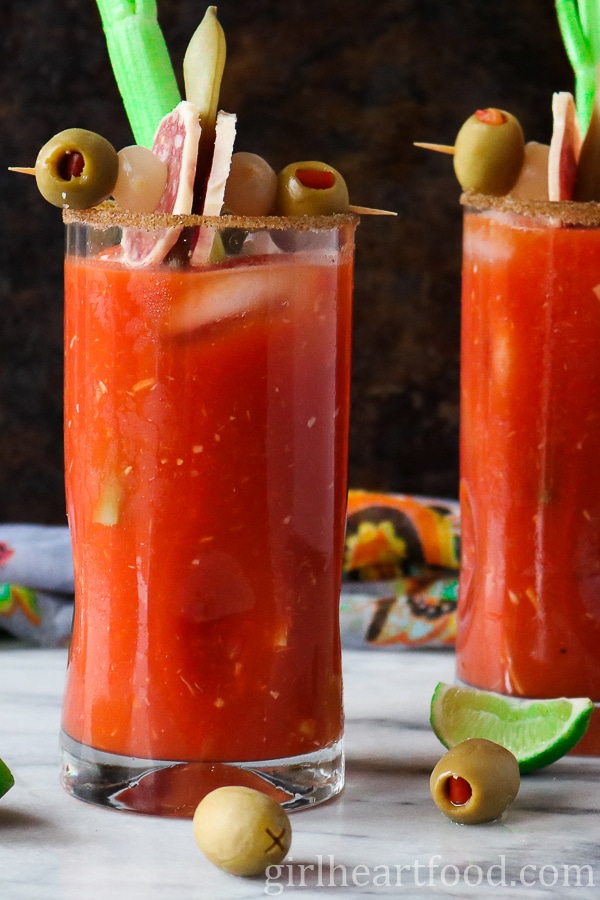 Coconut & Maple Apple Oatmeal with Cinnamon from Fuss Free Flavours (pictured below & photo credit)
Canadian Beer Cheese Dip from Simply Fresh Dinners (pictured below & photo credit)
 Mussel Chowder from Bacon is Magic (pictured below & photo credit)
 Hot Chicken Sandwich from The Foodolic (pictured below & photo credit)
Authentic Canadian Poutine from Seasons and Suppers (pictured below & photo credit
 Sweet Hot Coriander Salmon with Strawberry Tomato Salad from Simply Fresh Dinners (pictured below & photo credit)
Simple Maple Chipotle Barbecue Chicken from Healthy Seasonal Recipes (pictured below & photo credit)
An Outstanding Burger from Food Well Said (pictured below & photo credit)
Homemade Quebec Maple Baked Beans from She Loves Biscotti (pictured below & photo credit)
Homemade Maple Walnut Ice-cream from The Cookie Writer (pictured below & photo credit)
 Maple Syrup Pie from The Grey Bell (pictured below & photo credit)
Country Style Plum & Saskatoon Berry Pie from Satori Design for Living (pictured below & photo credit)
 Gluten Free Maple Syrup Butter Tarts from From Our Hideaway (pictured below & photo credit)
So, tell me, how will you be celebrating Canada Day?  Or what's your favourite thing about Canada ?? ?
Happy Canada Day everyone!  Hope your celebrations are fun and food filled ? !
Until next time, take care & chit chat again soon 🙂
~D
P.S. If you've enjoyed these Recipes to celebrate Canada Day, please be sure to hit that little Pin button down below.  Many thanks, you guys! XO