Need a little rest and relaxation? Maybe a little self care and love? How about a relaxing spa day at home? Check out this fun round-up of Recipes and Self Care Ideas for Sunday Funday! You deserve it!
Today I'm bring you something a little different and something that's very important to me. Anyone who knows me, knows how much I appreciate my relax time. I work full time. Plus, I work a lot of hours on this blog. Like, a lot. So, my free time is treasured.
I think we all need a little rest and relaxation every once in a while, especially this time of year with kids back to school and the busy holiday season ahead of us. I like to take one day a week, usually Sunday, and just have me time. It leaves me refreshed, revitalized and ready to take on the week ahead.
Sunday funday doesn't have to be anything fancy. Actually, far from it! If you need some Sunday Funday inspiration and some self care ideas to pamper yourself, read on! You could have your very one spa day at home too!
DIY Face Masks, Lip Scrubs and Bath Goodies
DIY Chai Vanilla Sugar Scrub from The Rising Spoon (pictured below & photo credit) – An easy homemade sugar scrub recipe you can make in minutes with simple ingredients like cane sugar, grapeseed oil, chai tea, vanilla extract, honey, and essential oils. Apply this warm & cozy scrub to your body after a long day and you'll feel pampered in no time!
DIY Lavender Milk Bath from Three Little Ferns (pictured below & photo credit) – Three simple ingredients and you could be enjoying one relaxing bath….maybe with your fave book?
How to Make Tub Tea from Home Baked Bliss (pictured below & photo credit) – Such a beautiful presentation and sure to make a welcomed homemade gift or treat for yourself.
Homemade Super Antioxidant Face Mask from What Great Grandma Ate (pictured below & photo credit) – I LOVE a good face mask, especially when trying to recharge on Sunday. Nothing like homemade!
DIY Lavender Detox Face Mask from Fit as a Mama Bear (pictured below & photo credit) – This homemade face mask makes the perfect addition to your pampering routine. Whip up a batch of this clay mask and give your skin some love.
DIY Honey Lavender Lip Scrub from The Rising Spoon (pictured below & photo credit) – A gentle DIY lip scrub recipe that will exfoliate, nourish, and moisturize your lips all at the same time. It only takes minutes to whip together a small batch with inexpensive pantry ingredients.
Infused Waters and Specialty Drinks
Strawberry Basil Infused Water from The Fit Cookie (pictured below & photo credit) – Stay cool and hydrated this summer with this delicious Strawberry Basil Infused Water!
Rainbow Infused Water from Salt and Lavender (pictured below & photo credit) – This rainbow infused water is refreshing, healthy,and oh so pretty! Prep a big pitcher in less than 10 minutes.
Vegan Mocha Frappe from Delightful Adventures (pictured below & photo credit) – If you haven't had one before, it's a mix of milk, coffee, and chocolate. Who doesn't love that?
Chai Latte with Chocolate from Champagne Tastes (pictured below & photo credit) – This easy Chai Latte with Chocolate is a simple and warming flavored tea latte. Skip the coffee shops, and make your very own latte at home.
Turmeric Latte with Coffee from Kitchen Sanctuary (pictured below & photo credit) – This Turmeric Latte with Coffee is delicately fragrant, and slightly spicy with a coffee kick.
Easy Smoothie Recipes
Pineapple Peach Green Smoothie from Half-Scratched (pictured below & photo credit) – This pineapple peach green smoothie is packed with good-for-you ingredients. Frozen pineapple and peaches make it sweet while spinach and protein makes it extra healthy!
Cherry Chocolate Smoothie from Natalie's Health (pictured below & photo credit) – Rich and creamy Cherry Chocolate Smoothie is a drinkable treat.
Creamy Orange and Vanilla Smoothie from me (Girl Heart Food) – This Creamy Orange and Vanilla Smoothie is packed with real orange and vanilla flavour and for extra oomph has vanilla protein powder. It tastes like a favourite childhood frozen treat in smoothie form!
Beautiful Smoothie Bowls
Healthy Green Smoothie Bowl with Broccoli Rabe from Killing Thyme (pictured below & photo credit) -This bright and healthy green smoothie bowl is packed with broccoli rabe and tropical fruits like banana, mango, kiwi, and unsweetened shredded coconut. YUM!
Very Berry Cherry Smoothie Bowl from me (Girl Heart Food) – This Very Berry Cherry Smoothie Bowl has only three ingredients – cherry, banana and vanilla almond milk. Garnish to your heart's content with the freshest cherries and berries!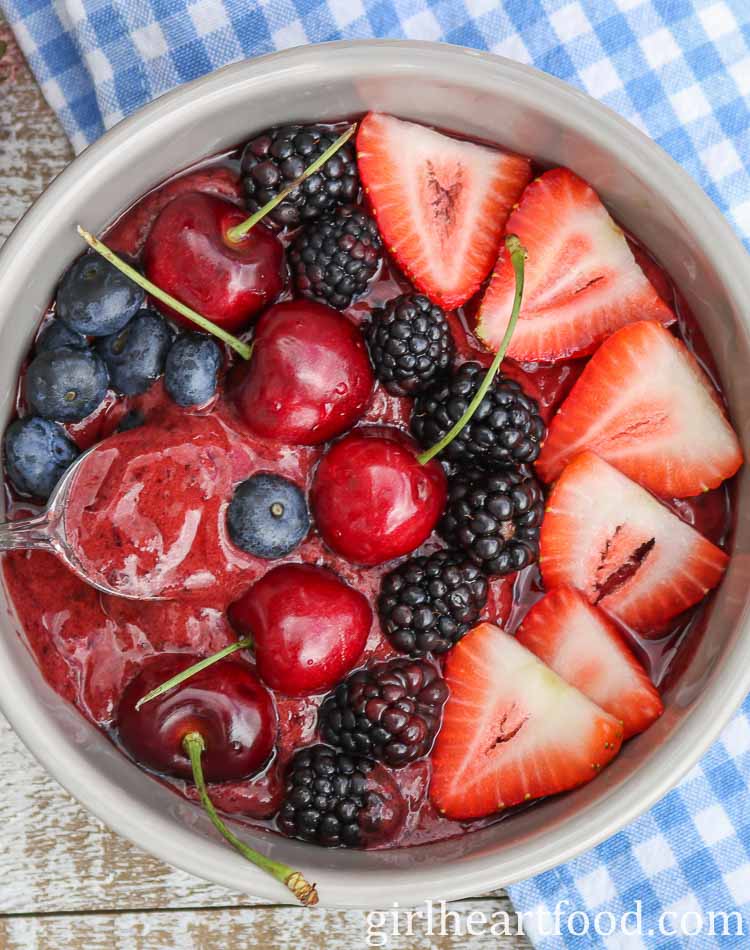 Products I Personally Use and Enjoy
These are not sponsored, just products I legit love to use –
Book Recommendations
Restaurant Man by Joe Bastianich
32 Yolks by Eric Ripert
Kitchen Confidential by Anthony Bourdain
The Woman in Cabin 10 by Ruth Ware
In a Dark, Dark Wood by Ruth Ware
Favourite Albums
Back to Black by Amy Winehouse
Hozier by Hozier
Guardians of the Galaxy Soundtrack, Volume 1
Outlaw Gentlemen and Shady Ladies by Volbeat
At Last by Etta James
Sound & Color by Alabama Shakes
Other Self Care Ideas for Sunday Funday
Sit back with you fave magazine
Grab a colouring book and some crayons or pencils and get to it!
A sketch pad is always relaxing
Catch up on your fave shows while enjoying some freshly popped popcorn
Read your fave book
Call up your friend (instead of always texting)
Take a walk outside (with your little fuzzy buddy)
Light your fave candle and draw a epsom salt or bubble bath
Get cookin'! When I'm not preparing a blog post, and just cooking for the fun of it, it always relaxes me…especially when hubby and I cook together
Grab your fave nail polish and give a splash of colour to your little fingers and toes
Make a meat and cheese board, grab a bottle of wine or make some cocktails or mocktails and invite some friends over for a chat and catch up.
Stay away from social media for the day
My personal fave body scrub is a mixture of organic coconut oil and sugar. The ratio I typically use is 2 to 1, so, say, 1 cup organic coconut oil to ½ cup sugar. Mix and then use as a scrub on your arms, legs or feet before getting a shower. Be careful in the shower and suds it up afterwards cause that stuff is slippery, but oh so good! If you don't want a scrub, just organic coconut oil makes for an amazing natural moisturizer.
Hope you've enjoyed these easy recipes and self care ideas for Sunday funday!
Tell me, what do you do to relax?