~ Monthly Round up and Favourites October 2017~
It literally seems like yesterday that I shared my last monthly favourites with you guys.  The month went by in a heartbeat.  It was another busy month.  Plus, hubby and I travelled a bit for our anniversary. Before we knew it, October was coming to an end.  As you guys may know, I absolutely love fall and all the comfort food it brings.  However, I am so looking forward to the next couple of months for some more comfort food and holiday inspired recipes.
On another note,  Halloween is tomorrow!  And guess what?  I bought treats for the kiddos and haven't even sneaked any for myself (as I usually do). I think that deserves a high five, don't ya think 😉 ?
But wait…….
Update since I wrote that—>
I ate some candy.
I know who I am.  #NoShame 😀
THINGS I'VE POSTED THIS MONTH
More Than Poutine Book Review Plus Two Recipes – a book for all recipes Canadian featuring some of Canada's iconic dishes.
Lobster Roll from More Than Poutine – Minutes to make and deeeeelish!
Donair from More Than Poutine – Don't knock it until you try it – beef meets a garlicy sweet sauce.
Pumpkin Pie Bites –  A super easy (and delicious) way to use leftover pumpkin puree.
.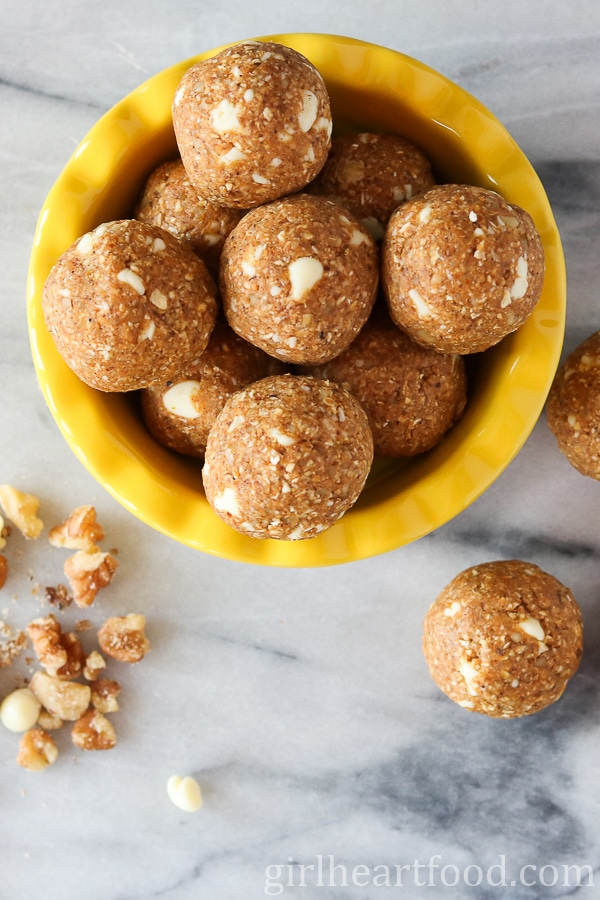 Curried Carrot and Sweet Potato Soup –   A redo of my very first recipe!
Open Faced Steak + Cheese Sandwich –  One of the best things I've ever eaten!
Roasted Acorn Squash Crostini with Crispy Prosciutto and Goat Cheese – An easy fall inspired appetizer perfect for entertaining!
Chocolate and Coconut Snack Bites –  Mid afternoon pick-me-up!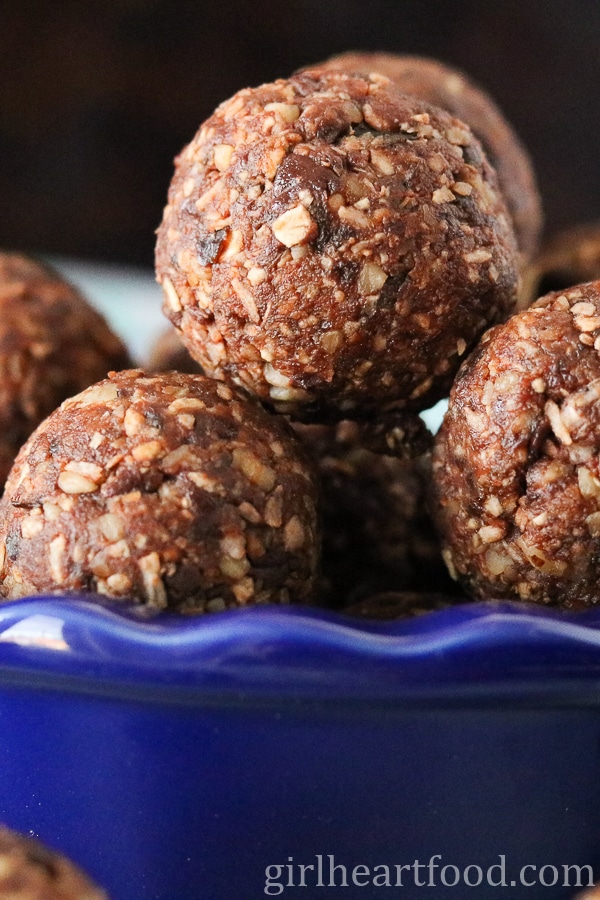 RECIPES I'M LOVIN' RIGHT NOW from fellow bloggers
Slow Cooker Pumpkin Ale Braised Short Rib Sliders with Beer Caramelized Onion Horseradish Sauce from Beer Girl Cooks – Hubby and I usually have sliders on Halloween so these would be absolutely perfect! Plus, the slow cooker does most of the work!
TV SHOWS/MOVIES
The Orville created by Seth MacFarlane.  This show is 400 years in the future and is has Star Trek vibes with a touch of comedy. Hubby was initially more interested in this one than I was (though I do enjoy Star Trek).  Now?  I'm hooked!
Star Trek Discovery – it's a prequel to the original Star Trek series (ten years prior). It features Sonequa Martin-Green who, if any of you were fans of The Walking Dead, played Sasha Williams.
Stranger Things season 2 is back on Netflix as of this past Friday.  Did you binge watch this past weekend??  We watched a few episodes, trying to spare it along.  No disappointments so far….just as good as I remember!
MUSIC
"Thunder" by Imagine Dragons.  This song always makes me to a little dance…even in the car #NoShame.
Hit me up with some of your favourite songs you are listening to now.  I love all types of music!
RANDOM
Are you guys a fan of Friends? Then, check out this Buzzfeed Survey. Based on a short questionnaire about your food choices, they tell you which Friend's character you are.  I was Phoebe!  Which one are you?
Super Mario Odyssey for Nintendo Switch just released last week so, of course, I had to pick up and it is unbelievably fun.  Hubby and I took turns playing; we sat on the living room floor and had such a laugh!  Oh, the little things!
Speaking of food—>as you guys may know, hubby and I visited Montreal this month for our anniversary.  It was just for a few days, but we made the most of it….I like to say that we ate our way through, lol….oh, and shopped (gotta love the shopping).
The weather was above normal temps for this time of year so we could stroll the streets with just a light jacket or t-shirt.  And we needed to walk to work off all the good eats we had!  I took some pics of our food adventures.  Excuse the quality, they were just with my phone, but I wanted to share with you guys 🙂 —>
We had to hit up Dunn's for a smoked meat sandwich and poutine (with more smoked meat).  Oh, and then we hit it up again for more poutine.  When in Rome……
Both hubby and I LOVE tacos.  We did a little search for the best taco places in the area and Escondite was at the tippity top.  Had we walked past the place, we might not have given a second thought to go in.  It didn't look like much from the outside, with just a small sign.  But, let me tell you – the place was absolutely PACKED…at, like, 11:30 in the morning!  We ordered guac and chips and a bunch of tacos – chicken, beef and pork (two of each).  They were so good, that we ordered a couple more.  This place was definitely  a foodie highlight of our trip
On our last trip to Montreal, we went to this hole-in-the-wall pho place.  It was unreal, but we decided to try another place.  There are so many delicious restaurants in Montreal, you kinda want to try 'em all.  I can't remember the name of the restaurant we visited, but  it was delicious!  Love all those garnishes!
You may not know this about me, but I love the bone marrow from roasted beef bones.  It's kinda something I enjoyed as a child.  Weird, right?  Anywho, we happened upon Taverne Square Dominion and shared that as an app, along with salmon gravlax and Welsh rarebit (cheesy toast). Nostalgia does not cloud my judgement.  This was amazing and now I have hubby converted too.
My sister-in-law told me about the Jean-Talon Market and I knew we just had to go.  It's located in Little Italy and is jam packed with all sorts of vendors selling food, product, pumpkins, flowers and more.  Hubby and I went there the day before we left from Montreal and picked up some funky cheese, meats and bread and enjoyed with a glass of vino.  I would have loved to take some of that cheese back home with me but, honestly, my luggage thanked me.  I don't think it would have been a good idea, lol 😀
Hubby and I stayed in the Centre Ville area of Montreal, which is close to downtown and to so many restaurants, shops and more.  We love this area!
What has been your faves this past month?
Have a great week, you guys!  Don't eat too much candy tomorrow!  Riley couldn't be bothered about Halloween.  Though, I love dressing him up!
Take care and chit chat again soon 🙂
P.S. Hope you've enjoyed my Monthly Round up and Favourites for October 2017.  If you missed my last monthly favourites, you can check it out here.