This Monthly Round up and Favourites December 2017 is coming a little later than usual, but better late than never, right?  Once again, the month was busy and went by way too fast.  But, boy, was it fun!  There was lots of fun get togethers, tons of good food and plenty of relaxation.  What more could I want?  Before we head into January, let's take a look at how December looked for me.  Be sure to leave your favourites from December in the comments below.  I'd love to hear!
Things I've Posted This Month
No Bake Peppermint Chocolate Snack Bites -10 minutes to make and perfect for a hostess gift!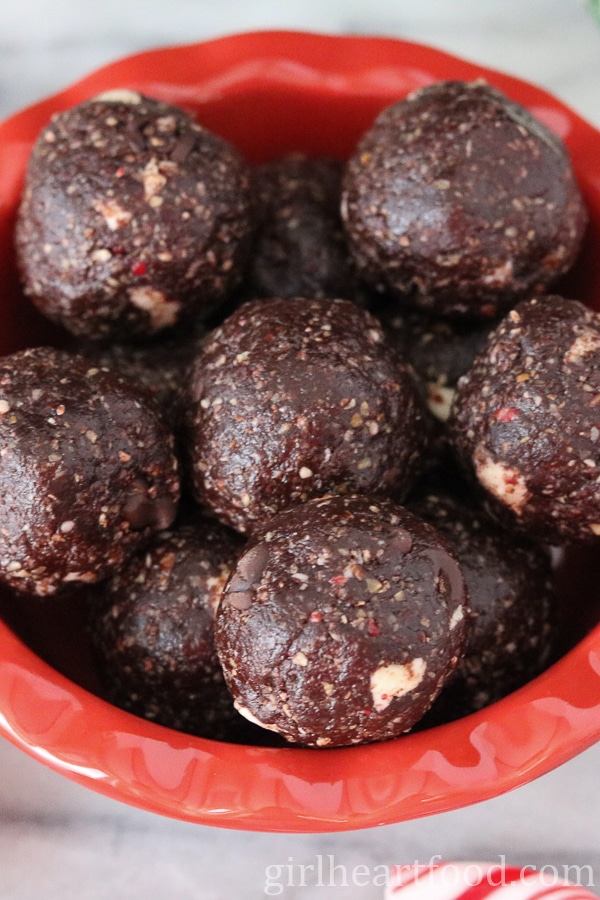 Fuss-Free Vegan Book Review Plus Lettuce Wraps – There's over 100 recipes in this vegan comfort food book.  It's an awesome book for vegans and even those that love the occasional burger. For my review, I shared a lettuce wrap recipe from the book.  It's lentil based and is absolutely delicious!
Orange Poppy Seed Shortbread Cookies – Shortbread are my favourite cookies.  These are dipped in orange chocolate and sprinkled generously with pistachios.
Homemade Food Gifts for the Holidays – Homemade gifts are the best!  This round up provides lots of inspiration.  It's great to have on hand not just for the holidays.  Lots of these would be awesome for hostess gifts too!
Meat and Cheese Board –  This is one delicious board for parties, but also for a random Friday or Saturday night for an easy dinner.  Hubby and I enjoy these on the regular!
Fruit Cake Bread Pudding – Leftover bread pudding?  Jazz it up with these delicious (and easy) bread pudding with white chocolate and pomegranate.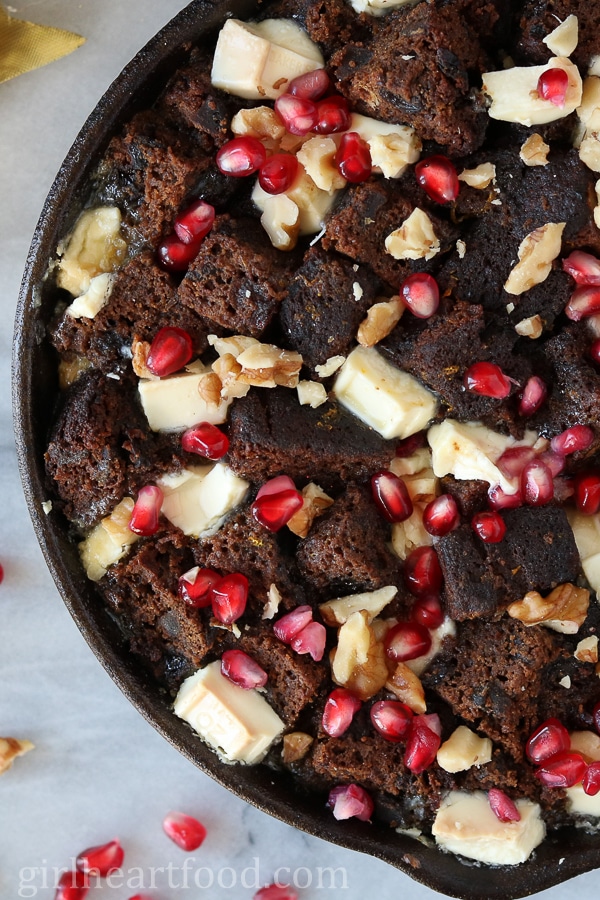 New Year's Eve Recipes – Cocktails, little bites and more in this yummy round up.
Top 10 Recipes of 2017 – These are the top ten recipes that you guys have been loving this past year.  #1 on the list is a recipe from 2015 that still remains popular today – my traditional Newfoundland Cod-au-Gratin!
Recipes I'm Loving Right Now
Homemade Coconut Cream Pie from Ciao Chow Bambina – if you know me, you know I loves me some coconut…coconut in food and coconut scented things.  This family recipe from my friend, Annie, is screaming my name!
TV Shows/Movies/Books
Of course I watched all of my favourite Christmas movies this month!  Top of the list – Christmas Vacation.  That one never gets old.
Big Bang Theory is usually running a marathon on the Comedy Network over Christmas so that one was pretty much on everyday in our home.  Do you love that show like me?  And all those neat novelty t's that the character, Sheldon, wears?  Love them!!
32 Yolks by Eric Ripert. I mentioned this book before, but finally finished it. He is a chef and the book is his story from a child to where he is today.  It's entertaining, funny and a fast read.  I really enjoyed this one.
Random
I'm obsessed with candles, especially festive ones around the holidays. Are you a scent fanatic like me?
Fur baby gave me the most wonderful apron (with the help of hubby).  I can tell you that I did tear up when I opened this one up. Check it—>
Isn't it the cutest?!  On it, it says 'Little helper in the kitchen.'  I highly doubt that I'm ever going to use this one while actually cooking because I wouldn't want to get anything on it, lol.
Girl Heart Food had a feature in HarrowSmith –  Favourite Cookbooks, Kitchen Tips and Last Minute Holiday Ideas. So exciting!
In December, I also found out Girl Heart Food made Plik Top List 2017 – 25 Canadian Influencers to Discover!
December was a fun month!  The little guy had a pretty awesome one too.  He is an expert in relaxing.  As soon as I place warm laundry on the sofa to fold, he goes right for it and falls asleep.   Exhibit A—>
Hope you've enjoyed my Monthly Round-up and Favourites December 2017!  What did you do over the holidays?  Any good eats?  Do tell!
If you missed my last monthly favourites, you can check it out here.
P.S. Stay tuned to next week!  I have a really yummy recipe for you guys!
Have a great weekend!
~D
XO