Guys,  time for my Monthly Round up and Favourites September 2018!! What a month September was.  And, boy, did it fly by.  I can't believe it's October 1st!! I've already had about 1 dozen pumpkin spice lattes and shoved about 2 boxes of Halloween candy down my pie hole.  It's been an epic month.
Speaking of pumpkin spice lattes, so I say to hubby the other day 'can you make me a PSL'? NOTE—> I can't (or maybe refuse to?) use our espresso machine.
Hubby looked at me like I had 5 heads.  'What the heck is a PSL'?
Me, being super cool (not) and stuff, said –
'Ummmm, you don't know what a PSL is?' So I proceeded to tell him.
'Dude, you may be 5 minutes younger than me, but you have got to get with the times'. LOL!
In all seriousness, I only learned that 'PSL' was pumpkin spice latte last year.  It's probably some marketing thing to make it sound cool. P.S. Do kids still say 'cool?'  Also, did you know what 'PSL' meant?
Anywho…..onto it, shall we?
Recipes I've Shared this Month
Roasted Red Pepper and Tomato Soup with Fennel  – Easy, comforting and delicious, thisRoasted Red Pepper and Tomato Soup with Fennelwill warm you up on the coldest of days! Delicious with goat cheese crostini on the side for dunkin'!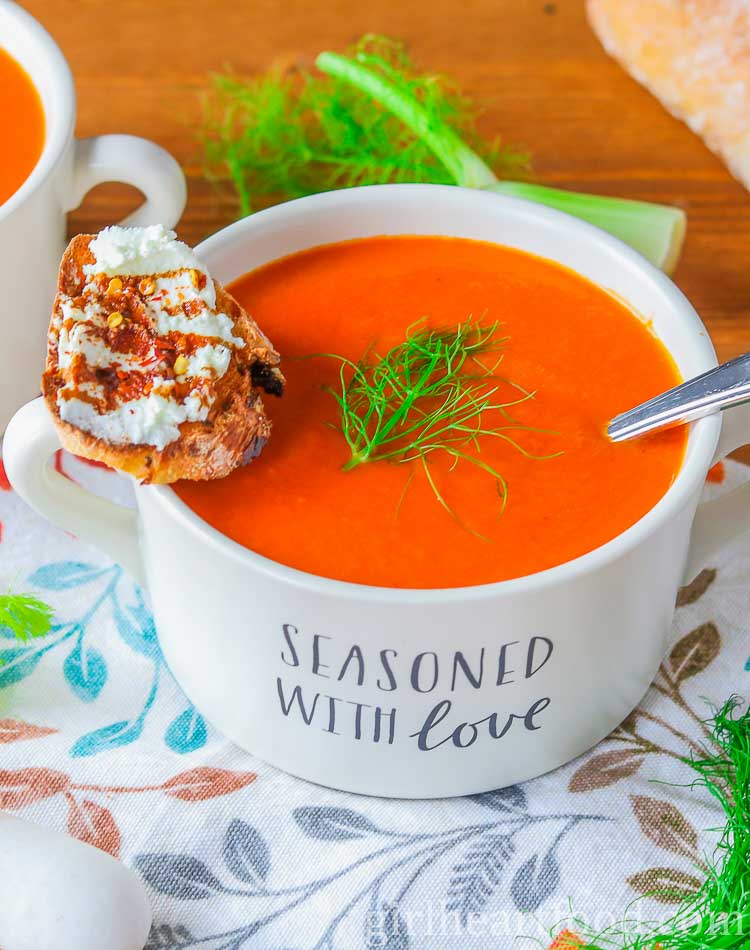 Hoisin Maple-Glazed Salmon from The Ultimate One Pan Oven Cookbook – A simple one pan dinner, this Hoisin Maple-Glazed Salmon with Vegetables requires very little hands on time, but makes for one delicious meal the whole family will love! Check out this recipe and review of The Ultimate One-Pan Oven Cookbook!
Recipes + Self Care Ideas – from Girl Heart Food + More – Need a little rest and relaxation? Maybe a little self care and love?  How about a relaxing spa day at home? Check out this fun round-up of Recipes and Self Care Ideas for Sunday Funday! You deserve it!
Ham & Brie Grilled Cheese Sandwich – This Ham & Brie Grilled Cheese Sandwich is piled high with thinly sliced ham, creamy brie cheese, crispy granny smith apple and sweet blueberry jam for one scrumptious bite. Your belly is definitely gonna do a happy dance!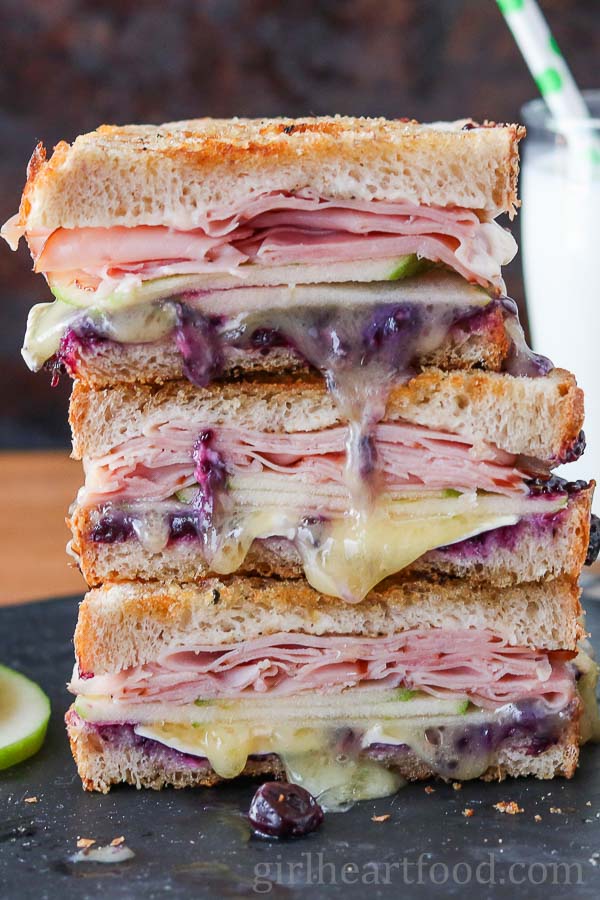 Fall Farro Salad – Hearty farro, sautéed kale, crisp apple and savoury beet combine to make for one flavourful bite in this clean eating Farro Salad.  It would make for a lovely addition to your holiday table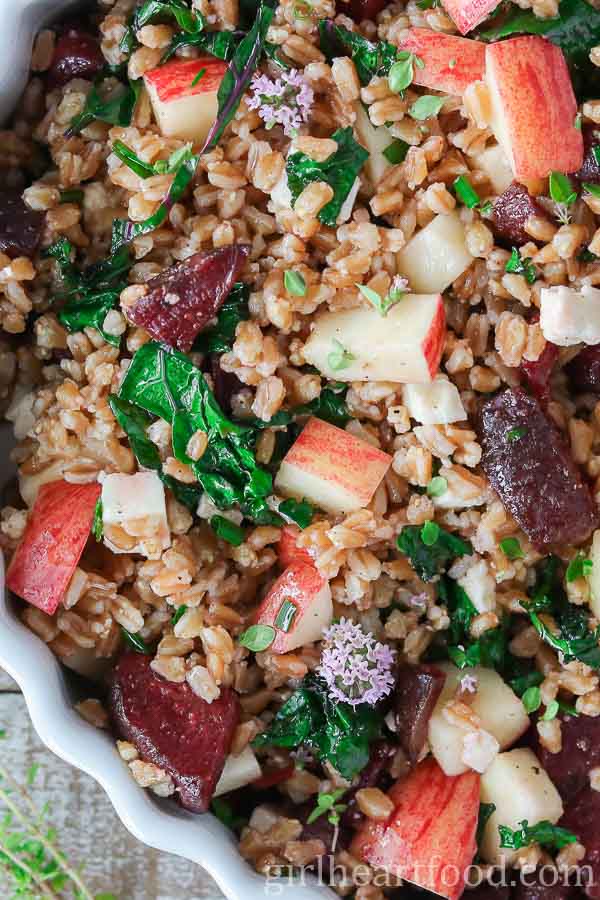 Turkey Cranberry Sandwich – Have leftover turkey?  This Turkey Cranberry Sandwich is your answer!  This grilled cheese sandwich combines lots of turkey, tart cranberry sauce, creamy goat cheese and melty mozzarella for one comforting bite!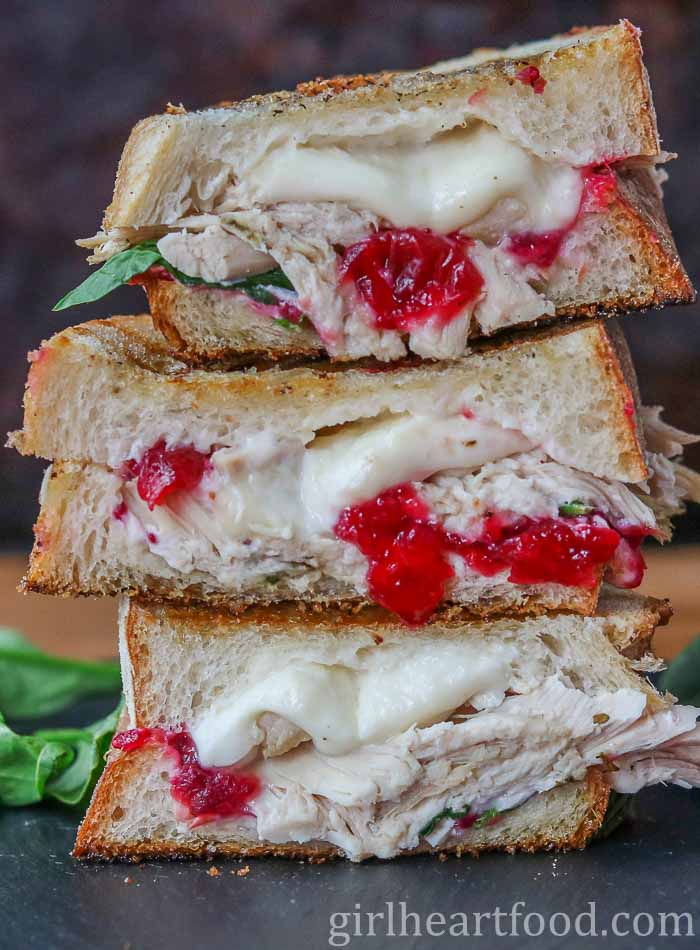 Holiday Side Dishes – A round up of over 15 scrumptious side dishes, perfect for Thanksgiving, Christmas and more!
Recipes I'm Loving
How awesome is this pumpkin spice tiramisu from my friend, David, of Spiced? Such a fun twist with pumpkin!
I saw a delicious recipe for babka in a special edition Better Homes and Gardens magazine and knew I just had to make it.  So, this past Saturday I did! I'm not the best bread baker in the world, but I was super happy with how it turned out and would totally make again. Check it—>
Music
I am just a tad obsessed with 2002 by Anne-Marie. I've already listened to it 501 times, lol.
Natural by Imagine Dragons is pretty awesome too.
Also, I've been listening to random playlists on Spotify lately, especially while doing housework on the weekend. Exciting, right?  What have you been enjoying?
TV/Shows/Movies
Mayans M.C. on FX – If you were a fan of biker show Sons of Anarchy (like me), you're probably gonna love this show. The only problem?  You have to wait a whole week for another episode…yeah, I love it that much.
Life of the Party staring Melissa McCarthy – this was a surprisingly funny (and cute) movie about a woman who is shocked when her husband asks for a divorce and decides to back to college (with her daughter) to finish.  It's actually kinda heart-warming.
Are you guys excited about the new fall line up?  I love Big Bang and sad that it's the last season. Sheldon cracks me up…and Amy is pretty awesome too.  Are any of your favourites back?
Random
13 Iconic Food Vines We Shall Never Forget by BuzzFeed.  What a laugh…what one is your fave?
So, M & M's are coming out with a Hazelnut Spread M & M! Say whaaaaaa?! You know this chicka will be trying those.  Would you?
I shared some foodie finds this past month (more or less what I nabbed from my parent's garden and from our little apple tree). Check out the goodies I got on my 'gram!
How cute is this photo of Riley sleeping alongside his monkey—>
Hope you've enjoyed this monthly round up and faves for September 🙂 Stay tuned later this week where I share a delicious fall soup!
What have been some favourites of yours this past month?
Until next time, take care and chit chat again soon,
~Dawn