Hey friends!  It's that time again for my Monthly Round up and Favourites for October!  I honestly feel like a broken record when I say 'where did the month ago?'  And now that it's November 1st  I'm a little in panic mode because I feel like I have so much to do in the next couple of months before Christmas.  Anywho, it definitely was a delicious month here at Girl Heart Food. Grab your fave cuppa and sit back and let's have a little chit chat, shall we 😉 ?
Recipes I've Shared This Month
Butternut Squash and Sweet Potato Soup – Ultra creamy, warming and comforting this Butternut Squash and Sweet Potato Soup is sure to be a favourite this fall. It has warming spices like cinnamon, nutmeg and smoked paprika and a touch of sweetness from maple syrup.  So delicious!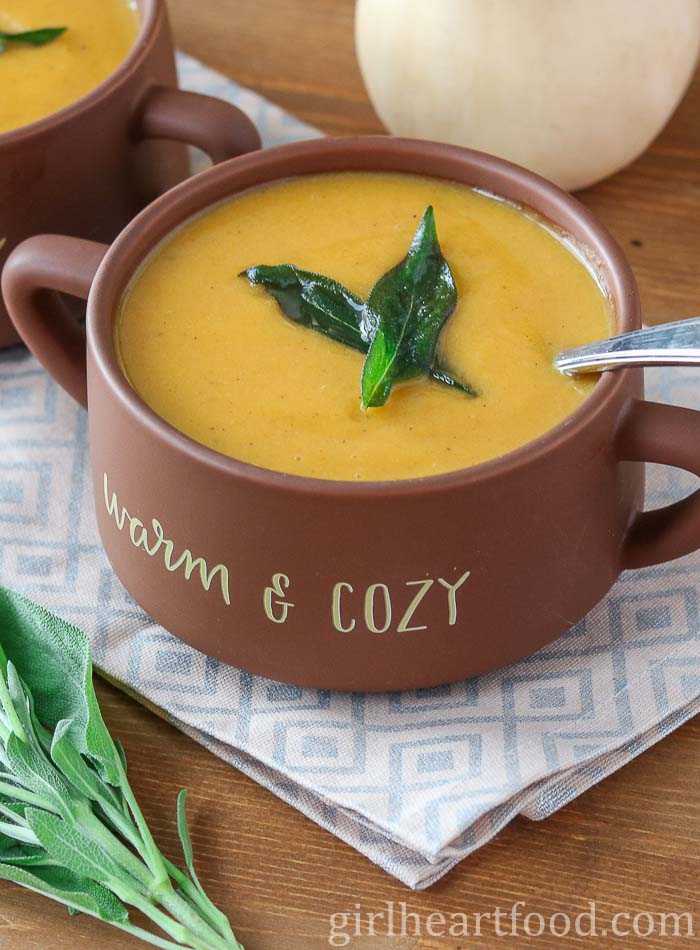 12 Easy Recipes Using Leftover Turkey – Wondering what to do with all that leftover turkey from the big holiday feast? I've rounded up 12 easy leftover turkey ideas from myself and fellow food bloggers. There's turkey casseroles, turkey soups and, of course, a turkey cranberry sandwich, just to name a few.  Let's dig into these delicious leftover turkey recipes, shall we?
Scrambled Egg Breakfast Quesadillas  – Scrambled eggs, cheddar cheese, black beans, hot pepper and  avocado are sandwiched between golden brown and crispy pan-fried tortillas for one satisfying breakfast. And, guess what? These quesadillas can be on the table in about 15 minutes!
Pumpkin Chocolate Chip Muffins – These Pumpkin Chocolate Chip Muffins are jam packed with warming fall spices like cinnamon, nutmeg, clove and ginger.  Plus, there's dried cranberries and pumpkin seeds for added oomph and texture. Fall and these muffins are definitely a match made in foodie heaven!
Kale Salad with Apple – This Kale Salad with Apple is made with a few simple ingredients in about 10 minutes. There's hearty kale, crisp apple, pumpkin seeds, cranberries, shaved parmesan and onion all tossed in a buckwheat honey vinaigrette. So good!
Reese's Cookies – These Reese's Cookies with Chocolate Chips and Oatmeal are (almost) too easy to whip up.  They're bursting with peanut butter and chocolatey goodness.  All you  need is a tall, cold glass of milk for dunkin'!
Marinated Feta – This easy Marinated Feta recipe combines a little heat, some fresh herbs and savoury flavour from feta cheese, black olives and sun-dried tomatoes.  Perfect for dunking bread, as part of a multi-course meal for entertaining or as a foodie gift for someone special!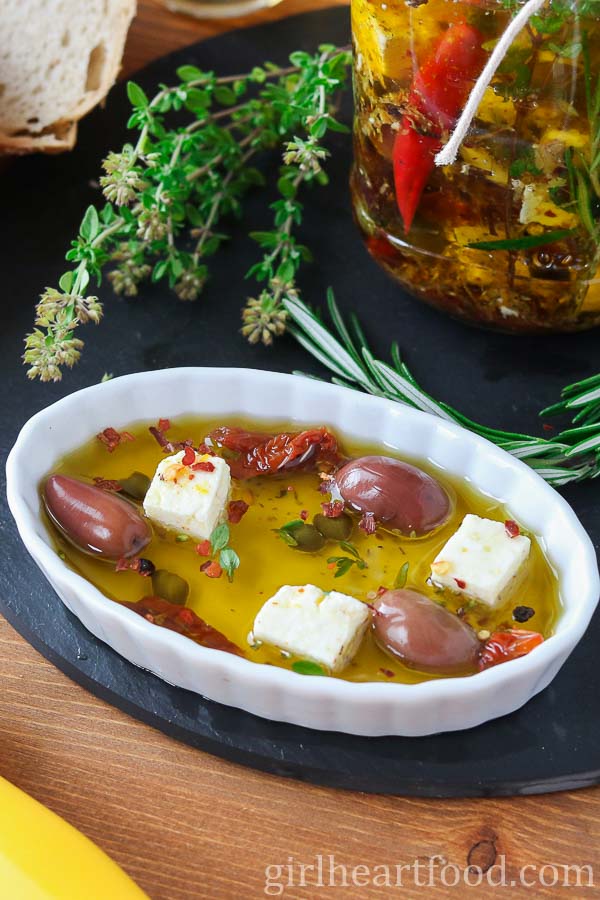 Cheesy Scalloped Potatoes – A comfort food classic, these Cheesy Scalloped Potatoes have lots of herbs, spices and garlic.  They're super creamy and make for a delicious side dish to dinner!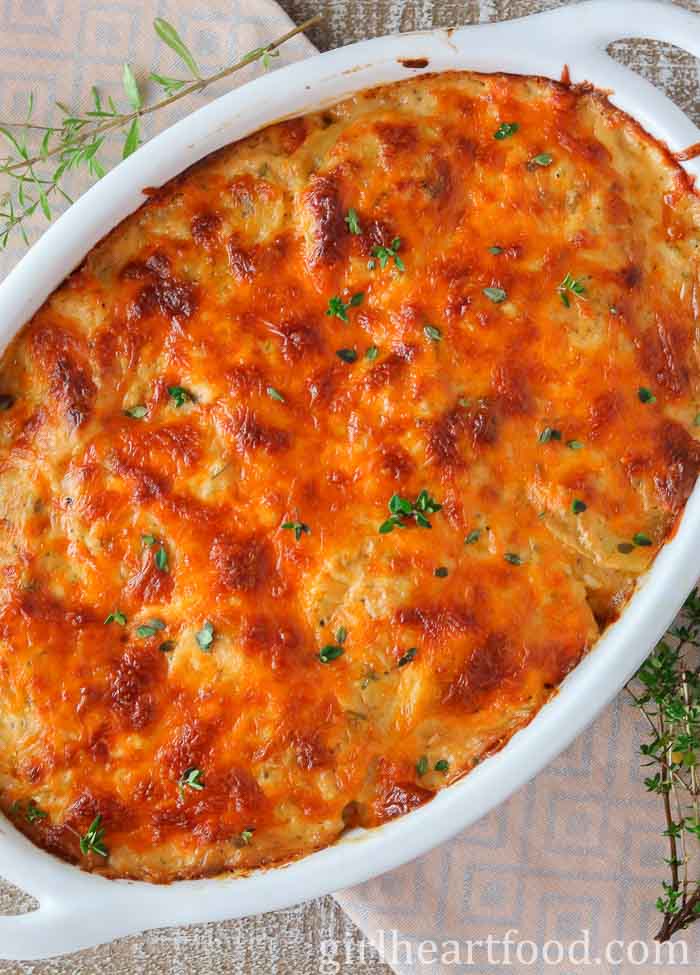 Other Fun Recipes  you May Enjoy Right Now
These Girl Heart Food recipes have been getting a lot of love lately (and you'll probably love 'em too) –
These pumpkin pie bites are a delicious way to use up that huge can of pumpkin puree floating around in your fridge (plus, they taste like pumpkin pie in bite-sized form).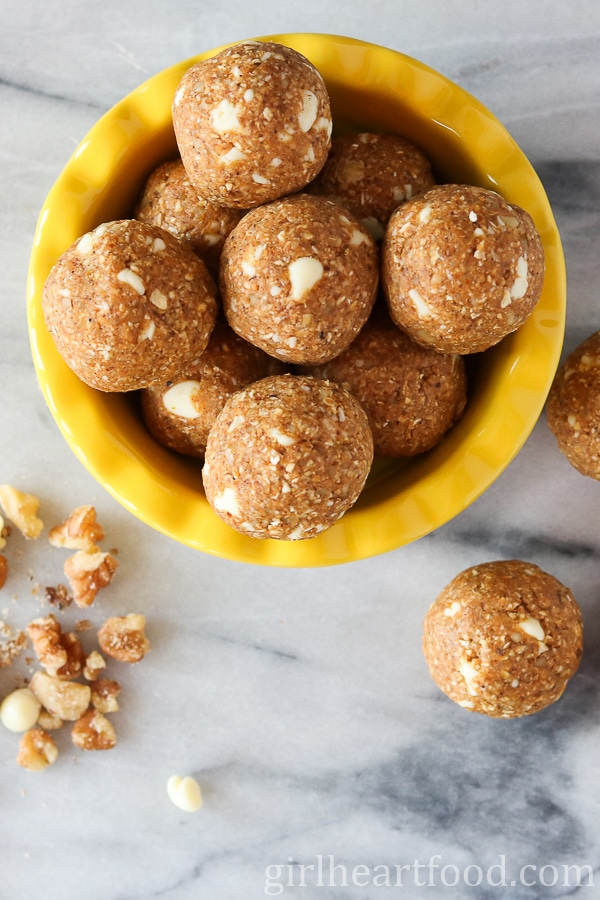 Books
I just finished An Unwanted Guest by Shari Lapena.  It's a murder mystery and I blew through the book so fast.  It's a page turner and I just love the way it's written…almost like a movie script.  If you're looking for an entertaining & fast read, this one may be for you!
Next up? Yes Chef: A Memoir by Marcus Samuelsson. I'll let you guys know my thoughts on that one when I finish 😉
Music
Besides listening to random songs on Spotify, there's a couple of new songs that I've been listening to a lot lately –
'Mood' by Felix Cartal
'Happier' by Marshmellow ft Bastille
Both are upbeat tunes, perfect for getting ya mojo goin' while doing the weekend's housework, lol.
TV/Shows/Movies
I can't say enough good things about Salt, Fat, Acid, Heat on Netflix. This is a 4 part series and each episode focuses on a different component important in cooking/eating, i.e. salt, fat, acid and heat.  The host, Samin Nosrat, was just so endearing and I hope to see another season of this show.
Have you heard of The Haunting of Hill House on Netflix? It seems everyone is talking about how great this show is….and it is!!  Hubby and I watched this one in record time, even staying up way too late one Saturday night.  It's scary, but there's a great story too.  The actors are awesome and the writing is somewhat poetic at times.  Be mindful of what's in the background when you watch this one…there's stuff that pops up all over the place.
Random
If you've been following Girl Heart Food for a bit, you know how obsessed I am with all things cheese so when I came across this round up of 10 Christmas Gifts for the Cheese Fanatic in Your Life (A.K.A Everyone) you can only imagine how elated I was!
Ran across this quiz from Buzz Feed Food – 'Build a Bagel and We'll Guess If You're a Messy or Neat Eater'.  How did you do?  I got a 'messy eater' result, lol.  The end of the descriptions said – "At the end of the day, you're not really a messy eater, you're an enthusiastic eater." I can accept that 😉 I  an also accept the million napkins I use…hubby can attest to that.
Riley sported his Halloween sweater this past week.  On the back it says 'mommy's little monster'. That just about sums it up, lol.  He doesn't look to amused though—>
Hope you enjoyed my monthly round up and favourites for October!
Tell me, what has been turning your crank this past month?
Be back at ya next week with a comforting recipe you'll love.  Until next time, take care and chit chat again soon 🙂
~Dawn